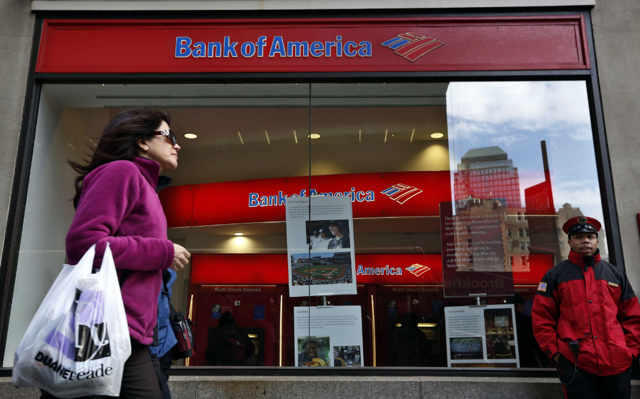 Signals Align For Bank Of America
Last time we looked at Squeeze Metrics data on a stock it was to highlight a bearish signal on Tesla (NASDAQ:TSLA), but dark pool data can generate bullish signals too, and it did so for Bank of America (NYSE:BAC) on Friday (reminder: we have an affiliate relationship with Squeeze Metrics and are compensated if readers join the site). That caught our attention, because Bank of America is currently one of Portfolio Armor's top-ranked names as well, as you can see in the screen capture from our site's admin panel below.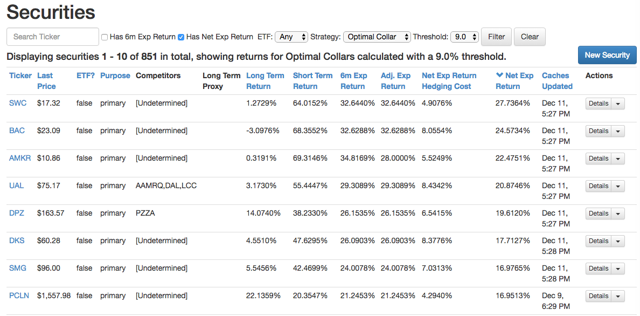 Regular readers may note that a couple of other stocks we've highlighted recently in bullish articles, United (NYSE:UAL) and Domino's (NYSE:DPZ), are still among our site's top names (for an explanation on how our site calculates that ranking, see here).
With Bank of America our No. 2 stock, we perked up when we received the Squeeze Metrics email alert on it below on Friday:
Hey there,

Looks like there was some unusual dark pool activity in some of the tickers you follow.

BAC had a DPI of 57%.

Click through to your dashboard for more info: here
That email mentioned "DPI," which stands for Dark Pool Indicator (recall that dark pools are private exchanges where institutions trade shares without the transparency of public markets. Dark pools were elaborated on in an article earlier this year, Seeking Alpha In The Dark).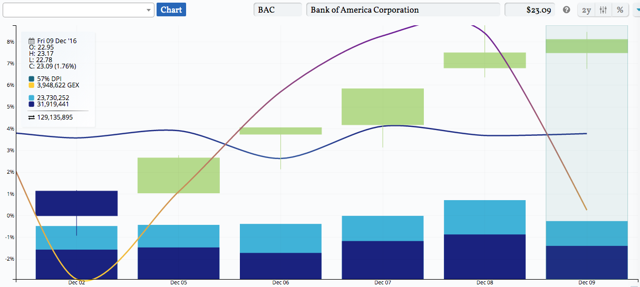 DPI looks at the ratio between institutional buying and selling in dark pools: a DPI over 50% means most of the dark pool volume is institutional buying and a DPI below 50% means most of the dark pool volume is institutional selling. So, the 57% DPI for BAC (highlighted in the graph above) is a bullish indicator. A bullish DPI isn't enough to trigger one of those emails though. The email is only triggered when the DPI represents a one-standard-deviation move relative to the stock's dark pool activity over the previous 120 trading days.
Coincidentally, we received that Squeeze Metrics news while we were watching BofA CEO Brian Moynihan interviewed by Charlie Rose on Bloomberg. Moynihan's demeanor during this interview is another reason to be bullish on the company, in our view. In particular, his tact in answering Rose's questions about Donald Trump was encouraging as were his answers about BofA's stress test results (at about the 18 minute mark).
That said, our bullishness on BAC might end up being wrong (as it was on Silver Wheaton (NYSE:SLW)), so we'll post a couple of ways of hedging it below.
Adding Downside Protection To Bank of America
If you'd like a refresher on hedging terms first, please see the section titled "Refresher on Hedging Terms" here). Often, we present an optimal put hedge and an optimal collar hedge for stocks. We'll present two optimal collar hedges for BAC. We used the Portfolio Armor iOS app to find these hedges, but you can find optimal hedges without it using the method explained here.
Higher Possible Upside, Higher Cost
This collar caps your possible upside at our website's estimate of Bank of America's potential return over the next six months, 32.6%. Although actual returns averaged about 0.3x our site's potential return estimates in our tests, in most cases we generated higher returns capping collars at each security's potential return rather than at a more conservative level.
This was the optimal collar, as of Friday's close, to hedge 1,000 shares of BAC against a greater-than-15% drop, while not capping your possible upside at less than 32.6% by mid-June.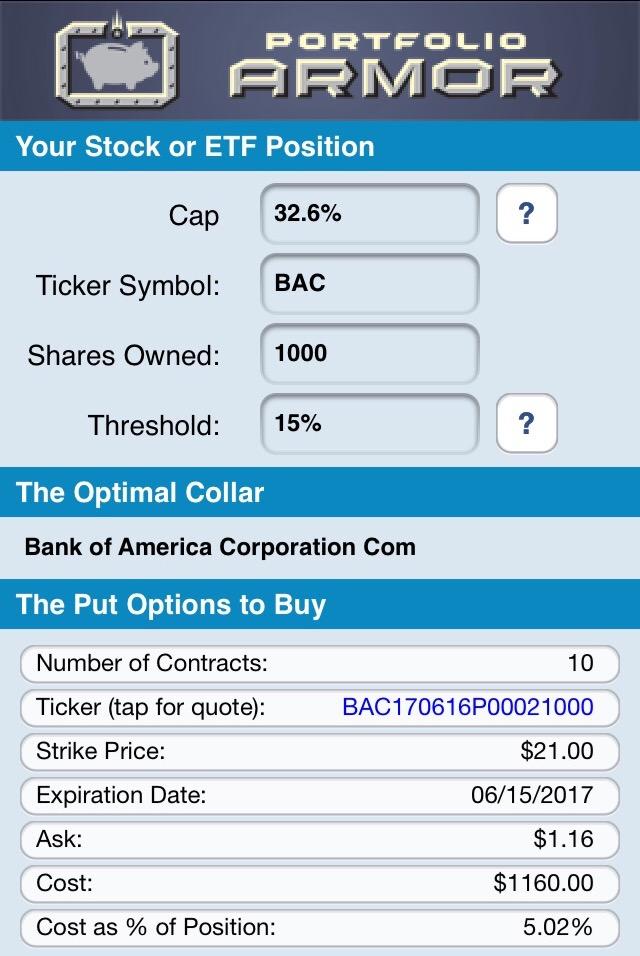 As you can see above, the cost of the put leg was $1,160, or 5.02% of position value. And as you can see below, that was partially offset by income from selling the call leg of $120, or 0.52% of position value.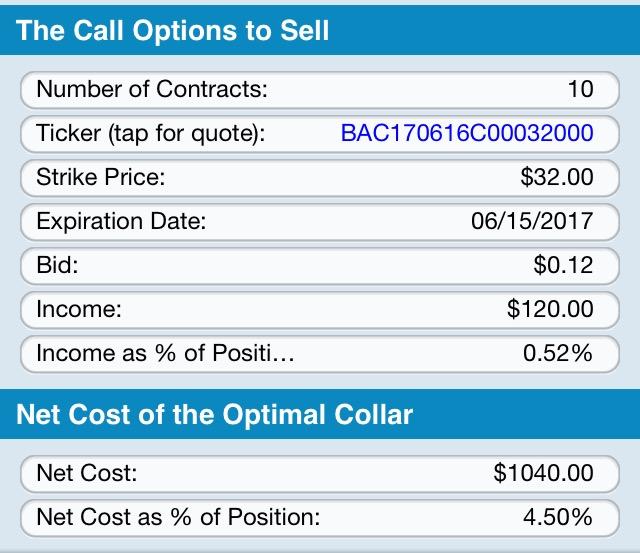 So the net cost was $1,040, or 4.5% of position value. Note that the cost here was calculated using the ask price of the puts and the bid price of the calls. In practice, you can often buy puts for less and sell calls for more (at some price between the bid and ask, in both cases).
Lower Potential Upside, Negative Cost
This collar uses a more conservative cap.
As of Friday's close, this was the optimal collar to hedge 1,000 shares of BAC against a >15% drop while not capping an investor's upside at less than 12% by mid-June.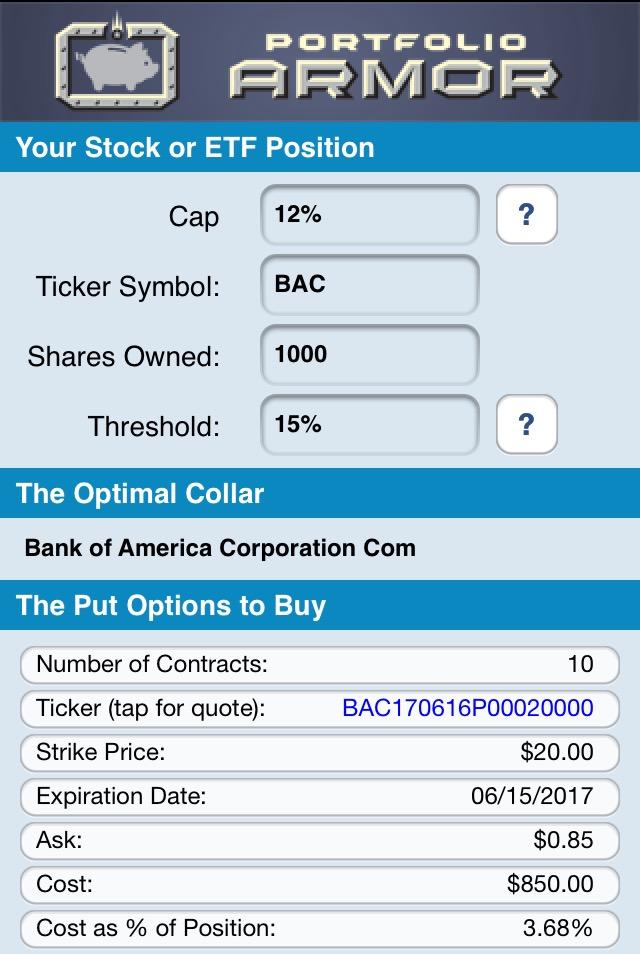 The algorithm was able to use a less expensive put strike here due to the net cost of the hedge. The cost of the put leg above was $850, or 3.68% of position value. And as you can see below, the income generated from the short call leg was slightly higher, $890, or 3.85% of position value.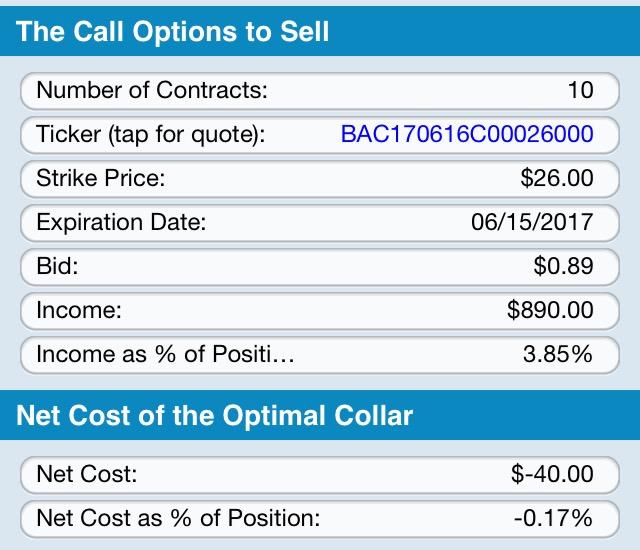 So the net cost here was negative: an investor opening this hedge would collect an amount equal to $40, or 0.17% of position value. As in the first collar, the cost here was calculated conservatively, so, in reality, an investor opening this on Friday would likely have collected more than $40.
Disclosure: I/we have no positions in any stocks mentioned, and no plans to initiate any positions within the next 72 hours. I wrote this article myself, and it expresses my own opinions. I am not receiving compensation for it (other than from Seeking Alpha). I have no business relationship with any company whose stock is mentioned in this article.