This follow up is intended to explain the rise of oil prices since February, when I wrote an article about the same topic, and to offer an outlook for the next 18 months. The fundamental reasons that led to the dramatic 100% oil price increase since February are mostly the same, so I will repeat the main themes and add the new developments with comments as insights for the future.
Thesis: The price of oil is targeted to reach $75 by June 2018, in line with the Gulf States' (Saudi Arabia, United Arab Emirates, Kuwait and Qatar) goal.
Introduction
I stated back in February that oil prices will rise by about 100%: "These are compelling reasons to propel oil price to $50+ by year end."
Oil prices during the past 10 months really went through some wild gyrations. After hitting $52 by June and then October, the price fell to $40 and $42 after these highs, before the latest rise to $52 again. Generally, the trend was up. To understand the background, my earlier poem captured the spirit of both the problem and solution:
Butterfly Effect of a 2% Oil Production Cut - Paul Wong, Jan. 18, 2016

A 2% over production problem only requires a 2% cut.

All producers together create the glut can certainly drain the flood.

Self-infliction by all needs collective self-correction.

We serve our own interest since surely others will not.

Many factions set stages to benefit at our expense with the historic fall.

Wall Street profits both ways by talking prices up before and down now.

Episodes of short term gains for them cause us long term pains.

Knowing others intent and thwarting further attempts preserve our welfare.

Rational cooperation among all producers is commonly rewarded.

Calmer heads prevail to make a wiser consensus in establishing stability.

We voice the same desire and persuade alliances to strengthen our side.

Butterflies flapping in sync can cause amplified winds of positive change.

Solution to prosperity depending on our concerted actions is an easy fix.

Each producer faithfully cuts 2% production now and chops capital budget later.

Announcing the truthful acts as we declare the pledge for price support.

Definitive bottom will soon reverse to sustain new oil prices rise.
Back then, the prevailing view of oil price from Wall Street was mostly negative with predictions as low as $10. Sensing the need to offer an opposite viewpoint based on my 35 years of experience in the oil industry, I explained that the oil price was at bottom and started making an upward long run.
There were lots of significant events that set up the OPEC agreement for production cuts last week. Although the April Doha meeting failed without any production output ceiling agreement, the gathering and the sharing of ideas to discuss the low oil price issue was very important to OPEC members. At the end of the meeting, some of the comments included the following:
Calls for open-minded discussion and unity.
Gulf States oil ministers: "Spirit of the meeting was very cooperative and collaborative; the market is in good shape - balancing, trends are all good in terms of supply and demand; prices have recovered and will continue to recover."
Some ministers said an output ceiling must be accompanied by a country-specific quota system.
Very positive atmosphere among the cartel's members; pleased with the way the oil market was recovering.
All of these encouraging thoughts laid the foundation of understanding that finally came to fruition with the surprise announcement of preliminary agreement in the Algiers September meeting, not only among OPEC members but also major non-OPEC producers. The significant part of these agreements is that almost all countries participate with the cuts. It is quite apparent that all export producers realized that the time has come to allow oil prices to rise again.
Why Oil Prices Had to Fall
The oversupply problem for producers has been getting worse since early 2014 and got out of control. The exporters realized that they need to confront the problem by letting oil prices fall, or they would lose market shares permanently. I wrote:
For the Gulf States, they are tired of being the conveniently designated swing producer. This time, their main message is "we will not swing alone unless all producers swing together by cutting production". The Gulf States are sensing that many of their goals are being realized. I think the goals are:

Slow down and reverse Non-OPEC high cost production growth, US shale oil, Canadian oil sand, Deep Water around world and LNG
Increase or maintain market share
Profitable and Price Stability - keep price low for a duration to discourage and slow down new technology advancement

Only by keeping oil price low, the Gulf States will achieve the goals listed above.
It has taken more than two painful years for the exporters to regain some control over production and market shares. By this time, after suffering from financial shortfalls, both the OPEC and non-OPEC exporters have a better appreciation about the production ceiling accord, and most likely they will seriously abide by their own quota for mutual benefit. The exporters are determined to methodically drive prices higher steadily by limiting and adjusting supplies. This time, the rising price of oil is for real and will persist.
A similar accord among OPEC and non-OPEC producers happened in March 1999. The production cut was 1.7 million barrels of oil per day (BOPD). Oil prices rose non-stop from 1999 to 2007, from $10 to $130. The current cut is 1.76 million BOPD. The magnitude of the upcoming rise in oil price will be much less than 1999 because of new energy sources such as solar and wind in generating electricity, which powers electric vehicles.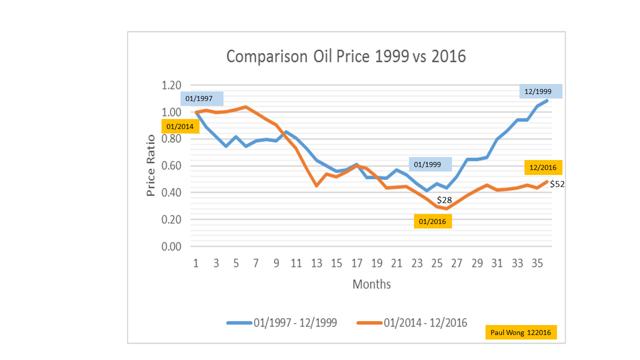 Supply
OPEC has been increasing production from 29.5 MBOPD (million barrels of oil per day) since June 2014 to a record of 34.2 recently. The collective intent is to capture market share by boosting production in keeping prices low, to force reduction of output for the higher cost importing country producers. OPEC appears to be successful overall in carrying out this strategy despite internal conflicts among the members. For OPEC, this is simply a choice of to be rich with higher oil price or to be poor with low oil price. The producers are discarding the prior low price strategy of gaining market share in favor of the future high prices by cutting production. OPEC likely will reduce capital spending as well in order to slow down future output growth.
All producers, whether companies or countries, should be responsible for the oversupply problem. Oil exporting vs. importing countries, exporters and importers, always have opposite interests. The ability of the importers to increase production for the past few years is fading with low oil prices. There have been massive amounts of capital budget cuts across both international and domestic companies. The average is more than 25% reduction last year. With many projects postponed or canceled, anticipated supply will be reduced, which will be one of the main drivers for prices to go up in the coming years. This is the best and only way for producers to help themselves, by preserving cash to survive with lower investment.
U.S. crude oil production last peaked at 9.6 million BOPD in April 2015, and has been declining for 18 months already. Current production rebounded in the past few months and is stable at about 8.7 million BOPD. The fall in oil and gas rigs, from over 1,900 to a low of 404 in April 2016 -- which lately bounced up to 597 -- was very dramatic. A reduction in drilling is showing up as lower production as evident above. Unless rig counts increase to 650 rigs or more, it is very unlikely to increase production materially. Anyhow, it takes six to nine months of increased drilling effort before production starts to rise, and the amount is too small in comparison to world production of about 97 million barrels of oil per day. The oil price effect of increased U.S. drilling for the next nine months is minimal.
For oil companies, the main goal should be to make profit and invest in profitable projects for the investors. For the past two years, the results have been dismal with many bankruptcies. Many companies, especially the unconventional (shale) oil companies, have both negative cash flows and earnings. The best average estimate for the all-in cost for shale oil is about $60. Until oil prices reach this level, many shale oil projects won't be economical. Conventional oil producers generally fare better because the per barrel all-in costs are usually lower. But keeping the cost low requires a lot of technical expertise.
In a low-price environment, reducing future output by capital cuts is essential for long-term planning. The key point is to generate positive cash flow by lowering the per-barrel cost. There is little need to replace reserves fully, especially if these replacement reserves are below economic value due to low oil prices. A lot of the reserves on the books have been written off as reflected in the earnings statements for companies in the past two years. For financially strong companies, buying distressed assets to replace reserves is a better strategy.
Now might be the best time to ride the wind of change of the much-needed consolidation of oil companies by mergers and acquisitions. Reducing the cost per barrel by way of economies of scale is advisable for companies to achieve higher profits, and to have a better control of production output. Having less competition will ensure long-term profitability, which is the main interest of the shareholder investors.
For many other non-OPEC producing countries such as Mexico, low prices for the past two years forced them to reduce output due to higher development costs or dwindling reserves. Overall, low oil prices resulted in lowering the growth of global supplies so that the stage of supply/demand balance is set.
Demand Remains Strong
Demand remains strong after an increase of around $1.4 MBOPD each year for the past two years. The outlook is estimated to see another increase of at least 1.0 MBOPD for 2017. With the announced production cut of OPEC and non-OPEC, which starts in January 2017, supply and demand will be in balance by the first quarter of next year. The effect of the upcoming balance explains the recent higher price action, and mostly likely the outlook remains strong for 2017.
Price Equilibrium
The all-in cost per BO for large new projects is estimated to be $60 or more for importing developed countries. The high-cost projects include shale oil, oil sands, and deep water. Since a huge amount of oil is consumed every day, 97 million BOPD, to replace this amount takes a lot of capital. Large international oil companies have reduced the capital budgets for the past two years because of low prices, and reduced spending will keep future supply lower to eventually support higher prices.
Keep in mind that other supply sources such as natural gas, solar and wind electricity are competing with oil. All of these sources are becoming more competitive with technology advancements in lowering costs perpetually. They will soon be able to catch up and cap the upper limit of oil price at about $75. Rising oil prices will also benefit the profitability's of all these alternate energy sources. Increasing energy costs will push global inflation higher.
The same equilibrium price point is important because oil supply and demand will be in balance as well, in terms of production output. Therefore, in due course of 18 months, price equilibrium at $75 BO will likely be reached by the summer of 2018.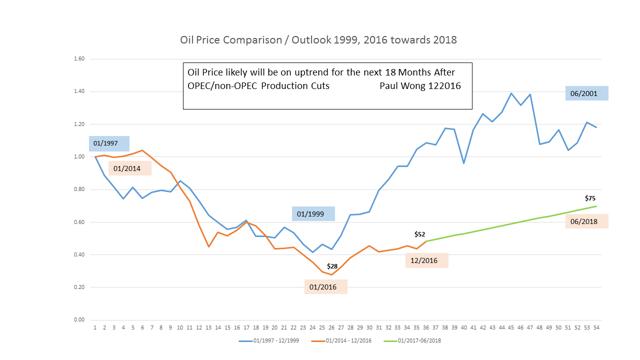 Conclusion
All the ingredients that promote an upward trend in oil prices through 2018 are in place:
Supply growth outside OPEC is slowing and in some cases reversing due to the high cost.
World demand continues to increase by another 1.0 million BOPD in 2017.
Supply balance should be achieved by the first quarter of 2017 with OPEC and non-OPEC production cuts.
These are compelling reasons to propel the price of oil to $75 in 18 months, with fluctuations over the duration. One potential risk that might derail the rise in oil prices would be if the world economy enters into a recession or a financial crisis.
Disclosure: I am/we are long XLE. I wrote this article myself, and it expresses my own opinions. I am not receiving compensation for it. I have no business relationship with any company whose stock is mentioned in this article.