I mentioned in the comments of another article that I felt like a genius in buying Flowers Foods (NYSE:FLO) back in October. In truth, its not that I was a genius, its just that I turned out to incredibly lucky to have a large amount of cash available right as the market provided a great buying opportunity. As a result of that comment exchange, I concluded that I needed to update my portfolio activity.
I wrote a previous article here detailing my Fall buying spree up until about the 2nd week of October. This article details the remaining 19 purchases I made throughout October and November. To keep the article at a reasonable length, I will only be detailing new positions that I entered, and not any previous positions that I topped off or added to.
As most people know, the Fall season seemed pretty brutal for portfolios as the market kept going down and down. Despite the gloom, I had just recently taken control of my 401k funds from a company I had left (after working there for 21 years). As a dividend growth believer, I wanted to put these funds right to work for me. So, I did the best research I could and found some dividend growth stocks that looked like they had been beaten up pretty good and I took the plunge.
Here are the results of my purchases and the reasoning behind each one. They are listed in the order that I purchased them.
Note: Before I start, there are many references to "Chowder" in the discussion below. If you don't know what that is, Chowder generally is a number derived from simply adding the current dividend yield + the average dividend growth rate. I prefer to use the last year's dividend growth rate instead of the average, so I call it the 1 year Chowder.
The Purchases
Yum Brands (NYSE:YUM) - YUM is the parent company of some of the most successful chain restaurants in 130 countries: Kentucky Fried Chicken, Taco Bell, and Pizza Hut. YUM also was ramping up significantly in China and was about to spin off its China business into a new entity, which would be known as YUM China (NYSE:YUMC). Existing shareholders of YUM would be getting an equal number of YUMC shares in the spin off.
I was interested in getting some YUM, as it had pulled back quite a bit since its highs in August, and I was interested in getting the YUMC shares to hold as well.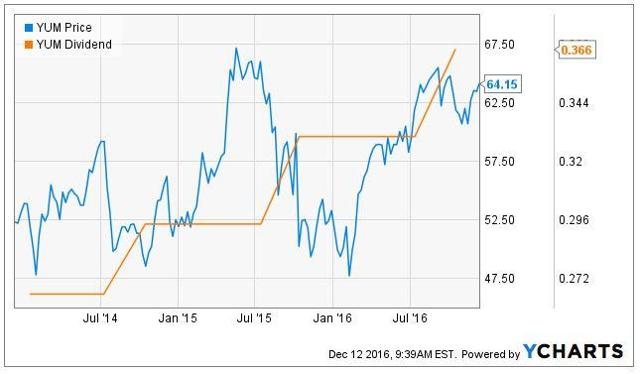 I purchased 112 shares of YUM at $89.07 as a full position. Note, this is the pre-spin off price. Price was adjusted after the spin off. At today's price, YUM pays a 3.16% dividend. YUMC has not detailed any plans to pay a dividend yet, to my knowledge, but the shares in YUMC have already increased 11.9% since they were issued to me.
Abbvie (NYSE:ABBV) - AbbVie is a large pharmaceutical company with blockbusters Humira and Imbruvica, among many, many others. Their stock price has mainly fluctuated in a range of $55 to $70, and it had just had a reasonable pullback. ABBV pays a great dividend, currently sitting at 4.16% and a 1 year Chowder of 17.03.
I saw some risk here, since the political candidates keep campaigning on regulating drug prices and on top of that, the surging availability of bio-similars.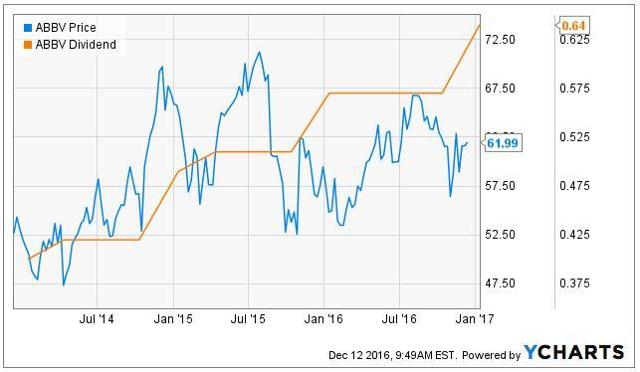 I purchased 160 shares of ABBV at $62.39 as a full position.
Watsco (NYSE:WSO) - I found this stock while I was building my dividend stock database, and was instantly interested when I saw incredible price appreciation along with a dividend of 3.06% and a 1 year chowder number of 31.22. Watsco is an industrial company supplying air conditioning and heating equipment and related parts and supplies. This looks like an incredible company and I certainly wanted in.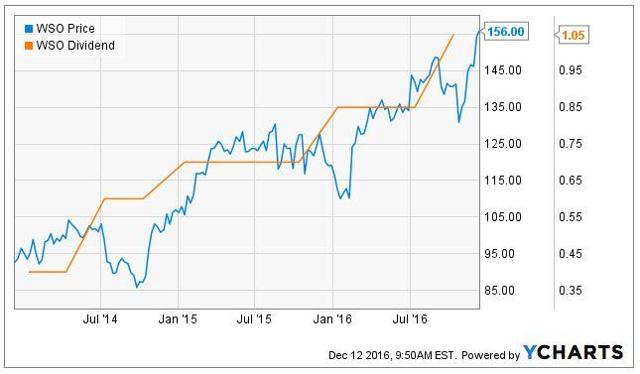 I purchased 94 shares at $137.34 as a full position. This turned out to be an excellent buying point and it has already risen 15.6%.
WW Grainger (NYSE:GWW) - Most people know WW Grainger since it is a dividend Champion. If you have ever seen Grainger's catalog, you know that it supplies almost anything you can think of. This is a company that has suffered a slow decline over the last 2 years, but I think it is going to return to glory as the economy improves.
I had discussed Grainger with several other authors here on Seeking Alpha and the consensus was that I would be doing very well to purchase it anywhere below $220. The dividend of 2.35% and 1 year Chowder number of 7.27% weren't super exciting, but I wanted this one for capital appreciation.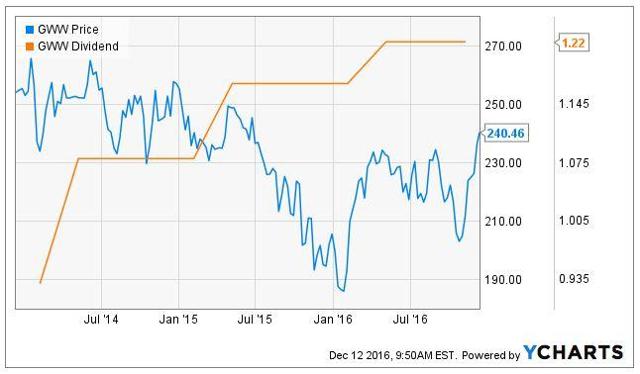 I purchased 48 shares at $207.08 as a full position. Since the Trump election, shares have increased significantly and currently trade for over $240.
Bristol Myers Squibb (NYSE:BMY) - Bristol Myers Squibb is another pharmaceutical company with numerous drugs in the pipeline. They had just recently experienced a huge 35% drop in stock price due to initial failure of their drug Opdivo. This drug was still being studied in combination with others and BMY has a huge portfolio of other drugs in their portfolio. Since earnings continue to beat estimates, this looked like a classic overreaction, and I decided to take a flier on a possible rebound (and collect a 3% dividend while I wait).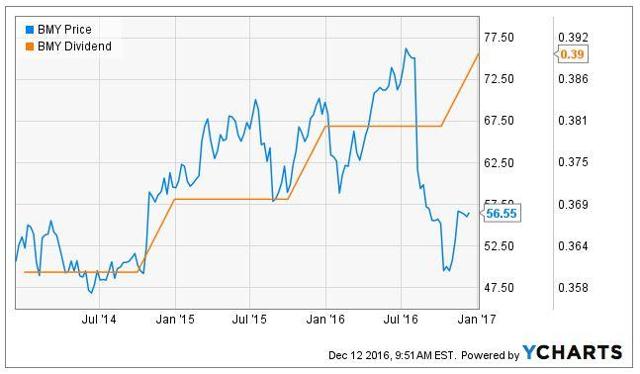 I purchased 100 shares at $49.98 as a half position, with no plans to add to this position. Since that time, BMY has risen back near $57; which represents a 14.1% return for me.
Johnson & Johnson (NYSE:JNJ) - Johnson & Johnson is a drug/medical consumer products company that seems to supply everything under the sun that is medical related. Its a dividend Champion that many people love to hold for long periods of time.
I had been watching JNJ for a long time waiting for a pullback buying opportunity, and when it fell below $118 I decided the time had come.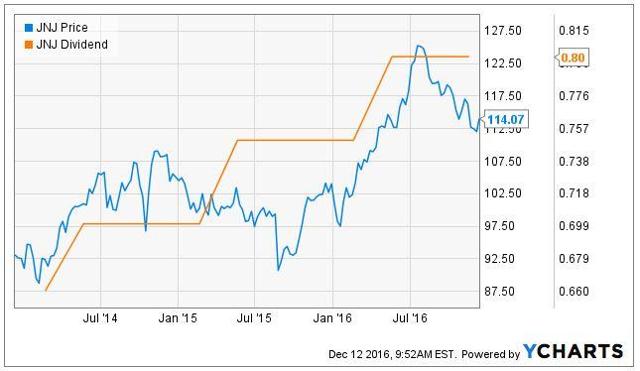 I purchased 100 shares at $114.55 as a full position (slightly over full actually). I feel that this will be a solid performer over time.
Prudential (NYSE:PRU) - Prudential is a life insurance company. I used to have Prudential insurance and I always thought they did a pretty good job. When I noticed that they were paying a 3.3% dividend with a 1 year Chowder of 17.4, I decided to take a closer look. Price appreciation had been pretty steady since July, the PE was only 10, and analysts were singing the praises of PRU.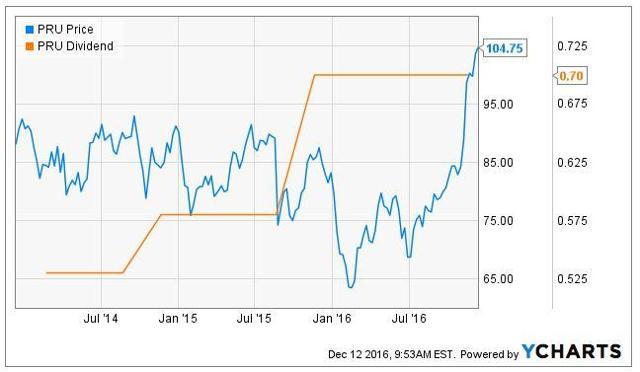 I purchased 60 shares at $84.53 as a half position. I really wish I had gone full in on this one. It currently trades around $105, and I am up over 25%.
Seagate Technology (NASDAQ:STX) - Seagate is a technology company primarily engaged in selling computer data storage. For years and years, this meant hard drives; and many people probably write Seagate off as a company with technology that has become old and outdated. What they might not realize is that Seagate has been transforming and now also sells drives based on NAND memory, and these are called solid state drives or SSDs.
Seagate has a PE of 31, but their earnings have been crushing it the last few quarters. I believe there is a place for Seagate in today's world, and with a yield of 7.44% and a 1 year Chowder of 18.4, I wanted in.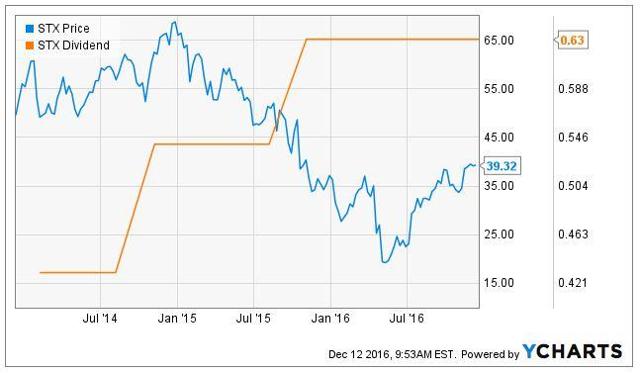 I purchased 127 shares at $33.85 as a half position. I intended to buy more if it dropped, but it didn't. It currently trades above $39, representing a gain of 16.3% for me already.
Pepsico (NYSE:PEP) - Most people think of soft drinks when they think of Pepsico, but there is so much more. Pepsico also includes various snack chips, such as Lay's, Ruffles, Doritos, and Tostidos. They also includes such consumer products as Quaker Oats, Aunt Jemima, and Rice-a-Roni. There is just too much to list here, but they are certainly diversified in the food sector.
I already owned KO and I had wanted to own PEP in this space as well. Pepsico doesn't typically offer much in the way of big pullbacks, so the small decrease in mid October seemed to be all I was going to get.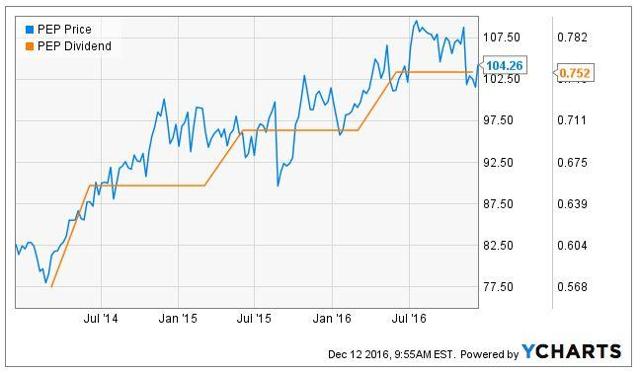 I purchased 90 shares at $106.58 as a full position. In hindsight, it did pull back more to around the $100 level; but it has since recovered back above $104.
Qualcomm (NASDAQ:QCOM) - Qualcomm is a behemoth in the world of cell phone communications, and they are in the process of positioning themselves in the Internet of Things (IOT) world as well.
I went through a period where I decided to make some investments into the surging IoT technology. I foresee a world 10 years from now where virtually everything is connected to networks and I think there are some key companies that are going to profit immensely from this boom. I researched many current technological wonders such as the Amazon Alexa, Google Home, Nest Learning Thermostat, the Ring Doorbell, Phillips Hue networked lightbulbs, and many others. Each of these has "teardown" web pages where people open them up and point out all the chips and technology inside that makes them work.
I will mention several other companies below that I found in this research, but for now, Qualcomm was one of the main companies that supplies communications (WiFi and Bluetooth) chips and technology for these devices.
Qualcomm is also in the process of buying the company NXP Semiconductor (NASDAQ:NXPI). NXP is a giant in the IoT area for automotive networking and communications solutions. NXP itself also just bought Freescale, which was another big IoT company. You can read more detail about these companies in Prasanna Rajagopal's 3 part series here.
The key here is that the IoT industry is consolidating somewhat before the big surge happens over the next 10 years, and Qualcomm is where some great technology is ending up.
QCOM had a solid 3.17% yield and a 1 year Chowder of 14.38, which indicates that the dividend payments should be quite nice while I wait for IoT to become more mainstream.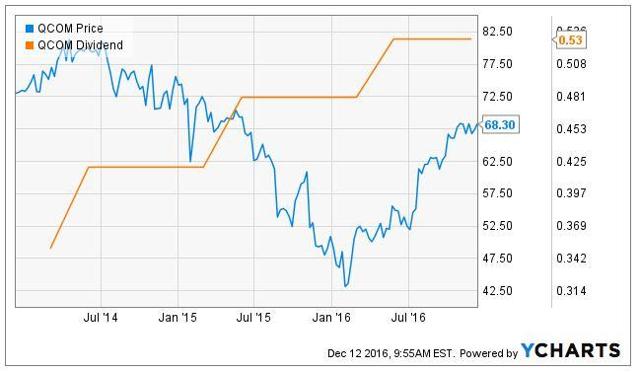 I purchased 250 shares at $66.83 as a overweight full position.
Starwood Properties (NYSE:STWD) - Starwood is one of the REIT companies specializing in commercial mortgages and real estate lending. It finds its way into many peoples dividend stock portfolios as a way to juice a little extra yield. It currently yields 8.5%, however their is very little or no dividend growth. It just is what it is.
Starwood had enjoyed a very nice price appreciation in the first half of 2016, and at the time I looked at it, it had pulled back a bit. I decided to just dip in a toe.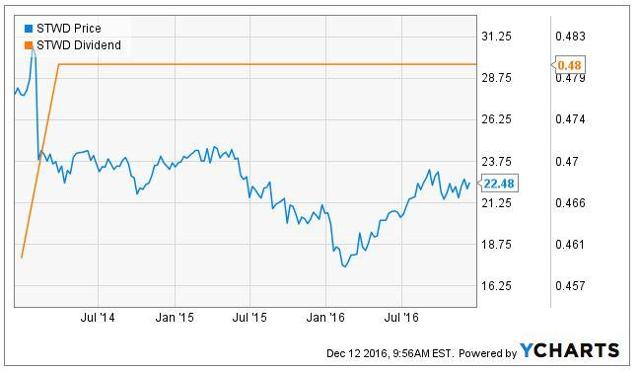 I purchased 200 shares at $21.99 as a half position. The nice thing is that this half position pays as much as a 4% yielder's full position.
Cracker Barrel Old Country Stores (NASDAQ:CBRL) - Cracker Barrel is the old time country store restaurant that enjoys a dedicated following of people that like that old time country feel. I had owned Cracker Barrel in the past and I have always regretted selling it. So, when Cracker Barrel's price fell from $170 to about $132, I decided to buy back in. Incidentally, the $132 price was $1 less than I previously sold, so it seemed like the stars were aligned for me.
The yield was pretty decent at 3.5% and the 1 year Chowder was decent at 10.3, so I decided to dip in halfway. Note that the crazy looking dividend chart below looks that way because of large special dividend payments that were made each of the last 2 years.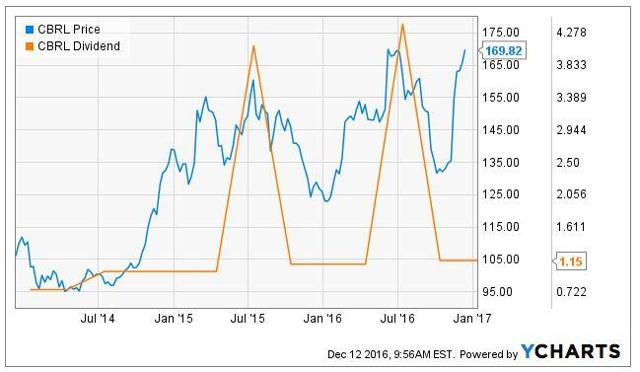 I purchased 38 shares at $131.37 as a half position. I had intended to buy more if it dipped, but instead, it took off like a rocket. It currently sits at $171.24, representing a 30.4% gain since October 20th. I wish I had gone full in.
Amgen (NASDAQ:AMGN) - Amgen is a biotech stock with numerous different drugs in the market and a pipeline of drugs in development. For me, this was purely a dividend growth story. When I started looking at it, Amgen was yielding 2.58%, and most importantly, had a 1 year Chowder of 29.37. That Chowder was close to the average for the last 4 years, so it looked feasible that the dividend growth rate could be fairly reliable going forward.
The stock price had pulled back a bit from its recent high of around $175 so I decided to take a position.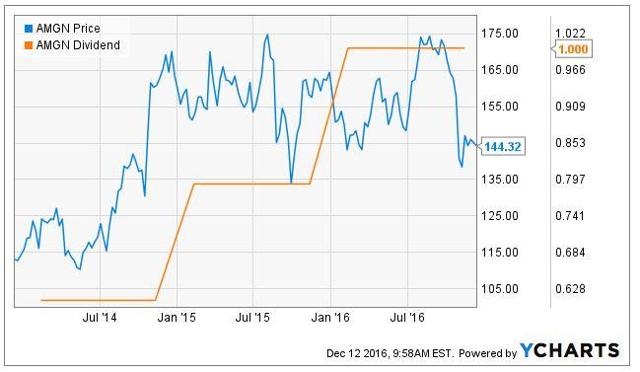 I purchased 83 shares at $154.92 as a full position. It has subsequently pulled back even more and I feel it provides a pretty good value here at $144.
Ford (NYSE:F) - Most people should already know that Ford produces vehicles around the world. What some didn't realize back in mid October, is that Ford was paying a handsome yield of slightly over 5%. The stock price had been beaten up for the better part of the last 18 months and looked to be a good value below $12.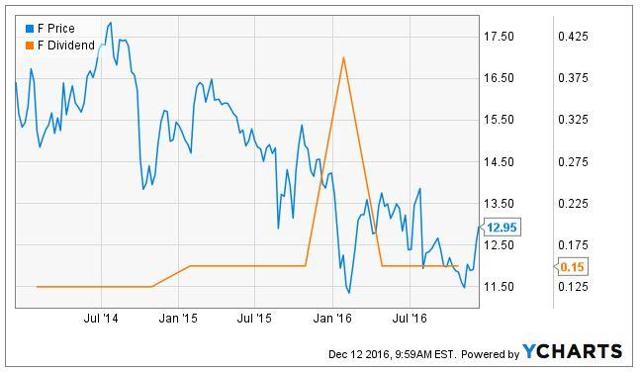 I purchased 670 shares at $11.90 as a full position. Now it has increased to $13 representing a nice 10.7% gain while I am waiting for my dividends to start rolling in.
Boeing (NYSE:BA) - Boeing builds aircraft and aircraft systems for commercial and military contracts. They are one of only a few companies in the world that are capable of building today's large jets. Their stock has languished for the last year but looked ready to spring upwards. Their yield was sitting at 3.14% and the thing that sold me was their 1 year Chowder number of 22.57. A stock like Boeing, sitting at a near term low with a decent yield and great dividend growth is exactly what I look for.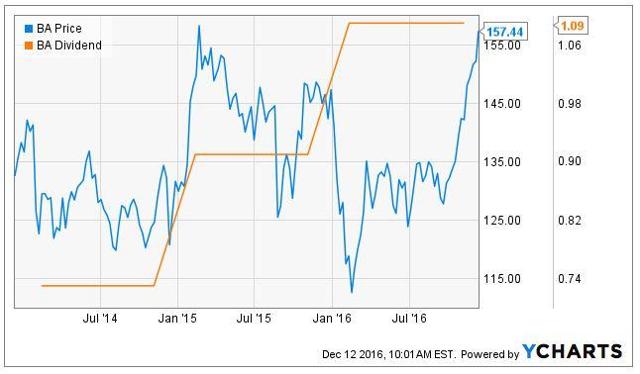 I purchased 50 shares at $138.90 as a half position. This was one of those cases where I wished I had gone full in. The price has now increased to $157 representing a 12.7% gain so far.
Unfortunately, Boeing may take the brunt of some of Trump's anger at companies billing the government too much for military hardware. This story is still playing out.
Texas Instruments (NYSE:TXN) - Most people think of calculators when they think of Texas Instruments. TXN actually produces a huge range of different digital and analog semiconductor chips that find their way into almost all electronic devices.
As I mentioned above for Qualcomm, TXN chips show up in almost every IoT device teardown. If the IoT industry is going to ramp up like I think it is, I believe TXN will be right there.
Texas Instruments had experienced solid price appreciation all year, but it had paused in the Fall as the market suffered some pullbacks. The yield was around 3.5% and the 1 year Chowder was 19.92, indicating solid dividend growth. Earnings were also rising every quarter and beating estimates.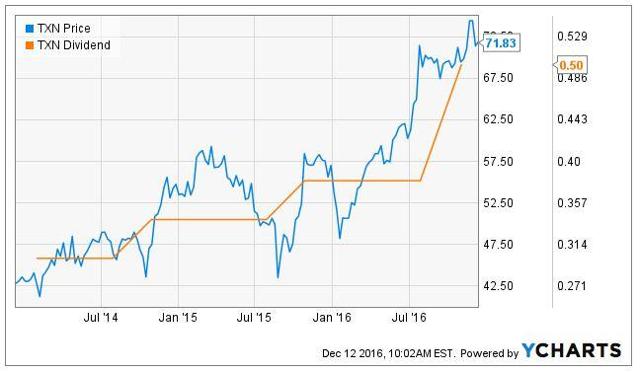 I purchased 130 shares at $68.88 as a full position.
ST Microelectronics (NYSE:STM) - ST Microelectronics is another of the IoT technology companies I kept finding in IoT device teardowns. I wish I had found it sooner, since its price had already increased enormously; but I think it has a long way to go. The yield was only average at 2.6% and dividend growth was actually negative over the last year. This isn't a dividend play as much as it is a capital appreciation play.
The PE is very high, but the earnings over the last few quarters had virtually doubled each quarter. I think 10 years from now, this stock will be much, much higher.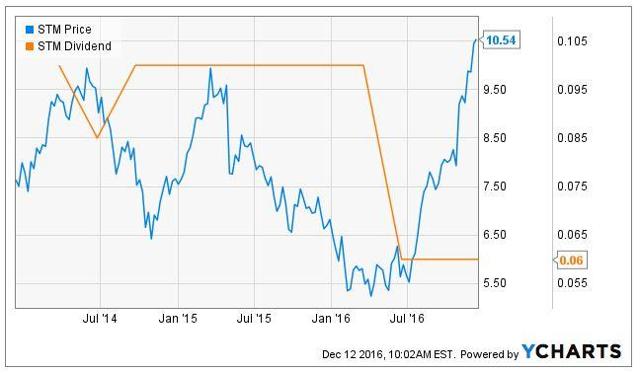 I purchased 433 shares at $9.33 as a half position.
Maxim Integrated (NASDAQ:MXIM) - Maxim is the last of the IoT technology companies that I had found in the IoT teardowns that I was interested in investing in. In addition to having potential for price appreciation as IoT explodes, it had a nice yield of 3.34% and a 1 year Chowder of 11.99 indicating good dividend growth. I can stand to collect the dividend while waiting for more price appreciation. It was already up significantly in 2016, as the chart below indicates.
The PE on MXIM is more reasonable at around 25, and the earnings growth is not stellar, but increasing at a small rate.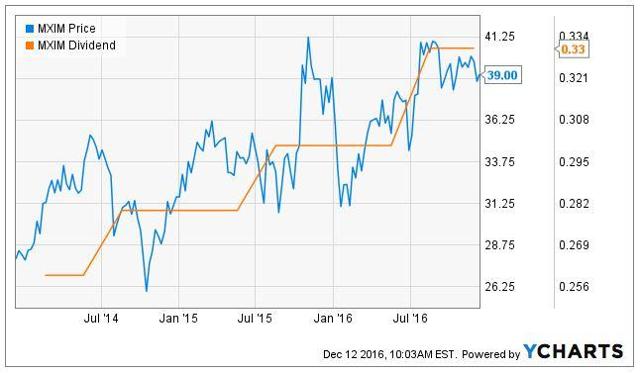 I purchased 126 shares at $39.52 as a half position.
Preferred Apartment Communities (NYSEMKT:APTS) - APTS is a REIT which invests in multi-family apartment complexes. I had been watching APTS for a long time, as someone else had brought it to my attention in the Spring. It just seems to slow increase over time and had a great yield of 6.7% and a 1 year Chowder of 17.5, indicating great dividend growth.
In the Fall, APTS pulled back from $15 to about $12.50, so I decided to take the plunge and pull in some dividends.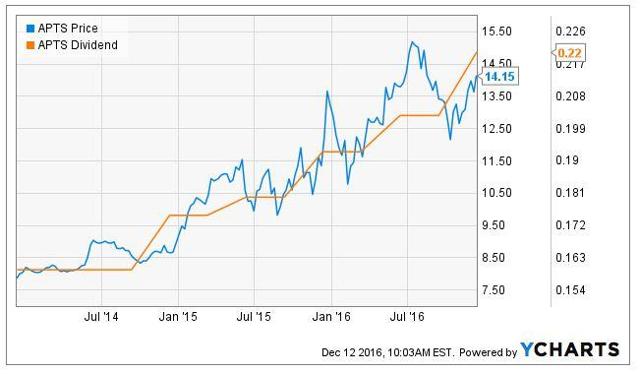 I purchased 720 shares at $13.21 as a full position. Since that time, it has risen to over $14 representing a tidy 6.8% return. I feel pretty confident that this will continue to grow nicely.
Wrap Up
That's it for my Fall purchases. I pretty much have all of my funds invested now and will only be making some small adjustments as I go forward. Most of the stocks I listed above are set to DRIP away for me and compound my dividend growth.
As my portfolio currently stands, I am getting almost $37,000 a year in dividend income at an average of $3063 per month. The chart below shows my monthly portfolio dividend income growth over the last few years, and the big surge this Fall as I invested my 401k funds.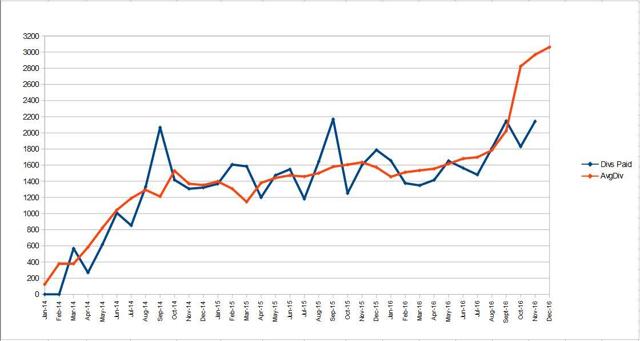 This article has been long enough without also detailing the current status of all my portfolio holdings. Ill save that for another article at the end of the year.
Good luck investing!
Disclosure: I am/we are long ALL STOCKS LISTED.
I wrote this article myself, and it expresses my own opinions. I am not receiving compensation for it (other than from Seeking Alpha). I have no business relationship with any company whose stock is mentioned in this article.