Do-It-Yourselfer's Guide To Capturing Extra Income
Subscribers to "Retirement: One Dividend At A Time" got an early look at this material and receive instant text message trade alerts which often produce lower entry price points and higher yield and income. We encourage you to sign up now to enjoy our low introductory fee available to all current subscribers and those who join before January 1st, 2017. In recognition of their loyalty, current members will be grandfathered for life at the lower current rate. Members who join after January 1st will pay a significantly higher fee.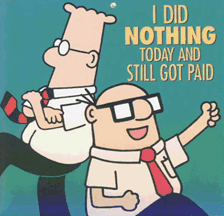 Investors who take a dividend growth approach to their investing, as I do, have their eyes focused like a laser beam on not only the current payout, but also on what the payout has been in the past, how it has grown, how long it has grown and what the future dividend might be.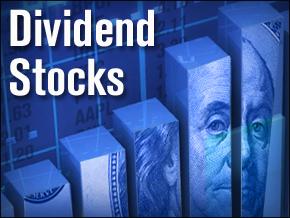 The compound annual growth rate [CAGR] gives us an idea of the rate at which a company's dividend has been compounding over time. An excellent source to gauge CAGR over many different time periods is made available free, by fellow Seeking Alpha contributor Robert Allan Schwartz at Tessellation.com.
Another good tool that allows you to plug in past dividend amounts, time periods, and allows you to figure the CAGR of any stock can be found here.
Dividend Investors On The Prowl For Extra Income
Most readers and investors keep some sort of watch list for those equities they would like to buy at some point. These watch lists may reside on the investor's computer in a separate file, on their mobile tablets in a notes file, on their phones, or on a crumpled up napkin found among assorted junk in the night table.
Wherever it is found, this watch list might contain various criteria spelling out conditions for purchase:
1. Buy when it falls 10% from current price of X dollars.
2. Buy if earnings come in 20% higher than last quarter or last year ago period.
3. Buy if the company maintains its dividend.
4. Buy if the company increases its dividend.
5. Buy only if the company increases its dividend 5% over the year ago period.
6. Buy if the stock price falls due to company specific, temporary setback.
7. Buy if broad market corrects by 10% or 15% or 20%.
8. Buy if the company's sector, as a group, has corrected by 20%.
Another interesting advance warning tool that investors can employ is knowledge of what the upcoming dividend will be, and the ex-dividend date for that dividend.
Ex-dividend Date: What Is It, When Is It?
The ex-dividend date is the date on which the stock no longer carries the dividend entitlement. If an investor buys stock on the ex-dividend date or afterwards, he will not be entitled to the upcoming dividend. That dividend will be paid to the previous owner of the stock.
That being said, if an investor has decided, based upon his watch list criteria and all the other metrics he has already used in his due diligence to determine the suitability of any purchase, to buy a particular equity, it would behoove him to buy BEFORE the ex-dividend date. This will allow him to capture the next, upcoming dividend.
This can be especially tax-efficient when deployed in a tax-deferred account. Done in this way, there are no tax consequences for the investor upon receipt of the dividend.
In a regular taxable account, capturing this dividend will trigger taxes on that dividend payment (15% tax for most investors, 0% for those in lower tax brackets). But, hey, you'll still get to keep 85% of the dividend.
The Mechanics
For those investors determined to pull the trigger because their criteria have been met, the sooner they buy before the ex-date, the better.
For those looking to buy just before the ex-date to capture the dividend, there are consequences that need to be taken account of.
The specialist on the floor of the stock exchange, charged with the responsibility of maintaining an orderly market in his stock, will mark down the price of that stock by the amount of the upcoming dividend on the morning of the ex-dividend date, before it opens for trading.
Ex-Dividends In Practice: An Example
So, the investor who bought the stock the day before the ex-dividend date, solely to capture the dividend, finds his upcoming $1.00 dividend has been deducted from the share price the following day. He paid $100.00 for the stock on Monday, and Tuesday, the ex-dividend date, it opens up at $99.00.
Adding insult to injury, if he bought the stock in a non-tax deferred account, he owes Uncle Sam $.15 on that $1.00 dividend. In sum, the investor has collected the $1.00 dividend upon which he loses $.15 to taxes at the opening bell, and he has a $1.00 capital loss on paper:
$1.00 dividend - $1.00 capital loss - $.15 in taxes = -$.15
But Wait, There's More
In a generally upward trending, or sideways market, such as we've had for most of 2016, the stock that experienced the ex-dividend markdown described above will usually have its value restored back to its level previous to the mark-down, normally within a few days' time.
That being the case, the capture of the dividend will inure positively to the investor. And if done in a retirement account such as an IRA, no tax consequences result; no harm, no foul.
In a downward sloping market, since there is general pressure on the broad market, the same cannot be said for restoration of the original stock value when it comes to ex-dividend consequences.
In that circumstance, future investors, after the ex-date, will be less willing to buy and boost the stock price knowing they are not entitled to the next dividend payment.
Using the Ex-Dividend Date As A Warning Signal
Some dividend growth investors have a rule in their business plan that encourages them, or causes them, to sell out of a position if the company does not increase the dividend, or reduces it. In this case, early information on the upcoming dividend and ex-date can give advance warning and trigger a sale before further damage is done to the stock price by this news.
Now that the mechanics and consequences have been dealt with, and with the understanding that in today's type of market it can be a beneficial strategy to pursue, let's take a look at this week's upcoming ex-dividend candidates.
Ex-Dividend Candidates, Week of December 14-December 16, 2016
Going Ex-Dividend 12/14/16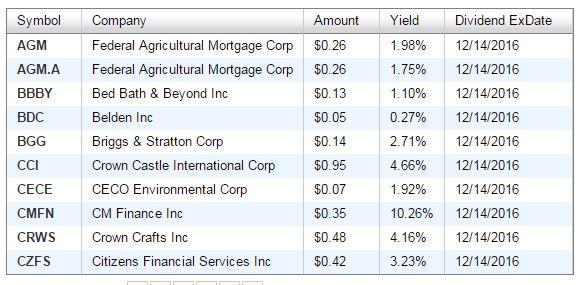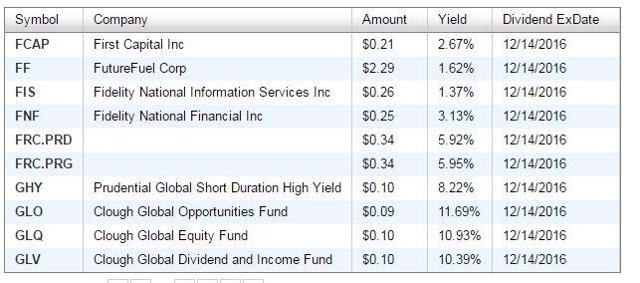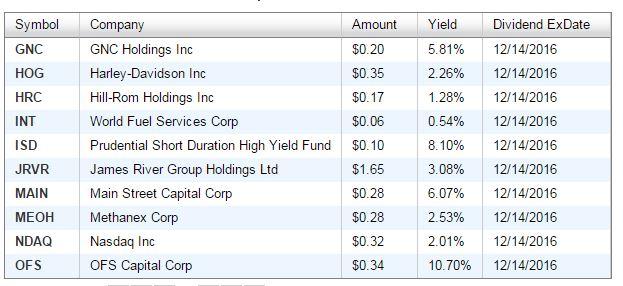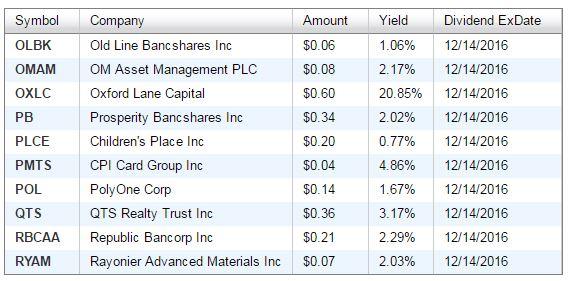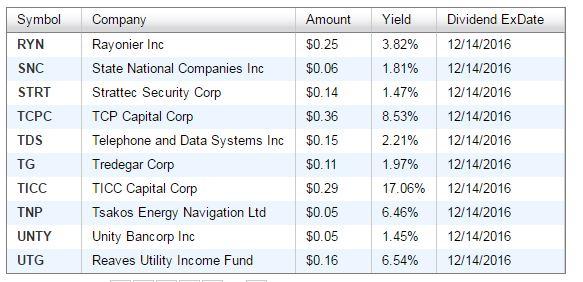 Going Ex-Dividend 12/15/16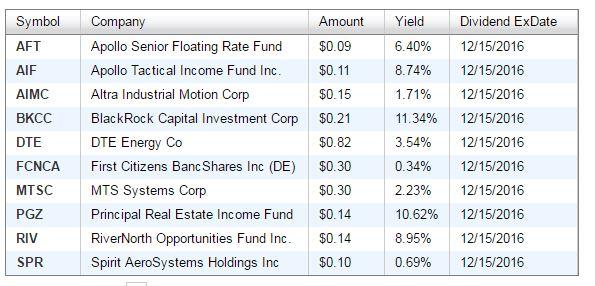 Going Ex-Dividend 12/16/16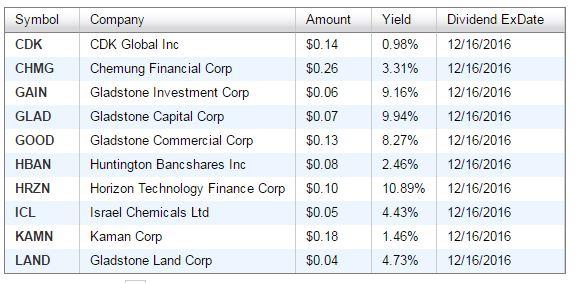 Recommended For Your Further Due Diligence
Crown Castle International Corp. (NYSE:CCI), together with its subsidiaries, owns, operates, and leases shared wireless infrastructure in the United States and Australia. The company provides towers and other structures, such as rooftops; and distributed antenna systems, a type of small cell network (small cells). It provides access, including space or capacity to its towers, small cells, and third party land interests via long-term contracts in various forms, including license, sublease, and lease agreements.
In addition, the company offers network services relating to wireless infrastructure, primarily consisting of antenna installations or subsequent augmentations, as well as site development services relating to wireless infrastructure. As of December 31, 2013, it owned, leased, or managed approximately 39,600 towers in the United States, including Puerto Rico; and approximately 1,700 towers in Australia.
CCI currently pays an annual dividend of $3.80, which represents a dividend yield of 4.35% at prices as of 12/12/16. In the last three years, the company has grown the dividend from $.35 to $88.5, which translates to a compound annual growth rate [CAGR] of 36.24%. It is slated to pay a quarterly dividend of $.95 to those who buy the stock before 12/14/16.
The company is selling for a $15.47 discount from its 52-week high, or a 15% discount.
Crown Crafts, Inc. (NASDAQ:CRWS) has twice, in the last few years, paid an especially large dividend in place of its normal $.08 quarterly dividend. It is slated to pay $.48 to those who purchase its stock prior to 12/14/16. At current prices, this one dividend payment translates to a 5.9% yield. Added to the three other $.08 quarterlies, the annual dividend is projected at $.72, which would represent an annual dividend yield of 8.8%.
Crown Crafts, Inc., through its subsidiaries, designs, markets, and distributes infant, toddler, and juvenile consumer products in the United States and internationally. It provides crib and toddler beddings; blankets and swaddle blankets; nursery and toddler accessories; room décors; reusable and disposable bibs; burp cloths; hooded bath towels and washcloths; reusable and disposable placemats and floor mats; disposable cup labels, toilet seat covers, and changing mats; and other infant, toddler, and juvenile soft goods.
The company sells its products directly primarily to mass merchants, mid-tier retailers, juvenile specialty stores, value channel stores, grocery and drug stores, restaurants, Internet accounts, and wholesale clubs through a network of sales force and independent commissioned sales representatives.
Main Street Capital Corporation (NYSE:MAIN) is a business development company specializing in long- term equity and debt investments in small and lower middle market companies. The firm focuses on investments in, subordinated loans, private equity, venture debt, mezzanine investments, mature, mid venture, industry consolidation, later stage, late venture, emerging growth, management buyouts, change of control transactions, ownership transitions, recapitalizations, strategic acquisitions, refinancing, business expansion capital, growth financings, family estate planning, and other growth initiatives primarily for later stage businesses. It invests in consumer discretionary, consumer staples, energy, healthcare, industrials, information technology, materials, telecommunication services, and utilities sectors.
MAIN is a monthly dividend payer, beloved by retirees for its cash flow characteristics that make it easy to pay the bills. Investors who buy this name before 12/14/16 will enjoy an extra, enhanced dividend payment of $.275. Main has been paying an extra-large dividend payment, twice yearly like this for the last three years.
Its normal $.185 monthly dividend works out to a $2.22 annual dividend, or 6.01% at current prices. Including the two enhanced dividends paid this year, the annual dividend comes to $2.55, or a current yield of 6.9%.
Watch List Real Time Tracker to Track Ex-Dividend Dates
I use The Watch List Real Time Tracker as a research tool. It allows me to obtain the current real time trading price of my stocks throughout the day, and it automatically sources the dividend amount and current yield for me.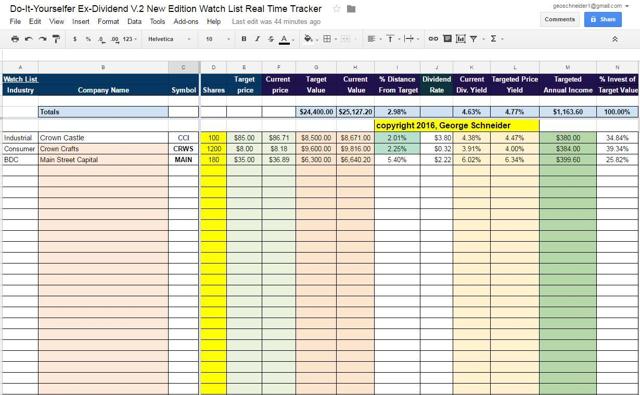 I've plugged in the tickers of the equities discussed earlier. I can input various target prices on each of them if I wish to determine what the entry yields would be if I bought them at those designated prices.
The target values are displayed as well as the current values of each position. Column I indicates how far away I am from those target prices and will light up in green to tell me when I'm within 3% of my targets (this percentage is customizable by the user which makes it quite flexible).
Column K tells me, for instance, that the current yield for Crown Castle is 4.39%, but if I choose to wait for a drawdown, I may be able to get a yield of 4.47% at my target price.
In keeping with my desire to balance income from my portfolio positions in order to reduce the risk of catastrophic income failure, column M illustrates the targeted income is pretty close for each name input into the tool, around the $380 annual amount.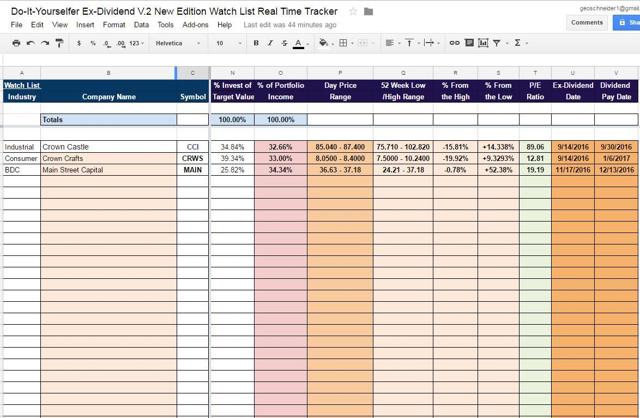 Scrolling to the right, column O confirms that each of my positions will contribute equally to the portfolio income, approximately 33% each. Columns P and Q automatically source the data for daily price ranges and 52-week highs and lows. That is where we can ascertain if our proposed portfolio additions are on sale or not, and by what percentage.
Crown Castle is currently off 15% from its 52 week high, and Crown Crafts is now selling for a discount of 20% from its 52 week high.
The ex-dividend dates are displayed in column U. As we approach said dates they will automatically update in real time, giving us that advanced warning if we wish to consider these names, or any others, for the dividend capture strategy.
Finally, column V informs us that if we make our purchases before the ex-dividend dates, we'll receive the next upcoming dividend for Crown Castle on 12/30/16 (if a date has not yet been updated because it is too far away, we can simply add 3 months for quarterly payers to know the next payment date), Crown Crafts will pay the next dividend on 1/6/17 and Main Street Capital will pay its next monthly dividend on 12/13/16.
Monitoring and Matching Income to Expenses
As a dividend and income investor, my first priority is to build and grow income for retirement. When retirement arrives, it will be especially important to be able to match dividend and other sources of income, including, but not limited to, social security, pensions, annuities, rental income and possibly net income from work, to outgoing expenses.
To make this task easier, I use the Real Time Monthly Dividend and Income Tracker. We can monitor our monthly income from Crown Castle, Crown Crafts, Main Street Capital and other portfolio components by simply entering the ticker symbols and share amounts in the months that they pay us dividends. In this case, Crown Crafts pays quarterly dividends each January, April, July and October.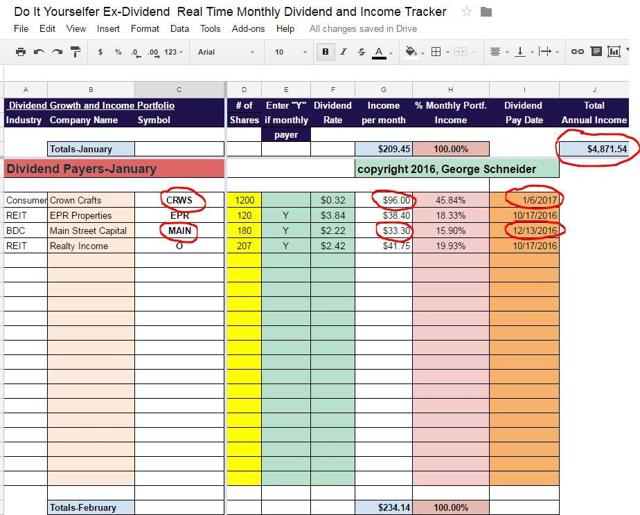 The monthly income from this position, if we buy it, will come to $96 as denoted in column G. The dividend payment date is shown as 1/6/17, highlighted in red and total portfolio income is shown in column J, at the top of each of the twelve monthly sectors.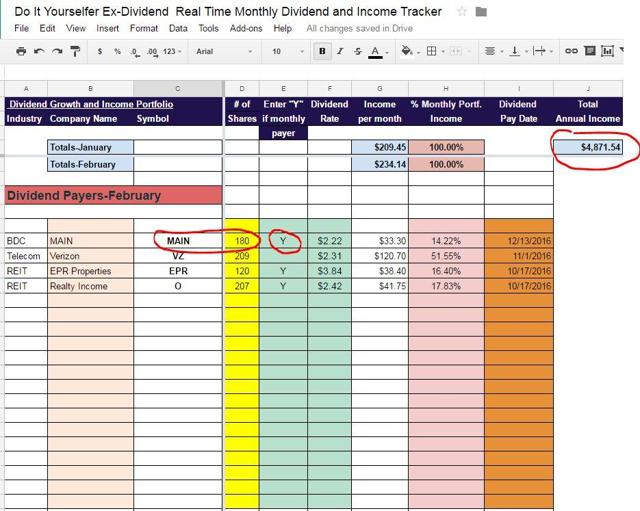 For monthly payers like MAIN, we input a "Y" in column. This way, my algorithm computes the annual dividend rate, divides it by 12 and shows our monthly income from this position as $33.30, just as it did in the January monthly sector.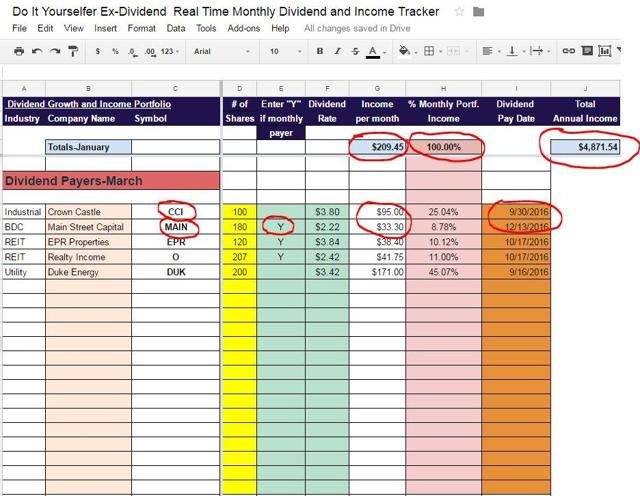 Crown Castle pays its dividend in March, June, September and December. Its monthly contribution to income is $95.00, highlighted here in red. The total monthly income for March is indicated at $209.45, and the top of column H will always report a total of 100% as it sums up each of our portfolio constituent's contributions to monthly income.
Because everything is in real time, always updating, we can see any changes to income when our equities give us dividend raises. Monthly portfolio income reports make it easy to match our income with our outgo, especially in retirement.
Investors who are actively accumulating stock to grow income will have a monthly heads up as to what income will be arriving in the account. This lets us plan future investments, be they new investments or reinvestments into names we already hold.
The Fill-The-Gap Portfolio At A Glance
Almost two years ago, I began writing a series of articles on December 24, 2014, to demonstrate the real-life construction and management of a portfolio dedicated to growing income to close a yawning gap that so many millions of seniors and near-retirees face today between their Social Security benefit and retirement expenses.
The beginning article was entitled "This Is Not Your Father's Retirement Plan." This project began with $411,600 in capital that was deployed in such a way that each of the portfolio constituents yielded approximately equal amounts of yearly income.
The FTG Portfolio Constituents
Constructed beginning on 12/24/14, this portfolio now consists of 18 companies, including AT&T Inc. (NYSE:T), Altria Group, Inc. (NYSE:MO), Consolidated Edison Inc. (NYSE:ED), Verizon Communications (NYSE:VZ), CenturyLink, Inc.(NYSE:CTL), Main Street Capital, Ares Capital (NASDAQ:ARCC), Reynolds American, Inc. (NYSE:RAI), Vector Group Ltd. (NYSE:VGR), EPR Properties (NYSE:EPR), Realty Income Corporation (NYSE:O), Sun Communities Inc. (NYSE:SUI), Omega Healthcare Investors (NYSE:OHI), W.P. Carey, Inc. (NYSE:WPC), Government Properties Income Trust (NYSE:GOV), The GEO Group (NYSE:GEO), The RMR Group (NASDAQ:RMR) and Southern Company (NYSE:SO).
Because we bought all of these equities at cheaper prices since the inception of the portfolio, the yield on cost that we have achieved is 6.63%.
FTG Recap: FTG Portfolio Close, 12/12/16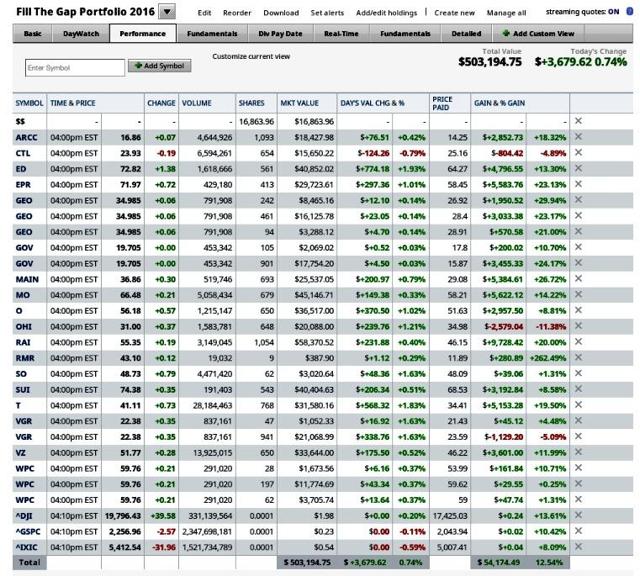 Currently, the FTG is producing $25,072 in annual income. When added to the average couple's Social Security benefit of $28,800, we have, in only 23 months' time, significantly exceeded our goal of filling the gap between SS income and a comfortable $50,000 retirement. In fact, our total income between these two sources is now $53,872. We benefited from many dividend increases received last month and our reinvestment of dividends into our new position in Southern Company shares. The new dividend income attendant to this purchase has us now in hailing distance of our dividend income exceeding Social Security benefit income.
We have enjoyed a regular stream of dividend increases, more than enough to keep us comfortably ahead of inflation.
With its beginning value of $411,600 and the addition of a $6,500 IRA contribution for 2015 and a $6,500 IRA contribution for 2016, total asset contributions come to $424,600. The portfolio has grown $78,600 to a value of $503,200. This represents capital appreciation of 18.51% in just 23 months.
$503,200-$424,600 = $78,600 capital appreciation
$78,600/ $424,600 = 18.51% percentage gain
On a price return basis, this year alone, the FTG has grown $54,180 in value, or 12.54%, while the S&P 500 is up just 10.42%, also on price return. Accordingly, the Fill-The-Gap Portfolio has effectively returned 1.203 times the return on the S&P index. In other words, it has handily trumped the S&P index by 20.3%. It has also outperformed the return of the Nasdaq Index by 55%.
Mirror Trades In the FTG and RODAT Subscriber Portfolio
Subscribers and readers wishing for an easy way to mirror their trades after the RODAT subscriber portfolio and the FTG Portfolio can easily enter the CCI ticker. After doing their own due diligence, they might wish to proportionately mirror their own trade in CCI using the parameters I've discussed above, using My Fill-The-Gap Mirror Calculator or the My RODAT Mirror Calculator.
MY FTG Mirror Calculator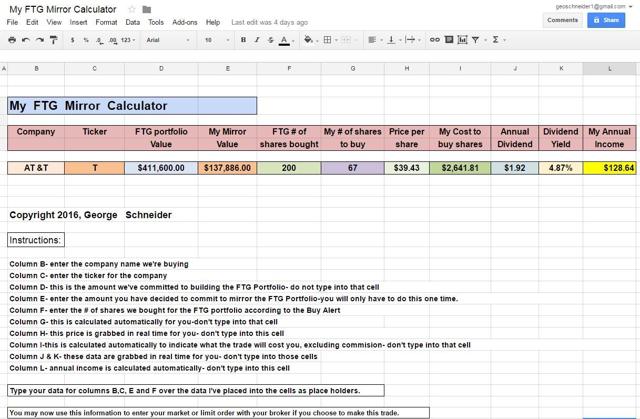 Author's note: Should you be interested in reading any of my other articles detailing various strategies to enhance your returns on a dividend growth portfolio, you will find them here.
I invite you to follow me in order to be notified of all of my new work on a real time basis. Simply click "follow" next to my picture, then choose "follow this author" and "real-time alerts on this author."
As always, I look forward to your comments, discussion and questions. Please share your experience of buying stock to capture dividends and how it impacted your portfolio income.
As our subscriber roster fills up, we will be ending the FREE two-week trial of my subscription service on December 31st, which includes instant free text alerts. To learn more about this premium service, please click this link:
Retirement: One Dividend At A Time
Disclaimer: This article is intended to provide information to interested parties. As I have no knowledge of individual investor circumstances, goals, and/or portfolio concentration or diversification, readers are expected to complete their own due diligence before purchasing any stocks mentioned or recommended.
Disclosure: I am/we are long T, MO, ED, VZ, CTL, MAIN, ARCC, RAI, VGR, EPR, O, SUI, OHI, WPC, GOV, GEO, RMR, SO.
I wrote this article myself, and it expresses my own opinions. I am not receiving compensation for it (other than from Seeking Alpha). I have no business relationship with any company whose stock is mentioned in this article.
Editor's Note: This article covers one or more stocks trading at less than $1 per share and/or with less than a $100 million market cap. Please be aware of the risks associated with these stocks.