Welcome to the Gusher issue of M&A Daily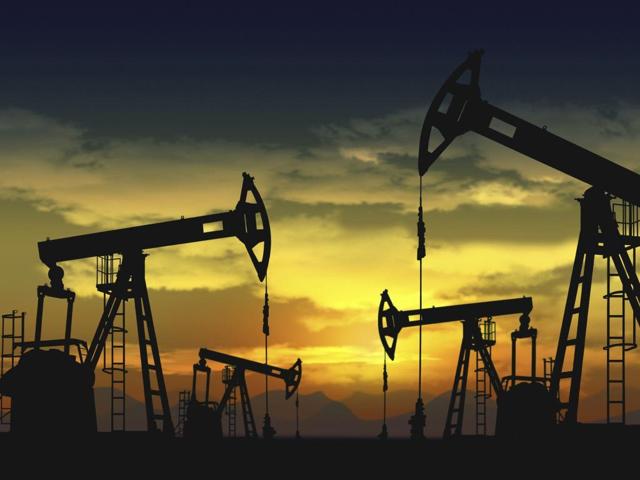 Top Picks For 2017
So far in this series, I have disclosed the following top picks for 2017:
Before year end, I will discuss several other categories. Today, I add to the list my favorite commodity: oil. My favorite way to get exposure to that commodity is by shorting the ProShares UltraShort Bloomberg Crude Oil ETF (NYSEARCA:SCO).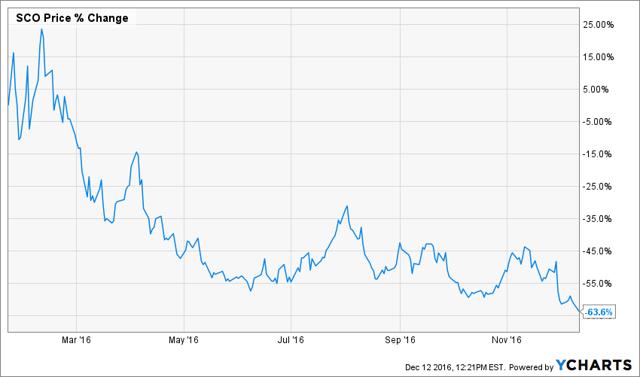 Oil has been extremely low, and SCO has been extremely high. As oil reverts towards its historical mean, SCO should continue to fall.
Exxon
An oil and gas recovery could come with renewed industry consolidation. For one recent example, Exxon (NYSE:XOM) appears to be interested in attempting to salvage its acquisition of InterOil (NYSE:IOC). The companies agreed to extend their deal's walk date to December 21, 2016. Exxon appears fully priced today; many such mega caps that are too big to get bought and pay a decent dividend seem to be in the same situation.
Seventy Seven
Patterson-UTI (NASDAQ:PTEN) is buying Seventy Seven (NASDAQ:SVNT) in a $1.28 billion stock deal. The buyer is working with Piper Jaffray (NYSE:PJC).
Heritage Oaks
Pacific Premier (NASDAQ:PPBI) is buying Heritage Oaks (NASDAQ:HEOP) in a $400 million stock deal. HEOP holders get 0.3471 PPBI per share.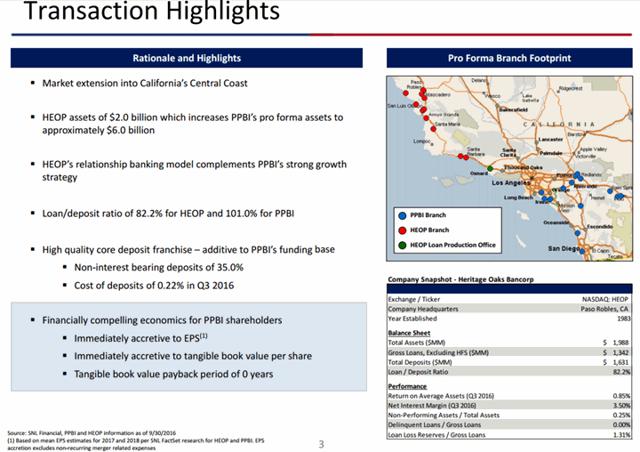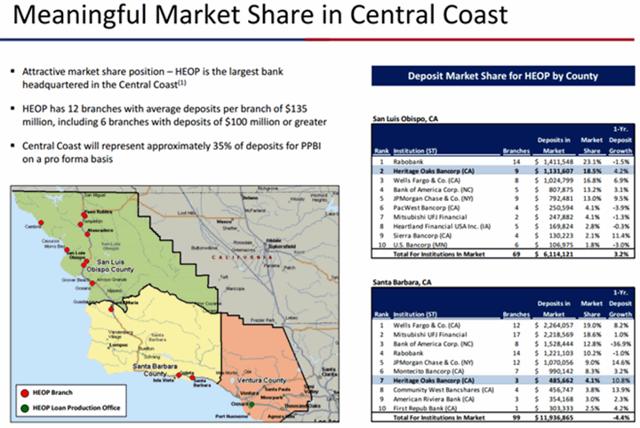 There appears to be many opportunities for a continuation of banking M&A.
Computer Sciences
The EU cleared the Hewlett Packard Enterprise (NYSE:HPE) acquisition of Computer Sciences (CSC).
TeamHealth
The definitive proxy was filed for the Blackstone (NYSE:BX) acquisition of TeamHealth (NYSE:TMH). TeamHealth shareholders vote January 11.
Monsanto
A shareholder class action lawsuit to block the Monsanto (NYSE:MON) acquisition by Bayer (OTCPK:BAYRY) was dismissed. Monsanto shareholders approved the deal. The $25.15 arb spread offers a 23% IRR if the deal closes by 2018.
Harman
The preliminary proxy was filed for the Samsung (OTC:SSNLF) acquisition of Harman (NYSE:HAR).
Headwaters
The preliminary proxy has been filed for the Boral (OTCPK:BOALY) acquisition of Headwaters (NYSE:HW).
Lionbridge
The definitive merger agreement was filed for the H.I.G. acquisition of Lionbridge (NASDAQ:LIOX).
Middleburg
The preliminary S-4 was filed for the Access (NASDAQ:ANCX) acquisition of Middleburg (NASDAQ:MBRG). More to come in future editions of M&A Daily…
Elsewhere on Seeking Alpha
Beyond Seeking Alpha
Sifting the World
Disclosure: I am/we are long HPE, MON, MBRG. I wrote this article myself, and it expresses my own opinions. I am not receiving compensation for it (other than from Seeking Alpha). I have no business relationship with any company whose stock is mentioned in this article.
Additional disclosure: Chris DeMuth Jr and Andrew Walker are portfolio managers at Rangeley Capital. We invest with a margin of safety by buying securities at discounts to their intrinsic value and unlocking that value through corporate events. To maximize returns for our investors, we reserve the right to make investment decisions regarding any security without notification except where notification is required by law. This post may contain affiliate links, consistent with the disclosure in such links. We manage diversified portfolios with a multi-year time horizon. Positions disclosed in articles may vary in sizing, hedges, and place within the capital structure. Disclosed ideas are related to a specific price, value, and time. If any of these attributes change, then the position might change (and probably will).
Editor's Note: This article discusses one or more securities that do not trade on a major U.S. exchange. Please be aware of the risks associated with these stocks.