Trading natural gas during winter isn't for the fainthearted. There you are, patting yourself on the back for a nice long trade, and you wake up Monday morning to a 5% gap down.
This particular gap down was created by the recent EIA's Drilling Productivity Report, and reports of warmer than expected weather added to the sell-off.
So where to from here?
The Gap Down
The last time gas closed at the highs on a Friday and gapped down the following Monday was on the 4th July. I remember it fairly well as I wrote an article around that time.
Here's what I said about that particular gap down,
.. the market touched $3 on the 1st July, closed at the highs, and then gapped down after the long weekend. This isn't how tops are usually made. How do we know what price is too high if it has never been tested? It's a bit like stopping an auction in the middle of a bidding war and then selling the item much cheaper the next day. It doesn't make much sense; sellers will naturally want to try for higher prices.
The same applies to the December 12th gap; new highs are likely at some point.
That said, a corrective phase may be due in the shorter term. Despite the gap, gas eventually pulled back a total of 14% in July and August.
The Fractal Continues
In my last article I updated a fractal I have used over the last 6 months or so, based on the similarities in price action to 2012-2013.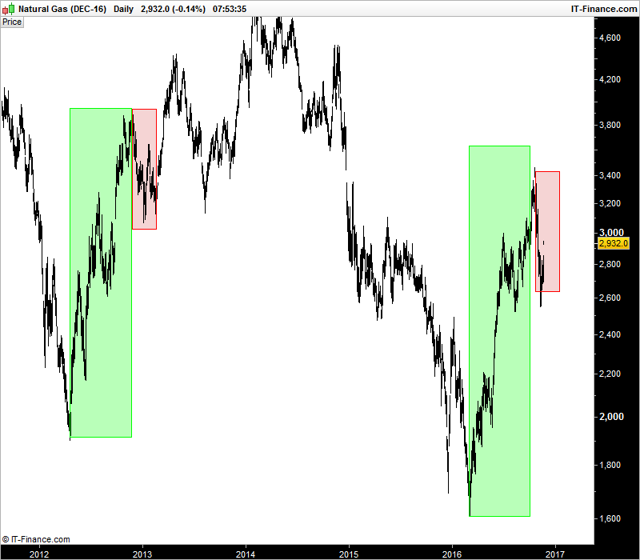 The fractal suggested the lows were in, but also warned 'gas in March 2013 made a failed breakout to new highs before a sharp move back to the lower part of the range.'
We now have that break out and although the move happened earlier than expected, there is continued similarity, as shown by the updated fractal: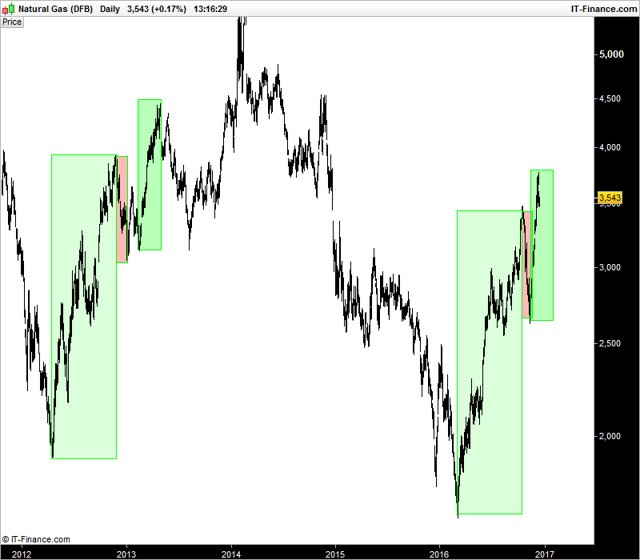 If we zoom into each period we can get a clear look at the similarity and what we could expect in the coming months: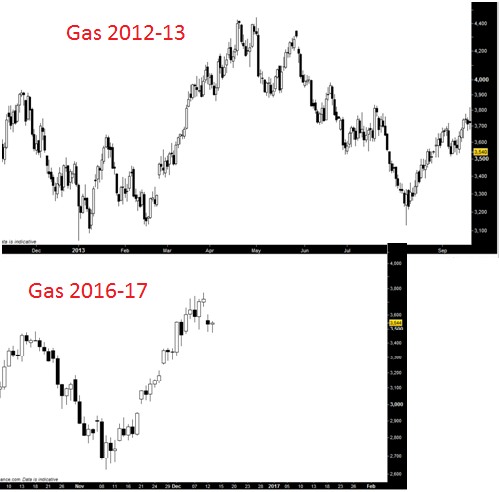 I always say fractals should be used as a rough guide, and zooming in too much with the expectation of a perfect repeat will get you into trouble.
The main takeaway is the next large move is likely down towards $3.
That said, it does appear we could get one more high, and a proportionate move could get as high as $4. I am prepared for this move if it happens.
I am short from $3.7 based on short term technicals, and will add to my position closer to $4: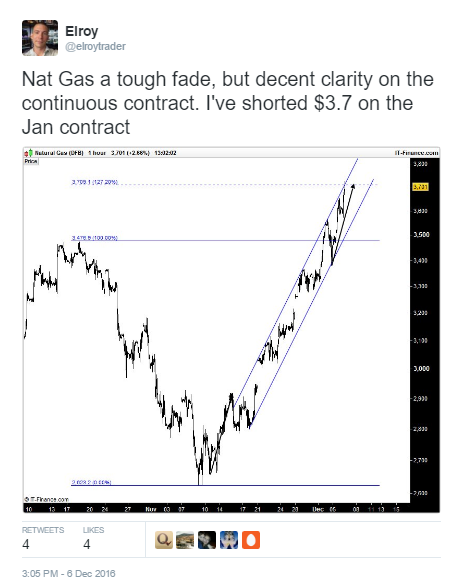 The recent gap down was fortunate. I can't predict the weather or news, but I can position myself where I think I have an edge.
Conclusions
My plan is to fade moves at the extremes of the current range. $3.7-$4 is a sell zone and $2.6-$3 is a buy zone.
Based on technicals and the comparison with 2012-2013 I think the next large move is down. Obviously extremely cold weather could change things, but I am betting the break of $4 comes much later in 2017 and we return to $3 first.
Disclosure: I am/we are short UNG. I wrote this article myself, and it expresses my own opinions. I am not receiving compensation for it (other than from Seeking Alpha). I have no business relationship with any company whose stock is mentioned in this article.
Additional disclosure: I am short NG Jan futures contract