It's no surprise. Shares of Apple Inc. (NASDAQ:AAPL) have underperformed the broader market year over year posting a modest 2.1% return compared to the 12.85% year-over-year return posted by the SPDR S&P 500 ETF (NYSEARCA:SPY). After nearly a decade of being known as the hottest stock on the market, Apple has run into a less than stellar year. Sales have declined, the Apple car project hasn't gone according to plan, and a brush-up with the Federal Bureau of Investigations (FBI) earlier in the year over a denial to unlock Syed Farook's iPhone (famed San Bernardino public shooter) are among some of the internal issues the Cupertino, California-based tech giant has dealt with in 2016. Then along came the election of Donald Trump, much to the dismay of Apple executives. Trump has vowed to put pressure on Apple to create jobs in the U.S. Apple currently employs roughly 110,000 compared to the 1.6 million employed by its suppliers and foreign manufacturing partners - a number Trump is not pleased with and campaigned on using his power to raise. So, Apple has faced its fair share of issues in 2016, but 2017 is looking more promising. Repatriation of capital, tax reform and a newly redesigned iPhone 8 could drive sales, profits and investor confidence back in record numbers. On top of that, Apple has one more trick up its sleeve.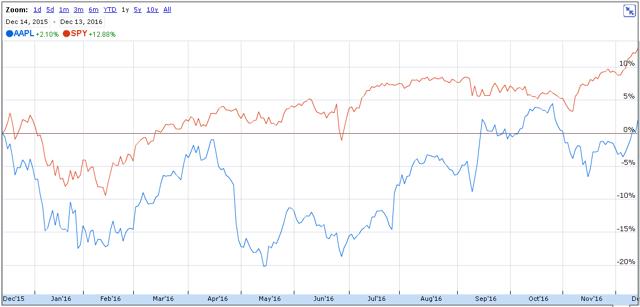 Declining Sales, Leadership and Innovation
After posting consistent sales growth since the introduction of the iPod in 2001, it seems like the death of the founder and Apple innovator Steve Jobs is catching up to the company. During his latter tenure, Jobs headed up Apple as it introduced the iPod, iPhone, iPad and new lines of MacBook, MacBook Air and MacBook Pro laptops which became the industry's best-selling notebook computers. Who can forget the way the MacBook Air was introduced? A laptop thin enough to fit inside a manila envelope. Since Jobs's passing in 2011, the company has struggled to introduce the revolutionary type of new products Jobs had become notorious for having a keen eye for. While the company has refreshed devices such as the iPhone and the MacBook Pro in 2016, updates to product lines are seen as too little too late by some investors and have had mixed reviews from fans. An iPhone 7 featuring no aesthetic difference from its predecessor and a line of notebooks with a subpar keyboard and elimination of Apple's MagSafe power adapter (which has saved my own laptop from a few too many crash and burns) are just some of the complaints you can find online from Apple loyalists who wonder why innovation has slowed. Despite attempts to introduce new products and services such as the Apple Watch, sales of Apple products introduced after the passing of Jobs account for only a fraction of total sales, as seen below. While service revenues are increasing, Apple's exposure to competitors such as Samsung (OTC:SSNLF) poses a real threat of market share loss if Apple falls behind introducing new innovations quickly enough.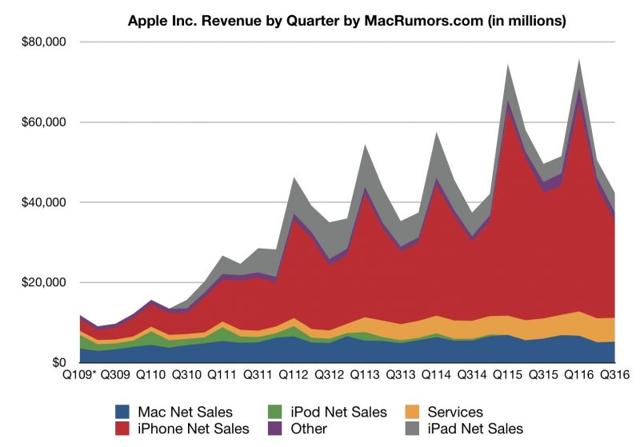 In 2015, Apple's revenues rose to $233.7 billion, up 28% from 2014. Apple's net income was $53.4 billion, a whopping 35% increase of 2014's $39.5 billion. Despite that, shares of AAPL ended the year down 2.8, mostly due to declining iPhone sales. For 2016, analysts are expecting revenue to fall 2.7% to $227.4 billion. The decline in revenue is the first the company has witnessed in 13 years, posing the honest question of what does Apple have to do to turn things back around?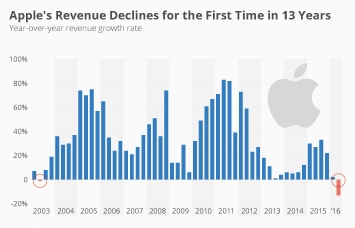 What President-elect Trump Has Planned for Apple
This week, top executives from Tesla Motors (NASDAQ:TSLA), Amazon (NASDAQ:AMZN), Apple, Alphabet (GOOG, GOOGL), Microsoft (NASDAQ:MSFT) and Facebook (NASDAQ:FB) are set to meet with President-elect Donald Trump after strongly opposing his candidacy during election season. Trump has vowed to place tariffs of up to 35% on tech firms who have shifted what was left of their U.S. manufacturing base over to China over the last decade to take advantage of low labor costs. The rhetoric is of concern to Apple in particular who Trump has called out by name on a number of occasions, vowing to use his power to make Apple build iPhones in the U.S. Apple executives and investors are concerned with Trump's plans, which is the primary reason tech stocks have seemingly been left behind in the Trump rally.
But a Trump presidency isn't all bad news for Apple. Trump has vowed to allow repatriation of hundreds of billions of dollars that Apple has stores overseas at a reduced tax rate. The idea is cuts to corporate tax rates and manufacturing regulations coupled with repatriation of capital will spur investments in U.S. manufacturing plants, which I've already discussed as being highly unlikely. The focus of this week's meeting tech executives meeting with Trump will be jobs - the primary goal Trump set during his candidacy. Where we stand right now, the U.S. labor participation rate is near its lowest levels since 1978, something Trump has vowed to do all in his power to increase. So, 2016 has brought new economic and political pressures onto Apple executives that they simply haven't dealt with during the last decade.
Apple's Plans For 2017
2017 will mark a number of milestones for Apple. First and foremost, the iPhone's 10-year anniversary has fans expecting a significant update to the design and functionality of the smartphone. As of now, rumors include speculation about features such as wireless charging, an all-glass casing, and a curved screen. Suppliers are reportedly getting ready to churn out a whopping 150 million iPhones in the latter half of 2017. A sharp increase over the 120 million iPhone 6 models produced in 2014. While the company does seem to expect to sell more iPhones than ever before, investors haven't yet bit the bullet. All the speculated features can already be found in other phones such as the Samsung Galaxy line and Alphabet's Pixel. The company will need to do more than just rely on the cyclical nature of bi-annual phone upgrades to get investors and laymen alike to think of Apple once again as an innovator of consumer electronics. Competition is on the rise as well putting pressure on Apple to really make this one a hit. Aside from a new iPhone, Apple is planning a refreshed line of iMac desktop all-in-one computers although iMacs account for only a small margin of Apple's total sales.
So, the questions facing investors are: Can Apple innovate once again? Can the company rekindle its revolutionary spirit - the spirit led by Steve Jobs? Can it once again become a tech disruptor rather than a go along to get along type of organization? Facing political pressure, declining sales and a lack of innovative new products, how is Apple going to realize and implement emerging new technologies? The answer may come from an unlikely source.
Apple's Future May Lie in SoftBank's Tech Fund
According to recent reports, Apple is considering making a billion-dollar investment in SoftBank's (OTCPK:SFTBY) tech fund. If the company can come to terms with SoftBank, Apple could use the tech fund to gain insight into emerging technologies which, in turn, may help the company implement emerging technologies into consumer devices at a faster pace. Currently, SoftBank's tech fund is the largest in the world worth roughly $100 billion. Apple could use insight from the tech fund to gain much-needed foresight into future trends in artificial intelligence, virtual and augmented reality and battery technology - areas competitors like Samsung are seemingly years ahead of Apple in.
This wouldn't be the first time Apple and SoftBank have partnered up. SoftBank was the first telecommunications company in Japan to sell Apple's iPhone, which spurred various business deals between the two ever since. SoftBank recently confirmed the company would invest $25 billion into its Vision Fund to make investments in the technology sector worldwide. Additionally, the company is currently in the process of finalizing a deal with a tech fund backed by the government of Saudi Arabia estimated to be worth somewhere near $45 billion. Furthermore, recent news has SoftBank CEO Masayoshi Son pledging to invest $50 billion of the fund into the U.S. - a move that came after meeting with President-elect Trump, which could create as many as 50,000 new jobs in the U.S.
The Bottom Line
Apple has run into a bit of a rough patch in 2016. A showdown with the FBI over breaking iPhone encryption, an Apple car research and development project that may never come to light, declining revenue for the first time in 13 years, and the election of Donald Trump whom the company outspokenly opposed has facilitated serious year-over-year underperformance. Since the passing of founder Steve Jobs, the company has struggled to hold onto its title as the leading consumer electronics innovator. Products introduced after the death of Jobs have struggled to catch on. Along came the election of Donald Trump and brought a whole new set of political and financial pressures onto the company. Apple must return to what made the company great - understanding what customers want before customers want it. Apple is hoping the deal with SoftBank's tech fund can give the company much needed insight into emerging technology trends. That, in turn, could allow Apple to once again be a step ahead of its competition.
Disclosure: I/we have no positions in any stocks mentioned, and no plans to initiate any positions within the next 72 hours.
I wrote this article myself, and it expresses my own opinions. I am not receiving compensation for it (other than from Seeking Alpha). I have no business relationship with any company whose stock is mentioned in this article.