The old saw for investors is that bull markets climb a wall of worry. Few assets have faced such negativity this year as has oil as its price has climbed from a low of $26 in February to a high of $55 so far in December. While there is incredible excitement in the financial press about the S&P 500 being up 13% this year, despite oil's much bigger rally, much of the coverage for it has been negative - there's an unending supply glut, demand is down and going lower, OPEC will never restrict output, etc., etc. Nevertheless, the price of oil has not gone back toward its low as many bears claimed it would, but is on the verge of a breakout to higher prices.
The fundamentals for the oil market are actually quite bullish going forward, despite the many claims to the contrary. In the last many decades, oil tends to have a price collapse every five to seven years because of excessive supply in the market, but then demand catches up, exceeds supply, and prices shoot up. In each cycle, however, the doom and gloomers come out of the woodwork and claim the sky has actually fallen this time around and the oil market will never recover. Yet, it always does, and fortunes have been made each time by people who are bullish at the bottom.
The key, now and since 1859, to the bullish case for oil is that demand increases almost every year without exception. There have only been three times in the last 157 years when demand for oil has declined on a year-over-year basis. You would never know this from reading most articles about oil. They imply or even actually state: demand for oil is declining. People constantly repeat this to me, even though it is patently false. The rate of growth in demand does go up and down, so it can decline, but that is very different from demand itself is declining. Even the decline in the rate of growth in demand needs to be put in perspective. According to the IEA (International Energy Agency), the demand growth in global oil demand in 2015 was 1.8 million bpd (barrels per day) and the demand growth in 2016 is projected to be 1.2 million bpd. In recent history, the 2015 rate is extremely high and the 2016 rate is high. Still, this resulted in erroneous claims that "demand" for oil was falling.
The growth in oil demand has been truly astounding during the current decade. In 2009, global demand was 84.1 million bpd. The IEA projects 2016 Q4 demand will be 97.1 million bpd (a 15% increase in six years). The chart below shows the incredible growth in just the last three years alone. By the end of the decade, global oil demand should be noticeably over 100 million bpd (barring another 2008 meltdown). Supply will increasingly have difficulty meeting it. There have been no new massive discoveries of cheap conventional oil as there were in the 1960's and '70's (such as the mega fields in the North Sea, Gulf of Mexico, and North Slope of Alaska) to keep priming the pump. I'm always amused when I hear news excitedly reported by the press about how some new field has been discovered with 2 billion barrels of oil reserves. They never mention that this represents only 20 days of global consumption at current rates of utilization (and possibly much fewer days of consumption in the future).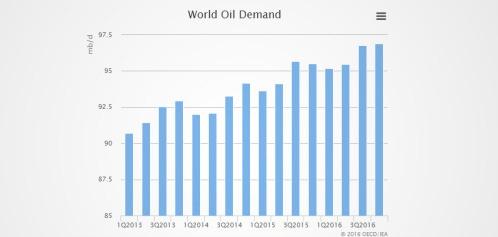 Oil rallied from February to June this year. This is not surprising because this is a typical seasonal pattern for the commodity. Prices for oil tend to bottom in December and then again in February and then rally until they peak sometime between June and September. Demand for oil is highest during the northern hemisphere summer driving season. In June, oil entered a trading range where it traded between approximately $43 and $54 for the February 2017 contract. On December 12th, it poked above that range, making an almost 17-month high. The price strength was caused by an OPEC organized deal among producers to make minor cuts in production. While this acted to push prices up, two things acted to hold them down. The first is that oil is in a very seasonally weak period and the strength of the U.S. dollar (a high dollar is a negative for oil prices).
WTI Crude Oil Daily February 2017 Futures Contract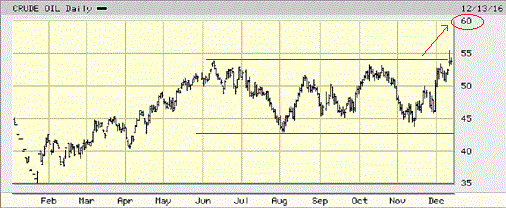 As the calendar progresses into 2017, seasonal factors will start to work in oil's favor. After another period of weaknesses in February, there should be a four to seven month period that will be bullish for prices. In the short term, the post-election U.S. dollar rally seems to be moderating and some decline is possible. When the breakout above the top red line in the chart above takes place, expect oil prices to move to the $60 per barrel area first. Some stickiness will take place around there. The reason for this is that the fracking starts to become profitable for many fields around that price, so Middle East interests will want to prevent oil from trading too far above it. How long they will be successful, remains to be seen.
Investors can take positions in oil using a number of ETFs/ETNs, including USO, OIL, DBO, and USL.
Disclosure: I/we have no positions in any stocks mentioned, and no plans to initiate any positions within the next 72 hours. I wrote this article myself, and it expresses my own opinions. I am not receiving compensation for it (other than from Seeking Alpha). I have no business relationship with any company whose stock is mentioned in this article.