Yesterday, office products distributor Staples (NASDAQ:SPLS) fell by as much as 10% after the company reported its latest quarterly numbers. As a result, Staples now trades with a P/E of around 10 despite recessionary margins (that temporarily lower the "E" in P/E) and an operating history that suggests this company has a strong moat. For long-term investors, Staples may represent a very attractive buying opportunity at its current price, as it is likely to continue to generate strong free cash flow for years to come.
Staples has annual sales of $25 billion, dwarfing those of its closest competitors, Office Depot (NYSE:ODP) ($11 billion) and OfficeMax (NYSE:OMX) ($7 billion). This disparity likely provides Staples with economies of scale that allow it to achieve lower per-unit costs and therefore higher per-unit profits than its competitors, as borne out by the following chart illustrating the margins of these three companies:
Scale is likely an important driver of profitability in this industry, where 40% of the company's sales (and 50% of its profits) come from its delivery business. Spreading out the fixed costs required for trucks, distribution centers and marketing/advertising expenses over a larger, denser customer base no doubt helps Staples maintain the profitability advantage depicted above.
Having added new categories to its lineup, Staples is now the second largest e-commerce retailer in the world, as many business customers place their orders through Staples.com. (The largest e-commerce retailer has a P/E of 130.) With a net debt position of just $500 million, Staples generates strong returns on equity (which have hovered between 10% and 20% over the last decade) without having to take risks with its balance sheet. For the fourth consecutive year, the company generated free cash flow greater than $1 billion, giving it a free cash flow yield above 10%.
And there remain opportunities to improve. The company's international operations are quite poor. Consider the pre-tax return on assets of its three segments over the last three years: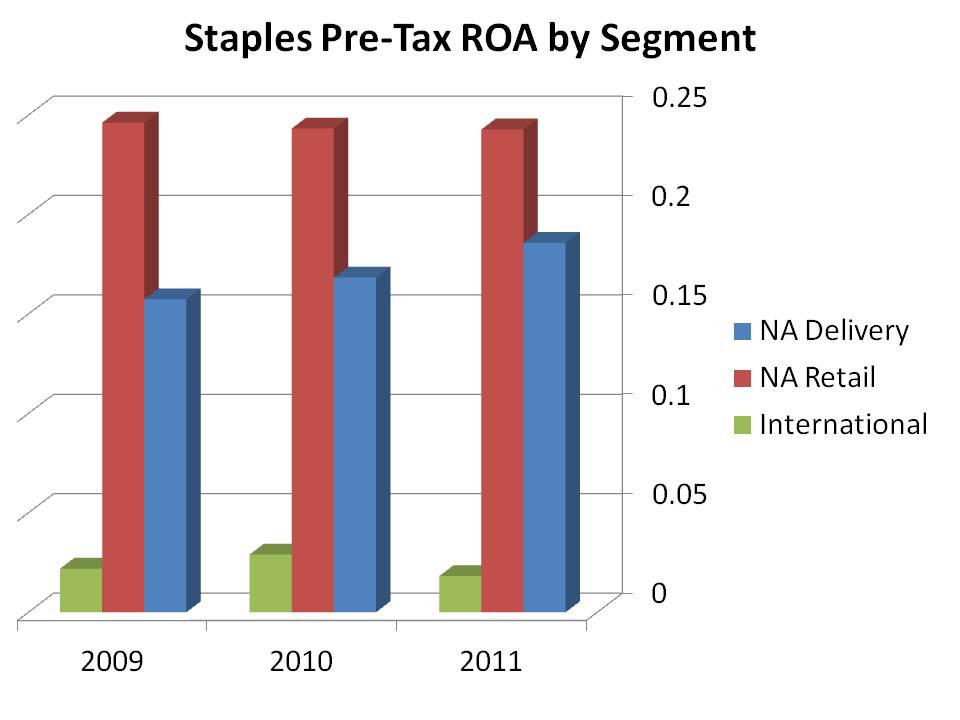 Staples' scale advantage in North America likely does not translate into its new markets. Rather than exit this business, however, management is intent on fixing it. This could be a potential risk, as instead of returning its free cash flow to shareholders, management may wish to throw good money after bad in a bid to grow at any cost. It should be noted, however, that management stressed on yesterday's conference call that it will seek to control expenses in its international segment. International segment capex has been almost 40% lower than international segment depreciation over the last three years, suggesting management is wary of further investing in this poorly returning segment.
The evidence suggests Staples has a moat in North America, which could protect its profits for years to come. Long-term investors who buy in at the current price may be getting a steal. For more value thoughts on this company, see Frank Voisin's writeup and Pzena's Q4 2011 letter.
Disclosure: I am long SPLS.