This post was written by Bob Ciura on December 11, 2016, for Sure Dividend.
Income investors have historically counted on utility stocks for reliable dividends. Duke Energy (NYSE:DUK) has been one of the strongest dividend stocks among utilities. It has paid a dividend for 90 years.
Duke Energy is also a Dividend Achiever. These are companies that have raised their dividends for at least 10 years in a row.
You can see the entire list of all 273 Dividend Achievers here.
Duke has a very reliable business model. Going forward, it aims to boost its stability even further, by focusing nearly 100% of its business on regulated operations.
This is good news for the 4.5% dividend yield. Duke Energy may not be the most exciting stock, but it has a rock-solid dividend.
Business Overview
Duke Energy is an electric utility. It has a large regulated utility business that has approximately 7.4 million electric customers. Duke Energy's customers are located in six states in the Southeast and Midwest.
It also distributes natural gas to more than 1.5 million customers in the Carolinas, Ohio, Kentucky and Tennessee.
The company operates in three segments:
Regulated Utilities
Commercial Portfolio
International
Duke Energy's Commercial Portfolio and International business segments operate power generation assets in North America and Latin America.
Duke Energy is a company in transition.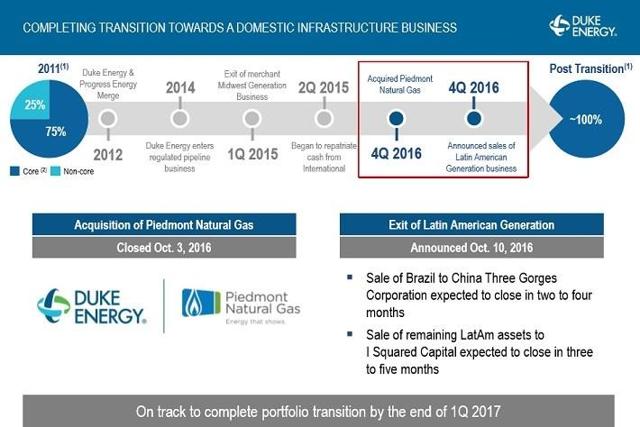 Source: Third-quarter earnings presentation, page 4
The company has made a series of deals in an effort to focus on the regulated side of the business. First, it announced last year that it will be exiting its Duke Energy International subsidiary, due to the economic volatility in Brazil.
In addition, Duke Energy has turned to M&A. Last year, it purchased Piedmont Natural Gas for $4.9 billion. This expanded Duke Energy's regulated exposure and tripled its natural gas customers.
Duke Energy also merged with Progress Energy in 2012 to further boost its regulated exposure.
As a result of these moves, the company has essentially exited from the Commercial Portfolio and International businesses. Duke will generate nearly 100% of future profit from its regulated business.
Growth Prospects
Business conditions continue to be supportive of modest growth for Duke Energy. Last year, Duke Energy's adjusted earnings per share were flat, but the company still earned $4.54 per share.
Conditions have improved further this year. Adjusted earnings per share increased 6% through the first three quarters of 2016. Growth was led by the core regulated business.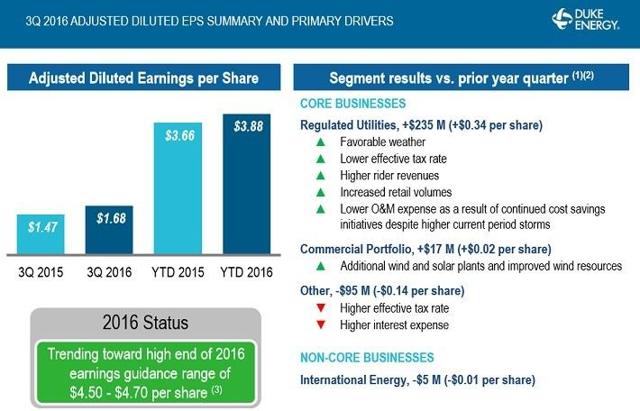 Source: Third-quarter earnings presentation, page 9
The company projects 1% growth in adjusted earnings per share this year, thanks to rate hike approvals and continued economic growth across its operating regions.
The first growth catalyst for Duke Energy would be growth from new customers, either organically or by acquisition. This will help grow future revenue, as will rate increases.
Duke has a large regulated business and annual rate hike approvals help generate revenue growth. For example, Duke recently received approval for a rate hike in South Carolina.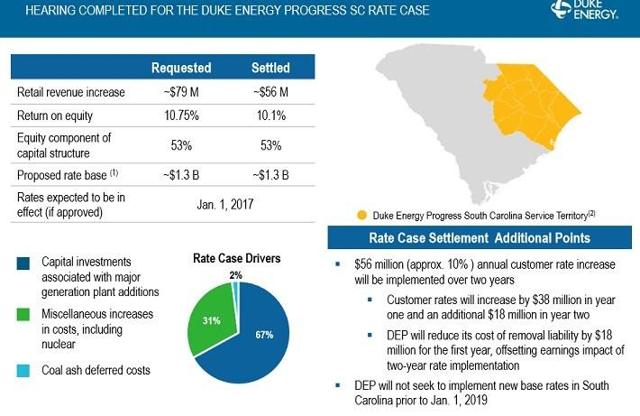 Source: Third-quarter earnings presentation, page 11
The company will receive $56 million in retail revenue growth and a 10% return on equity.
Lastly, Duke Energy could see growth from energy efficiencies.
Duke Energy has invested $4 billion in wind and solar projects since 2007. Combined, Duke owns 2,500 megawatts of wind and solar assets.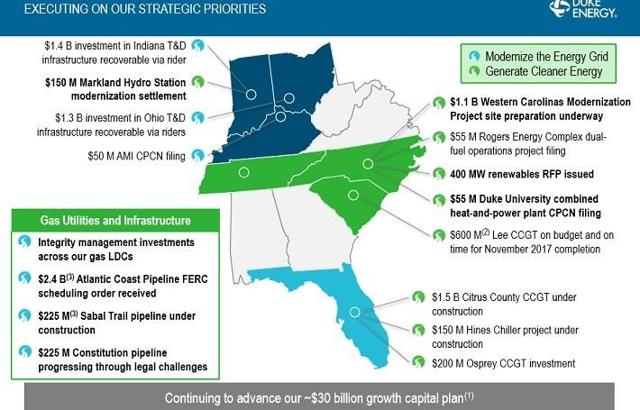 Source: Third-quarter earnings presentation, page 7
Duke Energy has made significant investments to modernize its assets. It has put into place an approximately $30 billion growth capital plan.
Competitive Advantages & Recession Performance
Duke Energy's biggest competitive advantage is the high barriers to entry. Investors do not have to worry much about a start-up utility disrupting the industry and stealing market share.
Therefore, Duke Energy has a wide economic moat, a term popularized by investing legend Warren Buffett.
The biggest reason for owning Duke Energy is arguably its stable business model. As an electric utility, Duke Energy has a very defensive, recession-resistant business model. The reasoning is simple - everyone needs to keep the lights on, even when the economy enters recession.
This provides Duke with reliable profits, year after year. Duke Energy's earnings per share through the Great Recession are shown below:
2007 Earnings per share of $3.63
2008 Earnings per share of $3.03 (16.5% decrease)
2009 Earnings per share of $3.39 (11.9% increase)
2010 Earnings per share of $4.02 (18.6% increase, new high)
Earnings per share fell by double-digits in 2008, as the recession had a steep impact even on a well-run utility like Duke Energy. Fortunately, the company saw a sharp recovery in 2009 and set a new record the following year.
Valuation & Expected Total Return
Duke Energy stock trades for a price-to-earnings ratio of 18. This is significantly lower than the S&P 500 Index, which has an average price-to-earnings ratio of 26.
That being said, utility stocks typically trade at discounts to the broader market averages. Utilities are slow-growth businesses.
Since 2000, Duke has traded for an average price-to-earnings ratio of 17.5. That is only slightly below its current valuation level.
As a result, the stock seems to be fairly valued.
This means that going forward, investor returns will be comprised of earnings per share growth and dividends. A breakdown of future investor returns could be as follows:
2-4% revenue growth
1% profit margin improvements
5% dividend yield
As you can see, Duke Energy's dividend will make up a meaningful part of its shareholder returns. This should be expected from a utility stock.
Earnings per share growth will help Duke continue to grow its dividend. Earlier this year, Duke Energy increased its dividend by 3.6%. The new annualized dividend payout of $3.42 per share represents approximately 75% of Duke Energy's 2015 adjusted earnings per share.
The payout ratio is fairly high, but considering Duke Energy's stable profits and modest growth opportunities, the dividend appears secure.
Going forward, a reasonable expectation for investors could be approximately 8-10% annualized returns.
Final Thoughts
Duke Energy has rewarded shareholders with consistent dividends for the past nine decades. It has developed a reputation as a strong utility stock that can stand the test of time.
It should be able to grow its dividend each year by rates that slightly exceed inflation.
Duke Energy may be seen as boring by some, but over time, it has proven that boring is beautiful. For income investors, there is nothing boring about a 4.5% dividend yield and dividend growth each year.