As producers strive towards maximizing overall recovery, one significant trend seen over the last few years is an increase in the amount of proppant used per well. In 2014 and 2015 low sand prices helped build proppant demand, and ultimate recovery rates materially benefited from the additional material sent down hole. In 2017, producers plan to use even more proppant per lateral foot to continue driving IP and recovery rates higher. At some point additional sand volumes will reach diminishing returns and proppant per well usage will stabilize. However, producer guidance suggests that point hasn't been reached and growing proppant demand could lead to additional service cost pressure in 2017.
The chart below shows how the average proppant (lbs/ft) used in various regions has changed in recent years. In the Eagle Ford, proppant usage has nearly doubled to ~2,000 lbs/ft in the last 3 years. The Permian (Southern Midland, Central Midland, Delaware Texas) has also seen significant increases in the amount of sand used per well, averaging near 1,500 lbs/ft overall. So far, producers have not reached the point of NPV destruction for increased proppant, and many have indicated they plan to further increase proppant usage. Whiting (NYSE: WLL), Comstock (CRK) and Pioneer (PXD) are just a few of the producers who have indicated higher proppant loadings will continue into 2017.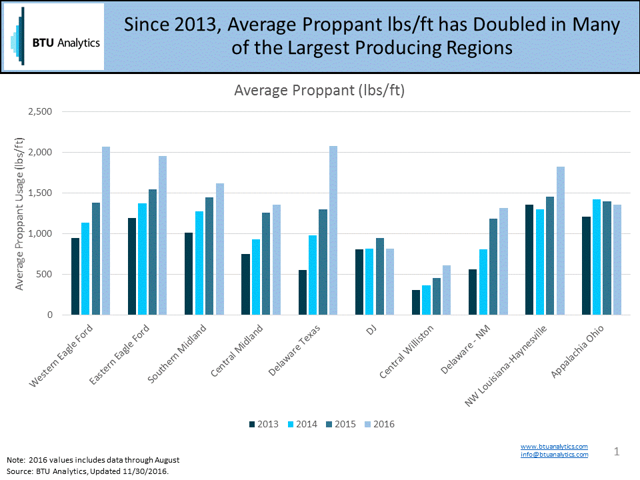 As activity fell following decreased commodity prices, total yearly proppant consumption also fell. The Eagle Ford saw its peak proppant usage in 2014 as well activity was cut nearly 70% by 2016. However, the trend towards longer laterals along with the increased proppant usage per foot has helped to counterbalance declines in yearly proppant usage. For example, a 30% cut in Eagle Ford activity in 2015 compared to 2014 only resulted in a 15% decline in total proppant usage.
Regions such as the Central Midland have been a large driver of recent proppant demand with lateral lengths increasing ~2,000' since 2013 and proppant usage nearing 1,400 lbs/ft for an average well. Increasing activity within the region along with changes in completion techniques lead to a YOY increase in total proppant of 95% in 2015. With strong sand demand per well and activity planned to increase, what type of environment does this create when we look forward to 2017?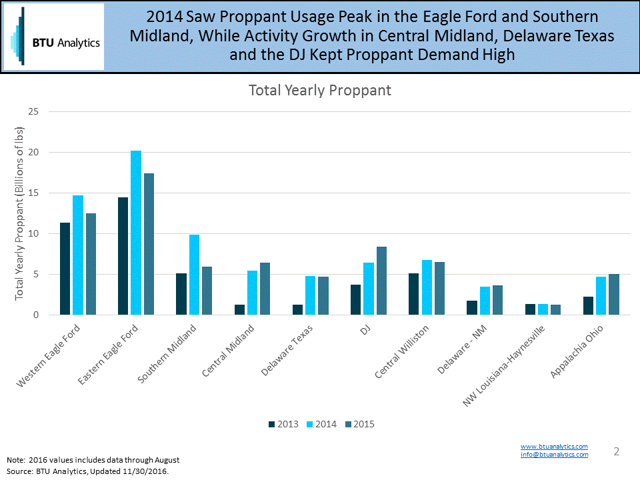 Focusing in on the Central Midland, the graph below shows that 2017 will likely hit a new all-time high in proppant usage. This brings into question demand pricing and service costs. Total proppant demand in the Central Midland alone could nearly double in 2017, and while areas like the Eagle Ford won't reach their former peak as quickly, demand for proppant has not fallen off nearly as fast as activity. Higher demand from both increased loadings and an uptick in activity is expected to place pressure on service costs.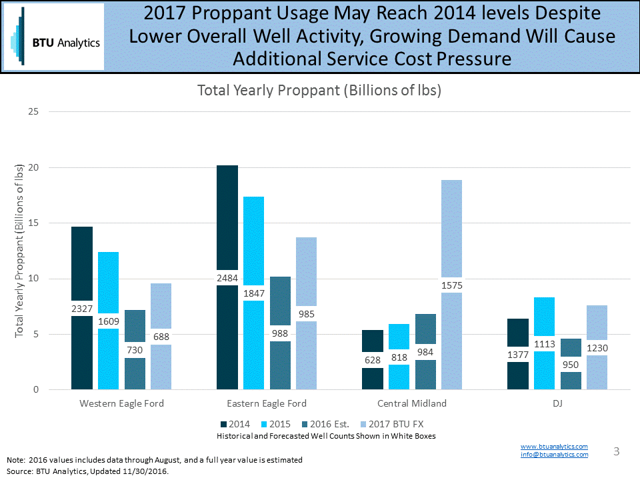 For more information on BTU's view of the energy market including the impact of higher proppant loadings, request a free sample of the Upstream Outlook Report.