Incoming President Trump is seen to be favoring fossil fuel over alternative energy. We have looked at possible policies and ramifications, and the effects on alternative energy and electric vehicles.
Our conclusion was that we didn't see crucial subsidies for alternative energy, like the Investment Tax Credit and the Production Credit (which is important for wind energy) have just been renewed.
If the Trump Administration lowers the corporate tax to 15%, this might make financing big solar projects more difficult as these rely at least in part on the ability to sell tax-equity (selling a part of a projects' tax credits to banks or other finance companies, which then apply these to their own tax bills).
However, with these subsidies running out in 2022, but the economics of solar and wind ever improving, we're probably in the clear.
A little more serious could be if the Trump administration lowers (or does away completely) with fuel efficiency standards; this is a pretty big driver for the move towards zero emission cars, like EV.
So we think there could be some mild headwinds from policy, but these industries are not going to be killed off and they already employ far too many people for that to go down well politically.
Vestas Wind
A first candidate is wind giant Vestas Wind (OTCPK:VWDRY), the only big pure play in wind turbines. Vestas could actually be a good buy; its higher margin service business is increasing, according to Chris Bryant:
Services made up 58 percent of the company's 17.1 billion euro ($18.9 billion) order backlog at the end of October, about 8 percentage points higher than a year ago. These contracts typically last between five and 10 years, so they're a reliable source of revenue -- in 2015 they accounted for 13.5 per cent of the total. They're very profitable.
Its valuation gap with European shares has closed: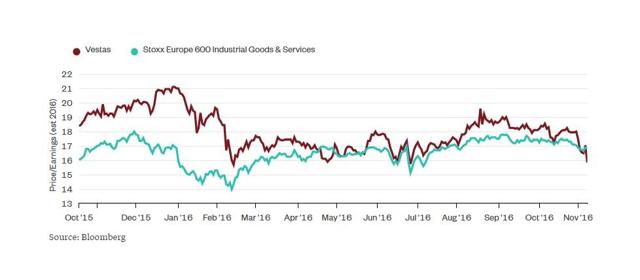 We might also keep in mind that Vestas really is a global company, even if its US market perspective has been sullied a bit. This should not really warrant a stock sell off like the one that happened in the wake of the election: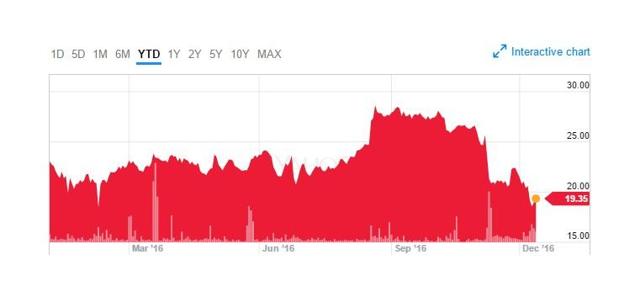 This is a company that had a blowout third quarter (revenues increased by 37% and earnings increased by 50%) and raised 2016 guidance yet again:
Revenues will be 10-10.5 billion euros.
A whopping 1 billion euros of that will be free cash flow.
Order backlog declined by 1B euros but it is still very high at 17.1B euros or 1.7GW.
In fact, the whole of 2016 was going to be very good, but there seems to be a bit of a slowdown in 2017, and the company argued this about the US situation (from the Q3CC):
So on the U.S. specifically then it's of course where we see a new scenario, and as I said as well and I think in line with most market the expectation is that the volume will be back end loaded if you look at 2017 to 2020. And therefore we expect the U.S. specifically 2017 to be a lower activity level than 2016.
But they stressed they only saw a slowdown in the US, where they have a roughly 30% market share (per Q3CC), up from 10% three years ago.
The company refused to give a 2017 overall guidance, so the market might be overreacting a bit here. But in order to assess that we'll have to wait for the Q4 figures, and more importantly, the 2017 guidance.
The stock is pretty close to a 52-week low, which seems to be pricing in a considerable slowdown in business in 2017. One should perhaps keep in mind that this slowdown is measured off a rather stellar 2016 base year.
Offshore is a key market opportunity
In the meantime, the company should get some support from a rising dollar and the daughter MHI Vestas Offshore (a daughter of Vestas and Mitsubishi) is also continuing to rake in new orders, like this 700MW (one million households) Borssele III and IV project won by Shell for which Vestas is the preferred supplier:
MHI Vestas has been named preferred supplier for the project, according to developer Eneco. The sites are located 22km from the Dutch coast, close to the Borssele I & II projects. Bids were capped at €119.75/MWh for this second Dutch offshore tender of 2016. The first auction was won by Danish developer Dong Energy at €72.70/MWh in July. The new tender has resulted in a 25% reduction in offshore costs - excluding transmission - compared to the earlier auction. The minister of economic affairs, Henk Kamp, said the winning bid could mean the project is operated subsidy-free after 7.5 years.
This is offshore, and it shows the enormous price progress these big offshore projects are making, as you might compare this with a quote from an article less than half a year ago (from The Telegraph):
The biggest offshore companies have together vowed to cut costs to €80 per MWh - or £69 - by 2025. If so, the strike prices may start to match the wholesale price of electricity in the UK market. They may even come below the market price, in which case they will pay money back to society under Britain's 'contract for difference' system. The Government's next three offshore auctions will see a staggered fall in strike prices to a maximum of £85 per MWh by 2020, and they will arguably keep falling step by step thereafter until market forces prevail.
We're already at:
developers Eneco and Mitsubishi/DGE will build the 700MW Borssele III and IV projects at €54.50/MWh.
At first sight, it looks staggering that companies were vowing to cut cost to €80 per MWh this summer, only for a new project to put a winning bid of €54.50/MWh less than half a year later.
And indeed the previous project, Borssele I/II (end of July this year) was met with (from Windpoweroffshore):
The announcement of the Borselle auction results was greeted by the offshore wind industry with a mixture of astonishment, delight, and (from competitors) a little concern. Dong Energy had beaten the €100/MWh levelised cost of energy (LCOE) barrier well ahead of schedule.
However, these headline figures don't really compare; here is why:
Obviously, LCOE and bid prices are two distinct measures that cannot be directly compared. Dong's bid was actually at €72.7/MWh, which implies an LCOE of about €68/MWh excluding transmission. The Dutch government has already paid for key elements of project development activity and is taking the risk on transmission connection for which it will add a (fairly modest) €14/MWh to the costs, giving a total project LCOE of about €82/MWh. That is a dramatic decrease from current levels.
If we add that €14/MWh to include the cost of transmission to the Borssele III/VI project, we get €68.50/MWh, another dramatic decrease from Borssele I/II and already well below that €80/MWh target mentioned in the Telegraph article for 2025.
And these Borssele projects aren't the only ones breaking barriers (our emphasis):
Another is Vattenfall, which in September won the Danish near shore wind tender for Vesterhav South and Vesterhav North, with an astonishing bid of €63.8/MWh. These cost prices are almost comparable to those of coal-fired power plants. If they are achievable, offshore wind power can now compete nearly dollar-for-dollar with other power sources, even in the absence of subsidies. Admittedly the projects are not fully comparable with others as the developers are not paying the capital costs for grid connection, but they put the ambition to achieve €100/MWh generation into a new light.
The size of these Dutch offshore wind projects is dwarfing anything built in the US, where the two projects under construction are the Block Island Wind Farm (30MW) and the South Fork Wind Farm (90MW).
Tom Konrad reminds us why dominant players in offshore wind tend to remain so:
Offshore wind turbines tend to be larger and more rugged than their onshore counter parts. The large size is due to the expense of foundations, making it important for an offshore farm to generate as much power as possible from each turbine. A typical onshore wind farm uses turbines with peak power output of around 2 MW each. Block Island is using just five 6 MW turbines. These large sizes make it difficult for new entrants to challenge established manufacturers. This means that offshore wind manufacturers are a very elite bunch.
The UK is the leading market in offshore wind, and here is Evans-Pritchard from The Telegraph putting the choices out clearly:
The strategic choice now is whether to go for broke, tripling offshore capacity to 15 gigawatts (GW) by 2030. The decision is doubly-hard because there is no point dabbling in offshore wind. Scale is the crucial factor in slashing costs, so either we do it with conviction or we do not do it all.
Offshore wind is the fastest growing alternative energy segment by some margin: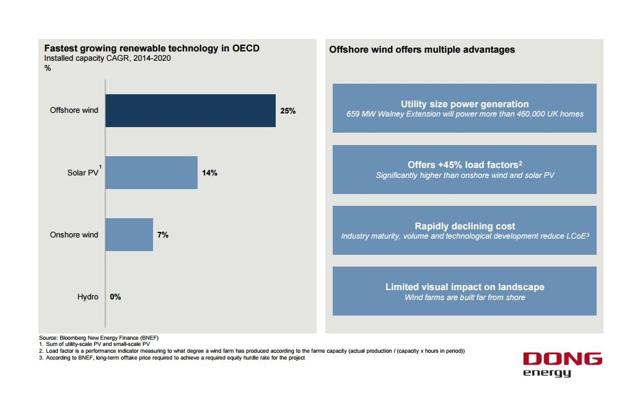 Dong Energy
It's already been mentioned with respect to the Borssele I/II project, but Denmark has another wind giant in the form of Dong Energy (OTCPK:DNNGY).
It's actually a little more than just a wind energy giant; it's an (mostly renewable) energy company with four businesses: Wind Power, Bioenergy & Thermal Power, Distribution & Customer Solutions, and Oil & Gas. The Bioenergy & Thermal Power and Distribution & Customer Solutions businesses jointly constitute their Danish utility business.
Earlier in the year, it produced one of the biggest European IPOs; from Bloomberg:
Dong looks like the closest Europe has come to having a must-own IPO for a long time. The macro backdrop is supportive: Policymakers are incentivizing clean energy. The micro story looks plausible too. Dong has successfully redeployed its expertise in offshore oil and gas development into offshore wind farms. While the technological challenges are immense, the payback is potentially greater than with on-shore wind because farms can be larger and the weather is generally more gusty. There's also a global growth story too, with Dong looking to harness demand for offshore wind in America and Asia.
The IPO was a success and the shares jumped 12% on the first day of trading from its IPO price of 235 kroner.
The company is the result of a merger of no less than 6 Danish companies in 2006 and it is majority owned by the Danish government. And it is about to offload the oil and gas business with which it started out, hiring JPMorgan to assist in the sale.
Tapping the capital markets seems a good idea for what is really a capital-intensive business. Its capex needs are estimated at roughly 70 billion kroner (about $10B) between 2017 and 2020.
But apart from a capital injection, offloading the oil and gas business could also remove some of the discount in the share price (per CNBC):
DONG shares currently trade at 5.3 times EV/EBITDA, a discount to groups with a clearer focus on renewables such as Britain's SSE, Portugal's EDP Renovaveis SA and Germany's Innogy, which was split off from RWE last month.
If you think the Borssele III/IV project is big (700MW), Dong is going to build a bigger one at 1.2GW with the Hornsea Project One in the North Sea close to Hull. FID was taken early February this year. Just to give you an idea of the dimensions involved:
Hornsea Project One will span a huge area of approximately 407 square kilometres, which is over five times the size of the city of Hull. The offshore wind farm will use 7 megawatt (MW) wind turbines, with each one 190 metres tall - larger than the Gherkin building in London.
The company has built a quarter of all installed offshore wind power in the world and aims to double its installations from 3.0GW in 2016 to 6.5GW in 2020.
In the meantime, we're almost back to the IPO price again: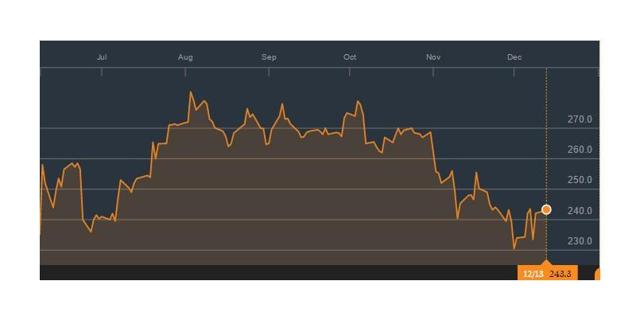 The IPO enabled them to reduce debt by over 50% from 13.4B kroner to 5.9B kroner.
EBITDA for their most important division (wind power) was up 19% y/y to 1.6B kroner.
The company has 4.4GW in capacity under construction, so that target of 6.5GW by 2020 seems achievable.
Oil and gas EBITDA was down 42% from 2.88B kroner to 1.66B kroner y/y.
They expect 20-23B kroner in EBITDA for the year and 18-21B in capex for the year.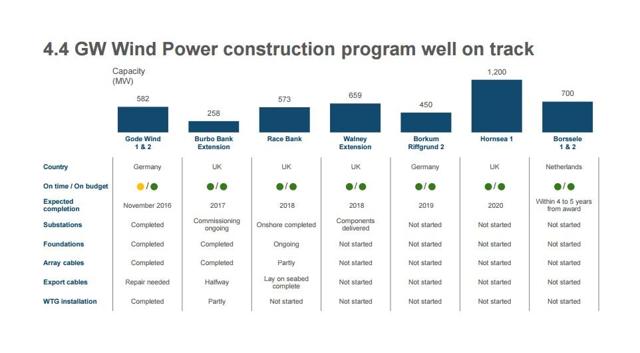 With the rapid development in offshore wind, and especially with a new capital injection through a sale of their oil and gas business, this looks like another opportunity to buy from the (fairly modest) selloff since the Trump victory (which should not really affect them anyway).
Disclosure: I/we have no positions in any stocks mentioned, but may initiate a long position in DENERG over the next 72 hours.
I wrote this article myself, and it expresses my own opinions. I am not receiving compensation for it (other than from Seeking Alpha). I have no business relationship with any company whose stock is mentioned in this article.
Editor's Note: This article discusses one or more securities that do not trade on a major U.S. exchange. Please be aware of the risks associated with these stocks.