Since my last article covering SunEdison Inc (OTCMKTS: OTCPK:SUNEQ), there have been several developments in the bankruptcy proceedings. October's Monthly Operating Report was released, Homer Parkhill gave a statement for the first time since early summer, and SunEdison formally objected to the Unsecured Creditors' motion to claw back Terraform Global (NASDAQ: GLBL) and Terraform Power (NASDAQ: TERP). In addition, a number of shareholders have inundated the court's inbox with letters and emails (60 as of this writing) in a mad attempt to reopen the case for an Equity Committee.
The letters from shareholders vary in purpose and quality, but among their requests are: calls to prosecute Paul Gaynor (former First Wind CEO), Larry Summers (Chief of National Economic Council), Rahm Emanual (former White House Chief of Staff), Steve Scharzman (CEO of Blackstone), and John Podesta (Lobbyist for Renewable Energy) of wide spread collusion, corruption, and fraud; as well as several pleas to reverse the Official Equity Committee denial.
As rash as it seems, this type of drama is not uncommon in a bankruptcy courtroom. Nonetheless, there appears to be a theme throughout the filings which is connecting the Unsecured Creditors' Claims and the shareholders' letters. This connection, or "common narrative" if you will, is forming around suspicion of the yieldcos creation and apparent enrichment from SunEdison's downfall.
Though shareholders cited everything from Wikileaks to House Budget Committee's studies, the most compelling evidence to me is in the yieldcos' own filings. Below is a table showing asset and debt value across the last several quarters:

This chart was provided by a reader, and put together using Terraform Power's most recent financials. This does not include Global's numbers from the same period because they have yet to report.
What is clear is that starting in late 2014 there appears to be a change in strategy. Prior to this point (highlighted in green), the Terraforms' debt is increasing incrementally with their assets received from SunEdison, and the transaction is pretty clear in both the buyer and sellers' books. However, at the start of 2015 SunEdison's balance begins to turn exponentially worse. Their assets decrease substantially as they drop them down into the yieldcos but their debt does not keep pace. Instead, debt grows substantially while the Terraform Power and Terraform Global's debt remains relatively flat. This change becomes most pronounced late 2015/early 2016. Terraform Power's assets grew by $2.7 billion, while their debt only increased $800 million. The deltas are somewhat hidden in the consolidated reporting because the overall balance sheet looks healthy as shown below: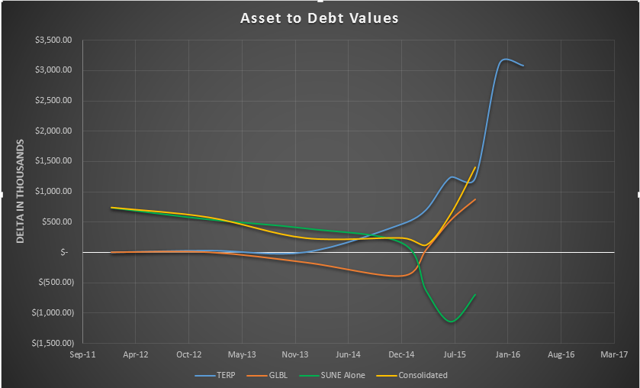 It would appear that SunEdison was dropping assets into their yieldcos while keeping all of the debt on its books. This is what is sparking the theories and accusations of fraud. Because this action, if true, makes the entire bankruptcy appear planned from the beginning to strip the debt from the assets.
Jordan Danelz s letter claims this was possible because SunEdison was buying whole entities (such as First Wind and attempted Vivint Solar (NYSE: VSLR) for high premiums, and then keeping the shell of the entity as a subsidiary (with all of the associated debt) while dropping the assets. This was something that I discovered as unusual several months ago. At the time, I noticed SunEdison's First Wind subsidiary was not creating any revenue, despite SunEdison paying close to $2 billion for it.
Now as the Unsecured Creditors' Committee (UCC) and shareholders are beginning to piece this together and demand answers from SunEdison, the Debtors are responding en masse. An official objection to the Unsecured Creditors' motion came almost immediately from SunEdison's counsel who said:
In the Debtors' judgment, obtaining tangible, realizable offers for these estate assets is the prudent course to maximize value for all estate constituents at this time, rather than initiating costly and hotly contested litigation that puts the value-maximizing M&A process in jeopardy… The Committee's attempts to conjure up other conflicts of interest are equally unpersuasive.
Their rebuttal strategically side-steps the reasons for the UCC's motion by only talking about the consequences this litigation would have on the sales process of the yieldcos. Focusing on the time and money already spent in preparation of these sales, they claim that, "now is not the time for litigation."
The objection was backed by statements from SunEdison CEO Dubels and Rothschild's Homer Parkhill who both repeated the mantra, "Suing the Yieldcos or granting the Committee Derivative Standing would completely derail the Yieldco Strategic Alternatives Process."
In addition to the powerful individuals above, the counsel to the two yieldcos and (most notably) DIP lenders also objected to the motion. The DIP agent claimed such a motion, "would empower the Committee to endanger a potentially value maximizing transaction of the Debtors' interests in the Yieldcos, the most valuable remaining assets of the Debtors." While the yieldcos counsel agreed, "The UCC asserts no viable causes of action for fraudulent or preferential transfers, and the purported claims would be subject to dismissal pursuant to a motion to dismiss, rendering them not colorable. As a result, the Standing Motion should be denied."
Clearly the UCC has struck a chord with the Debtors, and will be fighting an uphill battle as they try to make a case for a claw back of the yieldcos.
Conclusion
This is a critical juncture between the Secured and Unsecured Creditors. Both sides are fighting over which path is best for the estate. In the meantime, Judge Bernstein demanded that SunEdison address the recent shareholders' letters. Perhaps re-evaluating the need for an Equity Committee, he asked if SunEdison had indeed gotten "rich" during the bankruptcy process. As it stands, shareholders are without representation and they have made it clear that their voice will be heard through constant letters to the court.
It is important to note, based on the above debt-to-assets analysis:
Terraform Global's updated assets and liabilities have yet to be reported, but if SunEdison dropped assets down at a similar rate, the $6 billion equity reported in SunEdison's Monthly Operating Report could virtually be erased.
This is why the case for a claw back is so critically important for shareholders. And at this point, considering who is opposed to a claw back, it does not look good. The decision rests in the hands of Judge Bernstein, and we will have to wait until the hearing scheduled for Dec. 22, 2016.
SunEdison has over $2 billion hiding in NOL's? What is TERP's value based on its newly reported financials? Make sure you don't miss these discussions by clicking the "Follow" button beside my name. It's free and will ensure that my future articles on SunEdison and its yieldcos go straight to your feed!
Disclosure: I am/we are long SUNEQ.
I wrote this article myself, and it expresses my own opinions. I am not receiving compensation for it (other than from Seeking Alpha). I have no business relationship with any company whose stock is mentioned in this article.
Additional disclosure: I hold SunEdison stock for educational and tax purposes. I do not recommend buy, sell, or hold of this stock. The judge has said that the company is "hopelessly insolvent."
Editor's Note: This article covers one or more stocks trading at less than $1 per share and/or with less than a $100 million market cap. Please be aware of the risks associated with these stocks.