Sometimes a negative can be a positive for a company. Take for example the drop in oil prices in the last couple of years. This has had a dramatic effect on the Texas economy, causing unemployment to rise and growth to stagnate. A huge change for the country's second-largest economy, which, between 2010 and 2015, grew 3.9% per annum, almost twice the pace of the United States as a whole. Whilst this downturn has made life in Texas tough for luxury retailers such as Michael Kors (KORS), it certainly has been a blessing in disguise for quick-service restaurant operator Jack In The Box (NASDAQ:JACK).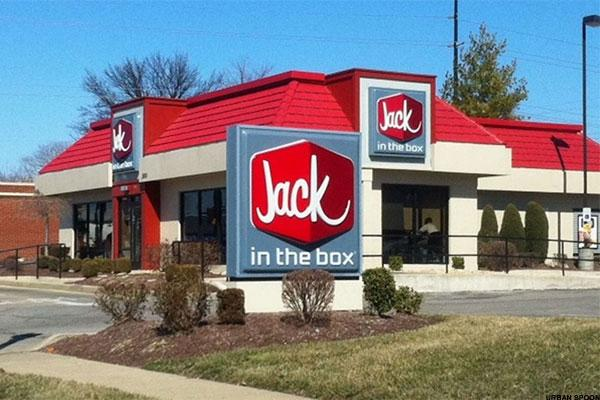 Jack In The Box has significant exposure to Texas. In fact, as of October 2, the company reports that 612, or 27%, of its 2,255 stores are based in the state. Clearly, this means that the performance of its Texas stores has a material impact on the company's overall performance.
Like dollar stores, Jack In The Box does noticeably better during a downturn thanks to consumers "trading down". In order to save money, consumers have a tendency of switching from casual dining to quick-service dining.
Consumer research undertaken by PwC in the aftermath of the global financial crisis found that 39% of people surveyed had started to eat at less-expensive restaurants. We believe that this has occurred in the State of Texas, to the benefit of quick-service food restaurant brands and especially with Jack In The Box. With its comparatively low prices and its omnipresence in the state, the company was always likely to be a winner in the current economic climate. This, thankfully for shareholders, proved to be the case.
In the third quarter of FY 2015, when the management was quizzed as to whether the company's performance in Texas was acting as a drag, as it was with its casual dining rivals, Jack In The Box's CFO Jerry P. Rebel Texas stated that "Texas actually outperformed what our company same-store sales of 5.5%".
But with both OPEC and non-OPEC countries agreeing to cut their oil production, we envisage oil prices rising to above $60 a barrel once again in the next few months, providing, of course, that they stick to the agreed quotas. This, we believe, should prove to be a much-needed boost to the Texas economy.
But as the Texas economy improves and consumer sentiment shifts positively, we anticipate consumers trading up when it comes to food again. Why eat simple fast food when you've got cash burning a hole in your pocket? The aforementioned research by PwC not only showed that consumers would choose to eat less-expensive food in an economic downturn, but also that "consumers will reverse many of these cost-saving measures as finances improve".
Our fear is that this could potentially lead to a drop in sales for Jack In The Box in the all-important Texas market. We think the early evidence does point to it doing so, unfortunately. On the most recent earnings call, the management noted that business in the state had been softer than it had been. And that comes following only a slight lift in the oil price during the last quarter.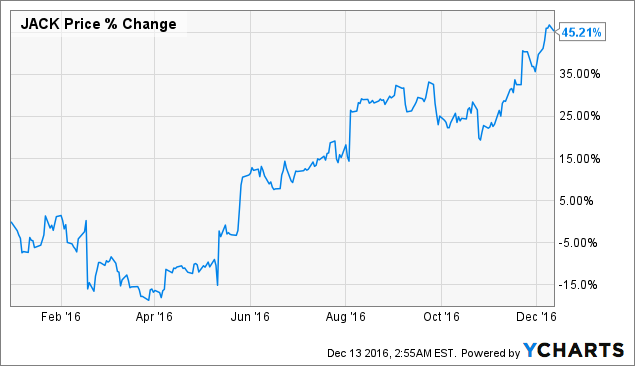 So with its shares up by over 45% this year, we have decided the best thing to do now is to take profit. After all, Jack In The Box is by no means cheap. At 30 times earnings, Jack In The Box trades at a reasonable premium to its peers and at a level that requires strong earnings growth to justify. We are not convinced that the company will be able to deliver on this if its Texas restaurants don't pull their weight in FY 2017.
Let's not forget also that the company does have challenges ahead in its biggest market - California. On January 1, 2017, the minimum wage will increase in California from $10 an hour to $10.50 an hour. This is likely to impact operating margins negatively unless it can be passed onto the consumer through price increases. But with traffic remaining softer than normal, the management may end up needing to wear it.
Whilst we think Jack In The Box is a well-run company, at the current price and with improving economic conditions in Texas, we feel it could be heading for a tougher-than-expected FY 2017. We hope for shareholders that we're wrong and that an improved economy in the key market of Texas proves to be a boost for the company. But we don't plan to stick around to find out. Rather, we'll be watching on with a lot of interest from the sidelines next year.
Disclosure: I/we have no positions in any stocks mentioned, and no plans to initiate any positions within the next 72 hours. I wrote this article myself, and it expresses my own opinions. I am not receiving compensation for it (other than from Seeking Alpha). I have no business relationship with any company whose stock is mentioned in this article.