Investment Thesis
As you follow my article for why Valeant Pharmaceuticals International (VRX) trades below intrinsic value, I will ask you to do the most difficult thing investors are asked to do: put your emotions aside and ignore everything you know or think you know about VRX and simply focus on the facts and figures from its financials.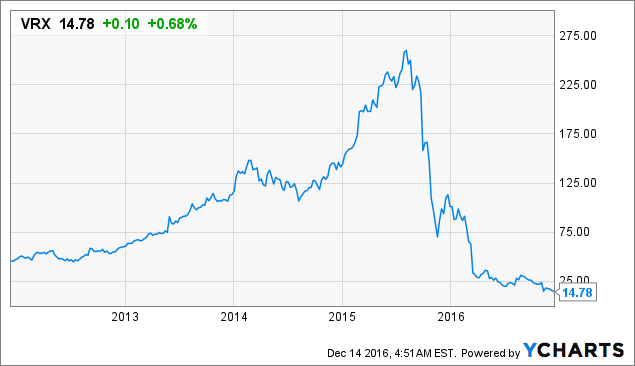 Financials
One measure by which I define a good quality company is when a company is able to generate free cash flow ("FCF") margin above 5% [defined as FCF/Revenue (%)]. And VRX has a normalized FCF% of 16%, which is outstanding.

Source: Morningstar.com; author's calculations.
Although VRX has grown mostly through acquisitions it has grown on average 27% over the last 10 years. Growth through acquisition in itself is not a problem. For example, Google (NASDAQ:GOOG) (NASDAQ:GOOGL), Berkshire Hathaway (NYSE:BRK.B) (NYSE:BRK.A), General Electric (NYSE:GE) and countless others have grown through aggressive acquisitions. Part of the problem with VRX was the aggressive accounting that followed the aggressive acquisitions. And that is why, in this article, I am solely focused on normalized FCF.
Debt
The debt situation nearly put me off even considering VRX. The debt is huge - you have no disagreement from me on that note.
However, the first thing to remember is that the first tranche of debt is not due until August 2020 ($1.6B; VRX.AB). Secondly, VRX has normalized FCF of at least $1B. My argument here is that while the debt load is huge and offers the company very little flexibility, VRX is generating tons of cash and VRX should be able to refinance the debt with minimal problems.

Source: 2016 Q3; 10-q
Up to 2020, the total amount of liabilities is ~$21B. But the case here is that the shareholder is only asked to pay less than $5B for a company that is generating at least $1B and has a very diversified portfolio of products and at least $5B in current assets, giving $0 (nothing) for any intangibles on its balance sheet.
Management On The Back Foot
One of the great advantages to buying a highly distressed stock is that management is on the defensive. It cannot afford to be ineffective.
Moreover, it is widely known that Bill Ackman has a position in VRX as well as a seat on the board. You can say what you want about Bill Ackman, but he is a much better investor than 98% of stock market investors. Therefore, if VRX is good enough for him when it was at nearly $200 a share, it is definitely good enough for the rest of us at ~$15 (90% discount).
Short Sellers
You may find it interesting that I think a large number of short sellers (~10%) as a positive. But as a deep value investor, the more shorted the stock, the better. The reason is being two-fold.
First, because anyone that sells shorts is fully committed to repurchasing the shares at some point in the future. Of course, short sellers are betting that they will buy the shares at a lower price. But they are committed nevertheless.
Secondly, when a share is heavily shorted, all the pessimism is already incorporated into the share price.
Relative Valuation
In order to confirm that there, in fact, is the required margin of safety in an investment in VRX, I performed both a relative valuation and a DCF valuation.

Source: Morningstar.com
First, from the relative valuation perspective. My favorite metric is the P/S. I like it because it is quite a clean metric. I like to compare what investors have been willing to pay for a stock over the past five years and what they are willing to pay for it now. In the past five years, investors were happy to pay ~6.7x P/S. Currently, investors are asked to pay only ~0.5x P/S.
DCF Valuation
I confirmed the margin of safety when I performed a back-of-the-envelope DCF analysis with a normalized $1B of FCF, with 4% growth over the next five years (which is certainly below the 10-year average growth of ~27%), before leveling off at 2% (equal to inflation).
I then discounted this value back at 15%. I used 15% (which, I hope you will agree, is very conservative) because VRX has numerous problems, such as pending litigation issues. VRX might also still have some remnants of its aggressive accounting practices of the past and needless to repeat VRX huge leverage. This brings the DCF to ~$8.5 billion or at least 70% upside to the current share price.
Conclusion
Invest at the point of maximum pessimism.

- Sir John Templeton
Although VRX will continue to suffer from negative press and investor stigma over the next 12-18 months, in time, investors will return to the stock. I expect an appreciation on this stock of at least 70% over the next two years.
Although VRX has a margin of safety, I believe investors can consider a different stock with a little less negative publicity - such an investment is this mine, for something a little different for dividend seekers look here.
According to tipranks.com, I am ranked top 6% of Bloggers.
Thank you so much for reading my article. If you have enjoyed reading this article, please click "Follow" to get more articles of mine in real time.
Disclosure: I/we have no positions in any stocks mentioned, and no plans to initiate any positions within the next 72 hours. I wrote this article myself, and it expresses my own opinions. I am not receiving compensation for it (other than from Seeking Alpha). I have no business relationship with any company whose stock is mentioned in this article.