Introduction
As equity valuations have suppressed the selection of attractively priced stocks, search for value leaves us with no options other than to dig deeper. Being pressured by a cyclical business downturn, can the shipping sector offer investment opportunities for the medium term? Are particular shipping stocks undervalued enough to experience a strong trend reversal once the turnaround is in the horizon?
Stock Selection
Inasmuch as the whole industry remains quite leveraged and continues to be pressured by low shipping rates, value trap stocks are abundant. I have narrowed down my selection to one stock by focusing on the following criteria:
It makes sense to focus on dry bulk shipping companies given the recent spike in the value of the Baltic Dry index. Composing the values of the Baltic Capesize, Panamax, Handysize and Supramax indices, the index is a proxy for international raw material shipping rates by sea.

Source: Quandl.com
Since indebtedness has played a crucial role in many shipping companies' demise lately, medium-term prospects of highly leveraged players remain rather cloudy. There is little certainty whether they will be able to survive another index downturn or not. Companies that I like from a financial strength standpoint are Scorpio Bulkers, Inc. (NYSE:SALT) and Eagle Bulk Shipping, Inc. (NASDAQ:EGLE).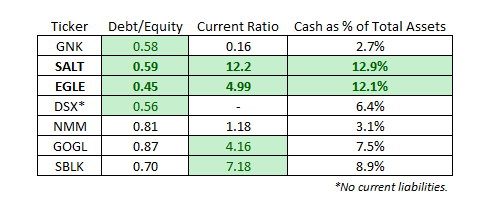 Made by the author using the data from Morningstar and companies' filings.
Since liquidity remains a primary concern, I have also been focusing on (1) expected capital expenditures, (2) interest payments, and (3) debt/stock issuance. The table below summarizes the key financial data of Scorpio Bulkers and Eagle Bulk.
Even though the lack of short-term debt and better operating performance dynamics are an absolute win for Eagle Bulk, its interest expense has more than tripled since Q1 2016, accompanied by a parallel decline in operating cash flow quality. On the other hand, Scorpio Bulkers has seen its net financial expense decline to $5.35 million in Q3 2016, down from $7.04 million at the beginning of the year. In the meantime, amount of cash used in operating activities has plunged to (just) $4.51 million from $27.52 in the first quarter. I also like the fact that Scorpio Bulkers' fleet is more modern that Eagle's.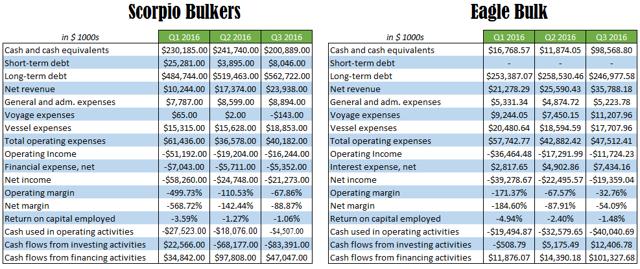 Made by the author using the data from the companies' filings.
Now, let's have some more detail.
Citing improvements in global steel production and Chinese coal imports, Scorpio Bulkers has seen its bottom line improve to a loss of $21.3 million as compared to a loss of $58.3 million two quarters earlier. At $23.9 million in Q3, total revenue has more than doubled since the first quarter, mainly due to a gradual improvement in rates and total revenue days.
According to the company's filings, fixed Q4 voyage rates for Kamsarmax and Ultramax fleet stand at approximately $7,064 (77% of the days) and $7,016 (58% of the days), respectively, which would represent a quarterly change of +11.26% for Kamsarmax and -0.95% for Ultramax daily rates.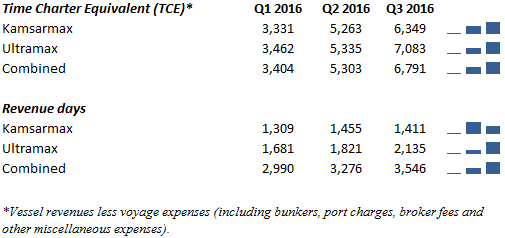 Key operating data for Scorpio Bulkers, Inc. Made by the author using the data from company's filings.
As of Q2 2016, the company expected its charterhire expenses to bottom at approximately $2.7 million per quarter for the remainder of the year - a forecast that proved to be rather accurate. At 6.5% of total operating expenses, charterhire expenses accounted for $2.6 million in Q3. A near-term threat to the operating margins might come from vessel operating costs (the company continues to increase its fleet) and general and administrative expenses.
Estimating Q4 Earnings
Making a back-of-the-envelope of the next quarter's earnings, I make the following (conservative) assumptions:
Calculating the maximum revenue days for the company's Kamsarmax and Ultramax fleet in the last two quarters, I make estimates of the maximum revenues under the fixed voyage rates, which are later subtracted from the total revenue figures. Dividing these numbers by the number of remaining revenue days (total revenue days less those under fixed voyage rates), I get the approximate TCE values for the non-voyage days, which account for $6,898.09 and $6,475.76 per day in Q2 and Q3 2016, respectively. It is important to note that the average values I use also include the TCE values for time chartered-in vessels, which accounted for two and three vessels in the last two quarters, respectively. There were two chartered-in vessels as of October 28, 2016, while the number of Kamsarmax vessels is expected to increase by one in Q4.
Even though I would expect the revenue days to increase in Q4 2016, I use the best values from the previous two quarters since the metric is contingent on a wide range of factors. Due to the continued strength in the Baltic Dry index, I take the average of my estimations for the last two quarters' TCE values during the non-voyage days and add 15 percent.
Due to the above-mentioned increase in fixed voyage rates, my Q4 revenue estimate implies a quarterly increase of 8.46 percent.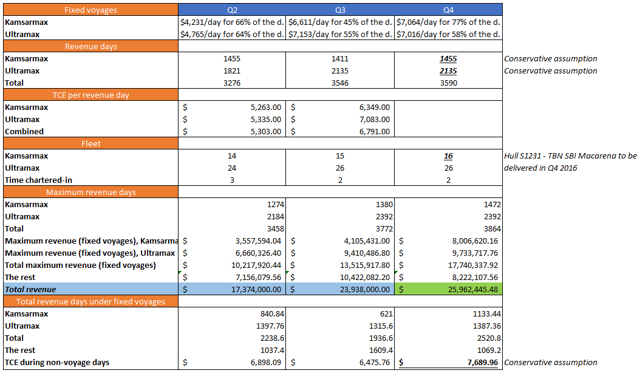 Source: Made by the author using the company's filings.
In my cost estimates, I mostly rely on three-quarter averages, short-term historical trends and linear relationships (for vessel operating costs and depreciation).
Remaining quite skeptical on the stock, I acknowledge the fact that my Q4 EPS estimate of $0.30-0.31 might prove to be relatively pessimistic. Nonetheless, one should also take note of the company's recent tendency to substantially dilute its shareholders on a quarterly basis (1, 2), which is having a significant impact on its bottom line. It is more than likely that the company might use the recent run-up in the stock's price to execute another public offering of 20-21 million shares, which I include in the "bad" scenario calculations.

Source: Made by the author using the company's filings.
Catalysts
Even though the company remains vastly unprofitable and continues to dilute its shareholders, the stock may become way more expensive by the time Scorpio Bulkers turns profitable on a TTM basis, as evidenced by the recent valuation trends.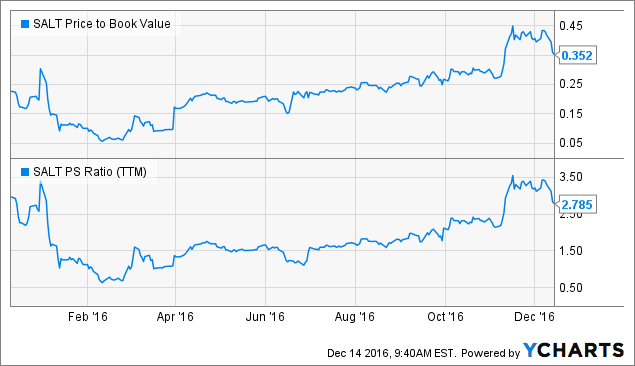 SALT Price to Book Value data by YCharts
As investors are bidding up the shares despite the industry headwinds, numerous other positive developments have happened lately:
Financing agreement amendments: Scorpio Bulkers has negotiated an advance principal repayment of approximately $24.4 million in exchange for adding three or four quarterly installment payments, depending on the vessel, to the respective balloon payments, which will allow the company to skip the next six or eight scheduled quarterly installment payments, depending on the vessel, totaling $48.8 million. Here are two tables to depict the changes on projected principal repayments: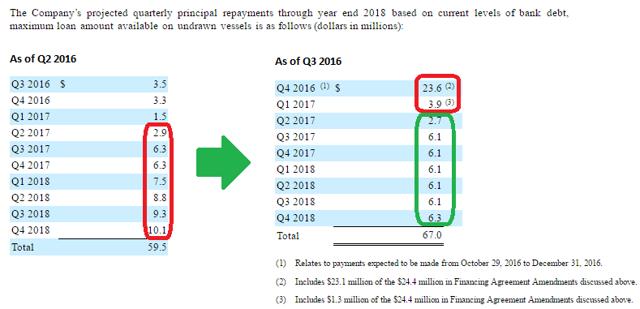 Source: Company's filings
Vessel price reductions: On December 12, 2016, the company published a press release describing a $4.9 million price cut for two Kamsarmax vessels expected to be delivered in Q1 and Q2 2017.
Time charter-out agreements: Since the last quarter, the company has announced four time charter-out agreements at reasonably attractive daily rates:

Source: Press releases dated Nov 21 and Dec 13, 2016.
7.5% senior note repurchase: On December 12, 2016, the company announced the authorization for the 2019 7.5% senior note repurchase for a sum of up to $20 million.
As a counter-argument to the dilution concern highlighted above, the company's president - Robert Bugbee - has been rather bullish on the company's stock lately, which I view as a sign that dilution might slow down substantially in the future. Quite notably, I am writing this just after reading the latest announcement by Eagle Bulk, in which the company announced a private stock placement totaling $100 million (vs. a market cap. of $270 million). At a purchase price of just $4.50 (vs. the yesterday's close of $5.61) one does not have to read StockTwits message board to imagine what a sentiment blow that was. Returning to the Scorpio Bulkers argument, here are the latest insider purchases by the company's president:

Source: Company's filings
Baltic Dry Index Outlook
Is the worst already over for Scorpio Bulkers? It certainly seems so from the financial standpoint. As the company maintains a fairly strong financial position despite its past, continued revenue growth might soon drag its margins from the underwater level. However, as indicated by my Q4 earnings estimates, I am not particularly optimistic on the company as the industry conditions remain quite challenging.
Currently, the major risks for the stock include (but are not limited to) the following:
The above-mentioned dilution concerns continue to pose a significant threat to the existing shareholders;
the current state of the iron ore price rally; and
the current state of the coking coal price rally.
It is true that the recent rally in the value of the Baltic Dry Index has led to surprising short-term consequences. However, current iron ore and coking coal price dynamics have a lot of analysts scratching their heads. Considering the impact these two commodities have on the index, a pullback in Chinese coking coal imports and/or iron ore prices might have an adverse impact on dry bulk shipping rates.
"When it comes to China's coal production, is it more important that output in November recorded yet another decline year-on-year, or that it rose for a second straight month?" writes Reuters. "If you want to be bullish on coal prices, the 5.1 percent decline in domestic coal production to 308.1 million tonnes in November from the same month in 2015 would be your focus. If you wanted to be bearish, the fact that coal production rose 9 percent from October, the second straight monthly gain, is more vital. October's coal output was 281.85 million tonnes, meaning that in volume terms China mined 26.25 million tonnes more in November. This isn't insignificant, given that November imports were 26.97 million tonnes, a number that was the highest in 18 months. In other words, the increase in domestic output was roughly the same as the volume of imports."
At the same time, price outlook for iron - which essentially is a steel price play - is even more tricky. Despite the multiple reports on high grade iron ore shortage and tight steel supply in China, the country's steel production is not falling too fast.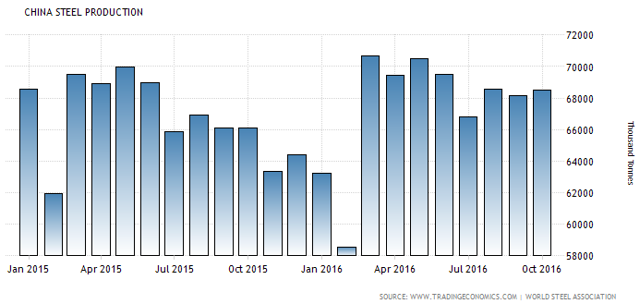 Source: Trading Economics
"Since steel shutdowns have been one of the main drivers of the steel rally, in our view, we don't think iron ore rallying is fundamentally justified, though it is clear that Chinese market participants disagree," Macquarie was quoted as saying in a Reuters article.
Despite upping their iron ore price forecasts, Goldman and JPMorgan are also not too bullish given the current spot price of $80.47 (NYMEX).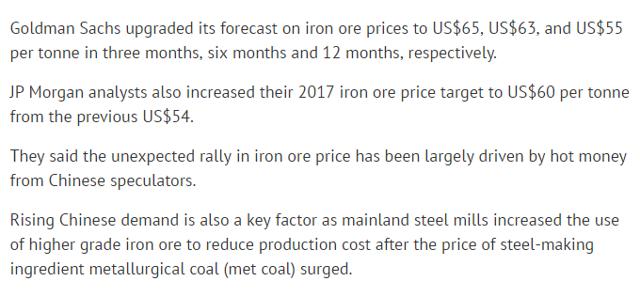 Source: South China Morning Post
Conclusion: Don't Get Bullish Too Early
Even though the recent price action might attract significant speculative interest, near-term outlook for the stock is rather uncertain. Even though the company seems to be on the right track, the stock might lose a substantial part of its recent gains should the dry bulk shipping rates experience a pullback in the nearest future. As the stock is about to plunge below its SMA50 as of this writing, a pullback towards the SMA200 at $3.72 is supported by technical indicators.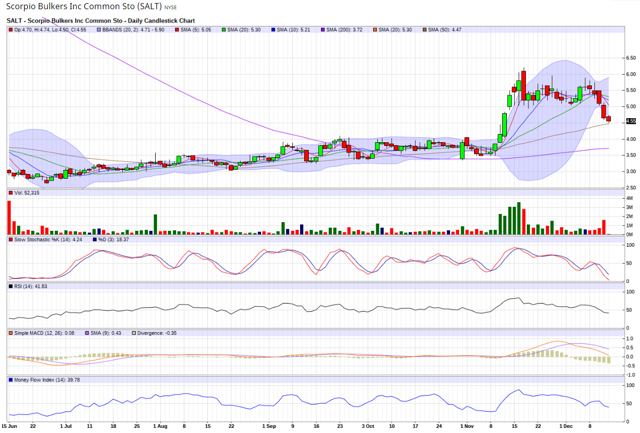 Thus, despite having a significant interest in the stock's medium-to-long term outlook, for the time being, I remain neutral on Scorpio Bulkers' stock.
Disclosure: I/we have no positions in any stocks mentioned, and no plans to initiate any positions within the next 72 hours. I wrote this article myself, and it expresses my own opinions. I am not receiving compensation for it (other than from Seeking Alpha). I have no business relationship with any company whose stock is mentioned in this article.
Additional disclosure: This is not an investment advice. I am not an investment advisor.