A quiet revolution is under way in oncolytic virus development, notwithstanding the fact that this approach has disappointed both commercially and clinically, in the respective cases of Amgen's (NASDAQ:AMGN) Imlygic and Oncolytics Biotech's (ONCYF) Reolysin.
The latest beneficiary is the management team of a private gene therapy company, 4D Molecular, which yesterday secured funding from none other than Pfizer (NYSE:PFE) to back a new oncolytic virus venture called Ignite Immunotherapy. This comes hot on the heels of two other early-stage deals in the space, which remarkably now includes 19 clinical projects (see table below).
True, none of the deals in the latest business development flurry is of a significant size; Sorrento bought the UK player Virttu Biologics for up to $25m in stock, while Boehringer Ingelheim's tie-up with Viratherapeutics was worth €20m ($22m) up front ("Interview – Boehringer beats a brave route with oncolytic virus deal," October 5, 2016).
Meanwhile, the size of Pfizer's investment in Ignite has not been disclosed. However, the big pharma group is said to be taking a 50% stake in the new group, and will provide it with full R&D funding for three years, after which it will have an exclusive option over a full buyout.
Big pharma takeouts
Pfizer is not the first big pharma group to try its luck with oncolytic viruses: in 2015 AstraZeneca (NYSE:AZN) licensed a phase I project from Omnis Pharmaceuticals, while Imlygic was of course the result of Amgen's $425m takeover of Biovex in 2011.
Imlygic showed questionable clinical efficacy, and has disappointed since being launched last year, with sell-side consensus expecting 2016 sales of just $48m. Meanwhile, Reolysin failed to wow in its phase III trial, and its developer, Oncolytics, is now worth barely $20m.
However, both have struggled for two key reasons: their delivery via cumbersome, intratumoural injection, and the fact that they have initially only been used as monotherapies. Much of the potential of oncolytic viruses is thought to lie in combination – Amgen is running a Keytruda combo trial, and Pfizer and Ignite cite use with immune checkpoint inhibitors as a focus.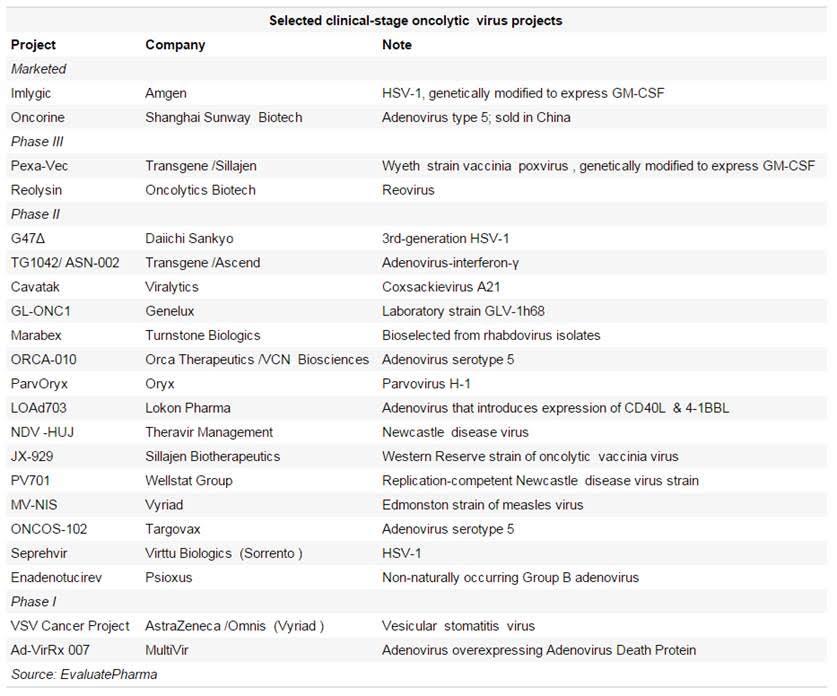 There are several types of oncolytic virus – including vesicular stomatitis virus, herpes simplex virus and reovirus – and they act by preferentially infecting and killing cancer cells. The ones in development normally have a gene deletion, and some carry a gene insertion, in Imlygic's case, GM-CSF.
Intratumoural injection is needed to try and avoid destruction of the oncolytic virus by the immune system, which usually recognises it as foreign.
One of the strengths of the Pfizer/Ignite approach, the partners say, is the ability to develop vectors that target cancer cells after IV administration. Boehringer and Viratherapeutics also stressed their ability to deliver their lead asset, VSV-GP, systemically, because humans have no latent immunity against the vesicular stomatitis virus on which it is based.
Cracking the puzzle of IV delivery, along with meaningfully improving efficacy, are vital if oncolytic virus therapy is to enter the mainstream of cancer treatment. Until then the technology will just be a supporting act.
Editor's Note: This article covers one or more microcap stocks. Please be aware of the risks associated with these stocks.