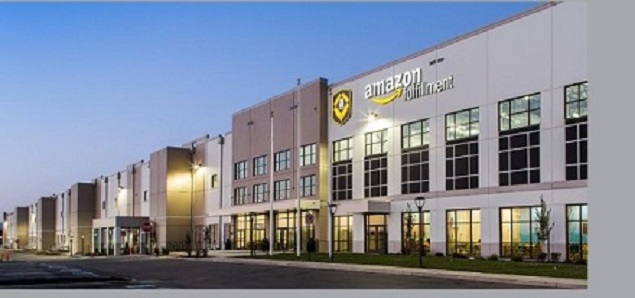 Source: Prologis, Inc.
I generally cover REITs, real estate and related technology.
Amazon.com (NASDAQ: AMZN) regularly impacts three REIT categories: bricks and mortar retail, data center REITs and industrial REITs that can provide fulfillment, supply chain and last mile for package delivery.
While Amazon is usually viewed as a negative for the retail REITs, it has been a boon for data center and warehouse landlords.
Amazon Web Services along with Microsoft (NASDAQ:MSFT) Azure and Google (NASDAQ:GOOG) (NASDAQ:GOOGL) Cloud Platform expansions have continued to be a major tailwind in 2016 for both retail and wholesale data center REITs.
As the year progressed, many analysts and investors began to realize how e-commerce was helping to drive record leasing and double-digit rent increases in many US industrial markets.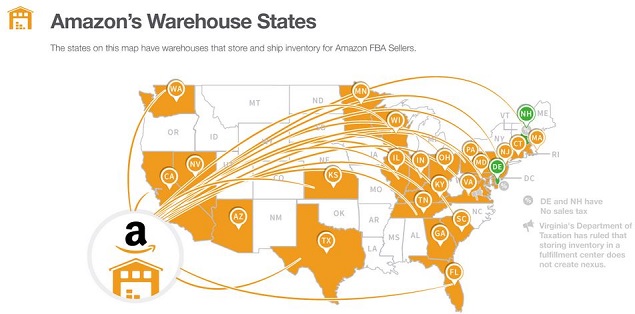 Source: TaxJar blog - Amazon pins in the map Oct. 2016
During 2016, e-commerce has helped to transform boring warehouse and industrial REITs into one of the most popular REIT asset classes for investors.
My thesis a year ago was a simple one. Investors looking to capitalize on the relentless growth of Amazon could look to REIT landlords as another way to cash in on the bonanza.
As an added plus, investors get to pocket the regular REIT dividend distributions in addition to potential for larger gains from price appreciation.
If you are not familiar with this series, here are links to the past articles with the one on bottom kicking off the thesis Dec. 22, 2015:
Cash In On REIT Landlords - 2016 Recap
In a nutshell, this strategy has worked out extremely well for investors who held the six data center REITs from the beginning of the year, as shown below.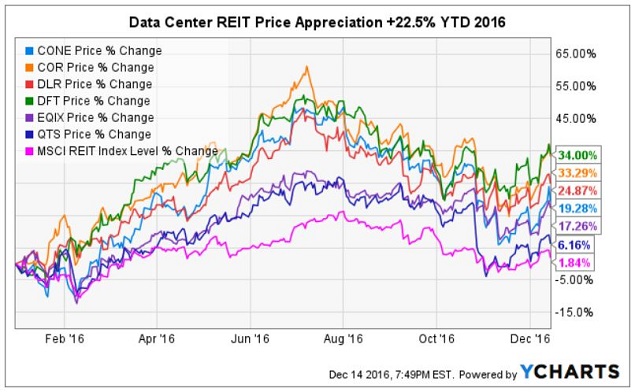 The quarterly dividend distributions boosts the total return up over 25%, on average. (There is a more detailed discussion regarding the wholesale, retail and hybrid strategies employed by these data center landlords in the sections below).
Industrial Strength - Warehouse Landlords
I mainly focused on six industrial REITs in the article series:
Prologis, Inc. (NYSE: PLD) is a global logistics giant. Duke Realty (NYSE: DRE) is an industrial REIT with a large US portfolio. Both of these portfolios contain large distribution warehouses. These are the two largest Amazon landlords when it comes to owning large-scale fulfillment facilities.
Monmouth REIC (NYSE: MNR) owns a portfolio of single-tenant net-lease warehouses that are leased to investment-grade tenants on long-term leases. FedEx (NYSE:FDX) facilities comprise 50% of Monmouth's revenues, which makes this REIT highly-leveraged to e-commerce growth.
EastGroup Properties (NYSE: EGP), Terreno Realty (NYSE: TRNO) and Rexford Industrial (NYSE: REXR) all own portfolios of smaller industrial buildings which are well suited to benefit from retailers solving the "last mile" delivery puzzle.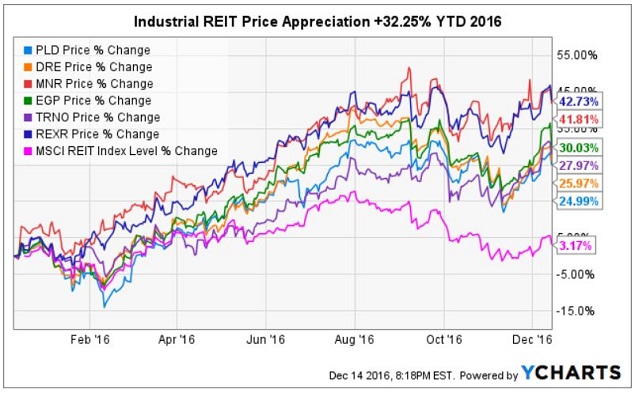 The quarterly dividend distributions increased the total return up over 35%, on average.
Data Tsunami - Cloud Computing Tailwind
Amazon's founder and CEO Jeff Bezos noted in his 2015 Annual Letter to Shareholders:
"AWS is bigger than Amazon.com was at 10 years old, growing at a faster rate, and - most noteworthy in my view - the pace of innovation continues to accelerate - we announced 722 significant new features and services in 2015, a 40% increase over 2014."
Fast forward to AWS reInvent 2016 and this year, Amazon introduced over 1,000 new features for AWS customers.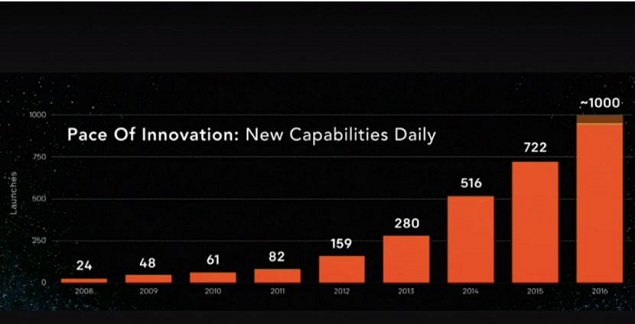 Source: TechCrunch.com - AWS Innovation timeline
Meanwhile, price reductions continue to be announced for many of them as AWS continues to grow its truly planet-scale public cloud services business.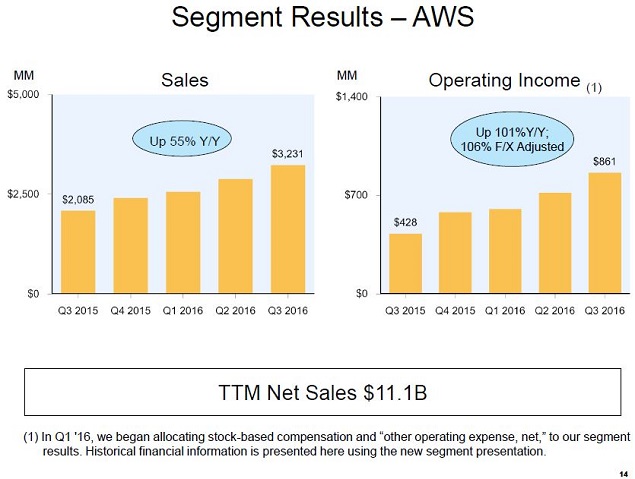 Source: Amazon.com Q3'16 Earnings presentation - AWS growth
The good news for data center REITs is that in addition to AWS leasing powered shells and colocation space, Microsoft Azure/Office 365 cloud expansions with third-party landlords, along with Oracle (NASDAQ: ORCL) cloud deployments, helped drive record wholesale leasing by data center operators in several markets during 2016.
Data Centers
All six data center REITs have all benefited from the paradigm shift toward cloud computing and the trend toward distributed IT architecture, colocation and connectivity.
I originally wrote part of the overview below last week for a Seeking Alpha focus article, which was an Editors' Pick and well-received by readers.
"All six data center REITs have benefited from secular drivers of cloud computing, streaming media wireless data and the rise of IoT (Internet of Things), or machine-to-machine communication, is just in its infancy.
The enterprise shift to off-premises distributed IT architecture continues to accelerate as new applications are tested and launched in the cloud and hybrid cloud (public, private and on-premises integrated IT solutions) becomes the new normal.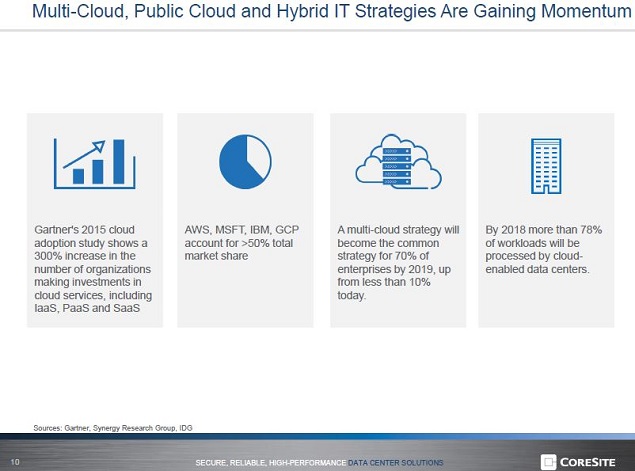 Source: CoreSite Realty presentation
During the past year, the paradigm shift by enterprise to cloud computing, including global scale public cloud, and a more distributed IT architecture to reduce latency for high-performance applications, has driven record quarters of leasing activity for data center REITs.
However, all these data center operators don't follow the same strategies. Here is a brief rundown of the six publicly traded data center REITs:
Digital Realty (NYSE: DLR) was the first data center REIT and owns and operates the largest global fleet of data centers, with 140 located in over 30 metros worldwide. In addition to large scale, or wholesale deployments, Digital's Telx acquisition signaled a pivot toward connectivity and colocation. Digital is the only one of its peers with an investment-grade rating.
DuPont Fabros (NYSE: DFT) is the lone remaining REIT that only focuses on large wholesale deployments. During the past year DFT has accelerated a fully-funded five-year plan to expand into Toronto and Portland. DFT usually offers investors the highest yield and just announced a 6.4% dividend increase to $2.00 from $1.88 per year, bumping the yield to ~5%.
Equinix, Inc. (NASDAQ: EQIX) is a 19-year old S&P 500 company which became a REIT in 2015. Equinix owns and operates the largest global network of data centers, which focuses on connectivity and interconnection. Ninety percent of internet traffic passes through the EQIX network of data centers. Equinix is a major tenant for Digital Realty.
CoreSite Realty also focuses on connectivity, primarily in eight major US markets. CoreSite will opportunistically sign larger "wholesale" deployments as well. CoreSite was the top-performing REIT for investors during 2015, regardless of sector.
CyrusOne (NASDAQ: CONE) focuses on the Fortune 1000 enterprise market and has benefited from the need for large businesses to integrate public and private cloud solutions with on-premise owned facilities. Over the past two years CyrusOne also has actively sought to serve financial services and cloud service providers.
QTS Realty (NYSE: QTS) buys massive infrastructure-rich properties at a discount and repurposes them into state-of-the-art data center campuses. QTS also offers colocation and managed cloud solutions with a focus on security and compliance for both government and private sector clients.
Both Equinix and CoreSite operate data centers, which are primarily focused on customer connectivity and interconnection. They are highly leveraged to growth in network and cloud traffic in Tier 1 data markets rather than large server farms in remote locations where there are cheap space and power.
Equinix and CoreSite both operate high-margin colocation businesses offering high-speed on-ramps to Amazon Web Services, including Direct Connect in many metros is a magnet. Additionally, CoreSite reportedly signed large wholesale lease at its massive SV-7 data center Silicon Valley, CA, earlier this year.
The high-flying data center REIT sector returned an outstanding 50%-plus during the first six months of 2016.
However, the second half of the year has been a bumpy ride for investors with the data center REITs recently bouncing off of post-election lows at the beginning of December.
Amazon Big Picture
It also has been a bit of a bumpy ride for Amazon shareholders recently. Election-related "background noise" has made for a bit of choppy trading. This has been at least partially attributed to President-elect Trump's antipathy for The Washington Post, owned by Amazon founder and Chairman Jeff Bezos.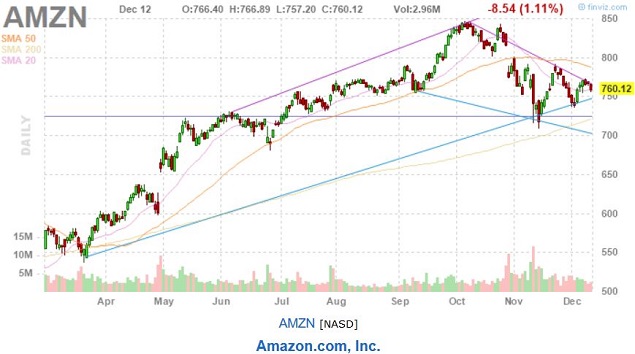 However, I believe that the frivolous assertion of Amazon.com being a monopoly can be safely filed under "post-truth."
During the past 52 weeks, Amazon shares have traded in a range of $474.00-$847.21 per share. Given the huge drop at the beginning of the year, after a wild ride, AMZN shares are up ~12.5% year-to-date.
The Bigger Picture
The election surprise did not auger well for most REIT investors either. Ironically, election of the first US president who is a billionaire because of his commercial real estate empire and shrewd business dealing initially crushed REIT valuations.
The tax policies and infrastructure spending initiatives that Trump and his surrogates have been touting to spur GDP growth have had a dramatic impact on interest rates. The 10-year Treasury interest rate has spiked up from 1.7% to 2.5%.
Higher rates have sent the big banks soaring, but have had the opposite impact on REITs, which are often viewed as bond substitutes for income investors. This has muted the gains, which the REIT sector enjoyed during the first half of 2016.
The Vanguard REIT Index ETF (NYSEARCA: VNQ) is a good proxy for equity REIT valuation and a great way for passive investors to get exposure to commercial real estate.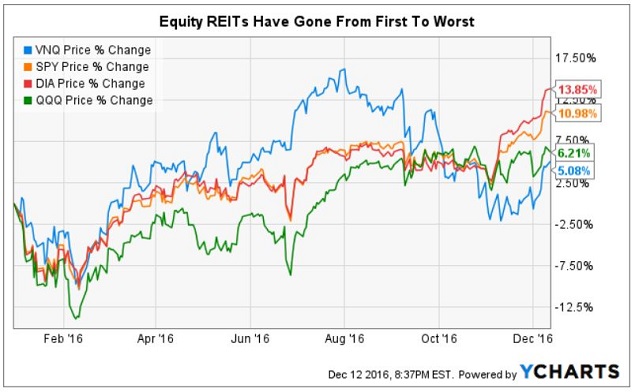 Since the election, the SPDR Dow Jones Industrial Average ETF (NYSEARCA: DIA) has continued to hit record levels. The broader equity market represented by the SPDR S&P 500 ETF (NYSEARCA: SPY) has outperformed both technology, the PowerShares QQQ ETF (NYSEARCA: QQQ), and the equity REITs, as shown on YChart above.
Mr. Market had bid REIT valuations up to unsustainable multiples by mid-summer. Subsequently, investor concerns regarding fears of a rising rate environment prior to the election had already begun to take their toll on the entire sector, including the high-flying data center REITs.
Investor Takeaway
The November election surprise capped off an up and down year for both technology and REIT investors. Between the new Trump administration and a more hawkish Fed, there is plenty of reason to pay careful attention to the smoke signals coming out of Washington, D.C. and play some cards close to the vest.
The data center REITs have a huge tailwind from the paradigm shift to the cloud, big data, streaming content and exponential growth of wireless data, including the Internet of Things. Given the recent sector pullback from summer's peak valuations, this group appears to have plenty of room to run in 2017.
The industrial REITs have become a very popular sector with investors looking to get their piece of the e-commerce pie. They have held on to a greater percentage of their 2016 price gains, and I think will be more vulnerable to higher interest rate headwinds in 2017.
I don't expect the Amazon landlord strategy to generate the same returns in 2017 across the board. However, I think some careful stock picking could improve the odds considerably.
I will be writing a few Top Pick articles for next year during the coming weeks. However, I'm taking a short trip for R&R first. I will be back to reply to comments on this article the week of December 19th. I'm sure a few regular readers will pinch hit for me until then!
I relentlessly hunt for diamonds in the rough and rising stars, in addition to closely following data centers, covering REIT blue chips and breaking news. Please consider following me as a Seeking Alpha author if you would like to be notified when my future articles are published.
Disclosure: I/we have no positions in any stocks mentioned, but may initiate a long position in AMZN, COR, CONE, DFT, QTS, DLR over the next 72 hours.
I wrote this article myself, and it expresses my own opinions. I am not receiving compensation for it (other than from Seeking Alpha). I have no business relationship with any company whose stock is mentioned in this article.