There is a long held belief that when interest rates rise, banks profit. Via causation, investors should reallocate portfolios to follow (chase) those increasing profits over time. As the latest Fed decision is now behind us and the consensus expectation was met, efficient equity markets anticipated the rise and financials have delivered impressive returns. The Financial Select Sector SPDR ETF (NYSEARCA:XLF) and its major components Bank of America (NYSE:BAC), JPMorgan Chase (NYSE:JPM), and Wells Fargo (NYSE:WFC) are shown below along with the breakout noted in the past weeks.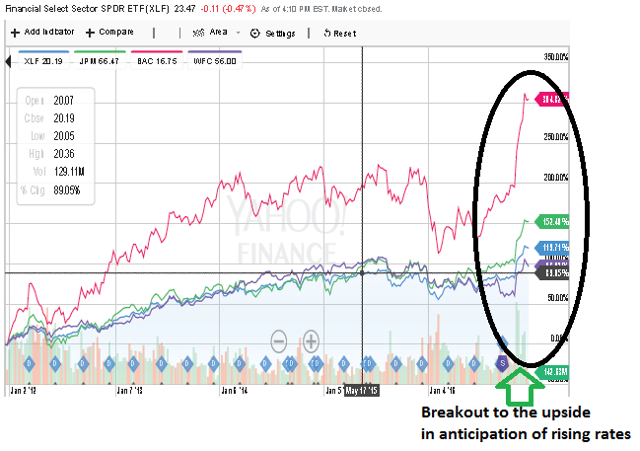 Pointing to the widely held belief, the Richmond Fed cited an article from the International Business Times. The journal published a statement in September 2015, "the top five banks could reap a $10 billion windfall in one year if the federal funds rate increased by 1 percentage point." The dates of that article are important as this predated the Fed's first 25-basis-point increase, i.e. December 2015, one year ago.
Getting past the headlines and the herd stampeding toward financials, the confidence and extrapolation for the banks and financials is wrong-footed. According to the St. Louis Fed, "the effect of higher interest rates on banks' net interest margins; the difference between banks' interest income and interest expense expressed as a percentage of average earning assets is ambiguous." More can be read here, and to summarize, the germane points are noted below:
The relationship between market interest rates and net interest margins is that banks typically "lend long and borrow short."
When market interest rates fall, banks' funding costs usually fall more quickly than their interest income, and net interest margins rise.
Whoops, that's exactly the opposite of what the media is calling for! Interest rates are now on the rise meaning interest margins would fall.
The Richmond Fed also weighed in on the relationship and correlation of net interest margins and interest rates. The report reads, " Many market participants assume that, as the Federal Reserve tightens monetary policy, and market rates increase in response, banks will be better off because their net interest margins will also increase… We find that the relationship is not as clear-cut as one might suspect."
The Richmond Fed supported its analysis dating back to the 1970s and 1980s, referring back to the savings and loan (S&L) industry. Then, it noted, interest rates paid to depositors increased while rates earned on their portfolios changed little. Instead of net interest margins widening as broadly accepted, net interest margins collapsed. The balance is recorded in history of the S&L implosion and investors on the wrong side of the trade.
The studies also found four episodes of significant rate cuts since the mid-1980s that coincided with increases in the average net interest margin (again the opposite of the current dynamic): 1984-86, 1989-92, 2001-02, and 2008. Based on the data the Fed noted that, if anything, interest rate cuts tend to induce increases in net interest margins, and the opposite holding true, interest rate rises tend to induce decreases in net interest margins.
To be fair, the studies pointed out these findings of the relationship and correlation above in the shorter term. In longer terms, an equilibrium is reached (or at least could be expected). I discount the longer term as there is always a market reaction that tends to be exaggerated always in the short term. Just as the market, wrongly, has priced in a boon to bank's bottom lines, these prices are way ahead of themselves and therefore should be faded, sold, shorted as you see fit.
These banks have proven they are not going out of business, even if they require a bailout and notwithstanding a Trump Administration appetite to do so, rather they are expensive, ill prepared for loan losses, and Interest Margin induced earnings boost likely won't deliver.
Under The Hood
Before I dig into the trade, let's square up the terms. Net interest margins are the spreads between what banks receive on their interest-earning assets and what they pay on interest paying liabilities. Margins are NOT profits. Profits also account for noninterest income/expense, as well as for things such as losses on loans.
It is widely known that the last banking fiasco was never fixed! Home loans and losses were largely kicked down the road. The end of that journey is near.
Much data can be gleaned from the Federal Reserve on loan charge-offs. This is trailing data, and NOT a leading indicator. Noteworthy, are the biggest charge-offs occurred during 2009-10 based on the housing implosion of 2008-9. The problems were never fixed fully.
Today, HELOCs, a type of loan that allows homeowners to withdraw cash from the equity in their house, require interest only payments for the first 10 years, but then principal payments kick in for the next 10, 15, or 20 years. Sound the alarm (because media isn't), HELOC delinquencies are rising. The bulk of HELOCs were underwritten from 2006-08. Then house prices were higher. Loan to Values (LTV ratios) were more lenient, and interest rates now are on the rise. Together this is a calamity making the debt irreconcilable.
Investopedia described it here.
A Google search would find you plenty more. Regardless of where you read, Investopedia nuanced the profit vs. net margin issues directly, "… large lenders, including the country's biggest banks such as JPMorgan Chase and Citigroup are increasingly feeling the pinch of the losses incurred by these unpaid loans." The WSJ article summarized the situation across the biggest banks.
The WSJ article from August noted the following:
Roughly 840,000 Helocs taken out in 2006 are resetting this year, with principal payments on an additional nearly 1,000,000 loans expected to hit in 2017.

Helocs in early 2006 were at least 30 days late on $2.8 billion of balances four months after principal payments kicked in this year… 4.4% of the balances on outstanding 2006 Helocs. Delinquencies were at 2.9% before the reset.

Resets can lead to payments jumping by hundreds, or in some cases, thousands of dollars a month.

Bank of America, the largest home-equity lender by volume, reported $250 million of Helocs that had transitioned to requiring principal payments were at least 30 days delinquent in the second quarter, up 56% from a year prior… that accounts for just 2% of Heloc balances that are in repayment.

At J.P. Morgan, $647 million of Helocs that reset were behind on payments in the second quarter, up 21% from a year prior…

At Citigroup, delinquent balances totaled $338 million in the second quarter, up 105% from a year prior.
I have read in great detail others' 'two cents' on who benefits and who loses in the Interest Rate rise debate. But those opinions matters not, rather as these costs rise, consumers' liabilities with HELOCs soar. Bad loans follow. How will this impact earnings or reserves for losses at banks? Already the 3 biggest banks in the ETF have increased loan loss provisions, but until the crises comes and as history reveals, these provisions are never enough.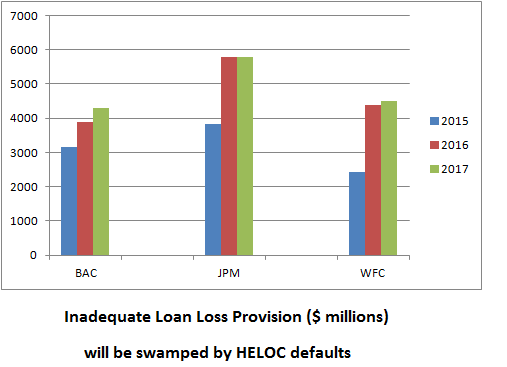 The Trade And How To Express Your Opinion:
Whether you believe in gravity, risk, or fairy tales, the quickest glance at the XLF (or its components) suggest regression to the mean, profits to be taken, or bridges to nowhere. A short isn't expensive as either borrowing costs or dividends (you pay the dividend if you're short the shares outright) are burdensome. There's never easy dollars to be made, but risk back to $21 wouldn't make me blink. If you're already long, consider taking profits or at a minimum, selling calls against long positions (i.e. sell the call noted below).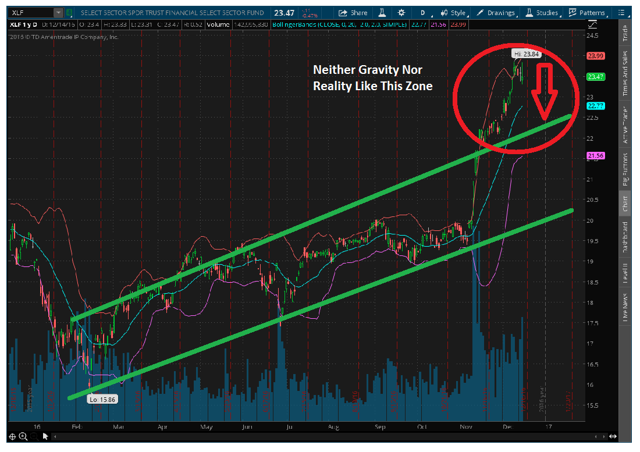 As an options trader with preference to collect premiums, I like to see where Implied Volatility may offer rich rewards. Below, courtesy LiveVol, a quick look at the 90 and 360-day periods (March '17 and January '18 contracts) reveal explosions in Implied over Historical Volatilities. These are expensive translating to option sales (short calls) makes sense.

Evaluating the pricing of the two contracts, I preferred the March $23 strike that's slightly ITM, pays handsomely $1.18 ($118 per contract, use limit orders). The assigned cost basis rises to $24.18, greater than at any time since March 2008.

Note: To get these and more articles on options and equity opportunities as soon as they are published, click on my profile and hit the big orange "Follow" button and choose the real-time alerts option.
Disclosure: I am/we are short XLF.
I wrote this article myself, and it expresses my own opinions. I am not receiving compensation for it (other than from Seeking Alpha). I have no business relationship with any company whose stock is mentioned in this article.
Additional disclosure: Short XLF and XLF Calls, Plan to short individual components.