Shares of Retrophin (RTRX) are down slightly since I updated my thesis on September 12th.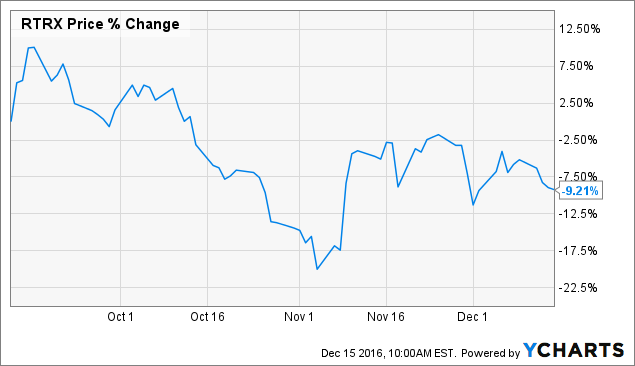 In my previous write-up, I commented on how the $800 million to $1 billion market opportunity for sparsentan in patients with focal segmental glomerulosclerosis (FSGS) compared favorably to the company´s $800 million market capitalization.
After 8 weeks, sparsentan treated patients showed a 44.8% reduction in proteinuria compared to 18.5% in control patients that was statistically significant (p=.006). Retrophin management had hoped to see a 50% improvement over standard of care and were enthusiastic after the drug significantly outperformed their expectations.
Additional upside exists in management´s intent to expand sparsentan clinical studies into other related nephropathies and glomerulopathies.
At the time of writing the approved drug business was on track to achieve $130 to $140 million in annual sales. The promising pipeline consisting of RE-024 in PKAN and Chenodal in CTX patients is targeting a combined $300 million to $650 million opportunity.
Updates to Thesis
Analysts at JMP Securities have come out with a statement that experts are supporting a rapid approval of sparsentan and repeated their Outperform rating along with a $28 price target, allowing for 40% upside from the current share price. In contrast to the analyst at JMP, BMO Capital analyst Do Kim has a $46 price target on shares.
I would be remiss to point out that ASX-listed Dimerix Limited reported positive interim data as well in a phase 2 study in CKD patients. 27% of patients who passed the mid-point of the study showed around a 50% reduction in proteinuria over standard of care. Doses ranged from 30mg to 240mg per day- a patient taking the 90mg dose experienced a 66% reduction in proteinuria, suggesting higher doses correlated with better outcomes (see Dimerix corporate presentation). As DMX-200 wasn´t specifically tested in FSGS patients (although it has orphan drug designation for the indication), it´s difficult to compare results. At a $12 million market capitalization, I consider the stock an intriguing buy. However, as results were preliminary and the company has a long way to go, I see no immediate threat to sparsentan´s market opportunity.
On November 10th the company announced an agreement with the FDA under Special Protocol Assessment (SPA) for a pivotal trial with RE-024 in PKAN patients. 82 patients with PKAN ages 6 to 65 years will be enroled, with the primary endpoint being a change in score on the PKAN-ADL scale from baseline through 24 weeks of treatment. After this period all patients will be able to continue to receive treatment in an open-label extension. With the regulatory path clarified and the trial to be initiated by year end, I am even more bullish on the drug´s possibilities and a positive data readout. It´s worth noting that the four PKAN patients receiving RE-024 cotninue to remain stable.
On November 3rd the company reported third quarter results- cash and equivalents totaled $320.8 million and net product sales totaled $33.9 million, up 21% over the same period in 2015. The growth in the number of patients being treated with Thiola continues to impress, while the number of patients taking Cholbam and Chenodal remained stable. Full year sales guidance of $130 to $140 million was reiterated.
The company continues to advance its agenda with Chenodal in CTX patients, as 30 sites have been activated in the CTX prevalance study out of the planned 40 sites. Up to 500 patients will be enrolled according to management.
Lastly, the company will press forward with its plans to file an NDA for the the treatment of PBC (primary biliary cholangitis) in 2017 for patients who have difficulty swallowing.
The macroenvironment for biotech companies and their investors remains challenging, with Trump recently causing the IBB to drop when he stated he´s going to bring down drug prices and doesn´t like what´s happened with them.
2016 has been a year to remind investors that biotech is full of risk and companies flaming out- high profile failures, including June Therapeutics (JUNO), Bristol-Myers Squibb (BMY), Novavax (NVAX), and more recently Pfizer´s (PFE) Xtandi´s failure in chemotherapy-naive metastatic castration-resistant prostate cancer have caused many investors to reconsider their positions.
Final Thoughts
For the sake of being conservative, even if we lower the revenue estimates for Sparsentan to $400 to $500 million, the stock would still be undervalued.
Risks include regulatory and data read-out, as well as dilution risk although with the $320.8 million of cash on hand I don´t expect it happening anytime in 2017.
Also, I hope after the drama with Martin Shkreli, management will continue to be forthright with investors. I was not pleased when they billed sparsentan as having a ¨well-tolerated preliminary safety profile¨, when edema rates are 12% versus 3% for patients taking irbesartan. Lastly, there´s always the chance that the FDA doesn´t accept the proteinuria as a definitive endpoint, but we will just have to wait and see.
For aggressive, risk-tolerant investors interested in the story after doing their own due diligence, consider establishing positions in the near term.
For those who wish to play it a bit safer, consider establishing a smaller pilot position and adding on dips. If regulatory risk is worrisome, then consider establishing half of planned position and waiting until after the approval decision to make further decisions.