Introduction
I haven't bought any shares in December yet. I am looking for healthcare and telecom companies as I don't have enough exposure to these sectors. It is hard enough to find decent investments at the current price environment, and when I am looking for specific sectors, it becomes even harder. The company I will choose will be my last buy for 2016.
I am a fan of Medtronic (NYSE:MDT). I have been increasing that position over the past two months, as I like the growth, valuation and future growth opportunities. However, before I choose to increase the position, I am willing to analyze one of its peers, which I own as well. It is Becton, Dickinson (NYSE:BDX), and by analyzing it, I will be able to decide which position I am willing to expand.
While both companies offer pretty low yield, they offer a low payout ratio and pretty fast growth. Another peer is Abbott (NYSE:ABT), but I am not willing to increase this position, as it is large enough for me at the moment. Besides, Abbott offered a very disappointing dividend increase, and it implies that the management sees some hardships in the near future.
Becton, Dickinson and Company develops, manufactures, and sells medical supplies, devices, laboratory equipment, and diagnostic products worldwide. It operates in two segments, BD Medical and BD Life Sciences. With these two segments, the company offers a wide collection of products.
Fundamentals
The first metrics I check are EPS and FCF. Both of them show amazing growth. The acquisition of CareFusion (NYSE:CFN) that I wrote about in a previous article was a great move. The company managed to integrate it quickly and cut costs, so the effect can already be seen. Both EPS and FCF have almost doubled over the past several years. This growth fueled by smart acquisitions shows me that the management knows what to do in order to support the growth of this company.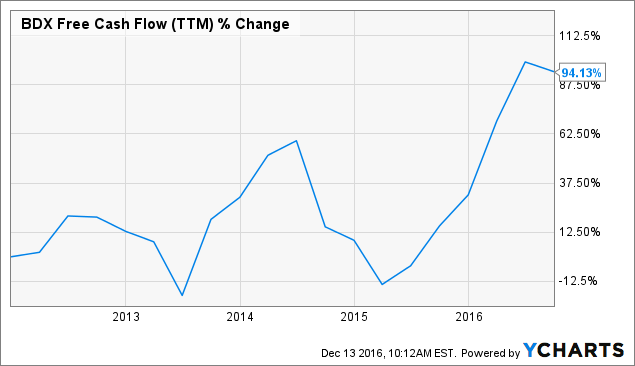 BDX Free Cash Flow (TTM) data by YCharts
The revenue also grew, but it didn't grow as fast as the EPS and FCF, because the cost cutting can only influence the bottom line. However, the smart acquisition of CareFusion opened the company to new markets, and the revenue grew accordingly. I see here a company that manages to grow its top line both through smart acquisitions and organic growth.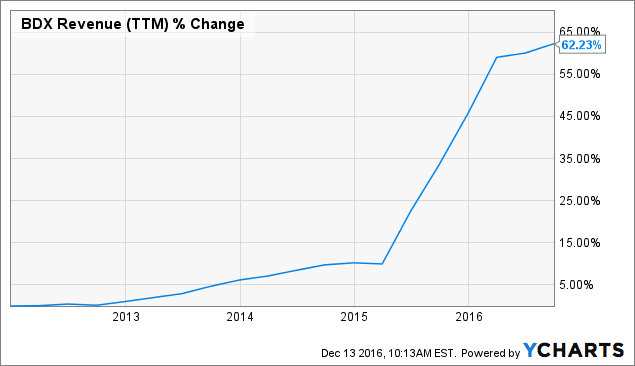 BDX Revenue (TTM) data by YCharts
The company is a dividend champion that raised its dividends over the past 45 years. This is an amazing streak that proves to me that the company has a long record of growing its earnings and free cash flow. The latest raise was 10%, which is fantastic in my opinion. The company manages to bring double-digits raise while keeping the payout ratio low. The current ratio might seem a little bit high, as it approaches 60%. However, using FCF, the payout is much lower than 33%, which is very sustainable. The only drawback here is the low yield. The yield isn't low historically, but if you look for income, then you should ignore BDX. I have a very long investment horizon, so I have no problem owning this stock for future growth and income.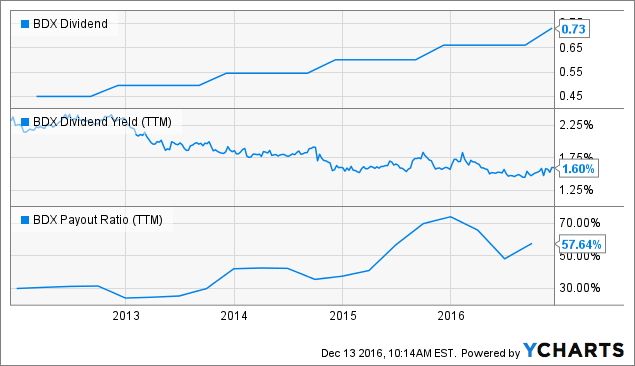 BDX Dividend data by YCharts
I would like also to give some attention to the number of shares outstanding. This figure is growing over the past several years, and according to the company's forecast for 2017, it will grow even more. I don't mind if a company doesn't offer a share buyback program as long as it manages to invest its capital wisely like BDX. However, I don't like having my holdings diluted, and I would expect the company to buy back enough shares to negate the effect of the employee compensation.
Valuation
The first valuation metric I am looking at is the P/E ratio. Look at the huge gap between the P/E and forward P/E. The reason for the gap is the change in earnings per share after the CareFusion acquisition. The EPS is forecasted to grow significantly, and the market values the company accordingly. With P/E of 17.64, I believe that BDX is fairly valued.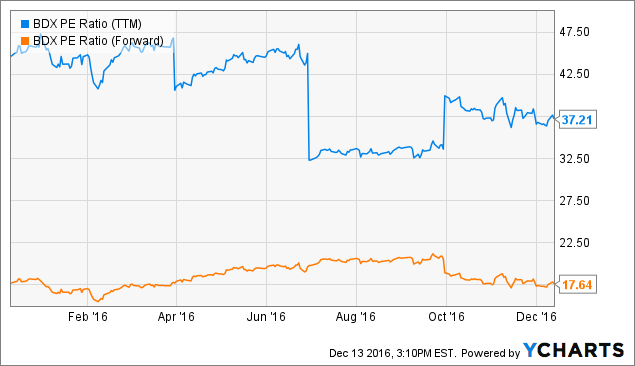 BDX PE Ratio (TTM) data by YCharts
Looking at the five-year trend of the P/B and P/S, you can see that the valuation has been expanding. However, the expansion was slow, and it practically stopped expanding two years ago. Combining this information with the P/E ratios, I am sure the company is valued fairly, but it is certainly not cheap. If you wish to buy BDX at a cheap valuation, you should wait for a 10-15% drop, which may never come.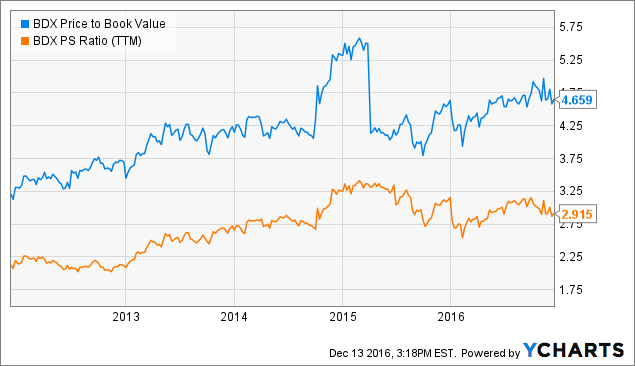 BDX Price to Book Value data by YCharts
Opportunities
Going forward, I am looking for signs of growth. I am willing to analyze and understand what will drive BDX forward in the coming years. First of all, BDX has a great management that knows how to allocate capital. Look how well it managed to assimilate CareFusion, and it achieved all its goals. As the company uses only 30% of its FCF for dividend, I am sure that this great management will keep delivering strong results and achieve its long-term goals.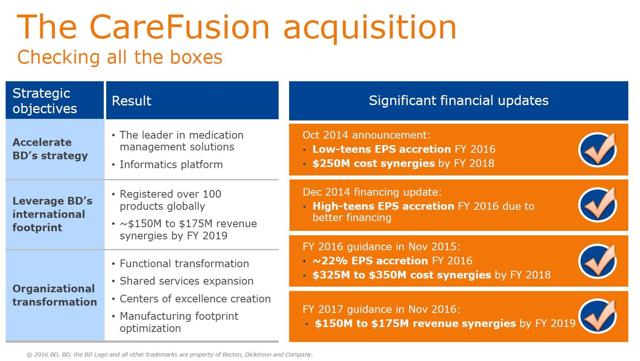 BDX is making an effort to be a leader in the diabetes treatment segment. I agree with the management that diabetes can be a major growth engine for the company. Today, this market is worth over $600 billion. As the population of the world grows and more people join the worldwide middle class, more people will suffer from diabetes, and BDX offers devices that will help millions of people coping with this disease.
The synergies will keep the EPS growing until 2019, and the emerging markets will serve as another catalyst. They need medical devices, as more people in these countries become wealthier and can afford better healthcare. The synergies are also between the growth catalysts. The concentration on emerging markets together with the diabetes care will drive the EPS forward. As more people in the emerging markets will suffer from diabetes, the presence of BDX in these markets will contribute to its growth in the future.
BDX will benefit from its diversification, as it serves as a very wide moat. It is not only diversified geographically, but it also offers a huge variety of products. Both segments contribute to the company's growth. These segments make the company work on the laboratory itself as well as on the medical devices used by patients. It allows BDX to offer comprehensive solutions to clients and patients.
Risks
The competitive environment can be a risk. While BDX has a very wide moat as described above, it is in a constant fight with its peers over market share. The major medical devices companies tend to compete, and this competition might have a negative effect on the profit margins. When compared to some of its peers like Abbott and Medtronic, BDX is pretty small.
The strong USD can also damage the results. Yesterday, the federal rate increased by 0.25%. Moreover, Yellen said that the Fed expects three more raises in 2017. As BDX increases its exposure to emerging markets, the strengthening USD will have a negative effect on earnings. While this is a small- to medium-term risk, it might have an impact on the dividend growth pace.
Another change in business environment is the new administration in D.C. Trump kept saying that his administration will repeal the Affordable Care Act, and replace it with "something better." That something better is still unknown, and it might have a major influence on healthcare spending. Medical devices companies like BDX probably shouldn't worry as pharmaceuticals should, but investors should stay cautious.
The current valuation is also a risk. While the valuation is fair, it is fair when compared to the current outlook. If something happens and the outlook changes, investors will have no margin of safety. Look what happened to CVS (NYSE:CVS) after a change in its outlook. Now, if it trades for a low valuation, you have some margin of safety. At the moment, BDX must execute according to its plan in order to justify its valuation.
Conclusion
BDX is a fantastic candidate for any dividend growth portfolio. In my opinion, together with its peers, it is almost a must-have company. When I use the flow chart I published in my previous article, BDX is doing great. Strong fundamentals, fair valuation, growth opportunities and manageable risks.
It will be very interesting to compare BDX and MDT in another article using the flow chart. It will help me to decide whether I prefer MDT or BDX. Personally, I think that I will buy more MDT as the yield is more attractive. However, I think this comparison can be fascinating.
If you are not comfortable with the margin of safety, you should wait for a 10-15% drop, as we saw with CVS. However, keep in mind that no one knows if this drop will ever come. I am against buying overpriced assets, but I usually do pretty well when I buy fairly valued stocks for the long term.
Disclosure: I am/we are long CVS, ABT, BDX, MDT. I wrote this article myself, and it expresses my own opinions. I am not receiving compensation for it (other than from Seeking Alpha). I have no business relationship with any company whose stock is mentioned in this article.