General Electric (NYSE: GE) held its 2017 outlook event on Wednesday. The stock jumped higher at first, then turned lower. Immelt reiterated guidance for 2016 operating EPS and stated 2017 operating EPS would be $1.60-1.70. The company expects $135 billion in 2017 revenues, above the $122.7 billion consensus. Immelt once again projects organic growth of 3-5%. The company expects to return $19-21 billion to shareholders next year.
Current Chart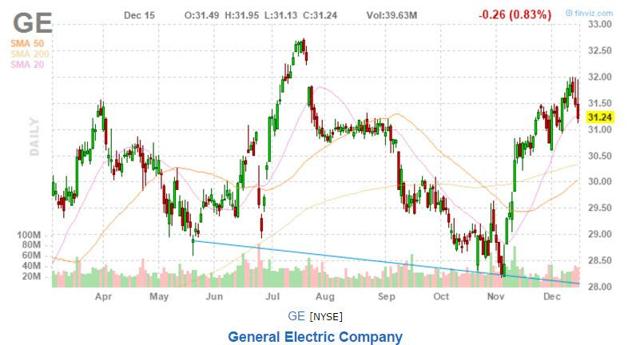 Source: Finviz.com
The big surprise was that Immelt stated he expects to hit $2 EPS share in 2018. He said the company would overcome the expected weakness in its oil & gas business and seemed much more optimistic than he did just a quarter ago.
Analysts appeared cautiously optimistic that General Electric will achieve its earnings goal after the company reaffirmed its $2 EPS target for 2018 and offered a "high bar" forecast for revenue gains of 3-5% next year. I don't quite share the same optimism. Here is why.
Hulkishly Strong Dollar
The strength of the greenback has become hulkish in nature at this point and has the power to smash General Electric's EPS with a single blow. There's no doubt the dollar at this level will be a major headwind for U.S. multinationals like General Electric.
Furthermore, the dollar's strength will continue to be buoyed with Trump winning the election. A strong dollar makes U.S. products more expensive for foreign buyers.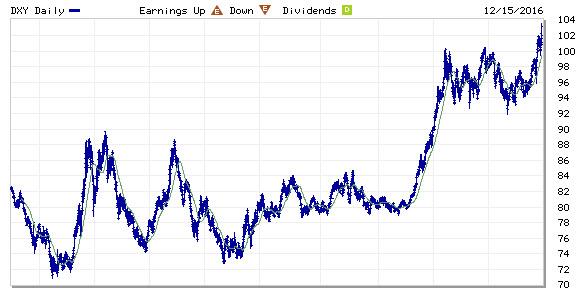 Source: MarketWatch
Moreover, I do not see the current predicament the dollar changing anytime soon. With over 50% of General Electric's revenue derived from overseas, this will no doubt negatively impact the company.
Oil & gas business risk
General Electric is merging its oil & gas business with Baker Hughes (NYSE: BHI), creating an oil & gas services behemoth that rivals the likes of Schlumberger (NYSE: SLB). Many have suggested that this is a slam dunk win-win for all parties. I am not so sure. General Electric may have bitten off more than it can chew at this point. Furthermore, oil prices will need to cooperate with the company's high hopes for the deal to work.
The deal only works if oil prices stay above $45 and rise to $60 in the next few years. As everyone knows, not even the best oil & gas analysts can predict where the price of oil is heading. These assumptions seem overly optimistic to me.
General Electric's deal with Baker Hughes has many unknowns, making it hard to put your finger on the right number, in my opinion. This can cause the acquiring company to overpay based on perceived synergies and cost savings that do not materialize. Once it starts digging into Baker Hughes, General Electric may find it wasn't such a great deal after all. I am not so sure I would shove all in with this hand as we say in poker. Here is another issue I see.
Global growth gloom and doom
The IMF sees subdued global growth and actually warned we could be in for economic stagnation next year. Here are some highlights from the IMF's 2016 World Economic Outlook report:
Global growth subpar at 3.1 percent in 2016, with a slight increase to 3.4 percent next year.
Persistent stagnation in advanced economies could further fuel anti-trade sentiment, stifling growth.
Countries need to rely on all policy levers - monetary, fiscal and structural - to lift growth prospects.
This does not sound like the kind of environment for growth. Furthermore, there are significant geopolitical risks emerging across the globe.
The description of the global economy by the IMF does not appear to be an ideal breeding ground for organic growth. Even so, Immelt called for 3-5% organic growth. He had to walk back the 2016 bold organic growth project he made last year in the third quarter. Rather than the 2-4%, it was flat.
The market is currently sitting at all-time highs and seems priced to perfection. This is an extremely precarious position to be in. Any hiccup in macroeconomic indicators could bring the markets tumbling down in an instant, not to mention the potential downside created by a negative geopolitical event. It may be time to tread lightly. Furthermore, the Fed just raised rates and took a more hawkish tone for the coming year stating three rate hikes are on the table. The green shoots we see now may turn brown once the support of the central bankers evaporates.
The downside risks are not going away anytime soon. I do not believe now is the time to start a new position in General Electric. I believe substantial headline risk lies ahead. At the very least, the deal pushes the company's margin expansion plans and profitability targets further into the future, in my mind. This will inevitably delay dividend increases and share price appreciation.
General Electric is making all the right moves to continue as a going concern for years to come. This is very appealing to me. Furthermore, you get paid a 3.19% dividend yield to boot. So I'm not selling, but looking to add on a pullback. I believe dividend growth and income investors will get a substantial buying opportunity in the first quarter of 2017.
Those are my thoughts on the subject. I look forward to reading yours. If you thought this article was interesting, please click on the "Follow" button at the top of the article by my picture. I would greatly appreciate it. Please use this information as a starting point for your own due diligence.
Disclosure: I am/we are long GE. I wrote this article myself, and it expresses my own opinions. I am not receiving compensation for it (other than from Seeking Alpha). I have no business relationship with any company whose stock is mentioned in this article.