"Markets can remain irrational more than you can remain solvent".
Interest rates rising and pushing bank stocks with them is something understandable. Higher rates will increase net interest margins for well-diversified banks, loud and clear.
However, to let them push the stock price of some financial firms which get more than 60% of their net interest income from one of the biggest bubbles since the financial crises, the credit card sector, is irrational.
Capital One Financial (NYSE:COF) is one of these firms. The firm operates three segments: Credit Card, Consumer Banking, and Commercial Banking. The firm generates 61%, 28%, and 11% of its net interest income from the three sectors respectively.
But the Domestic Credit Card segment of Capital One Financial is currently under pressure. If someone looks at the quarter over quarter change in the company's overall credit quality, he would see that quality is actually slightly improving.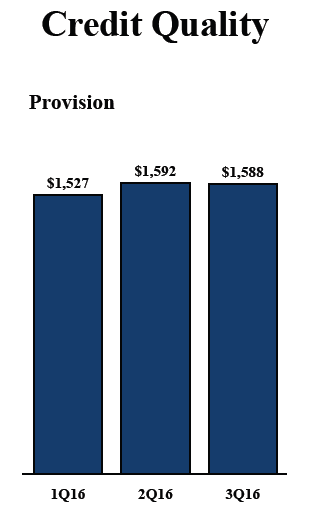 (Source: Capital One Financial 2016 Q3 10-Q)
However, take a look at the year over year change. It is shocking.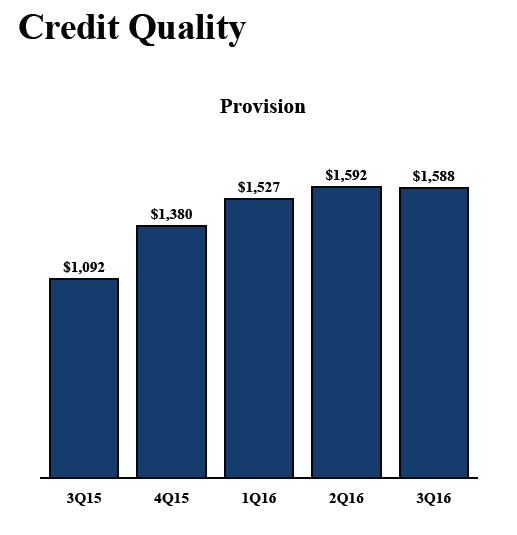 As seen, the provision for credit losses increased 45% (!) since last year. And most of the increase in provisions for credit losses is from the Domestic Credit Card segment. Take a look. Just for the record, all pictures used are from the company's fillings.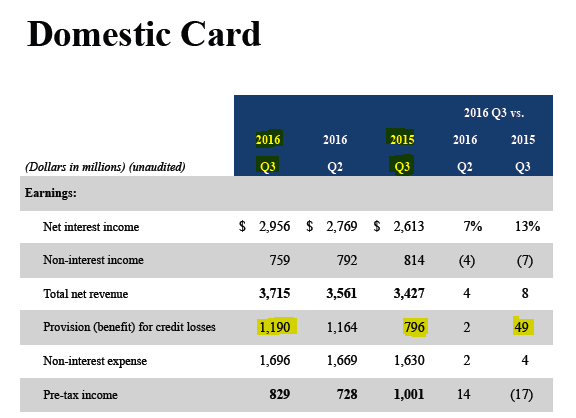 As seen, the provision for credit losses increased by $394 million since last year. At the same time, the net interest income increased by $343 million. This means that the provision for credit losses totally wiped out any increase in revenue since last year.
What that means
The company added $9 billion in credit card loans since Q3 2015, or 11% increase, while having a decrease of 17% in pre-tax income. This means that the company is destroying value with its growth. The company is either picking new-bad customers or its old customers are defaulting on their payments.
The FICO scores can give us a glimpse of the deteriorating credit quality of COF's customers.
In Q3 2015, 34% of the domestic credit card holders had a score of sub 660, the threshold between acceptable and poor credit rating. In Q4 2015, the already-high rate increased to 36%.
The FICO scores for the auto lending segment is also extremely worrying. Take a look.

49% (!) of all Auto borrowers have a FICO score of less than 660, with 32% of the borrowers having a FICO below the 620 level, which is the upper 50 th percentile of the poor score range.
More problems?
In addition, the $5.4 billion Commercial Oil and Gas Portfolio is having huge troubles.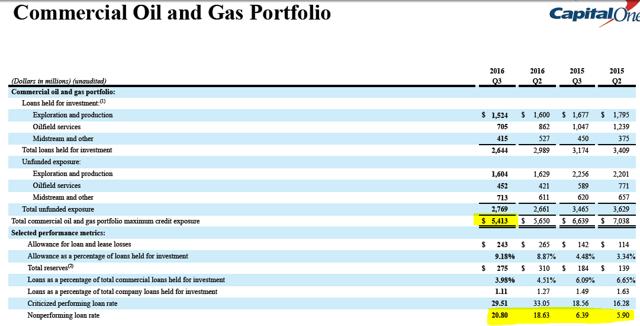 In the last 3 quarters, the nonperforming loan rate jumped from 6.39% to 20.8%, a high rate even in this uncertain oil environment. That is a very high rate when compared to the 1.47% nonperforming loan rate of Bank of America's energy portfolio in Q3 2016 ( Source: page 75 of BAC Q3 10-Q).
No economic profit
Lastly, the company makes no economic profit for its shareholders, which is the spread between the return on invested capital (NASDAQ:ROIC) and weighted average cost of capital (OTC:WACC). Actually, the company is destroying shareholder value by its operations. Capital One Financial's ROIC is currently at 3.84%, while its WACC is 6.36%, which gives an economic loss of nearly 2.5%.
Conclusion
All of this, and the stock increased 50% since the end of Q2, after the company announced that the Fed didn't object on the company's $2.5 billion capital plan, and gained ~13% since the election of Donald Trump.
I believe that the company is poised to a significant earnings loss in the future. Since last year the company's biggest segment, the domestic credit card, decreased the company's earnings by $172 million in just one quarter. And all of this is happening when rates only increased once. Imagine what will happen when we return to par-2% level (it is still early but it will eventually happen). Besides having a troubled Credit Card segment, the company's Oil and Gas portfolio is having a high nonperforming loan rates, well above other banks and financial institutions. Moreover, the $2.5 billion stock repurchase program, which started this quarter, won't have a material effect on number of shares outstanding at current prices. At the time of the buyback announcement, the stock price was trading at $62/share. However, it's now trading at $90/share. The buyback will only have a merely 5% decrease in shares outstanding. As a result, I recommend getting out of this troubled company and putting your money in much more stable financial institutions, the ones which will benefit from higher rates. Prudential Financial is one of these companies. You can read my previous article about this company here.
Disclosure: I/we have no positions in any stocks mentioned, and no plans to initiate any positions within the next 72 hours. I wrote this article myself, and it expresses my own opinions. I am not receiving compensation for it (other than from Seeking Alpha). I have no business relationship with any company whose stock is mentioned in this article.