The uranium market has been under duress this year as the spot price of the commodity has dropped in almost half since the beginning of 2016. However, a long-term recovery in demand for the commodity should not be ruled out as more nuclear reactors are brought online. Additionally, a supply deficit of uranium going forward will prove to be another tailwind for pricing.
Such factors will prove to be growth drivers for Cameco (NYSE:CCJ), which has done well so far in a weak pricing environment and looks set to capitalize on better pricing in the long run. Let's see why.
Cameco has a lower cost base than existing uranium pricing
Cameco's unit cash cost of production has trended lower than the prevailing spot and long-term pricing of uranium. Also, the cost profile of Cameco is lower than the contract price of uranium that the company has negotiated with its buyers. This is shown in the chart below: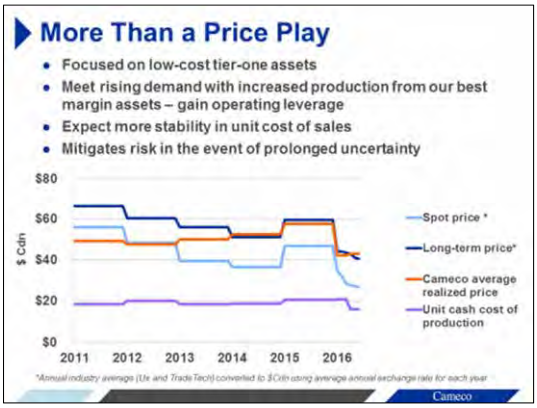 Source: Cameco
As shown in the chart above, Cameco's focus on low-cost assets has helped the company keep its costs relatively low as compared to pricing. More specifically, Cameco has been focusing on assets with higher grades in order to enhance its production at a lower cost base. For instance, at McArthur River, Cameco enjoys grades of 10.94% uranium with total reserves of 235 million pounds.
On the other hand, at Cigar Lake, Cameco's uranium grades are even stronger at 16.7%. Now, in comparison to the average grade of a uranium mine, Cameco enjoys a really robust grade profile. In fact, the global average grade of uranium mines is just 0.10%. Therefore, Cameco's asset base is way better than the overall industry, which is great news for investors since this will allow it to increase production and lower costs simultaneously.
This is because having higher grades means that more uranium is present in the ore, as a result of which input costs go down as less effort is needed to mine the commodity. As a result of such assets, Cameco has managed to increase its production by 6% in the first nine months of the year, while lowering its cash costs by 23% at the same time.
All in all, Cameco's total production cost so far this year has averaged C$29.90 per pound as compared to C$34.76 per pound in the same period last year. Such a lower cost base will allow the company to take advantage of an improvement in the end-market going forward. Let's see how.
Better uranium pricing will help Cameco improve
Nuclear capacity is increasing around the globe. Last quarter, four new nuclear reactors went online across the globe, with two of them being in China. All in all, in the first nine months of 2016, nine nuclear reactors have been commissioned.
Looking ahead, the number of nuclear reactors going online will start picking up pace. This is because there are 57 nuclear reactors around the world that are currently under construction and they are expected to be complete in the next decade. As these reactors come online, uranium demand will also improve. In fact, China itself is expected to see its uranium consumption double to 9,800 tons by 2020.
More specifically, almost 40 reactors will become operational by 2019, so it can be said that uranium demand is going to ramp up quite soon. In fact, as compared to the current annual consumption of 174 million pounds of uranium, it is anticipated that demand for the commodity will rise by 20% as the reactors come online.
This increase in uranium demand will have a positive impact on pricing. For instance, Morningstar is of the opinion that uranium prices could double in the next two years, while Dundee Capital opines that the price of uranium will increase at a 6% CAGR until 2020. As a result of the improvement in uranium pricing and Cameco's low-cost asset base, the company's margin profile should get better in the long run.
Conclusion
Cameco is making the right moves in a weak uranium pricing environment, and these moves will enable the company to do better as the end-market prospects improve. As a result, Cameco looks like a good investment from a long-term point of view given the positives that are emerging in the end-market.
Disclosure: I/we have no positions in any stocks mentioned, and no plans to initiate any positions within the next 72 hours.
I wrote this article myself, and it expresses my own opinions. I am not receiving compensation for it (other than from Seeking Alpha). I have no business relationship with any company whose stock is mentioned in this article.