Pluristem Therapeutics (NASDAQ:PSTI) has popped up on a couple of my watch lists (I'll explain why in a moment) over the past year. The company just released information that is worth taking some time to understand.
President Obama just signed into law the 21st Century Cures Act, which is widely expected to speed up drug development by accelerating the regulatory approval process. The bill passed overwhelmingly in both the House of Representatives and the Senate but it did have two high-profile opponents in Elizabeth Warren and Bernie Sanders. These two big name Democrats believe that the bill is too favorable for pharmaceutical and biotech companies (NASDAQ:IBB).
The passage of this bill could be especially important for Pluristem. Its cell therapies PLX-R18 and PLX-PAD are likely to meet the criteria defined in the act as advanced regenerative therapies that can treat a wide range of disease. That would mean that the development time for these therapies may have just been accelerated in a major way.
There is no guarantee that will come to pass, of course, but a very encouraging sign is that Pluristem's program for CLI has been previously selected for a similar rapid pathway program in both Japan and Europe.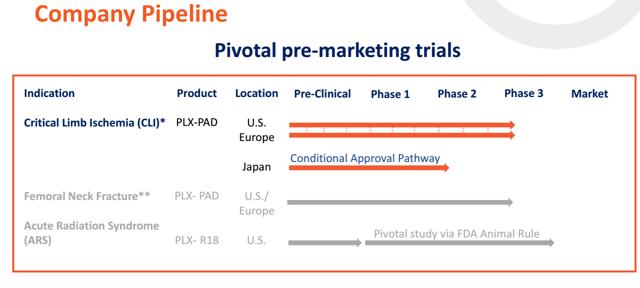 Source: Pluristem Company Presentation
An accelerated development time frame is obviously huge news for a company like Pluristem since it greatly reduces the amount of cash burn required (time is money) and provides a leg-up on competition. It is also great news for potential patients (which in a perfect society is probably more important).
Pluristem Hit My Watch List #1 - Large Percentage Of Market Cap In Cash
I periodically run a screen for companies with net cash positions that represent large percentages of their market capitalization. At the end of September, Pluristem had nearly $30 million in net cash (the company has no debt). That was enough to get the attention of my screening tool.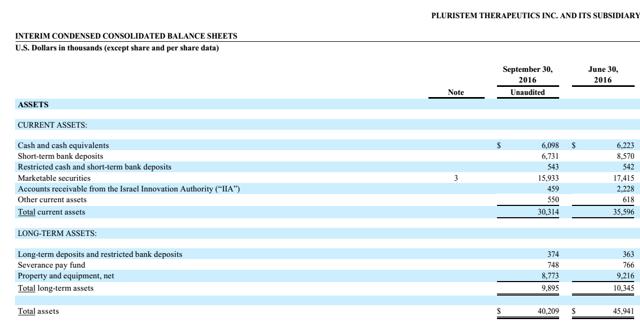 Source: SEC.gov
Then on November 10, 2016, Pluristem announced that it would be issuing 16.9 million shares at $1.77 to China-based Innovative Medical Management. That will add another $30 million.
After that deal closes, assuming the current share price is still in place, I believe that Pluristem is going to look like this:
Shares Current - 80.8 million
New Shares - 16.9 million
New Share Count - 97.7 million
Current Share Price - $1.50
Projected Market Capitalization - $146.6 million
Current Cash Balance - $30 million
Cash From Innovative Medical - $30 million
Projected Cash Balance - $60 million
Assuming the Innovative money comes in, Pluristem is going to have 41% of its market capitalization sitting in cash on its balance sheet. It will also have several years of operations fully funded.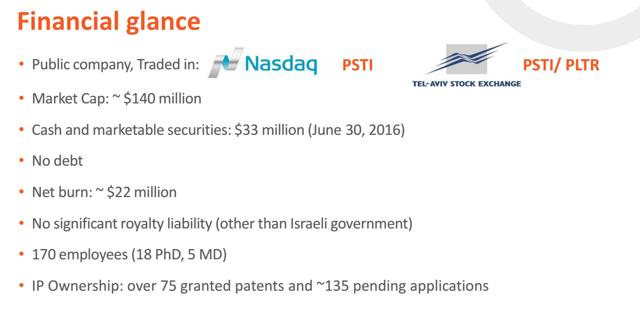 Source: Pluristem Company Presentation
Pluristem Hit My Watch List #2 - Insider Buying
Pluristem hit my radar for having a large net cash balance relative to its market valuation. It had hit my radar earlier in the year for a decent level of insider buying.



Source: Yahoo Finance
It isn't an overwhelming amount of money, but a few hundred thousand dollars is nothing to sneeze at either, especially for a smaller company where executives aren't making seven-figure incomes.
A Quick Recap Of What The Company Is Developing
The company describes itself as a leading developer of placenta-based cell therapy products. Pluristem has reported robust clinical trial data in multiple indications for its patented PLX (PLacental eXpanded) cells.
My understanding is that PLX-PAD is primarily for a condition called critical limb ischemia.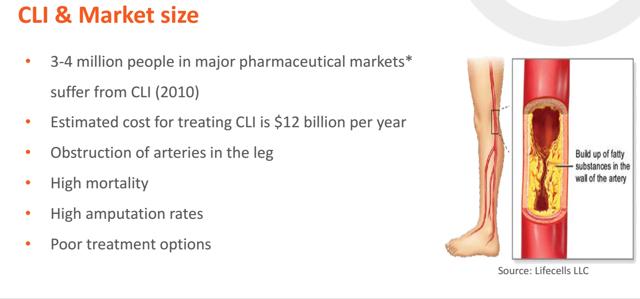 Source: Pluristem Company Presentation
This condition results from a clogged circulatory system in the legs. The only currently available treatment for which is revascularization, a complicated and costly procedure that not all sufferers are candidates for. Without treatment, the condition generally deteriorates to the point where amputation is necessary, and death is unfortunately common for those who cannot undergo revascularization surgery.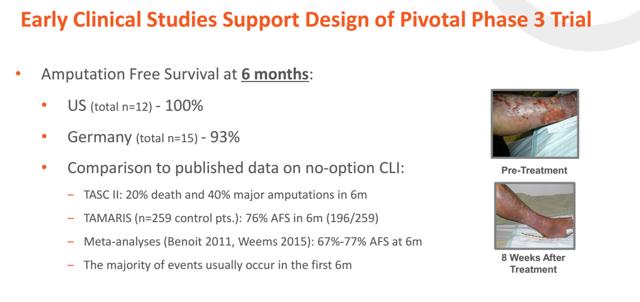 Early clinical trials (as you can see from the slide above) are encouraging for PLX. The company has had Phase III trial design approved by the FDA and has trials underway in Europe and Japan.
Implications For Investors
This is a risky sector to invest in, so you would never want to have anything other than a small percentage of your portfolio invested here. That said, Pluristem with an extremely cash-rich balance sheet, the confidence of insiders to buy shares and a decent shot at an expedited development period is one that is worth putting on a short list of companies in this sector worth owning.
Thanks for reading.
About The Superinvestor Bulletin
The ideas that make up our portfolio are currently ahead of the S&P by 8.07% on average since inception. We just released our latest idea, which represents a staggering 15% of the portfolio of a world-class activist investor who has averaged 20% annualized returns.
If you want to take a free trial of our service, you can do so here.
Disclosure: I/we have no positions in any stocks mentioned, and no plans to initiate any positions within the next 72 hours. I wrote this article myself, and it expresses my own opinions. I am not receiving compensation for it (other than from Seeking Alpha). I have no business relationship with any company whose stock is mentioned in this article.