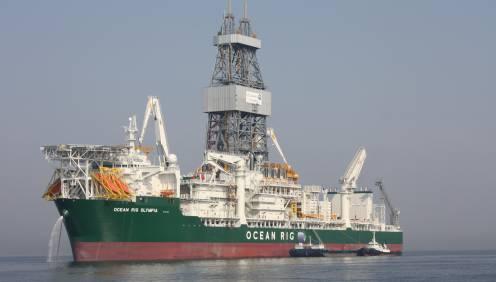 Ocean Rig Athena - Courtesy Ocean Rig
This article is an update of my previous article on Ocean Rig UDW (NASDAQ:ORIG) published on August 12, 2016.
ORIG is an offshore drilling company providing oilfield services for offshore oil and gas exploration, development and production drilling.
The company's newly unrestricted subsidiary agreed to purchase all of DryShips, Inc.'s (NASDAQ:DRYS) shares in Ocean Rig for a total cash consideration of approximately $49.9 million. A quick calculation indicates that the deal translated to $0.89 per share, which is excellent for ORIG, which is retiring 40.4% of its shares outstanding, or 56.079 million shares.
I commented on the transaction on April 5, 2016. I advise all of you to read the details.
Ownership relationships between ORIG, DRYS, and CEO George Economou.
Effective Date

ORIG Shares Outstanding

Ocean Rig Shares Owned by DryShips

Ocean Rig Shares Owned by CEO George Economou

Number of Shares
Percentage of Shares Outstanding
Number of Shares
Percentage of Shares Outstanding
June 30, 2016
82,586,851
0
0
7,421,860
8.99%
The company is keeping 78,301,755 shares as treasury stock which is not used to calculate net income per share.
Fleet Analysis as of August 11, 2016 (updated in December by Fun Trading, waiting for the next fleet status from ORIG)
1 - Ultradeepwater Drillships
#

Name

Year

Built

Generation

Day-rate $K

Contract

End

Location

Client

1

2011

6-DP class 3

Cold Stacked

Las Palmas - West Africa

2

2011

("2")

6-DP class 3

456 to 564+

(Price linked to oil price)

Q2/17

2 x 1Y option

+ 81-days at $115k/d operating rate.

Angola

ENI (NYSE:E)

3

2011

6-DP class 3

443/512

Q1/18

Brazil

Petrobras (NYSE:PBR)

4

2011

6-DP class 3

450/512

Q2/18

Brazil

Petrobras

5

2013

7-DP class 3

Cold Stacked

Las Palmas - West Africa
6

2014

7-DP class 3

518/566

Q3/21

Total (NYSE:TOT)

Angola

7

2014

7-DP class 3

662

Q2/17

Idle

Discussion for early termination Q1/17

ConocoPhillips (NYSE:COP)

Las Palmas - West Africa

8

2015

7-DP class 3

Cold Stacked

Las Palmas - West Africa

9

2011

6-DP class

Cold stacked

Las Palmas - West Africa

10

Q2 2017 ("1")

7-DP class 3
Available
11

Ocean Rig Crete

Q1 2018
("1")

7-DP class 3 - 12k'
Available
11

Ocean Rig Amorgos

Q1 2019
("1")

7-DP class 3 - 12k'
Available
("1") On August 11, 2016, we reached an agreement with Samsung Heavy Industries (OTC:SMSHF) ("SHI") related to the construction of our three drillships which provides for the rescheduling of certain installments, the postponement of the delivery of the first two of these drillships currently under construction and the amendment of certain other terms (including the contract price).
("2") On April 27, 2016, we reached an agreement with ENI to settle the dispute related to the termination of the contract of the Ocean Rig Olympia against a total payment of $54 million and the extension by 81 days for the contract of the Ocean Rig Poseidon at a daily gross operating rate of $115,000.
2 - UDW Semi-Submersible Rigs
#

Name

Year

Built

Generation

Day-rate $K

Contract

End

Location
Info.
1

2002

5-DP class 3

Cold Stacked

$62 million in backlog disputed with Premier Oil.

Las Palmas - West Africa or Greece?

2

2001

5-DP class 3 or anchor

145

Drilling

3/17

Discussion for extension to the end of 2017.

Norway

Lundin (OTCPK:LNDNF)
Note: ORIG bought through its subsidiary UDW Drillship Cerrado at auction for a whooping total of $65 million. I commented on the acquisition on April 29, 2016. The ship has been renamed the Ocean Rig Paros.
Also the company indicated that Eirik Raude was idle in Greece, but according to its location, it is moored in Las Palmas?
New fleet development for the quarter:
On September 28, 2016 Lundin Norway AS ("Lundin") exercised one of its options for a fourth well that will now keep the Leiv Eiriksson employed until the end March 2017. We are in discussions with Lundin to potentially extend the current drilling program to the end of 2017.

We are in discussions with ConocoPhillips about the early termination of the contract for the Ocean Rig Athena which is currently sitting idle in Las Palmas. Should discussions be successful then the Ocean Rig Athena would be available for alternative employment in the first quarter of 2017.
Backlog as of December is $1.8 billion per the company. However, if the Ocean Rig Athena is terminated earlier, the backlog will be approximately $1.745 billion.


Notice the strong imbalance in ORIG's backlog and an increasing risk attached to the Ocean Rig Skyros, which represents 55.9% of the total backlog. Total is contracting the rig in Angola at a day rate of $558.203k/d (per ORIG filing). The risk of day rate "renegotiation" to probably around $300k/d to $320k/d is high. This element should be evaluated in your long-term investment decision.
Financial Snapshot as of December 14, 2016
Q3 2016
Q2 2016
Q1 2016
Q4 2015
Q3 2015
Q2 2015
Q1 2015
Q4 2014

Revenues from drilling

in $ million

335.04
452.56
508.01
475.73
437.17
433.22
402.08
499.37

Operating expense

in $ million

103.7
81.92
145.56
150.93
135.48
142.79
152.93
194.82

Operating income

In $ million

126.22
237.99
257.69
(214.80)
188.75
178.86
132.80
188.71

Adjusted EBITDA

in $ million

219.63
326.47
342.99
300.84
273.43
262.21
218.97
276.70

Net income including special write-offs

Net income

$ million

38.81

38.81

156.06

156.06

163.0

288.02

(174.4)

103.6

138.40

80.42

74.87

74.87

41.14

41.14

87.51

87.51

EPS

EPS including special write-offs

$ million

0.47

0.47

1.83

1.83

1.17

2.07

(1.26)

0.75

0.94

0.58

0.54

0.54

0.32

0.32

0.66

0.66

Total debt

$ million

3,919
4,057
4,071
4,329
4,672
4,812
4,823
4,373

G&A

in $ million

23.24
26.99
18.81
23.67
23.24
25.41
28.001
34.83

Interest plus finance costs

in $ million

55.3
54.99
59.70
68.21
67.17
73.47
61.69
62.33

Cash on hand

$ million

732.29
883.64
827.89
737.46
895.76
833.55
520.60
531.50

Impairment charge

In $ million

0
0
0
415.0
-
-
-
-

Shares outstanding

in million

82.587
84.800
138.666
138.666
138.666
137.83
131.993
132.02
On June 16, 2016, ORIG reached an agreement with Repsol Sinopec to terminate the contract of the Ocean Rig Mylos operating offshore Brazil against full payment of the remaining backlog. I commented on the issue on July 5, 2016, and my rough estimate was a termination fee of approximately $35 million.
Calculation Net Debt/Adjusted EBITDA => x2.68
| | | | | | | | | |
| --- | --- | --- | --- | --- | --- | --- | --- | --- |
| | 4Q'14 | 1Q'15 | 2Q'15 | 3Q'15 | 4Q'15 | 1Q'16 | 2Q'16 | 3Q'16 |
| Adjusted EBITA/quarter | 276.70 | 218.97 | 262.21 | 273.43 | 300.84 | 342.99 | 326.47 | 219.63 |
| Adjusted EBITA/year | - | - | - | 1,031 | 1,055 | 1,179 | 1,244 | 1,190 |
| Cash on hand | 531.5 | 520.6 | 833.55 | 895.76 | 747.49 | 827.89 | 883.64 | 732.29 |
| Total debt | 4,373 | 4,823 | 4,812 | 4,672 | 4,329 | 4,071 | 4,058 | 3,919 |
Commentary
To access the conference call transcript 3Q'16 please click here.
ORIG released its 3Q'16 results on December 14, 2016; please look at the numbers above. M. George Economou, CEO, has apparently learned his lesson from the last quarter, and did not bother to comment or add more gloom to the already burning Christmas tree.
On the positive side, on September 15, 2016, the company received a partial payment of approximately $23.4 million from Total E&P Angola in connection with the arbitration proceedings for the termination of the Ocean Rig Olympia contract. M. Anthony Argyropoulos said in the conference call that more money should come:
Yes, what we arbitration about this. I deliver the maximum amount we're claiming is closer to $90 million gross of taxes. So, potentially there is another $65 million, $70 million there.
However, as a solid tradition now, the stock plummeted after the results were released. It was a gift for a trader like me that I took without hesitation.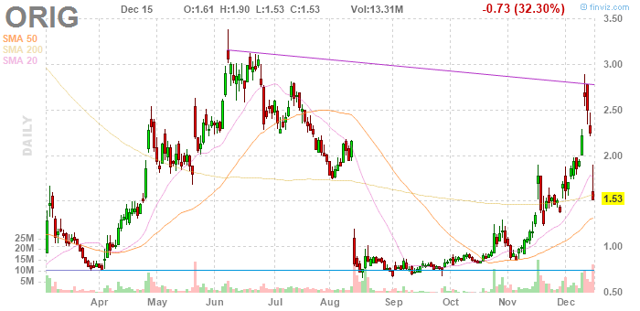 The reality of the business cannot really hide behind this unsettling bullishness related to the new strength in oil prices triggered by OPEC and non-OPEC countries that have finally decided to reduce production.
Will it be complied by the facts? It is still very much in the air... I am a skeptic right now, but hopeful that the oil producers are really serious about the cut and will try to avoid cheating. The proof will be in the pudding, but signs of a serious commitment are materializing quickly.
An article from Reuters a few hours ago has caught my attention.
Oil prices rose on Friday after Kuwait appeared to be lining up bigger supply cuts than had been initially expected from January as part of a coordinated effort by oil producers to drain a global glut.[...]

The higher prices came after Kuwait, a member of the Organization of the Petroleum Exporting Countries (OPEC), notified customers that it would cut supplies from January as part of an effort by OPEC and other producers led by Russia.[...]

Under the deal, production will fall by almost 1.8 million barrels per day (bpd) in a bit to reduce a fuel supply overhang that has dogged markets for over two years.
Even Goldman Sachs (NYSE:GS) raised its forecast for oil prices, although, I really do not know if I have to believe this poor clairvoyant analyst who generally follows the trend rather than guess what the trend will be. However, because his "long-term" forecast changes on a weekly base, we have no worry about whether GS is right or wrong, right?
Goldman Sachs has upped its oil price outlook for the second quarter of 2017 to $57.50 a barrel from $55 a barrel for U.S. West Texas Intermediate crude. It also raised its price forecast for international benchmark Brent crude to $59 a barrel from $56.50 a barrel.
The paramount issue that characterizes most of the offshore drillers, and more particularly small specialized companies in deepwater and ultra-deepwater - such as Ocean Rig, Pacific Drilling (NYSE:PACD) and even Atwood Oceanics (NYSE:ATW) - is an evident dichotomy between two opposite elements of the same ballgame. Without understanding how the system functions, many investors will be duped by the street momentum rather than use it to profit.
What investors have to recognize mainly is that offshore drillers are essentially an "oil service" - far in the food chain - and this specific distinction should push them to conclude that it takes longer for this offshore drilling segment to benefit from the effect of an increase in oil prices, logic right? Think about it as a lightning bolt that illuminates your sky and the time it needs for the sound to reach your ears assuming that the event happened a few miles away from your home.
In the case of ORIG, not only the thunder is still on its way, but also we are yet waiting for the pouring rain... What I mean by that is that ORIG is still exhibiting some good revenues - on the downside of course, but still decent - while the backlog is telling you another disturbing story.
Look at the backlog per segment and see what is happening. For instance, one rig, the OR Skyros working for Total in Angola on a long-term basis represents over 50% of the total backlog remaining. If you follow me regularly, you know that the deepwater offshore business is going through some tough contract renegotiation and termination for multiple reasons.
Total is paying ORIG a day rate of $558,203/d until late 2021. It is not sustainable and Shell (NYSE:RDS.A) (NYSE:RDS.B) versus Noble (NYSE:NE) showed what is likely to happen here. The day rate will be "renegotiated mafia style" lower and probably around $300k/d or Total terminates the contract, period. Based on $300k/d, it is a backlog haircut of $400 million at risk we are talking about.
Noble lost between $700 million and over a $1 billion in backlog after "renegotiating" three UDW Drillships with Shell. Please read my article (click here).
I have to be honest, basically, it will become much worse before it will turn bullish again. This is a paramount conclusion that should help you to make profit with ORIG.
The general direction is down, no matter what, and any uptick, especially the one the offshore drillers experience last week and early this week, should be used to take profit off the table or sell out, and eventually use the last leg by shorting.
You cannot get it wrong! This is so amazingly simplistic that most of the regular traders that I know cannot do it at my total surprise. One good indicator was the RSI (14) which was flashing blood red on Monday! When we know that RSI above 70 is already an overbought situation, I could not find any decent adjective for the 90+ experienced.
The jeopardy of bankruptcy is now material, and I believe ORIG should do it as soon as possible while the company has some leverage and can make a deal that will not totally annihilate actual shareholders. This is what the company should focus on right at present.
Lastly, I am not recommending any long-term investment with ORIG, and the reason is obvious, it is called restructuring under Chapter 11 most probably. I allow other contributors to dissect the Turkey any way they want and explain in detail what bankruptcy represents for ORIG.
However, ORIG is becoming an exceptional trading tool if we recognize that the stock will probably plummet below $1 in the future. I would guess around $0.75-0.80 (look at the chart above). This likely future event makes it simple to trade ORIG; the question is to pinpoint the right timing to maximize profit, and it seems the only difficult matter here.
Important note: Do not forget to follow me on ORIG. Thank you for your support.
Disclosure: I/we have no positions in any stocks mentioned, and no plans to initiate any positions within the next 72 hours. I wrote this article myself, and it expresses my own opinions. I am not receiving compensation for it (other than from Seeking Alpha). I have no business relationship with any company whose stock is mentioned in this article.
Additional disclosure: I trade actively the stock.