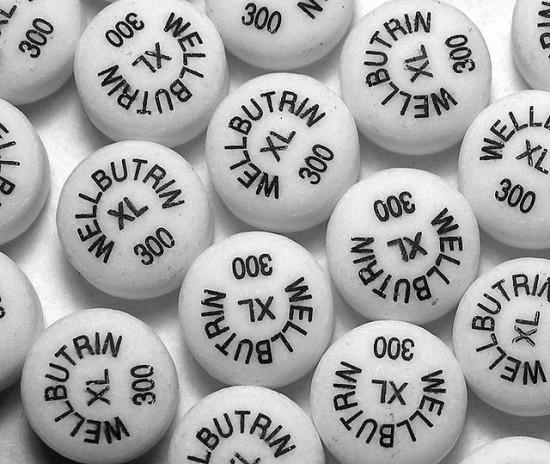 Source: ADblog.org
Wellbutrin is a decades-old antidepressant that was once Valeant's (NYSE:VRX) 2nd best-performing asset. However, sales are in freefall for the 3rd quarter, and the drug may soon disappear from Valeant's top drugs.
The demise of this drug may be an omen of what to expect from Valeant's branded Rx division throught 2017. The last thing this company needs is for its most resiliant assets to fail when it needs them the most.
Background
Wellbutrin is a drug that has been around since the 80s. It is used successfully for multiple conditions such as smoking cessation, ADHD treatment, and major depressive disorder (especially comorbid with sexual dysfunction). The drug is dopaminergic and boosts feelings of well-being and sex drive. Anecdotally, I believe Wellbutrin maybe more useful for the latter purpose than Addyi, Valent's female libido flop.
It has been perplexing to see a drug that has been around for so long with significant generic competition topping $90 million per quarter in sales throughout 2015 and 2016. There are two reasons for this resilience:
1. Wellbutrin (bupropion) seems to be more effective than the generic competition.
Patients have complained about bupropion generics almost as soon they hit the market. Many claim that non-brand name bupriopion has more side effects than the branded version.
Just after [Teva's (NYSE:TEVA) generic] went on the market, within 6 to 8 weeks, first there was a trickle, then half a dozen, then a dozen letters," says Joe Graedon, a consumer health advocate and author of "The People's Pharmacy," a syndicated drug advice column. After writing about the potential problems, the complaints became so numerous that Graedon commissioned his own study to test Teva's pill side by side with the original. The finding: As the pills dissolved, the generic version wasn't acting the same way as the name-brand. "The Teva generic releases much faster -- much, much faster -- than the name brand," says Tod Cooperman, president of ConsumerLab, the company that performed the test. "There's this huge burst that occurs right away.
The FDA rectified these problems, but patient distrust of generic bupropion continue to support sales of the decades-old drug.
2. Valeant offset declining sales volume with price hikes.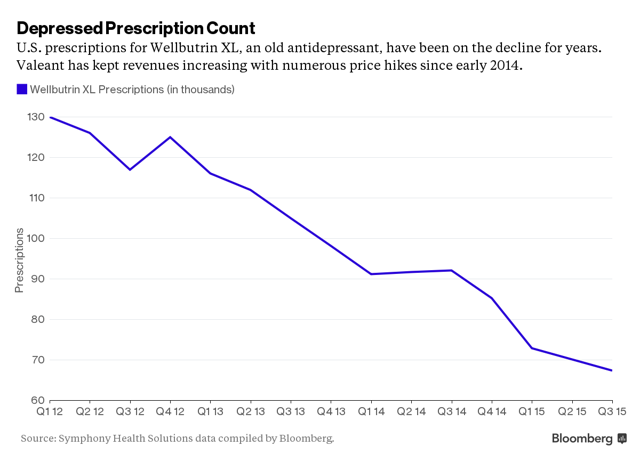 Despite its cult following, Wellbutrin sales numbers have continued to decline. This ostensibly because new patients have never tried the branded version and only have experience with the inferior generics, unlike the situation in 2006.
Valeant responded to this development by increasing the list price of the drug 14 times to $17,000 per year. Consequently, the firm was able to triple revenue contribution while sales fell by half.
It is possible that much of Wellbutrin's sales decline was the result of changing price elasticity as patients who could not afford the brand name were forced to switch to generic.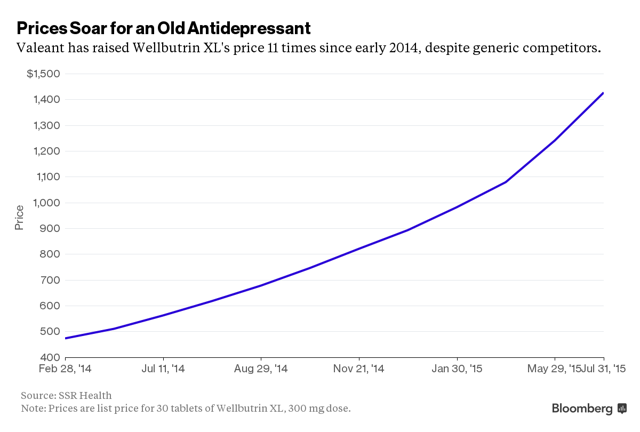 Further reading, Bloomberg: "How Valeant Tripled Prices on a Flatlining Drug"
The Autopsy of Wellbutrin.
At $88-90 million per quarter, Wellbutrin was once Valeant's 2nd best-selling drug after Xifaxin; now, sales have fallen to $65 million, a drop of over 30 percent. Why has this occurred and what does it mean?
There are two possible reasons for Wellbutrin's price decline: Valeant reduced prices in the face of media scrutiny, or the relationship with Direct Success Pharmacy was more important than the company let on.
1. I have anecdotal evidence that the price of Wellbutrin declined. A friend in the United States, who uses the drug for ADHD, claims his co-pay has reduced from $50 per month to $30 with no change in insurance policy. This, if true, represents a reduction of around 40%. So far, I have not found any citable information from Valeant about its pricing policy for Wellbutrin.
2. The second possible reason for Wellbutrin's sales decline is Direct Success was more important than Valeant let on.
Some of you may remember my October 18th article titled Valeant: Another Philidor. In this article, I addressed the 'Philidor-esque' relationship between Valeant and Direct Success, a specialty pharmacy that helped the firm market and sell Wellbutrin.
On October 17th, 2016, Bloomberg reported that Valeant had severed ties with Direct Success. However, Direct Success helped Valeant raise prices on the drug by helping keep patient co-pays low. In response, Valeant also claimed that Direct Success only handled 5% of Wellbutrin sales last year, seemingly suggesting that the ending of the relationship would not make a significant impact on the bottom line.
Valeant's claim has not held up. In the quarter following Valeant's decision to end its relationship with Direct Success, Wellbutrin sales have declined almost 30 percent YoY.
Conclusion
Wellbutrin, Valeant's resilient generic-proof asset, has finally begun to decline. The precise reason for this decline is unknown, but the evidence suggests Direct Success was more important for Wellbutrin sales than Valeant let on.
The firm appears to have lost pricing elasticity and responded by reducing prices to maximize profits or reduced prices for ethical reasons. Investors should take the collapse of Wellbutrin as an omen of what to expect in 2017. Many of Valeant's Branded Rx drugs are bleeding to the single digits, and this is not what Valeant needs with so many other risks on the horizon.
Wellbutrin's collapse also calls into question Valeant's managerial team. Why did they represent Direct Success as such a small issue? Valeant's 2nd best drug lost 30% YoY and they appear to have not seen it coming.
Quote from International Perspective, October 18, 2016:
In the short term, I expect to see a YoY sales decline of at least 5% for Wellbutrin on the earnings report - this is a significant drop for a flagship asset (Wellbutrin is second only to Xifaxin)...

The price elasticity of further price hikes on Wellbutrin may not be as favorable without Direct Success help to keep patient co-pays low.
Another spot on call, follow International Perspective for more coverage of the pharmaceutical sector.
Disclosure: I am/we are long PTN.
I wrote this article myself, and it expresses my own opinions. I am not receiving compensation for it (other than from Seeking Alpha). I have no business relationship with any company whose stock is mentioned in this article.