The secret of change is to focus all of your energy, not on fighting the old, but on building the new.

- Socrates
Change Demanded By Static Segment Revenues
Intel Corporation (NASDAQ:INTC), in the face of a declining PC market projected to decline still further, with disruptive factors at play in the data center market, and with the company's revenues across all business segments largely static over the last four quarters, is in the throes of developing responses to their significantly changing business environment.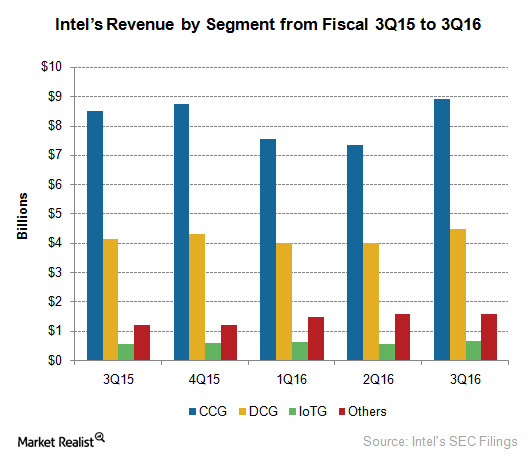 Despite a rise in Intel's overall revenue of 9.1% YoY in 3Q16 to a record high of $15.8 billion, largely due to unexpectedly high sales in the PC market, just two segments - the Client Computing Group and the Data Center Group - contributed 85% of the company's earnings.
With the PC market in structural decline, increasing big cloud provider data center market control, and greatly increased data center competition, Intel is faced with shrinking defensive flexibility, which does not bode well for its long-term future. Performance in 4Q16 is expected to retreat from 3Q16 levels, as distribution channels reduce their stock.
Significant Layoffs And Pared Spending
A plank in Intel's transition program is a shift to greater emphasis on the data center market. This strategy is circumscribed though by the marked dynamic redefinition of the data center market, and concomitantly Intel's data center group has shown reduced profitability over recent quarters. However, the company is gradually moving in this market from the enterprise segment to the more dynamic areas of high performance computing, cloud and deep learning.
Other sectors targeted to produce growth, like the Internet of Things and memory, present their own challenges. Meanwhile reflecting a developing understanding of the urgency of changing corporate strategy, the company has taken discrete steps in ending their participation in the mobile market, acquiring and spinning off McAfee, effecting significant layoffs, and paring spending.
A key avenue Intel is pursuing to achieve necessary growth is artificial intelligence, where machines replicate cognitive functions such as problem solving and learning. Cutting edge areas for the application of AI are strategic game systems, comprehension of human speech, the analysis of complex data, and self-driving cars.
Funding in AI start-ups increased more than fourfold to $681 million in 2015, from $145 million in 2011, according to the market research firm CB Insights. The firm estimates that new investments will reach $1.2 billion this year, up 76 percent from last year.

- New York Times
AI Market Capitalization Shows Rapid Growth
With market capitalization growing quickly, the time for AI may have arrived after many setbacks over the decades since this field of research was first established in 1956. There was initial heavy funding by the Department of Defense through the Advanced Research Projects Agency (ARPA), now the Defense Advanced Research Projects Agency (DARPA), formed by President Dwight D. Eisenhower in responding to the Soviet launch in 1957 of Sputnik 1.
However, progress in AI was slow, and by 1974, funds were cut off by both the U.S. and British governments, in America largely as a result of the 1973 Mansfield Amendment, which specifically restricted ARPA/DARPA to projects with direct military relevance.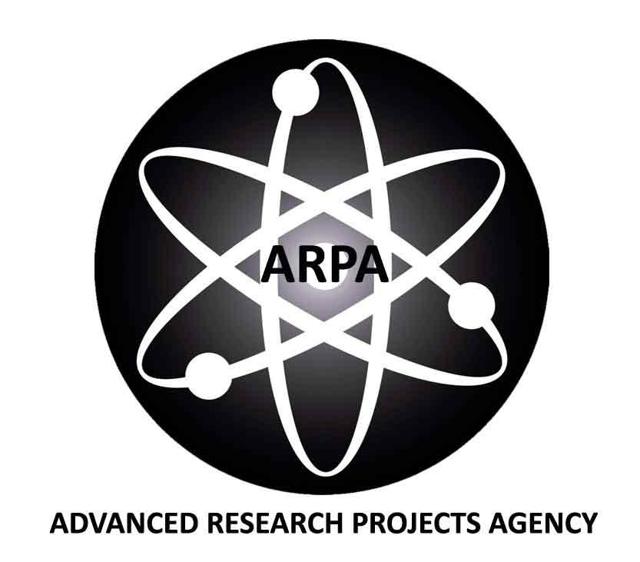 Withdrawal Of Government Funds Drove PC Industry
Withdrawal of government funding for AI prompted the migration of many computer scientists to the private sector, and is widely credited as a growth catalyst for the personal computer industry. By 1985, the market for AI had exceeded one billion dollars.
Yet after 1987, AI research again fell out of favor and did not begin to recover until the late 1990s, led by applications in data mining, logistics and healthcare. In 1997, in a public relations landmark for AI, International Business Machines Corporation (NYSE:IBM) created Deep Blue, which beat the then reigning world champion Garry Kasparov at chess.
By 2015, the world market for AI had attained a value of $126.24 billion and is projected to grow at a 36.1% CAGR between the years 2016 and 2024. Market value in 2024 is expected to be $3,061.35 billion. Intel is seeking to grasp a major share of this rich, strongly growing market as it evolves rapidly in order to address static corporate growth.
Segmentation Of AI Market
The contemporary AI market is segmented into digital assistance systems, artificial neural networks, expert systems, embedded systems, and automatic robotic systems. Of these, in 2015, expert systems was the highest revenue generating segment.
Dominant players in the global AI market are IBM, QlikTech International AB, Alphabet Inc. (NASDAQ:GOOG) (NASDAQ:GOOGL), MicroStrategy Inc. (NASDAQ:MSTR), Microsoft Corporation (NASDAQ:MSFT), Brighterion Inc., IntelliResponse Systems Inc., eGain Corporation (NASDAQ:EGAN), Nvidia Corporation(NASDAQ:NVDA), Next IT Corporation, and Nuance Communications, Inc. (NASDAQ:NUAN).
Intel, though at first slow to enter the AI market, has subsequently sought to make up lost ground by buying in technology, taking over AI and deep learning pioneering startups like Movidius, Saffron and Nervana Systems. The company's road map is to integrate all of its IoT devices into the cloud, and to enable AI applications through programmable designs using 3D XPoint memory and FPGAs. Intel previously acquired Altera for its FPGA technology.
AI Partnership With Google
Further, Intel is partnering with Google to increase Google's TensorFlow performance on Intel CPUs. Intel will also link its IoT devices to Google's cloud platform to offer real time analytics. Nonetheless, this partnership is under severe time pressure to produce results as their competitors combine to grab market share. Nvidia has already joined with Baidu, Inc. (NASDAQ:BIDU), Amazon.com Inc. (NASDAQ:AMZN) and Microsoft to undertake comparable AI projects.
Intel intends to combine the technology of the FPGAs from Altera with the application specific ICs from Nervana Systems to achieve AI processors. The first chip, Lake Crest, is due in 1H17. The second, Knights Crest, will roll out on a date to be announced thereafter. Intel expects these chips to compete with open source designs like Torch, Caffe, Microsoft's Cognitive Toolkit, and TensorFlow.
The target market for Intel's AI products is the cloud service providers Alibaba Group Holding Limited (NYSE:BABA), Microsoft, Google, Facebook, Inc. (NASDAQ:FB), Amazon, Baidu and Tencent (OTCPK:TCEHY), with hyper scale data centers anticipated to absorb up to 80% of Intel's AI processor sales by 2025.
The projected dynamic growth and size of this market, and the concentrated targeting it offers, places AI high on the list of Intel's transition strategies for the future.
Conclusions
By dint of the PC market being in linear decline and the data center market undergoing radical reformulation while exhibiting increased competition, Intel is being obliged to develop new corporate strategies to achieve future growth.
Of these new strategies, the AI market, which is developing exponentially, ranks among the most promising of directions to pursue.
Making up for a late start, Intel may continue to further its AI ambitions by making more start up acquisitions and partnering with hyper scale cloud providers on AI applications. However, time is of the essence as the competition moves apace to claim their own market share as the AI space grows swiftly.
For holders of Intel stock, the company's ability to achieve their AI market goals on a sufficiently rapid time scale will be key to the quality of the company's future growth, market security and levels of profitability.
If you would care to follow this author and receive immediate alerts upon publication of future articles by this author, please click on the "Follow" button at the top of this page next to the author's name and icon.
Disclosure: I/we have no positions in any stocks mentioned, and no plans to initiate any positions within the next 72 hours.
I wrote this article myself, and it expresses my own opinions. I am not receiving compensation for it (other than from Seeking Alpha). I have no business relationship with any company whose stock is mentioned in this article.
Editor's Note: This article covers one or more stocks trading at less than $1 per share and/or with less than a $100 million market cap. Please be aware of the risks associated with these stocks.