Well design and its effect on production has been the focus of a large number of our analyses. It continues to improve along with volumes of resource recovered per foot. This is being seen in all plays. The complexity of well design is beyond the scope of most investors, so we try to simplify. Well design changes many times refers to increased fluids or proppant usage. While important, it would do little without better stimulation. During completions, or more specifically frac'ing, source rock stimulation is the fracturing of rock. The interval or target, contains oil and natural gas. The resource is trapped in rock, which is opened for the resource to flow. Natural fracturing is sometimes present, but induced fractures must be created to for a horizontal to be a good producer.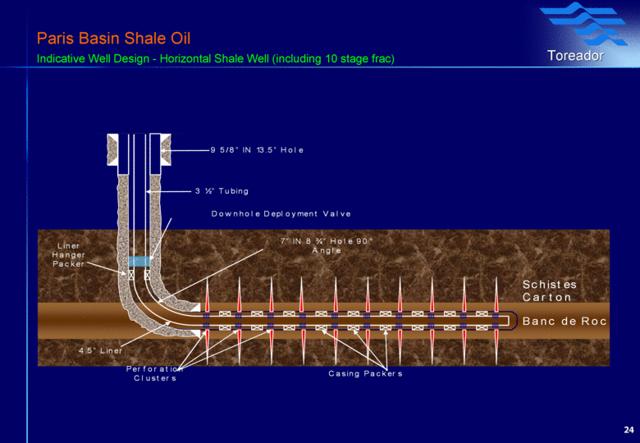 (Source: Toreador)
Frac' jobs have gotten bigger. This has occured through a change from sliding sleeves to plug and perf (shown above). Sliding sleeves are much faster and cheaper, but have limited access points. More perforation clusters are used with plug and perf. The closer these access points are, the greater number of frac's. Operators are finding that cheaper isn't always better. Going back to plug and perf is the continued theme. Most are doing this.
Better well design has been seen throughout the industry. Operators like Exxon (NYSE:XOM), Chevron (NYSE:CVX), Conoco (NYSE:COP), Occidental (NYSE:OXY), Apache (NYSE:APA), Anadarko (NYSE:APC), EOG Resources (NYSE:EOG), Pioneer (NYSE:PXD), Statoil (STO), Devon (NYSE:DVN), and Concho (NYSE:CXO) are just a few names to change to plug and perf or improve on that design. Increased fracturing requires more fluids and proppant. Fluids producers like Flotek (NYSE:FTK) and Newpark (NYSE:NR) continue to see increased volumes per well. Sand producers like US Silica (NYSE:SLCA), Fairmount (NYSE:FMSA), Hi Crush (NYSE:HCLP), Emerge (NYSE:EMES) and Smart Sand (NASDAQ:SND) have all seen per well improvements.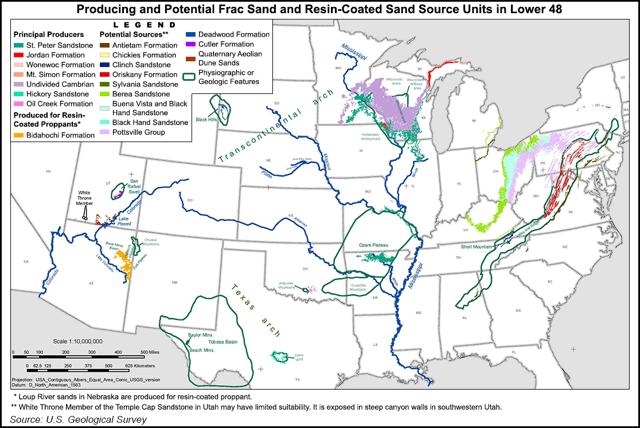 The recent OPEC and non-OPEC production cut may push oil to $55/bbl in 1H16 and $60 in 2H16. This should push oil related ETFs like the US Oil ETF (NYSEARCA:USO), iPath Goldman Sacs Crude Oil Total Return (NYSEARCA:OIL), Proshares Ultra Bloomberg Crude Oil (NYSEARCA:UCO), and Velocityshares 3x Long Crude Oil Excess Return (NYSEARCA:UWT) higher. Keep in mind, contango can have negative effects on these funds. Backwardation would do the opposite. This also provides opportunities for US unconventional producers. It should also buoy the sand and fluids producers mentioned earlier. Operator investment could be more difficult, as each play has very different economics. Most believe the Permian and STACK/SCOOP have the best economics. The Eagle Ford and Bakken have breakevens $5 to $10/bbl higher. OPEC has stated it wants to cap oil prices at $60/bbl. This seems to target marginal production unconventional acreage.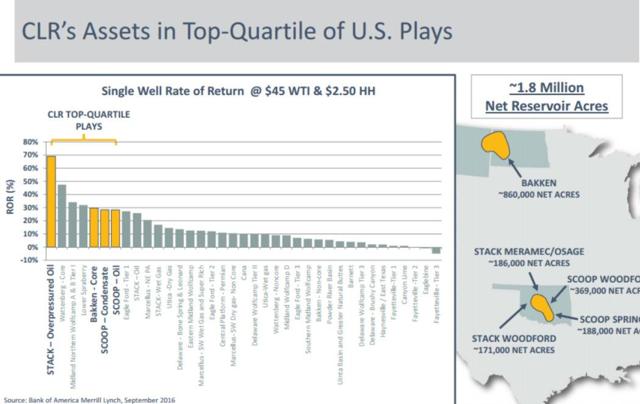 (Source: Continental)
Well economics are difficult to track, as we must wait for production data to assess. History has shown a marked improvement in production year over year. Improvements in 2015 and 2016 seem to be greater. This is attributed to enhanced completions or Mega-Frac's. Every operator has a different well design. This is due to geology, or it's prowess. An operator like EOG is using massive volumes of sand and fluids, but is further along in development.
Continental Resources (NYSE:CLR) is an intriguing play. Not only does it have a large footprint in the Bakken, it is a core STACK/SCOOP operator. The excellent economics in Oklahoma provide leasehold to develop at low prices. It can continue to develop the Bakken core with some upside to the marginal Bakken when oil prices are above $70/bbl.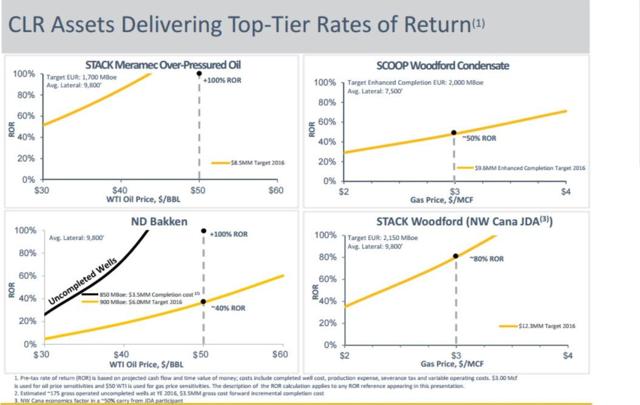 (Source: Continental)
Continental has done a fantastic job with well design. It had been focused on costs when oil prices were high. Recently it moved to increasing production. EURs have improved significantly. The slide above shows Oklahoma EURs from 2,150MBOE to 1,700MBOE.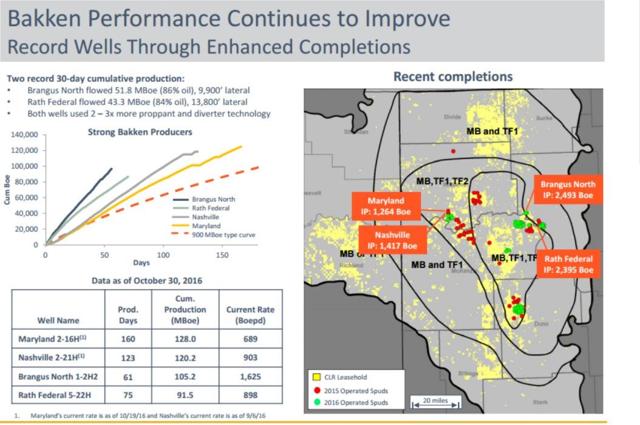 (Source: Continental)
Recent North Dakota completions are better than its 900MBOE target. The four wells above provide a ceiling to results. We can assume these are some of its best Bakken wells. Although this is very good data, we are more interested in the average of all its results over a given timeframe. The focus has been on CLR's flagship play. The STACK/SCOOP produces well at low prices. The Bakken may be more important. Determining the oil price needed for North Dakota to be economic, provides insight into its development. 860,000 net acres is a significant investment.
CLR completed 71 wells from April 1 st of 2015 to September 1 st of 2015 in North Dakota. During this time, it was moving from sliding sleeves to plug and perf. Only horizontal wells were included, and no wells were excluded due to poor results. All CLR locations over that timeframe had production results. The Welldatabase.com map below, provides the locations of those wells.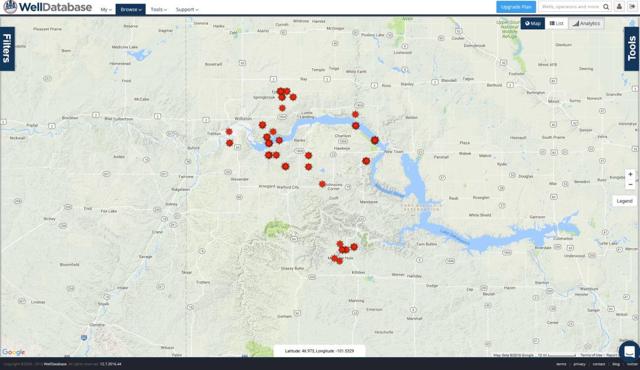 (Source: Welldatabase.com)
Not all locations are core, but most are in areas of high pressure. The Nesson Anticline is a good core geological marker. The further away the well is, the lower initial production results. 22 wells would be true Bakken core locations. These wells produced an average of 177,190 BO over the first 15 months. This compares to an average of 152,020 BO over the first 17 months calculated for the 71 wells tallied in this data set.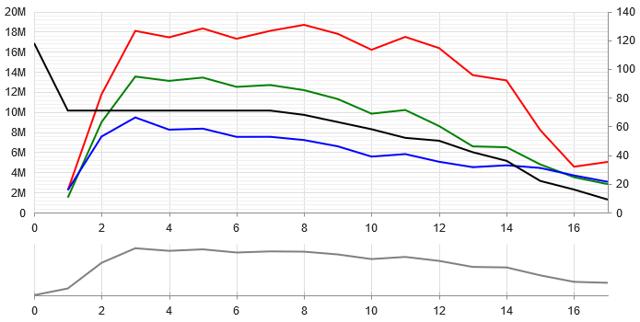 (Source: Welldatabase.com)
The graph above provides the natural gas (red), crude (green), water (NASDAQ:BLUE), BOE (grey) and number of locations (black) curve for the 71 locations.
| | | |
| --- | --- | --- |
| Volumetrics | | |
| Months: 24 | EUR: 167,067 | |
| Months: 18 | Recovered: 152,016 | |
| Months: 6 | Remaining: 15,051 | |
| Working Interest: 80% | | |
| Selling Price: $53/Bbl. | | |
| Initial Capital Expense: | $6,000,000 | |
| Lease Operating Cost (monthly): | ($1,802,640) | |
| | Total | Working Interest |
| Total: | $8,854,542 | $7,083,634 |
| Recovered: | $8,056,861 | $6,445,489 |
| Remaining: | $797,682 | $638,146 |
| | Total | Working Interest |
| Total: | ($7,802,640) | ($7,802,640) |
| Recovered: | ($7,351,980) | ($7,351,980) |
| Remaining: | ($450,660) | ($450,660) |
| | Total | Working Interest |
| Total: | $1,051,902.88 | ($719,006) |
| Recovered: | $704,880.99 | ($906,491) |
| Remaining: | $347,021.89 | $187,486 |
(Source: Welldatabase.com)
This data provides a payback of 24 months using an average of all the wells completed over a five month period in 2015. This data was modeled for an additional 6 months to produce the above economics. Natural gas revenues add $705,568 to offset the $$719,006 deficit. This leaves approximately $14,000 to pay down for payback. Differentials are the largest issue in the Bakken. The DAPL is important for a company like CLR. Its average differential is approximately $8. This means a $61/bbl wellhead price is needed to reach payback in two years. The DAPL will provide enough pipe that the rails won't be needed for transport in North Dakota. CLR's differentials will decrease to approximately $4/bbl. Payback in 24 months at $57/bbl is good considering 1H17 estimated oil prices. We estimate that CLR's Bakken acreage will see per well production improvements of 20% to 25%. Using a 20% bump in oil production, after costs are pulled, would add another $1.5 million per well.
In summary, we know that CLR's STACK/SCOOP acreage is some of the best in the country. Mr. Hamm did an excellent job of foreseeing a difficult Bakken future and located better core acreage. Although many see his move to sell the CLR hedge book as reckless, he has made many risky moves that have paid off. Continental, in our opinion, is in an excellent position moving forward. Oil could average above $58/bbl, which provides a good payback for the average Bakken well. Its Oklahoma wells are much better and should drive production in 2017.
Disclosure: I am/we are long CLR, APA, APC, CXO, DVN, EOG, FTK, OXY, PXD, SLCA, XOM, CVX, COP. I wrote this article myself, and it expresses my own opinions. I am not receiving compensation for it (other than from Seeking Alpha). I have no business relationship with any company whose stock is mentioned in this article.
Additional disclosure: This article is limited to the dissemination of general information pertaining to its advisory services, together with access to additional investment-related information, publications, and links. Well data is provided by Welldatabase. Accordingly, the publication of articles should not be construed by any consumer and/or prospective client as a solicitation to effect, or attempt to effect transactions in securities, or the rendering of personalized investment advice for compensation, over the internet. This information is provided for guidance and information purposes only. This information is not intended to provide investment, tax, or legal advice. The information contained herein has been compiled from sources deemed reliable and it is accurate to the best of our knowledge and belief. However, I cannot guarantee its accuracy, completeness, and validity and cannot be held liable for any errors or omissions. All information contained herein should be independently verified and confirmed. Hartstreet LLC does not accept any liability for any loss or damage whatsoever caused in reliance upon such information. Readers are advised that the material contained herein should be used solely for informational purposes. Information presented is for educational purposes only and does not intend to make an offer or solicitation for the sale or purchase of any specific securities, investments, or investment strategies. Investments involve risk and unless otherwise stated, are not guaranteed. Be sure to first consult with a qualified financial adviser and/or tax professional before implementing any strategy discussed herein. Welldatabase.com provided the data for this article. There may be a delay between upcoming articles because we are working on securing investments for Hartstreet's O&G Fund.