WTI (NYSEARCA:USO) finished the week up ~1%, rising from $51.50 to $52.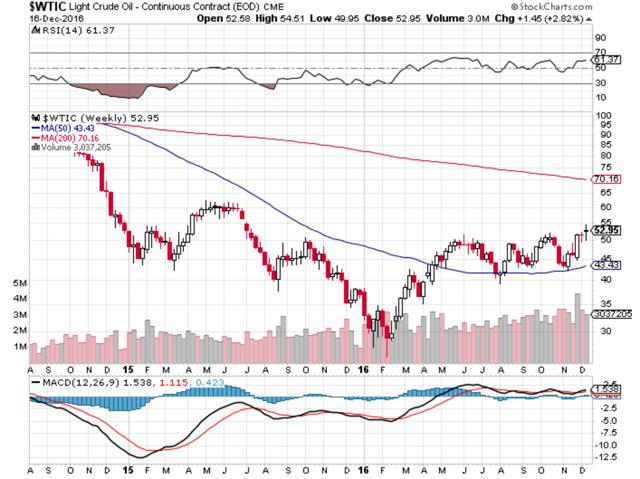 This week's up move puts WTI at the highest weekly close YTD. The weekly move is also a breakout from the recent range, and the chart is very technically bullish. The up move came on the back of non-OPEC agreeing to freeze production and comments from Saudi entertaining the idea of cutting oil production "more than expected." While WTI opened the week hitting nearly $55, it only closed the week at $52. Looking at position disclosures, the recent ramp up in price till Dec. 13 saw short-sellers bailing on their positions.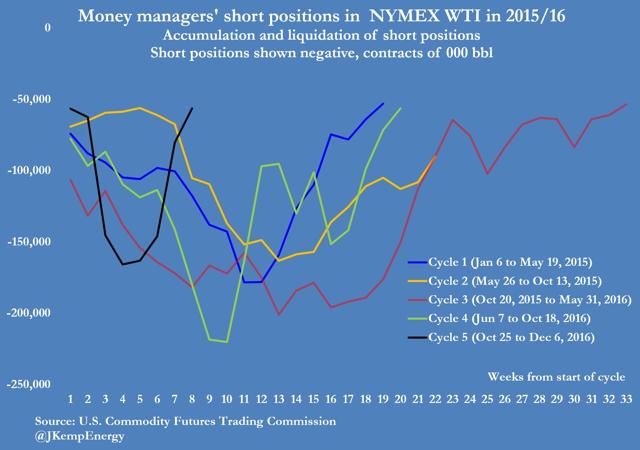 Source: John Kemp
As John Kemp noted, this short-cycle was the shortest and most dramatic since the oil downturn began in 2014. We wrote an article on Nov. 14 titled, "Short-Sellers Rush Back in Before OPEC Meeting" where we said:


Oil prices did swiftly recover after OPEC announced a deal to curb production to 32.5 million b/d starting January, and with the non-OPEC group now supporting the deal by cutting production by 558k b/d, the upside is clear to us.
What's more important about the recent move up was that the sentiment is now slowly shifting with some sell-side firms changing WTI/Brent price targets for 2017. While most remain skeptical of any rally as they point to shale production as a ceiling for prices, our variant perception stems from the fact that most sell-side continue to ignore the oil production decline from non-OPEC producers. Other than Russia and the US, all of the non-OPEC producers will experience natural decline in oil production as current prices are too low to keep production flat. Unlike OPEC members, who have been drawing down foreign reserve to increase production at any cost, other non-OPEC producers do not have the luxury of losing money while unprofitably increasing oil production. This phenomenon is also occurring throughout the world, which raises the question: why does sell-side continue to believe in lower for longer?
This week also saw IEA revise higher its 2016 oil demand forecast by 120k b/d to 1.4 million b/d while simultaneously revising higher 2017 oil demand to 1.3 million b/d. IEA has perennially underestimated oil demand and overestimated oil supply, and this monthly oil report was no different.
Our variant perception continues to stem from the fact that our tracking of physical supply and demand shows that the oil markets are actually already in a slight deficit for November and the last 8 months. The most recent deficit is about 50k b/d, and while demand does on average drop by 800k-900k b/d due to seasonality in Q1 2017, the OPEC cut should help contribute to storage draws which will help accelerate the rebalancing process. We currently estimate storage to normalize by Q3 2017. Once storage normalizes, traders will have to price back in a geopolitical risk premium, which we think will push oil prices to $70.
As we move forward, we have revised lower our year-end target of $60 to $55-$57. We think the technical positive momentum will continue, and look for signals that Saudi could cut oil production more than expected as Kuwait have already announced this week. Oil bears will continue to be surprised.
If you enjoyed our weekly oil markets recap, we also publish a weekly oil markets outlook only available to premium subscribers. We think you will find it very insightful. You can sign up for premium research here.
Disclosure: I/we have no positions in any stocks mentioned, and no plans to initiate any positions within the next 72 hours. I wrote this article myself, and it expresses my own opinions. I am not receiving compensation for it (other than from Seeking Alpha). I have no business relationship with any company whose stock is mentioned in this article.