Advanced Micro Devices (NASDAQ:AMD) is making smart moves in the market for discrete graphics processing units as it has been able to take away market share from leader Nvidia (NASDAQ:NVDA). This is great news for AMD investors as an increase in the market share will allow the company to enhance its revenue by a big margin in the long run. Let's see how.
What's driving the market share gain?
AMD's market share of discrete graphics cards rose to 29.9% at the end of the second quarter of 2016 from that of 18% in the same quarter last year. In fact, AMD has continued gaining market share this year as it saw an improvement of 7.1 percentage points on a sequential basis as well in the second quarter. On the flip side, rival Nvidia saw its market share fall by more than 11.9 percentage points on a year-over-year basis and 7.2 percentage points on a quarter-over-quarter basis, as shown in the graph below.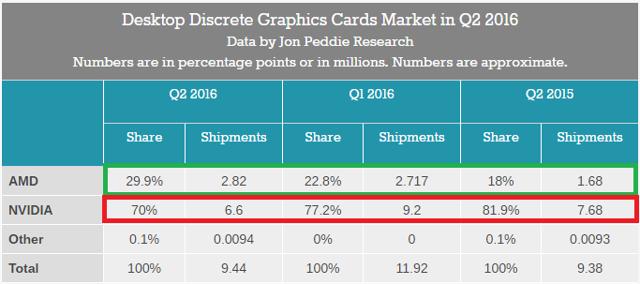 Source: AnandTech
As shown in the chart above, AMD has managed to enhance the shipments of its graphics cards in an impressive manner. The shipment of discrete desktop GPUs for AMD climbed 68% on a year-over-year basis last quarter, whereas the shipment of desktop discrete GPUs for Nvidia dropped by over 14% over a similar time frame.
The improvement in AMD's GPU shipments is due to strong demand for its latest Radeon R9 series GPUs and its improved driver development strategy. For instance, AMD is planning to roll out new FinFET-based graphics processors such as Polaris 10 and Polaris 11, which will be priced at $350 or less to cater to a larger audience.
As per JPR research, "only 15% of all GPUs sold are priced at $349 or higher. And of that 15%, only 3% are priced at $449 or higher." This suggests that AMD with its Polaris GPUs is targeting the market segment where the volumes remain very high as compared to its rival Nvidia's GTX 1080 and GTX 1070, as shown below in the chart.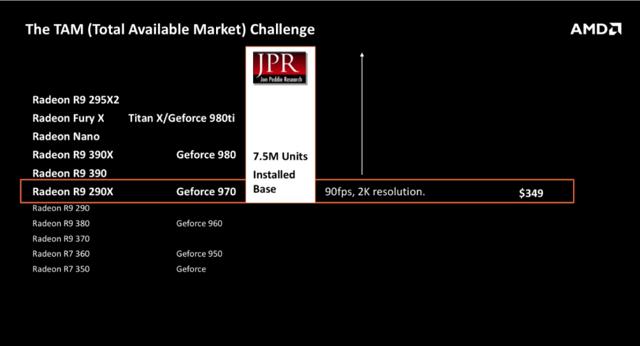 Source: AMD
Thus, as shown above, AMD has more products available in the lower-priced GPU market, which is a good thing since it can tap a larger market. What's more, AMD is gaining market share in the mobile GPU market as well on the back of new software initiatives such as DirectX 12, the Crimson drivers, and Virtual Reality.
These initiatives have helped the company increase its mobile GPU share to 38.7% at the end of the first quarter of 2016 from that of 31.4% in the fourth quarter of 2015. Meanwhile, its rival Nvidia saw its market share for mobile GPUs declining to 61.3% at the end of the first quarter of 2016 as compared to 68.6% at the end of the fourth quarter of 2015. This is illustrated in the graph below.

Source: WCCFtech
Thus, given such a notable improvement in the GPU market for both desktop and mobile, AMD should be able to improve its revenue going forward as the end-market expands. In fact, driven by higher shipments, AMD expects its revenue to grow by 12% in the fourth quarter of 2016 on a year-over-year basis. In all, AMD projects a 6% improvement in the revenue for 2016 as compared to 2015. This improvement in the top line is an encouraging sign for its investors as AMD's revenue had dropped 38% in 2015 as compared to 2014.
What's more, due to its market share gains, AMD is on track to improve its top line performance substantially in the long run. Let me explain why.
Gauging the financial impact on AMD
With the advent of more advanced and graphic intensive games, the demand for high memory graphic cards is increasing. As a result, the global market for graphics processing units is projected to increase to 67.61 million units in 2020. In comparison, GPU shipments in 2015 were less than 30 million units.
In my opinion, it won't be surprising if the GPU market actually more than doubles by 2020 on the back of growth in PC and mobile gaming. According to Newzoo, the gaming segment across the world is expected to generate revenue of $99.6 billion this year, up 8.5% as compared to 2015 levels. Looking ahead, Newzoo expects the gaming market across the world to grow by 6.6% per year to $118.6 billion by 2019, with PCs accounting for a fourth of the market and the share of mobile gaming (including smartphones and tablets) growing to 45% as shown below.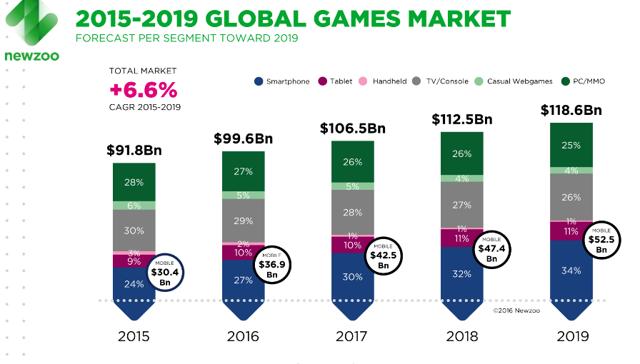 Source: Newzoo
As a result of this growth in the gaming market, the need for GPUs will increase. So, it is not surprising to see why GPU shipments are expected to pick up impressive pace going forward. This is good news for AMD since a higher market share will enable the company to tap more of the end-market, which will result in stronger revenue generation.
For instance, when total GPU shipments were 30 million in 2015 as pointed out earlier, AMD had a market share of 21.1%. This means that throughout the year, AMD sold around 6.33 million GPUs. Now, at the end of the third quarter, AMD's market share has gone up to 29%. If the company is able to hold on to this market share, its GPU shipments in 2020 could come in at just under 20 million units since the market is set to grow to 67 million units, as mentioned earlier.
More specifically, 85% of the GPU's carry an average price of around $349. This means that the revenue opportunity in GPUs could be as much as $20 billion ($349 X 85% X 67.61 million GPU shipments). Thus, if AMD can sustain its 29% market share, it will be having around $6 billion of the GPU market in 2020, which is 50% higher than the total revenue generated by it in the past year.
Conclusion
A combination of end-market growth and a rise in GPU shipments will prove to be a tailwind for AMD in the long run. As a result, investors can expect stronger revenue growth from the company going forward.
Disclosure: I/we have no positions in any stocks mentioned, and no plans to initiate any positions within the next 72 hours. I wrote this article myself, and it expresses my own opinions. I am not receiving compensation for it (other than from Seeking Alpha). I have no business relationship with any company whose stock is mentioned in this article.