Welcome to the ETFs and Portfolio Strategy section of Seeking Alpha's "Positioning for 2017" series! This year, we have once again asked experts on a range of different asset classes and investing strategies to offer their vision for the coming year and beyond. As always, the focus is on an overall approach to portfolio construction.
ETF Monkey has been an author on Seeking Alpha since March 2013, and has managed his own investments for over 30 years. While his first few articles were on specific companies, his coverage soon shifted to ETFs and portfolio construction for the masses. Since making this change, ETF Monkey has presented a variety of portfolios for readers looking to build their own low-cost, but well-constructed portfolios. ETF investing has also greatly simplified his own investment style, yet simultaneously increased the scope and diversification of his portfolio.
Seeking Alpha's Carolyn Pairitz recently spoke with ETF Monkey to find out how he is positioning his ETF portfolio in 2017.
Carolyn Pairitz (CP): First off, I'm curious about your chosen pseudonym, ETF Monkey. Would you care to share with us where that came from?
ETF Monkey (EM): (Laughing)... That's a great question, Carolyn. No, I don't mind sharing. Some years back, in the course of my client service career, I came across a gentleman who worked as a contractor in the Tax Department of one of the companies I served. He used to say "I'm just a tax monkey." He was a smart and talented guy and likely could have been a manager or possibly even director if he had wanted to be. But he didn't. He preferred to work as a contractor and maintain his independence and freedom. His ultimate dream was to open a sports bar in Hawaii. Because of this, he was happy doing the actual day-to-day work as opposed to directing others. It was for this reason that he referred to himself as "tax monkey."
He was a unique individual and I always respected him. When I decided on this venture, I thought to myself: "That's what I'm hoping to do. The dirty, detailed work that hopefully can benefit some investor somewhere." In the process, I thought of this man. And from that came ETF Monkey.
CP: How would you describe your investing philosophy, broadly speaking?
EM: I recall one of my Finance professors sharing the concept that the (financial) markets exist for the benefit of people, not the other way around. He went on to mention that perhaps the biggest thing that saddened him with respect to his chosen career was that, worldwide, this is not the case today. A simple example he used was that all the formulas around the time value of money meant nothing to a person who literally used every penny at their disposal to feed their family that day. I couldn't believe I found myself literally almost in tears in the middle of, for heaven's sake, a finance class. But what he said deeply touched me.
You see, while I have never experienced poverty, I myself come from a modest background. Growing up as a kid, my family never had a lot financially. During the difficult economic period of the mid-1970s, my father was unemployed for a period of time, and my mother did an incredible job of making a small amount of money stretch such that our family always had a roof over our head, clothes to wear, and healthy food to eat. There were times, though, when we did not have much more than that.
As I grew up, that drove me. I learned the value of working and saving. I also learned the concept of delayed gratification. I learned how to say "no" to myself, at least often enough that I had something to save. Ultimately, that gave me money to invest.
Perhaps it is that background that makes me sympathetic to individuals in similar circumstances. It is my belief that, even if they only have a modest amount to invest, as that professor said, they should have access to the benefits of financial markets. And so, I try to tailor my writing to include this audience. My latest article, aimed at millennials, is a great example of that.
I believe ETFs offer a unique tool that investors of all sorts can use to build diversified, low-cost portfolios, gaining access to all the benefits the market has to offer.
CP: You've made a number of sample portfolios for readers. What prompted you to start this practice?
EM: At the end of the day, it comes back to that last point in the previous section. I expressed my belief in the power of ETFs. In my various sample portfolios, I have sought to prove it. Really, it is in portfolios that all of the concepts come together. Why did I pick the particular ETFs I did? How did I come up with the asset allocation I used? What might I do differently for an older, perhaps retired, investor? All of these questions have been addressed in the course of building the sample portfolios.
I also felt like doing this made my writing totally open and transparent. If a sample portfolio does well, that gives me some credibility. On the other hand, if it performs badly, I have to openly and honestly acknowledge this and share with readers both the reasons why as well as any associated learnings.
Finally, I guess I simply thought they would be interesting for readers to follow. As it turns out, they have been. I try not to overwhelm readers with incessant updates, but if anything, readers have asked me to provide updates more frequently, leading me to believe they genuinely find them interesting and helpful.
CP: What index or fund do you use to benchmark your own performance?
EM: I use the S&P 500 index for all my benchmarking. Interestingly, when I released The ETF Monkey 2016 Model Portfolio, I mentioned to readers that I was trying to come up with a suitable benchmark against which to track its performance, since it included both U.S. and foreign stocks, bonds, REITs... you name it. In the course of the discussion, one reader replied:
IMHO, I think the best benchmark with which to evaluate any portfolio is SPY, even though SPY may not be completely comparable to the portfolio. This is because for an average retail investor (such as probably most of the SA readers) the investing decision normally is - should I invest in Portfolio XYZ, or should I simply invest in the overall market (i.e. - SPY)?
I thought this logic was sound. Both in the case of my own personal portfolio as well as those I have developed as part of my writing for Seeking Alpha, I don't necessarily expect to beat the S&P 500 every year. In a raging bull market, I would expect to trail the index to some extent. On the other hand, in a severe bear market, I would hope that my diversification and defensive positions would allow me to hold up very well, and even have something to invest in beaten-down asset classes.
CP: As we approach 2017, are you bullish or bearish on the equities market outlook?
EM: In general, I have to say I lean towards the bearish side. There are so many unknowns. The market has rallied strongly since Donald Trump became President-elect, presumably based on a stronger pro-business outlook. But exactly what he intends to do - and how he intends to do it - remains somewhat murky. Still inside the borders of the U.S., what will real corporate profitability look like going forward, as opposed to perhaps somewhat artificial "earnings increases" based on stock buybacks and the like? Next, if we look outside the borders of the U.S., the world isn't exactly a stable, peaceful place. Britain gave us Brexit. Italy just rejected the status quo, and there seem to be questions as to whether they will follow Britain in exiting the EU. Lastly, central banks have already used most, if not all, the "traditional" arrows in their quivers, so to speak, and have even ventured into uncharted waters.
I'm not trying to compete with Mark Faber for "pessimist of the year." It's just that there seems to be a ton of uncertainty out there, and I wonder if many investors are just ignoring it, hoping they can be "first out of the pool" if things go south.
CP: Which asset classes are you overweight? Which are you underweight?
EM: When I shared a peek into my personal portfolio on Seeking Alpha back in October, I was quite overweight in cash. I put a little back into the markets in early November, when everything slumped around election time. However, on December 13, following the subsequent stunning rally and with the Dow closing in on 20,000, I sold most of what I added in November and am back to being overweight cash, underweight U.S. equities and bonds, and about even with my target allocations in foreign equities. I am, however, moving towards being overweight in one particular asset class. But I think that leads to your next question, doesn't it?
CP: It definitely does! What is your highest-conviction pick heading into the new year and why?
EM: Since I write on ETFs, I am going to go with either the Vanguard FTSE Emerging Markets ETF (NYSEARCA:VWO), the iShares Core MSCI Emerging Markets ETF (NYSEARCA:IEMG) or the Schwab Emerging Markets ETF (NYSEARCA:SCHE).
A couple of cautionary comments. In this area, my view is much like that of Warren Buffett, who has been quoted as saying, "I have no idea what the stock market's going to do tomorrow or next week or next month or next year," instead choosing to focus on what the market does over time.
With those caveats on the record, if asked to pick one theme, from the ETFs I named it becomes rather obvious that I believe emerging markets could be set up for outperformance over the 3-5 years ahead. If you want to see why, pull up a 5-year graph comparing VWO, the Vanguard FTSE Developed Markets ETF (NYSEARCA:VEA) and the SPDR S&P 500 Trust ETF (NYSEARCA:SPY).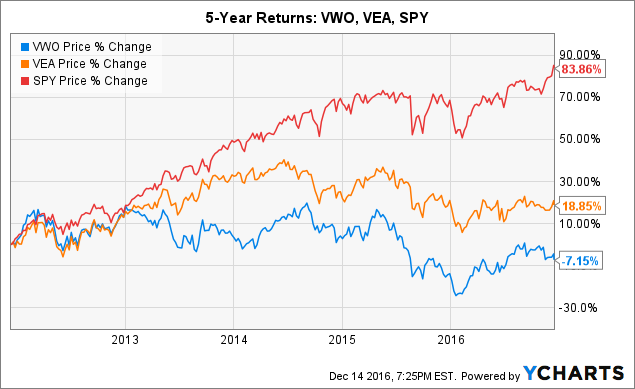 Over that period, I show U.S. markets up roughly 85%, developed international markets up roughly 20%, and emerging markets down roughly 5%. At some point, that is going to turn around, and I believe you want to be there when it does. I'm not saying "go all in" or "bet the farm." But it's why I include what I consider to be a reasonable dedicated weighting to this asset class in both The ETF Monkey 2016 Model Portfolio as well what I will call The ETF Monkey Millennial Model Portfolio, the composition of which I feature in this article.
CP: Are there any global issues on the horizon that ETF investors should pay particular attention to?
EM: In answer to one of your previous questions, I mentioned the fact that I currently have a slightly bearish bias. Really, it is the issues I raised there that I think are worth serious pondering for any investor. Again, though, the best way I know to deal with all these things is to remain properly diversified. Don't let any one area of risk destroy all you have worked so hard to build. In contrast, if and when bad things happen, borrow from the asset classes that have done well and invest a little in those that have been beaten down. In that way, you "buy low and sell high," and perhaps actually benefit from volatility and even turmoil.
CP: What advice would you give to a "do-it-yourself" investor looking at ETF opportunities in the present environment?
I would just share two brief comments here. First, know what is in your ETFs. Are they passively tracking an index? Or are they engaging in more active management, trying to seize on ideas and outperform the market? Not that I am against this, but I think back to the stats that Vanguard has provided, which I have referenced on previous occasions, concerning the rather low number of ETFs that actually manage to accomplish this. Again, know what you own, and make sure you could explain exactly why you have made the choices you have. Second, tune out the noise. Every morning, if you decide to turn on CNBC or some other business channel of your choice, you will have any one of a number of talking heads telling you what you need to do right now! Try not to let any of it influence you too heavily. Focus, instead, on the long term and your investing strategy. And, as I always say, diversify and keep your costs low!
Oh yeah, and read more ETF Monkey. Because if you agree with most or all of the above, we'll likely be on the same page most of the time.
Disclosure: I am/we are long VWO. I wrote this article myself, and it expresses my own opinions. I am not receiving compensation for it (other than from Seeking Alpha). I have no business relationship with any company whose stock is mentioned in this article.