Gladstone Commercial Corporation (NASDAQ:GOOD) has closed on another large deal. For $25.5 million, the REIT purchased 935 First Ave, in King of Prussia Pennsylvania. With a cap rate of 8.7%, this deal should be accretive for investors.
The building consists of over 103,000 square feet of class A office space and was previously purchased by eBay (NASDAQ:EBAY) for $17 million in 2004.
GOOD has made a couple of significant additions to its portfolio at the end of this year; I analyzed a $26.9 million purchase in Fort Lauderdale a few months ago. GOOD has been making significant moves to reposition itself for the future.
The Market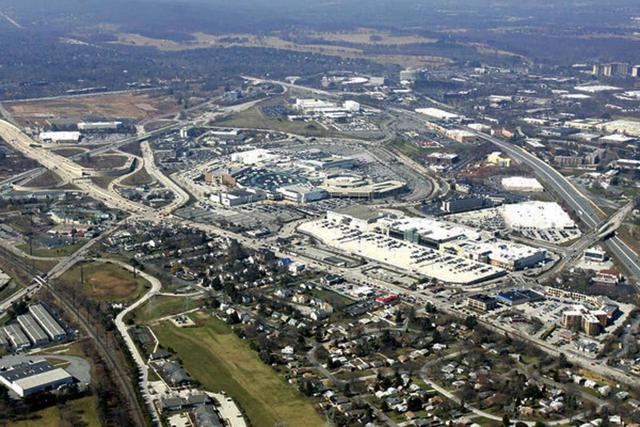 (King of Prussia, image courtesy of philly.com)
King of Prussia is a suburb of Philadelphia, approximately 20 miles northwest of the CBD. The Philadelphia office market has been heating up and has started to get on the radar of foreign investors, as evidenced by the $354 million sale of Cira Square to a South Korean investment fund.
Foreign investment has been a major driving force behind compressing cap rates in several primary markets. The Philadelphia office market may face an increase in foreign interest. If that happens, King of Prussia is a secondary market well-positioned to benefit.
Currently, King of Prussia experiences office vacancy rates in the low teens; however, among class A office space, that number is in the single digits.
New construction in King of Prussia has also been limited. Brandywine Realty Trust started a B2S project for Highway to Health that will be 111,000 SF and will be the first major office new construction since 2008.
Additionally, SEPTA has plans to build a rail extension with an additional five stops in King of Prussia. That project is expected to be operational by 2023 and should increase access to the area.
With the potential for increased demand combined with a fixed supply and new infrastructure, King of Prussia should experience sustained economic growth in the mid- to long term.
The Lease
There is a 15-year lease included with the purchase of the property at an 8.7% cap rate. That suggests the total net income over 15 years should exceed $33 million.
GOOD's portfolio averaged 7.9 years of remaining term at the end of last quarter. This type of long-term lease where the scheduled rent is in excess of property costs is typical of GOOD. GOOD's strategy is typically one of "buy and hold," building relationships with its tenants and having a high renewal rate.
The Tenant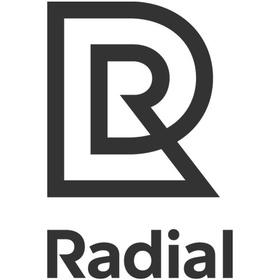 The tenant is Radial, an omnichannel e-commerce company that resulted from a combination of eBay Enterprises and Innotrac after eBay sold the branch for $925 million.
The company has over 7,500 employees and 27 distribution centers. The property purchased by GOOD has been and will continue to be the main headquarters for Radial.
Radial is a high credit risk; Moody's recently changed its outlook to negative. Radial carries a default rating of B3:
The negative outlook reflects Moody's expectation that Radial's revenue and cash flow from operations will decline over the next 12 to 18 months and its free cash flow will be negative in 2017, significantly below Moody's previous forecast of free cash flow of 10% to 15% of total debt in 2017. Radial's revenues could decline by about mid-single digit percentages in 2017, largely due to the accelerated run-off of revenues from the Webstore business, which the company is exiting, and loss of revenues from a few customers that filed for bankruptcy protection.
However, the report does state that Moody's expects Radial to maintain adequate liquidity.
No doubt, this risk is a big part of why the cap rate for this sale is significantly above average for the area where cap rates for class A office space have been in the 7s.
In Gladstone's earnings calls, Chairman and CEO David Gladstone likes to make a big deal about the superiority of its internal underwriting to find good deals. This will be one of those cases where investors will need to trust the acquisition team.
The REIT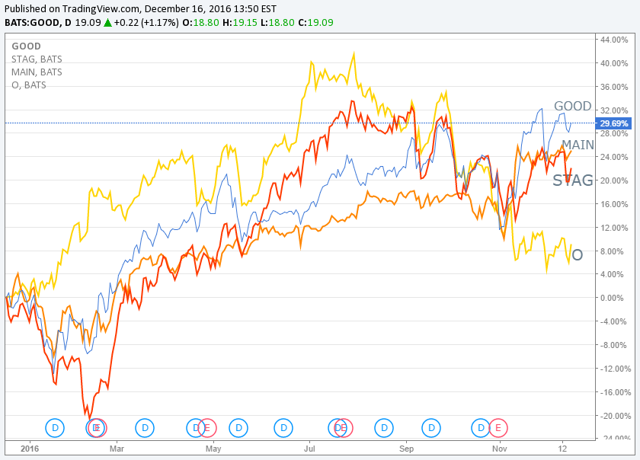 (A comparison of select monthly dividend stocks, year to date)
GOOD is part of David Gladstone's empire, which consists of four publicly traded companies, including Gladstone Investment (NASDAQ:GAIN), Gladstone Capital (NASDAQ: GLAD) and Gladstone Land (NASDAQ: LAND). GAIN and GLAD are both BDCs, and LAND is a REIT that specializes in agricultural land.
GOOD is externally managed, though the "external" management is David Gladstone's team. This has caused some commentators to make an issue of the potential conflicts of interests.
Like all of the Gladstone companies, GOOD pays a monthly dividend, and has paid it religiously since 2005. Gladstone remained committed to not reducing the dividend throughout the real estate collapse, though there also has not been a raise since it increased to $0.125/month in 2008.
In the 3rd quarter earnings call, when asked by an analyst if reducing the dividend would increase flexibility, Gladstone reiterated that the company would not reduce the dividend unless forced to. He views a future where the company can start increasing the dividend again and do so regularly "because that's who we are after, is dividend lovers."
As things stand now, GOOD's FFO is right at its dividend payout. The last three years have been tough for the company as it dealt with legacy asset issues.
Overall, GOOD has done an excellent job maintaining occupancy, with its lowest historical rate at 96% and a current rate of 97.7%.
Going forward, GOOD only has 11 leases expiring through 2019, representing 6.9% of its revenue and the bulk of its leases, representing almost 60% of revenue don't expire until after 2023.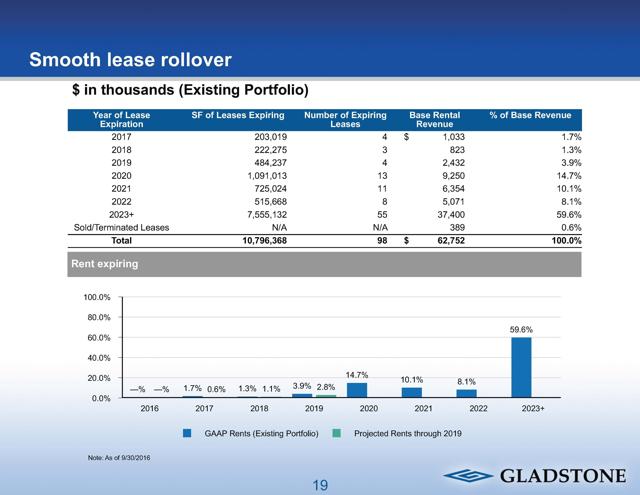 (Source: GOOD Financial Supplement September 2016)
GOOD's debt service has been high compared to its peers the last several years with an average interest rate of 4.71% and some mortgages over 6%. Their biggest achievement this year has been deleveraging by refinancing at lower interest rates and paying off old preferred shares.
GOOD is continuing to actively refinance and will get rid of a pesky $61 million currently at 6.1% in 2017 that should result in a rate reduction of around 3%. For a company that only has 25 million shares, this deleveraging process should result in material impacts on FFO/share.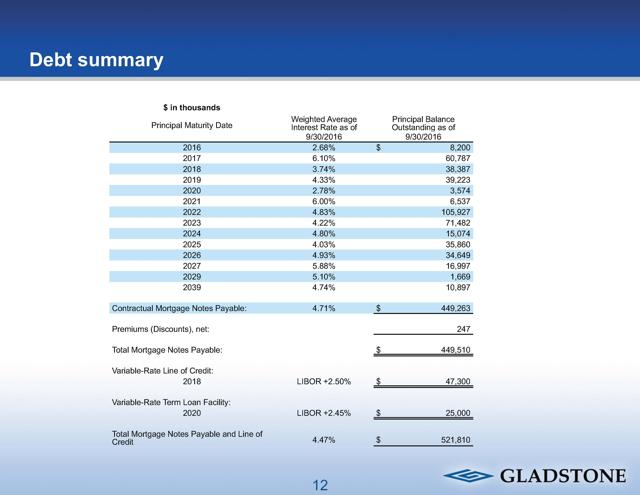 (Source: GOOD Financial Supplement September 2016)
Conclusion:
GOOD has been purchasing high-quality office buildings in secondary areas that have long-term growth potential. Their willingness to lease to tenants with below-investment-grade ratings is a risky but potentially profitable strategy.
Long term, GOOD has been able to maintain its monthly dividend and has only lost one tenant due to default, even through the recession.
There is legitimate concern that dividend payouts have been close to and at times have exceeded FFO. However, GOOD has put a lot of effort into restructuring its debt and its portfolio.
Reduced debt service costs, combined with increased revenue from acquisitions, should substantially increase the cushion between FFO and dividend payouts.
GOOD has proven itself to be very friendly to income investors, and that should continue as its financial situation improves. For 2017, investors should expect FFO to start increasing and a more financially stable company.
(Sources: GOOD SEC Filings, Colliers, Montgomery County PA Property Records, Philly.com, Moody's, Integra Realty)
Disclosure: I am/we are long GOOD, GLAD, MAIN.
I wrote this article myself, and it expresses my own opinions. I am not receiving compensation for it (other than from Seeking Alpha). I have no business relationship with any company whose stock is mentioned in this article.