I wrote previously "Cobalt Miners Set To Boom" back in May 2016, which you can read here. Since that time many of the major cobalt miners I discussed have seen 50-100% share price appreciation. This time I intend to give investors an update on the cobalt sector, especially as cobalt is a critical metal used in many lithium ion batteries used in electric vehicles (EVs). I will then focus on the junior cobalt companies.
The cobalt spot price has been rising in 2016, due to increasing demand and restrained supply (due to a flat copper and nickel market the past few years). The graph below shows the cobalt price has moved up from US$10/lb in February 2016 to US$14.63/lb today, a 46% increase.
Cobalt 5 year graph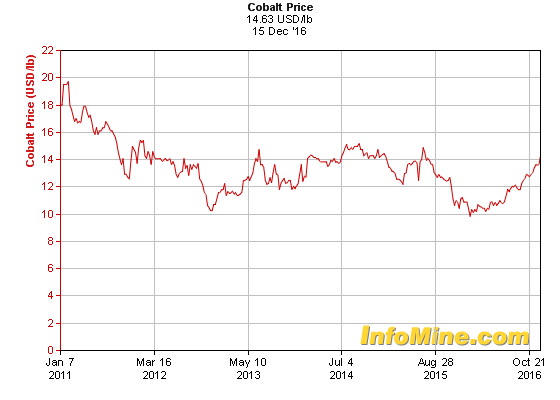 Source:InfoMine
Cobalt demand versus supply
Many experts see cobalt as the next critical element set to boom, after lithium tripled in price in 2016.
Cobalt demand is currently surging with the rise of lithium-ion (Li-ion) batteries, as cobalt offers the highest energy density of the various Li-ion battery formulas, and is therefore very popular in electric vehicles. Tesla (NASDAQ:TSLA) uses NCA (Nickel-Cobalt-Aluminum) lithium batteries in their EVs. NCA are usually a combination of 80% nickel, 15% cobalt and 5% aluminum. NCA has the highest specific energy or power per kilogram.
Lithium Cobalt Oxide (LCO) batteries are generally used in electronic devices. Lithium Nickel Manganese Cobalt Oxide (NMC) batteries are typically used in power tools and many electric cars, and in energy storage. Many traditional NMC batteries use one-third equal parts nickel, manganese, and cobalt.
Cobalt is used in ~75% of lithium ion batteries as cobalt offers the highest energy density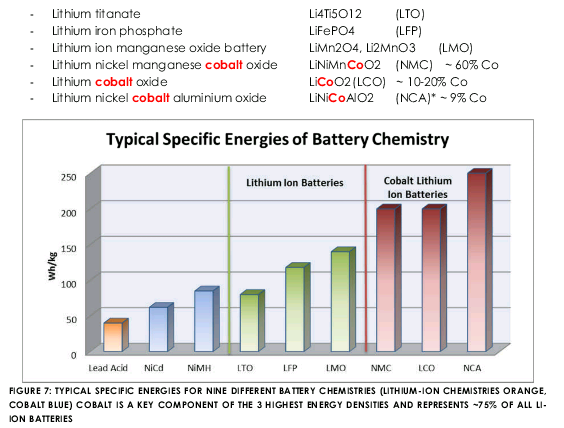 Source: page 8
Global cobalt production in 2015 was 124,000 tons (with about half coming from the Democratic Republic of Condo ((NYSE:DRC)), with the bulk of the increase attributable to new capacity from African copper mines. You can see the top ten cobalt producing countries here. Cobalt supply is mostly (94%) as a by-product of copper and nickel mining, both of which have had depressed prices and production in recent years, due to the China slowdown from 2011 to 2015. This means that while copper and nickel production is flat, cobalt production will be flat. The other factor is that at least half the cobalt supply comes from the DRC, where there is currently a lot of political uncertainty and risk. Certainly the 46% increase in the cobalt price since February is supportive of this.
Cobalt outlook for 2017
Roskil states: "Going forward, despite the potential for further new supply sources and expansion projects coming on stream, demand is forecast to grow at a higher rate than supply. However, it will take several years for the recent period of oversupply and resultant stockpiling to be reconciled, which is likely to keep prices in check over the medium term." I think the above Roskill quote has not been updated.
CRU's Cobalt Market Outlook 2016, published on 18th August 2016, Senior Consultant Dr Edward Spencer writes "the refined cobalt market will fall into a 3,000 tonne deficit this year following seven years of overcapacity and oversupply. CRU anticipates prices to increase onward into 2017 as global demand for refined cobalt exceeds the 100 kt mark and mine and refined supply tightens."
My view is that 2017 will see demand for all the battery and EV metals (lithium, cobalt, graphite, nickel, copper) rise stronger than expected by the experts, due to the arrival of the affordable EV leading to stronger than expected sales. Supply will struggle to keep up with this accelerated demand leading to upward price movements in the above five metals. The solar and infrastructure booms will also help support higher copper prices. You can read about my top 5 junior copper miners here.
Junior cobalt miners to consider
I previously discussed the cobalt majors including Freeport-McMoRan Inc (NYSE:FCX), Glencore (OTC:OTC:GLNCF) (LSX:GLEN), Umicore SA (UMI), Sumitomo Metal Mining (TYO:5713), Sherritt International (OTCPK:SHERF)(NYSE:S), MMC Norilsk Nickel (OTCPK:NILSY) (LSX:MNOD), Lundin Mining (TSX:LUN) (OTCPK:LUNMF), and Vale S.A. (NYSE:VALE). The article is linked at the beginning of this article, so I won't discuss these companies again here, except to say that many of the above have done very well in the past 6 months. For example Sherritt has moved from CAD 0.94 to CAD 1.48 (up 57%), Glencore has moved from GDP 162 to GDP 268 (up 65%), tracking the cobalt, copper and nickel price rises. At this time, I think more value can be found in the cobalt juniors that are either expanding production or are near term producers. I am still researching to assess my top 5 cobalt juniors, but for now I take a look at the field.
Cobalt miners by reserves size

NB: Eurasian Resources Group (private) acquired all of Africo Resources.
Barra Resources (ASX:BAR)- Price - AUD = 0.05
Barra are a Western Australian miner who owns 50% of the high grade Mt Thirsty cobalt-nickel (oxide) manganese project with Conico Ltd (ASX:CNJ) owning the other 50%. They recently secured an option to purchase the Bitter Bore cobalt project located in the Eastern Goldfields of Western Australia. They also have two gold projects Burbanks and Phillips Find. Very early days for this explorer, but so far they have had some reasonable exploration success. At a market cap just AUD 21m, upside potential should they continue on to establish a cobalt or gold mine. One to watch.
Brixton Metals Corporation (TSXV:BBB) - Price = 0.245
Brixton owns the Langis and Hudson Bay projects in Ontario Canada. The Langis mine was a former silver producer that produced intermittently from 1908 to 1989, but is thought likely to also hold cobalt. They also have the Thorn gold-silver exploration project in British Columbia. They currently trade on a market cap of just CAD 9.7m. Investors can read their recent December 2016 presentation here. One to watch, especially as Rob McEwen is a 9% shareholder.
Canadian International Minerals (TSXV:CIN) (OTC:CDNMF) - Price = CAD 0.025
Canadian International Minerals are a Canadian company that owns the Tisova copper, cobalt and precious metal deposit in Erzgebirge, Czech Republic. They recently completed sampling of the old Tisova dump material and it returned values up to 8.93% Cu, 0.18 % Co, 0.15% Bi, 59 g/t Ag, 89 g/t In and 2.25g/t Au. They are also exploring the Lac Manitou Ni-Cu-Co-PGM project in Quebec. Market cap is a mere CAD 1.3m. You can view their company presentation here. Sounds promising.
Cobalt Blue Holdings Ltd (NASDAQ:COB) (spun out from Broken Hill Prospecting (NYSE:BPL)) - Price at IPO = AUD 0.20
Cobalt Blue is not yet trading, but should IPO soon with 50m shares at AUD 0.20, raising AUD 10m. The 100% owned Thackaringa cobalt-pyrite project has an inferred resource of 35.7 million tonnes grading 0.084% cobalt (for 30,000 tonnes of contained cobalt). The resource is a shallow deposit continuing at depth, suitable for an open cut mine. The company refers to it as "one of the world's largest undeveloped cobalt resources."
BPL shareholders will receive in-specie distribution of BPL's Cobalt Blue shares (each 4.1682 BPL shares held at the record date receive one COB Share), including loyalty options and priority entitlement in an IPO. Cobalt Blue will buy into the Thackaringa project on a performance based structure. If the maximum of $10 million is raised, the undiluted market capitalisation of Cobalt Blue will be AU$19 million post offer.
Cobalt Blue is targeting a resource of 100 million tonnes at 0.084% cobalt for 84,000 tonnes of contained cobalt. That will support a 20 year operation at 4,000 tonnes pa, and make Cobalt Blue a top five global producer. Definitely one to watch closely.
Cobalt Power Group (TSXV:CPO) - Price = 0.055
Cobalt Power group recently (in 2016) acquired the Smith Cobalt & extensions, Proteus, and Kirk Lake, properties in Ontario Canada. Currently they trade on a market cap of just CAD 1.8m, so just the beginning. One to watch.
CobalTech Mining (TSXV:CSK) (NBCIF) (formerly Big North Graphite) - Price - CAD = 0.235
CobalTech Mining are a Canadian former graphite turned cobalt miner. They own the past producing Duncan Kerr property and related production facilities and equipment, located in the Cobalt region of Ontario, Canada. Current market cap is CAD 11.2m.
Conico Ltd (ASX:CNJ) - Price = AUD 0.036
Conico own 50% of the Western Australian Mt Thirsty cobalt-nickel (oxide) manganese project with Barra Resources. They currently trade on a market cap of just AUD 10.6m.
Cruz Capital Corp (NYSE:CUZ) (OTCPK:BKTPF) - Price = CAD 0.155
Cruz Capital act as a cobalt project generator and developer. They have 8 cobalt projects in North America, including:
War Eagle Cobalt prospect (British Columbia, Canada) - surface samples of 6.41% cobalt, 3.59% nickel and 7.25% copper (historic data)
Johnson Cobalt prospect (Ontario, Canada) - grab assays over 300m up to 10.5% cobalt, 69 g/t silver, 12% nickel and 0.4% copper (historic data)
Bucke Cobalt project (Ontario, Canada) - assays grading 13% cobalt and 240 g/t silver (historic Ontario data)
Idaho Star Cobalt prospect (Idaho, USA)
Coleman cobalt project (Ontario, Canada) - assays grading 13% cobalt
Hector Cobalt prospect (Ontario, Canada) - a past producer of cobalt.
They currently trade on a market cap of just CAD 7.1m. Definitely on the move, and one to watch.
Dragon Energy (ASX:DLE) - trading halt
Dragon Energy owns 3 mineral projects (with 9 tenements) in Western Australia, targeting cobalt, gold, iron ore, and base metals.
Dragon recently acquired the Tabac cobalt-gold project 30 kilometers from Wiluna in Western Australia. They are currently at the exploration stage of their extensive tenement holding covering over 110 square kilometers. Early drilling shows some potential including 10m at 1.47% cobalt.
eCobalt Solutions (TSX:ECS)(OTCQB:ECSIF) (formerly Formation Metals Inc - Price - CAD = 0.53 US$ = 0.3997
eCobalt 100% own the Idaho Cobalt Project (ICP) in the USA. Measured and indicated resource at Blackbird is 2.654 million tons of 0.628 percent cobalt, 0.619 percent copper and 0.49 grams gold. The project is estimated to produce 1,386 tons of cobalt annually over a minimum 12.5-year span. Their 2015 PEA post-tax NPV 8.5% was US$113 million, IRR 24.07%, and a 12.5-year life of mine. Upfront CapEx was estimated to be US$147m. I was not able to find the assumed cobalt price for the study; however, in 2015 the cobalt prices were around US$10-12,000/lb. They are currently working to initiate a Definitive Feasibility Study on the ICP, which should give a significantly higher NPV given the current cobalt price of US$14.63, as well as to secure offtake agreements with potential end users. The company is looking to Q1 2017 for the study's completion. They are at a very advanced stage with the mine, mill and concentrator, and a hydrometallurgical plant. This helps explain why they have had a great run in the past year up 381%, and currently have a market cap of CAD 56.5m. Unless they can dramatically increase their resource and/or production plans, they look fully valued right now. Off course this would change if the cobalt price continues to rise.
Fortune Minerals (TSX:FT) (OTCQX:FTMDF) - Price = CAD 0.105
Fortune 100% own the NICO gold-cobalt-bismuth project in the Northwest Territories of North America. The NICO deposit contains 82 million pounds of cobalt, more than 1.1 million ounces of gold (as per their mineral reserve statement), as well as 12 per cent of global bismuth reserves. Life-of-mine average annual production is projected to be 41,300 ounces of gold, 1,615 tonnes of cobalt contained in a battery-grade cobalt sulphate heptahydrate, 1,750 tonnes of bismuth contained in ingots, needles and oxide, and 265 tonnes of copper. The company is at the stage of obtaining financing to build their mine and processing plant, and are awaiting the access road approval to help progress the project. Current market cap is CAD 28.4m. Once they get the road approval, an off take (equity) partner, and some financing the stock will re-rate higher.
Highlands Pacific (NYSE:HIG) (OTC:HLPCF) - Price = AUD 0.056
Highland Pacific is an Australian mining company with projects in Papua New Guinea (PNG). They own 8.56% of the Ramu nickel/cobalt resource, and 20% of the massive $3.6b Frieda River gold/copper resource. The later project will require massive CapEx, two years for approvals and six years for construction, meaning first production would be no earlier than 2024/25. Also PNG has a checkered history for miners BHP (NYSE:BHP) and Rio Tinto (NYSE:RIO). You can view company presentations here. Current market cap is AUD 52m. Patience required.
Hinterland Metals Inc (TSXV:HMI) (OTC:HNLMF) - Price = CAD 0.03
Hinterland Metals own the Chilton copper-cobalt project in Quebec, Canada. They also have several other gold and lithium projects. The company states on their website, "the Company explores for its own account. Hinterland also derives revenue and furthers exploration or development by farming out mineral property interests in whole or in part to other exploration companies for a mix of cash, shares and work expenditure commitments." Current market cap is just CAD 1.3m. Sounds interesting.
Katanga Mining (TSXV:KAT)
Katanga Mining is a Swiss mining company with copper and cobalt reserves in the Katanga province of the DRC. They are not a junior as such, but due to their mine closure they are trading on a low market cap of just CAD 257m, relative to their large reserves. They are reported to have by far the world's largest reserves of cobalt. According to the company website, "Katanga Mining Limited operates a large-scale copper-cobalt project with substantial high-grade mineral reserves and integrated metallurgical operations in the Democratic Republic of Congo (DRC). Our single-site operation, which comprises brownfield assets and new facilities under construction, will have one of the lowest unit production costs in the world, net of by-product credits."
The company stated:"On September 11, 2015 the Company announced the decision to suspend the processing of copper and cobalt until approximately H1 2017. The Corporation will continue with the planned investment of $880 million into ongoing processing plant upgrades and the waste stripping of the KOV Open Pit and Mashamba East Open Pit mines. These process upgrades include the commissioning of the new leach plant which will replace the existing oxide concentration process. This is expected to significantly improve both copper recoveries and operating unit costs when processing resumes." The company claims to have the "potential of becoming Africa's largest copper producer and the world's largest cobalt producer." Glencore is the largest shareholder in Katanga Mining, and the company has various subsidiaries. Katanga holds a 75% stake in two joint ventures with Gécamines (the state-owned mining company in the DRC). Currently the stock trades on a market cap of CAD 257m. Given the stock has dropped from around CAD 1.30 in 2011 to just 0.135 now (about a tenfold fall), investors would buy if they believe in the cobalt and copper outlook, and Katanga as a turnaround stock once production starts again. High risk, high reward.
Katanga Mining 5 year stock price chart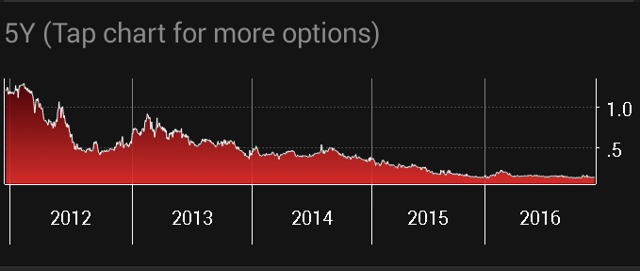 Source:Bloomberg
LiCo Energy Metals (TSXV:LIC) (OTCQB:WCTXF) - Price = CAD 0.105
LiCo Energy Metals, are a company focused on the exploration and development of minerals essential to lithium-ion batteries. They own the Teledyne Cobalt project in Ontario Canada, and are set to begin drilling the property at Timiskaming Lake searching for cobalt and silver. Current market cap is CAD 10.5m.
Tiger Resources (NYSE:TGS) - Price = 0.036
Tiger Resources is an Australian copper junior focused on the Kipoli copper project in the Democratic Republic of Congo. Currently they are producing around 26,228 tonnes of copper cathode, and plan to expand into cobalt production. For now, they are an undervalued copper miner, with potential in the cobalt space. My model end 2017 forecast target price is AUD 0.28, based on 32,500 tons of copper production in 2017. So really investors get the cobalt upside for free. Current market cap is AUD 68.7m.
Risks
The junior cobalt miners are a risky sector. Risks include:
Sovereign risk - Especially those with African mines, and especially in the DRC, where the governments have been known for extreme corruption.
The usual risks of investing in small companies such as liquidity risk, poor management, dilution, financing, and mining risks.
Best to buy on local exchanges to avoid liquidity issues.
Many stocks mentioned here are very early cobalt explorers, so investors should invest very cautiously.
Conclusion
Cobalt is perhaps the most critical element right now in the EV supply chain, especially as it is rare, and mostly only mined as a by-product of nickel and copper mines. Other industries such as the aerospace industry also rely on cobalt supply. Most investors are still coming to understand how inelastic the cobalt supply is, at a time when demand is surging (read EVs are set to electrify the market in 2017). This will most likely mean that cobalt will be one of the top performing metals in 2017.
For now, my favorite cobalt juniors are Fortune Minerals, Tiger Resources (an undervalued copper miner, with cobalt), and Katanga Mining. I will also be keeping a close eye on Cobalt Blue and others. Investors should be aware they are very speculative stocks at this time. This really is a newly developing sector, and many of the juniors are therefore still only at the exploration stage, making it a lot harder to pick the winners. The above mentioned cobalt plays either have proven cobalt reserves, or are either in or nearer to production stage. I intend to publish my top 5 cobalt miners in early 2017, once I have had time to better study and assess the juniors. Investors can find an excellent detailed list of cobalt miners based on resource size here.
I would be pleased to get readers input on who is your favorite cobalt junior and why. As usual all comments are welcome.
Disclosure: I am/we are long FORTUNE MINERALS (TSX:FT), BROEN HILL PROSPECTING (ASX:BPL), COBALT BLUE (ASX:COB), TIGER RESOURCES (ASX:TGS), KATANGA (TSX:KAT).
I wrote this article myself, and it expresses my own opinions. I am not receiving compensation for it (other than from Seeking Alpha). I have no business relationship with any company whose stock is mentioned in this article.
Additional disclosure: The information in this article is general in nature and should not be relied upon as personal financial advise.
Editor's Note: This article covers one or more stocks trading at less than $1 per share and/or with less than a $100 million market cap. Please be aware of the risks associated with these stocks.