Back on May 9, I wrote an article noting the investment wasteland for investors in the safest fixed-income securities. But a lot has changed in seven months:
The Federal Reserve raised its key short-term rate, the Federal Funds Rate, to 0.75%, an increase of 25 basis points.
A 1-year nominal Treasury was yielding 0.51% in May, and now that same investment yields 0.91%, an increase of 40 basis points.
A 2-year nominal Treasury was yielding 0.72%, and now it is 1.28%, an increase of 57 basis points.
A 5-year Treasury Inflation-Protected Security had a real yield (after inflation) of -0.30%, and now it is 0.32%, an increase of 62 basis points.
A 5-year nominal Treasury was yielding 1.20%, and now it is 2.07%, an increase of 87 basis points.
But there's one safe fixed-income investment where yields have barely budged since May 2016, despite the sharp rise in yields elsewhere. That is federally-insured bank certificates of deposit. Here is a comparison of current rates:

Back in May, the best-in-nation bank CDs were paying 0.85% for six months, 1.26% for 1 year, 1.50% for 2 years and 2.10% for 5 years. Today, those rates have barely budged. And Bank of America and Wells Fargo - among the biggest U.S. banks for deposits - are offering comical CD rates and begging you to take your business elsewhere.
However, on December 15, one day after the Federal Reserve's announcement of a 0.25% rise in short-term rates, both Bank of America and Wells Fargo raised their prime lending rates by 25 basis points, to 3.75%.
And then, look at mortgage rates, which have risen sharply since November 1. Here's what the Wall Street Journal reported this morning:
Rates on plain-vanilla, 30-year fixed-rate mortgages have surged since Election Day by 0.76 percentage point, bringing them to an average of 4.38% on Thursday-their highest rate since April 2014, according to MortgageNewsDaily.com.
While the big banks could argue that a rise in the Federal Funds Rate has a bigger impact on lending rates than savings rates, the quick rise in nominal U.S. Treasury yields leaves bank CDs looking paltry by comparison.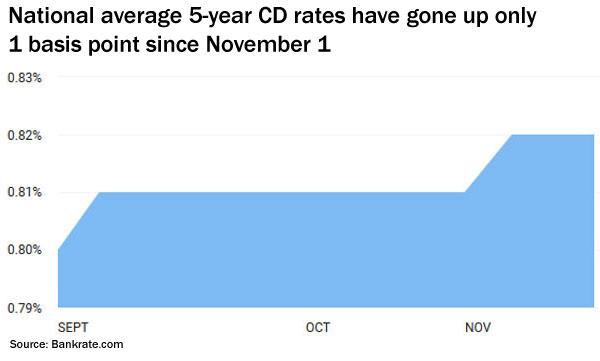 A 5-year U.S. Treasury should not have a nearly identical yield as the best-in-nation 5-year bank CD, but both are yielding around 2.10% today. Across the nation, average bank CD yields are trailing U.S. Treasuries by as much as 60 basis points.
TIPS also look very attractive right now versus bank CDs. A 5-year TIPS is yielding 0.32% above inflation, and with inflation currently running at 1.7%, a TIPS has an implied yield 50 basis points higher than the national average 5-year CD. If inflation rises, the TIPS will do even better.
It's time for bank CDs to reflect the current interest rate environment. The nation's savers have suffered through more than five years of ultra-low yields for safe investments. Now it is time for savers to get the benefit - at long last - from suddenly rising rates.
Bankers, raise your CD rates. Today.