Back on August 8th I recommended Phillips 66 (NYSE:PSX), a midstream and refining company, as a "solid buy for dividend growth." At the time, shares were at $78. The market has been pretty good to Phillips 66 since then. Stocks have since grinded higher, slowly but surely. Have a look for yourself.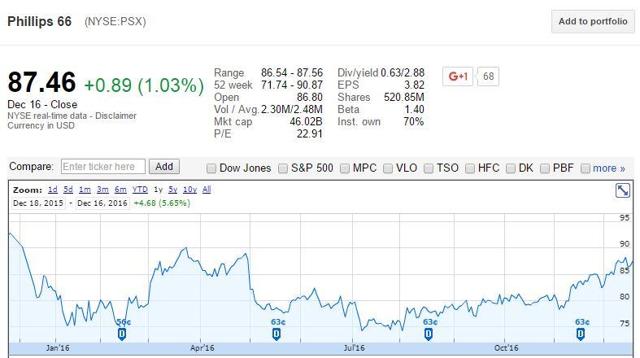 Courtesy of Phillips66 Investor Relations.
Today shares are at about $87.50; a gain of about 12%, plus dividends. The entire energy complex is up significantly since then, so this might just be a case of a rising tide lifting all boats, but I believe that the markets have come around in understanding that Phillips 66 represents stable, midstream NGL projects for which the underlying production fundamentals are still quite good, despite lower margins in the company's other main business; refining.
A lot has happened since then, including the completion of the Freeport LPG terminal. Of course, the more important macro event was the electoral victory of Donald Trump. If Trump's recent cabinet appointments are any indication, Rick Perry at the Department of Energy, Montana Republican Ryan Zinke in the Department of the Interior, and Exxon Mobil CEO Rex Tillerson as the Secretary of State, then it could soon get a lot easier to build energy infrastructure here in the US.
I believe there are more reasons to be bullish about Phillips 66, and this article looks at some of those reasons.
Meet the new plan, same as the old plan
Last week Phillips66 announced its 2017 capital budget, and it is quite similar to last year's updated capital budget. A little background first. Originally, management intended to spend $3.9 billion in capital expenditure. However, over the course of the year that was brought down to $3.0 billion; a combination of cost savings and high-grading due to some midstream projects being less profitable at lower crude oil and dry gas prices.
Next year management intends to spend $3 billion once again, and from what I can see there aren't any radical changes in priorities. About $1.5 billion of that will be spent on midstream projects. Some $900 million is to be spent on oil refining improvements and maintenance, and $675 million on its joint venture chemical company, CPChem, mostly on an ethylene cracker project set to be completed in mid-2017.
Regarding the NGL spending Phillips66 is working on, 85% of that is going toward growth projects. This primarily includes the Bayou Bridge pipeline from a terminal in Beaumont to the St. James terminal in Louisiana.
Also, Phillips 66 is working on an expansion of the Beaumont Terminal, which includes storage and a marine facility. Beaumont Terminal will serve as a 'gateway to the Gulf Coast' for both crude oil and refined products. Crude and refined products will either be loaded onto the Bayou Bridge, or onto interstate tankers. Ultimately, Beaumont Terminal will triple the barrels per day moving from its terminal; from 500,000 barrels a day to 1.5 million barrels per day.
In 2016 Phillips 66 completed the Freeport LPG export terminal in Houston, and the Sweeny Fractionator One, which provides about 100,000 barrels per day of purity ethane and LPGs to the regional petrochemical industry.
The objective next year, as this year, is to work on highly cash-flow profitable midstream and chemical projects, which will have long-term contracts with customers and will provide substantial excess cash flow as soon as each respective project is completed.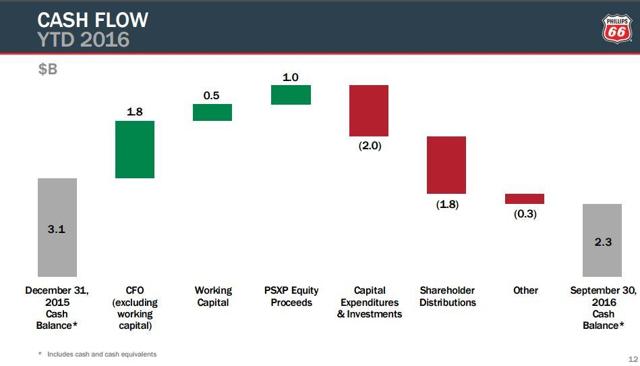 Courtesy of Phillips 66 Investor Relations.
So far this year, cash flow has roughly equaled to capital expenditure, but the additional $1.8 billion in distributions meant that Phillips 66 had to take out equity from its partnership affiliate and also take substantially from the cash balance. (The company took out another $1.1 billion in debt recently, which will be reflected in fourth quarter results.)
I expect 2017 to have a somewhat similar dynamic, but perhaps a little better. The Sweeny Fractionator One plus the Freeport LPG terminal should add a good bit of cash flow next year. As always, Phillips 66 is in quite a volatile business, particularly in refining, where margins can vary significantly from year to year. Therefore, it's hard to project 2017 cash flow with too much certainty. However, the two completed projects should provide some tailwinds, and the small handful of completed projects in 2017 will add even more in 2018.
Tangible benefits
While Phillips 66 is a refiner and a chemical company in addition to midstream, much of the company's growth efforts are in NGL midstream services. The fortune of such growth efforts depend largely upon petrochemical demand for NGLs and export demands for them as well. Natural gas, the main feedstock for NGLs, can currently be produced in the US relatively cheaply, thanks to some major new discoveries made in the last decade. This 'advantaged NGL' is driving Phillips 66's growth projects.
President Elect Trump's business-friendly and energy-friendly appointments, I believe, signal a much more benign environment for drillers. Therefore, demand for additional pipeline could increase substantially in the next few years. In this scenario, Phillips 66 could remain a high-growth name for some time, which will mean more capital projects and continued high capital spending. This would bring a unique set of challenges and opportunities, but in the end it could also mean that the stock price goes a lot higher than it is even now.
Phillips 66 remains a buy
Long story short, this name remains a buy. There is an upward catalyst now that Donald Trump is our president elect, especially in light of some of his energy-friendly cabinet appointments. If drilling is going to be easier to do and projects are going to be easier to get approvals for, then demand for pipelines is going to rise from here.
If you're interested in Phillips 66, feel free to follow me on Seeking Alpha. I am personally long the stock, and will continue to provide update articles when doing so is material and relevant.
Disclosure: I am/we are long PSX. I wrote this article myself, and it expresses my own opinions. I am not receiving compensation for it (other than from Seeking Alpha). I have no business relationship with any company whose stock is mentioned in this article.