When I was wee-old child, the end of the year was a time to sit back, wind down and enjoy the festivities of the holidays. School was out, the snow fort was our playground and the only thing we knew about terrorism was whipping a snowball at our friends. No matter what beliefs you have, the end of the year is a time for relaxation and reflection. Is there anything better than drinking hot chocolate on Christmas Eve and watching Rudolph get his red nose?
As we grow older we have more responsibilities. There are expectations from us being adults. What if I don't have enough money for all the gifts this year? Will my friends notice that these are the same ornaments from last year? Do they like my cooking? What if my house isn't clean enough for them? The holidays aren't as care-free as they use to be. Stress compounded on stress. The holiday blues are real. Although stress is a natural part of life, too much of it can lead to mental illness.
On December 13th, 2016 Obama signed in the Cures Act. The Cures Act has lowered the bar for pharmaceutical companies to hit in order to get their product to market. The act also allowed for some reliance on "real world evidence" in contrast to the current slow and rigorous clinical trials. One of the key parts of the CURES act was funneling 1.5 billion dollars over 10 years to look into Brain research. So with this in mind it inspired me to write compile a list of bio-technology stocks with catalyst in 2017 focused on mental health and illness.
1. Acadia Pharmaceuticals (NASDAQ:ACAD)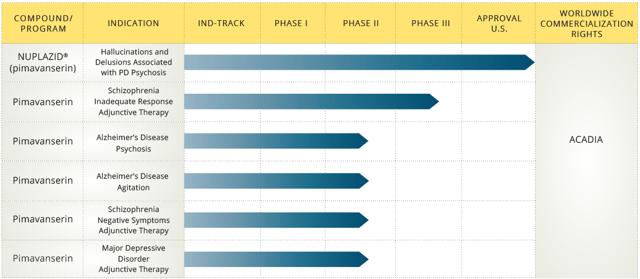 Acadia Pharmaceuticals' Nuplazid program is focused on those with Parkinson and Alzheimer. The drug has already been approved for Parkinson's psychosis, but is now awaiting Phase II results for before the end of 2016 for Alzheimer's psychosis. Parkinson's affect up to 1 million Americans per year compared to Alzheimer's with over 5 million Americans. The same program has also just began their study for Major Depressive Disorder which affects over 16 million Americans. Positive results of this study could mean substantial upside for Acadia.
2. CUR Neuralstem, Inc. (NYSEMKT:CUR)

This company is much smaller than the previous mentioned but is also expecting Phase II results on their Major Depression Disorder program in the second half of 2017. Investors should be cautious when looking at this name though due to some result that failed 2 key metrics lowering the chance of approval by the FDA. Last week it did receive strategic investment from Tianjin Pharmaceutical Group, however investors should do their due diligence before investing in this nano-cap.
3. Sage Pharmaceuticals (NASDAQ:SAGE)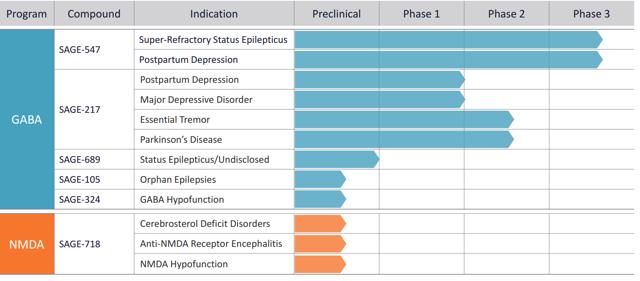 SAGE-547 and SAGE-217 are two programs that will have a significant amount of data to be released in 2017. Similar to ACAD, Sage is reporting Phase II in the first half of 2017 on their program around Major Depressive Disorder. Around the same time the program will also be releasing data about Super-Refractory Status Epilepticus (seizures) which effects about 127,000 Americans every year.
4. Aevi Genomic Medicine, Inc (NASDAQ:GNMX)(MDGN)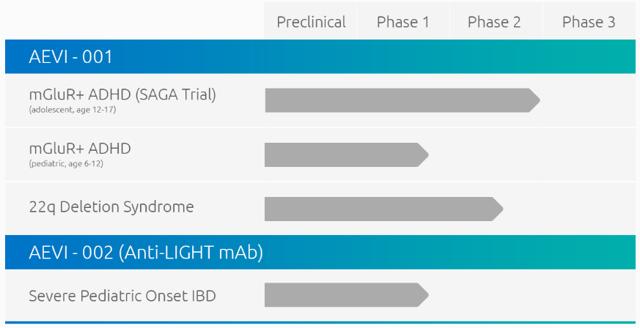 Aevi Genomic Medicine's program around AEVI-001 is also releasing results on their Attention deficit hyperactivity disorder (ADHD) therapy in Q1 2017. ADHD is a disorder that inhibits the ability for children to learn as they are not able to focus on school work. ADHD has been diagnosed amongst students at an alarming rate in the past few years due to the low thresholds of the diagnosis. It is forecasted that the pharmaceutical industry dealing with ADHD to hit 5.6B by 2024.
Conclusion
With the increasing number of mental health issues and the growing sizes of institutions required to provide for these individuals, this is a sector that will see tremendous growth opportunities. Also it was not too long ago that at a debate Trump wanted to extend the duration of treatments in smaller doses for mental illness, thus increasing the amount of volume.
Biotechnology investing is not for everyone, so we recommend buying these 4 companies as a "basket" to avoid having too much risk gambling on one FDA trial. Another good way to invest is the Alps medical breakthrough ETF (NYSEARCA:SBIO) as it invests in a basket of 80 different companies across the entire medical industry engaged with FDA trials in phase II and III.
Thanks for reading my article! What are your thoughts on mental health and the industry that supports it? If you would like real time updates regarding this, please hit the Follow button at the top. If you are interested in another article focused on the new year, please click the link below on my article that outlines 3 predictions for the stock market in 2017.
'Twas the night before the rate hike
Disclosure: I/we have no positions in any stocks mentioned, and no plans to initiate any positions within the next 72 hours. I wrote this article myself, and it expresses my own opinions. I am not receiving compensation for it (other than from Seeking Alpha). I have no business relationship with any company whose stock is mentioned in this article.
Editor's Note: This article covers one or more microcap stocks. Please be aware of the risks associated with these stocks.