Master Plans, electric vehicles, artificial intelligence, solar roofs, hyperloops, and space rockets that land on ships...is there anything Elon Musk won't attempt? Apparently not: it's time to add tunnel boring to the list.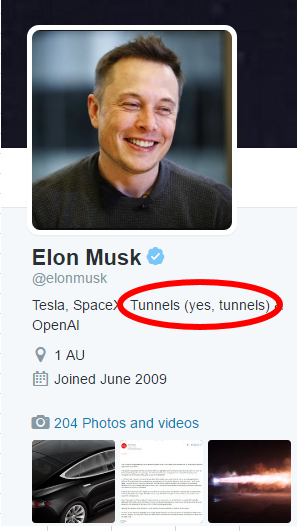 No, I'm not joking. Saturday morning Musk sent out a series of tweets describing his intent to create a tunnel boring company because "Traffic is driving me nuts." He then added the following to his Twitter bio: "Tunnels (yes, tunnels)."
There are only two explanations: either A) Musk is joking, or B) Musk is serious. Both scenarios should unsettle Tesla (NASDAQ:TSLA) investors and Musk supporters.
Take scenario A): it's a simple joke about a far-fetched idea brought about by one man's horrible traffic experience. Immediately I hear the complaints of the supporters of Musk ringing in my ears: "Surely you don't take everything Musk tweets seriously, do you? Why would you possibly believe something written on a social media website as truth?" I ask you the reverse question: did you believe any of Musk's other tweets, about product announcements, vehicle specifications, the economics of solar roofs, or Model 3 reservation numbers? For Musk, Twitter has been a vital medium to communicate the vision inherent in Tesla, Solar City (SCTY), and SpaceX to investors. I will leave the legal analysis of the use of Twitter for statements that may or may not be true to those better equipped to make such judgements (read: lawyers).
How about scenario B): Musk is serious, and is indeed going to found a tunnel boring company to change the future of automobile transportation by...putting it underground. This should terrorize investors. Musk's metaphorical plate is already full-to-brimming: the CEO of SpaceX, Tesla, and (by proxy) SolarCity already has plenty to keep his attention. SpaceX is blowing up rockets and delaying launches, Tesla is taking a whipping by GM (beating them to market by a solid year), and SolarCity is still the same money-burning furnace it was before being absorbed by Tesla. Is now really the best time to start a whole-new industrial escapade, one in which Musk has zero knowledge and previous experience?
Investors must recognize that this chronic lack of focus from their enigmatic CEO is detrimental to the company's prospects. Both short and long investors agree that the next few years are absolutely vital to the future of Tesla: either spectacular success in creating mass-market electric vehicles will justify Tesla's lofty valuation, or the company will fall behind the other major automakers and the equity will crash. SolarCity, of course, needs to tame its cash burn, else Tesla will repeatedly have to dilute shareholders through capital raises. The last thing Tesla investors need is another snipe hunt.
Disclosure: I am/we are short TSLA.
I wrote this article myself, and it expresses my own opinions. I am not receiving compensation for it (other than from Seeking Alpha). I have no business relationship with any company whose stock is mentioned in this article.