The drop in REIT valuations has made shares of Gramercy Property Trust, Inc. (NYSE:GPT) a lot cheaper lately. Thanks to the sell-off in the REIT sector, chiefly driven by fears over a quicker pace of interest rate hikes, Gramercy Property Trust looks like a good deal for income investors today. The REIT is in the process of repositioning its property portfolio which should support Gramercy's FFO growth. Further, Gramercy Property Trust just hiked its dividend by 14 percent.
Real Estate Investment Trusts have taken it to the chin in the last couple of months as investors rotated out of dividend-paying stocks, and moved into investments that have positive interest rate sensitivity, namely financials that are primed to profit from higher interest rates. On the other hand, REIT valuations have continued to drop, which I think is a good opportunity to gobble up some good companies on the cheap. Gramercy Property Trust is one such REIT.
Property Portfolio
Gramercy Property Trust invests in income-producing commercial real estate in the United States and Europe. Specifically, Gramercy Property Trust invests in and manages single-tenant, net-leased office and industrial properties. The REIT's main market is the U.S.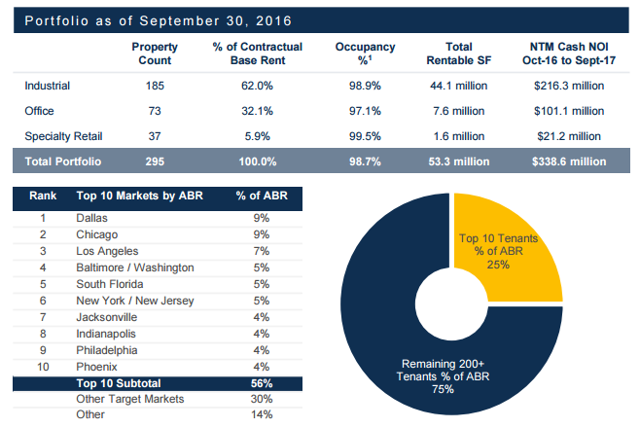 Source: Gramercy Property Trust
There are two things that deserve special attention when it comes to discussing Gramercy Property Trust's real estate portfolio.
1. The REIT's portfolio stats are great: Gramercy Property Trust's total portfolio occupancy rate as of the end of the September quarter was 98.7 percent. It doesn't get much better than this.
2. Gramercy Property Trust continues to double down on and grow the 'industrial' portfolio segment. The industrial property market is highly fragmented, offering acquisitive REITs like Gramercy significant potential for rental revenue, FFO and market share growth.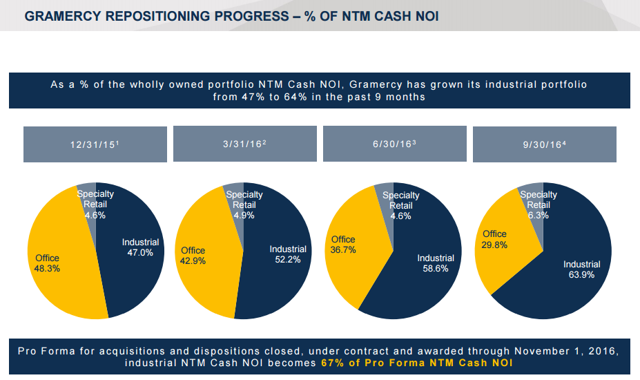 Source: Gramercy Property Trust
Robust Portfolio Stats And High Degree Of Diversification
Gramercy Property Trust's weighted average lease term is 7.9 years and the number of upcoming lease expirations is minimal.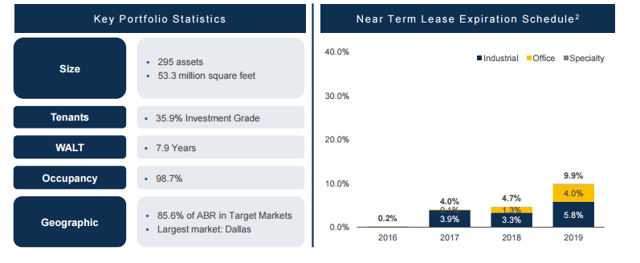 Source: Gramercy Property Trust
A high degree of tenant, industry, and market diversification reduces Gramercy Property Trust's cash flow risks.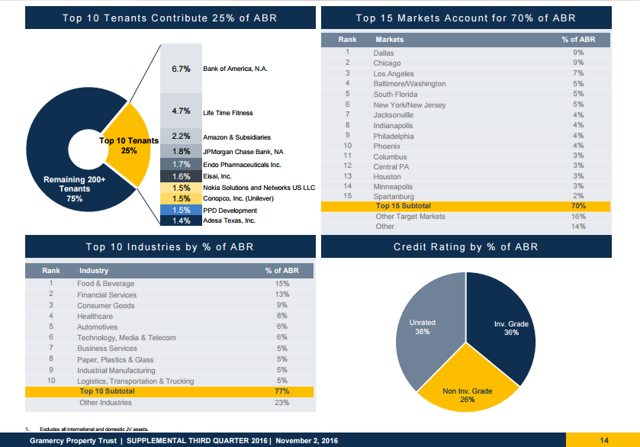 Source: Gramercy Property Trust
Growing A/FFO Per-Share
Gramercy Property Trust's core FFO and adjusted FFO on a per-share basis are growing, raising the expectations of a higher dividend in the future.
The REIT pulled in $0.16/share in adjusted FFO and $0.18/share in core FFO in the 3rd quarter, but Gramercy paid out only $0.11/share in dividends. Gramercy's high dividend coverage ratio is likely also the prime reason why the REIT declared a $0.125/share dividend for the 4th quarter, marking a ~14 percent increase over the 3rd quarter.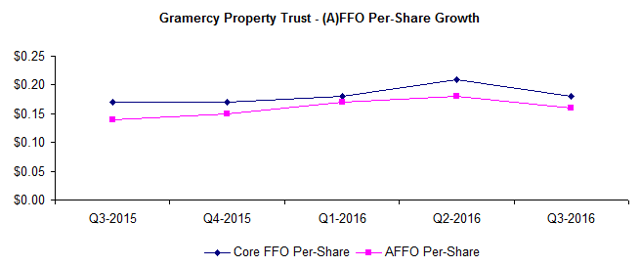 Source: Achilles Research
Gramercy Property Trust Is Not Yet Too Expensive
Thanks to the correction in REIT valuations, Gramercy Property Trust is affordable. Taking the commercial REIT's Q3-16 results as a basis for valuation, Gramercy's shares are changing hands for ~13.5x Q3-16 run-rate AFFO, and for ~12.0x Q3-16 run-rate core FFO. An investment in Gramercy Property Trust throws off a dividend of 5.79 percent which is handsomely covered by core FFO and AFFO.
Your Takeaway
Gramercy Property Trust looks good on the sell-off, and the REIT's shift towards industrial properties bodes well for FFO per-share and dividend growth. Gramercy Property Trust's portfolio stats are also more than robust, suggesting that the REIT's dividend is very safe. Lastly, Gramercy Property Trust deals investors a ~6 percent dividend yield while selling at defensible A/FFO multiples. Buy for income and capital appreciation.
If you like to read more of my articles, and like to be kept up to date with the companies I cover, I kindly ask you that you scroll to the top of this page and click 'follow'. I am largely investing in dividend paying stocks, but also venture out occasionally and cover special situations that offer appealing reward-to-risk ratios and have potential for significant capital appreciation. Above all, my immediate investment goal is to achieve financial independence.
Disclosure: I/we have no positions in any stocks mentioned, and no plans to initiate any positions within the next 72 hours. I wrote this article myself, and it expresses my own opinions. I am not receiving compensation for it (other than from Seeking Alpha). I have no business relationship with any company whose stock is mentioned in this article.