Nike, Inc. (NYSE:NKE) has not participated in the rally in the markets throughout 2016. The S&P 500, via the SPY ETF, has generated >10% appreciation YTD while Nike has declined nearly 19% YTD.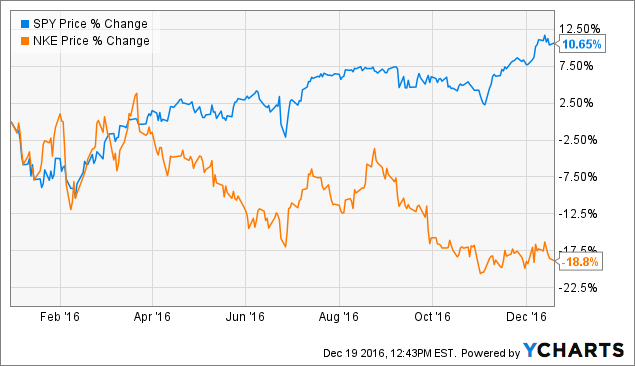 That kind of underperformance might be a cause for concern for some investors. However, it requires a closer inspection of the cause to see if there's really something going on or if it's an opportunity for prudent investors. As we'll see later, the disappointing returns from Nike in 2016 is largely due to the excessive valuation towards the end of 2015 and a healthy pullback to reasonable levels.
Nike's business model is fairly straight-forward in which they design and produce athletic apparel. Their moat style is primarily their brand strength where they've ingrained with consumers the idea that their products have better performance and are higher quality. That could be up for debate; however, there's no doubt that the same item with the Nike Swoosh will command a higher price than without.
I like brand moat styles since they create a relationship with the consumer and keeps them coming back for more. However, the brand must continually be reinforced via advertising and in Nike's case, by sponsoring well-known, and liked, athletes. The business model in and of itself doesn't necessarily have an intrinsic moat that protects the company, rather it relies on the brand to keep competitors at bay.
Dividend History
One of my quick screens to identify quality companies is to look at their dividend history. Companies don't accidentally find themselves in the midst of a lengthy dividend growth streak. Rather it takes a strong company with a solid business model and a willing management. That doesn't mean that the future will be the same as the past. However, sticking with companies that have a proven track record will lead you towards quality companies.
Nike has paid and increased dividends every year since 2002. That's a 14-year streak and gives them the title of Dividend Contender. While the dividend growth streak is a bit shorter than I'd like, it's important to note that Nike has paid the same or higher dividends every year since initiating a dividend in 1984.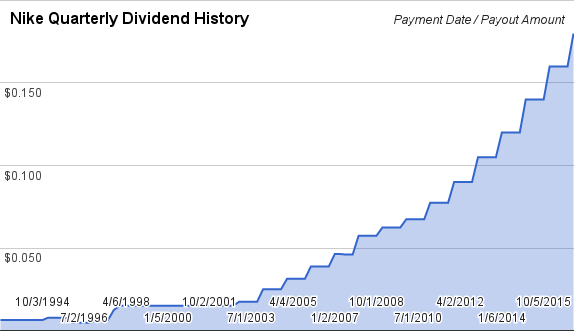 *Image Source: Author/Data Source: Nike, Inc. SEC filings
**An interactive version of this chart can be found here.
***An interactive chart showing the 1-, 3-, 5- and 10-year dividend growth rates can be found here.
Annual dividend growth has routinely been well above the 10% level. In fact, since 2003, the only 2 years without dividend growth rates above 10% were 2009 and 2010. Considering what was going on with the global economy at the time, I consider 8% raises through that period to still be solid.
Quantitative Quality
Nike's dividend growth history shows that it's likely a high-quality company. However, we can't rely on just one metric. Identifying quality companies is a very subjective although very important step in the investment process. My own preference is to examine companies through their cash flow to ascertain the strength of the company.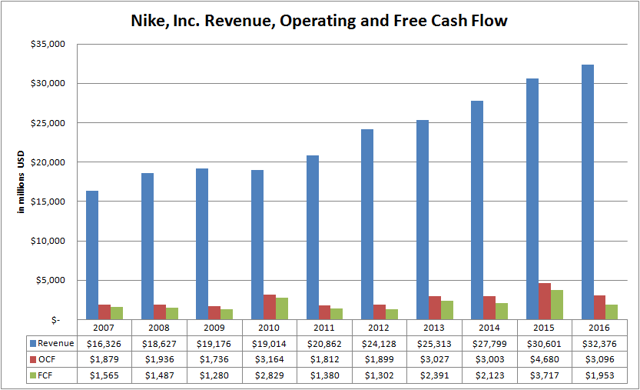 Revenue has seen a huge uptick from FY 2007 to FY 2016 very nearly doubling over that time. That's a solid 7.9% growth in revenues over that period. Due to the scale, it's a bit difficult to see how operating and free cash flow compares to revenue growth.
Cash flow from operations has closely tracked revenue growth growing at a 5.7% annualized rate over the same time period. However, free cash flow has severely lagged behind with just 2.5% annual growth. That's the difference between a near doubling in revenue compared to just a 25% increase in free cash flow.
One thing to note is that the slower free cash flow growth isn't necessarily a bad thing if it means the company is investing more capital in order to grow the business which appears to be the case as capital expenditures have increase $800 M between 2007 and 2016. If 2016's capital expenditures remained at 2007's levels, the annual growth rate would jump to 6.6%.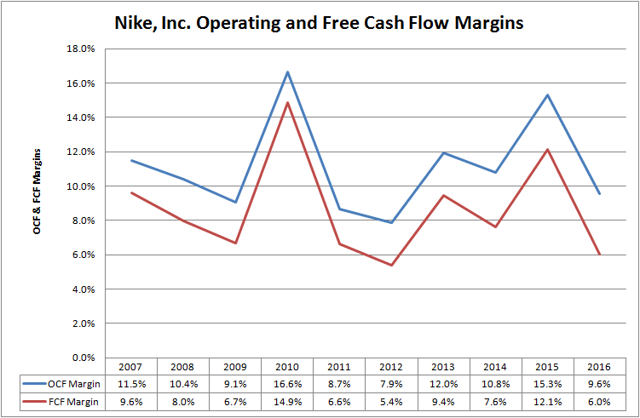 *Image Source: Author/Data Source: Nike, Inc. SEC filings
Nike's cash flow margins are solid although they've fluctuated much more than I would expect. Operating cash flow margins have ranged from 7.9% to 16.6% while free cash flow margins have ranged from 5.4% to 14.9%. That's a significant variance in both margins although neither margins' low point is concerning.
The cash flow margins represent the cash flow generation in comparison to the revenue that Nike brought in and gives an idea of the efficiency that cash moves through a company. Another version of that is to examine the free cash flow generated per dollar of equity and total capital invested in the business.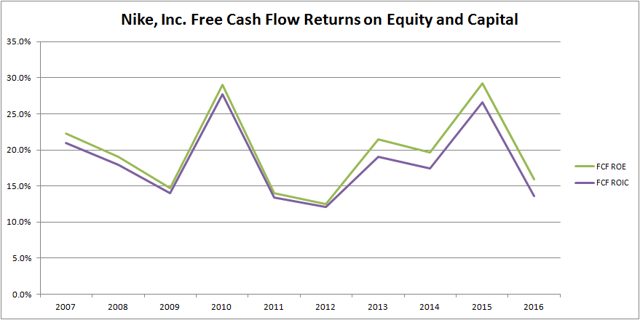 *Image Source: Author/Data Source: Nike, Inc. SEC filings
Compared to the equity and invested capital, Nike's free cash flow generation is very strong coming in well above 10% and routinely above 20%.
One thing to note is that the ROE is just slightly higher than ROIC meaning that Nike's capital structure is very light on debt, which I like to see. Debt levels have increased over the last 5 years although total debt still only accounts for 15% of the total invested capital.
Free cash flow is excess cash that companies generate above and beyond the required capital expenses needed to maintain and grow the business. This cash can be used for dividends, share buybacks, to reduce debt or to just stockpile cash while awaiting other business/investment opportunities. In order to understand how Nike uses their excess free cash flow, I like to examine 3 variations of free cash flow.
Free Cash Flow (FCF) - The traditional calculation of free cash flow of operating cash flow less capital expenditures.
Free Cash Flow after Dividend (FCFaD - FCF) less total cash spent on dividends.
Free Cash Flow after Dividend and Buybacks (FCFaDB - FCFaD) less net cash used on share buybacks.
High-quality companies generate high levels of free cash flow and remain free cash flow positive across all 3 variations shown here signifying excess cash flow to buffer their balance sheet or further grow dividends and share buybacks in the future.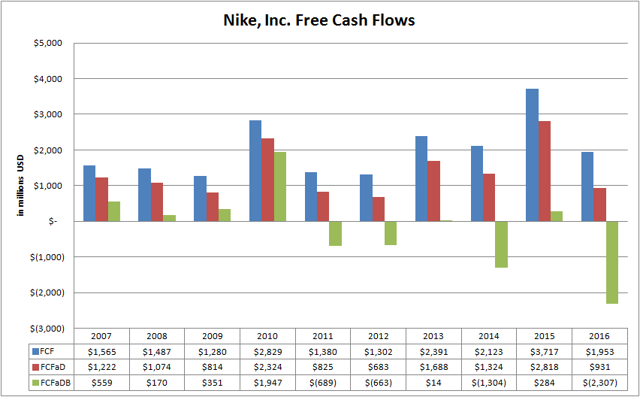 *Image Source: Author/Data Source: Nike, Inc. SEC filings
As we saw earlier, Nike's free cash flow suffered a bit over the last year, primarily due to foreign exchange issues, yet it remains positive, which gives management the opportunity to move down the capital allocation chain.
FCFaD has remained strong over that time as well. That's given management the ability to continue to grow the dividend payment as fast at a double-digit rate year after year while still maintaining excess cash flow coverage. From 2007 through 2016, the free cash flow payout ratio averaged 33.5% although it was 52% for 2016 due to the decline in free cash flow due to rising capital expenditures and lower Operating Cash Flow due to Foreign Exchange issues.
From 2007 through 2016, Nike's management has reduced the share count by 14%. Management has been fairly prudent with their share buybacks with a cumulative FCFaDB of $164 M deficit over that time period. However, over the last 5 years management has ramped up the share buybacks running a $795 M deficit compared to their FCFaDB.
Is the valuation right?
Unfortunately, identifying a high-quality company is only part of the battle; the valuation has to make sense in order for a quality company to be a successful investment.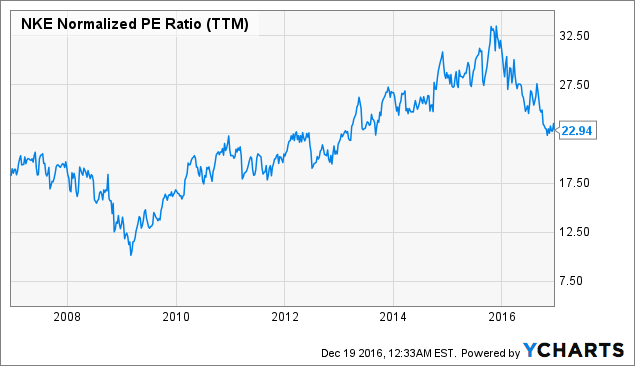 NKE Normalized PE Ratio (TTM) data by YCharts
The P/E ratio that investors have been willing to pay per dollar of Nike's earnings has been steadily on the rise over the last decade with extremes to both ends being present. Nike, like many companies, was offering a great value during 2009 with a P/E ratio in the area of 11. For a company that had the likelihood of growing at a double-digit rate that's fantastic. Of course, it took lots of courage and conviction to buy shares of any company during that time.
By the end of 2015, we were at the other end of the extreme with the TTM P/E ratio peaking at over 32x. At best that was on the high end of a reasonable valuation range considering Nike's growth prospects and likely had pushed into overvalued territory. The overvaluation at the end of 2015 explains much of the reason that Nike has lagged the S&P 500 so badly this year. The valuation had gotten too far ahead of the business prospects and needed to be burned off via a declining share price.
One method I like to use to determine valuation is to estimate future earnings and dividends and look at varying future P/E multiples. I then calculate the internal rate of return and if the expected return is adequate then it would suggest shares could be a value. Obviously, this analysis is no sure thing since we're dealing with the future although if reasonable, but conservative, estimates for Nike's growth potential are used we should arrive at a reasonable expected return range.
On average, analysts expect Nike to earn $2.35 per share in FY 2017, $2.65 for FY 2018 and to grow at an overall rate of 11.9% per year for the next 5 years. For the subsequent 5 years, I've assumed that earnings will grow at 5.0% per year.
For fiscal year 2017, Nike should pay $0.68 to shareholders via dividends putting the payout ratio at 29%. I've assumed Nike will maintain that payout ratio into the future while paying and raising dividends at the same intervals as they have historically. Likely the payout ratio will grow over time; however, this gives a more conservative estimate of the dividend growth and return.
The following table shows the price targets assuming a purchase on December 19th with varying P/E multiples and a 10% minimum acceptable rate of return. Returns include dividend payments and growth.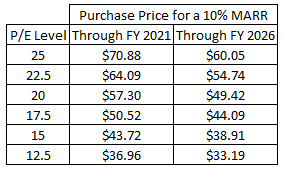 *Image Source: Author
So how do you use the chart? The price targets listed are the price levels, assuming the earnings and dividend growth play out as assumed, that you could currently pay to generate at least a 10% internal rate of return. If 5 years from now at the end of FY 2021, investors are willing to pay 15x for Nike's shares, then the maximum that you could pay today and generate a 10% IRR would be $43.72.
For some, that might be too conservative of an assumed P/E ratio, and for others, it might be too aggressive which is why I provide a range of future P/Es to act as a guide to the price target changes that correspond to a changing future P/E multiple.
At the current price near $50.50, investors would be able to earn 10% internal rate of returns at a P/E ratio 5 years from now in the area of 17.5x. Looking out 10 years, buyers at the current price would require Nike's shares to be valued at approximately 21x earnings. That's not unreasonable, although it's right around the maximum that I'd be willing to pay for Nike's shares.
Since all investors are at different stages and have different needs, it's important to look at things from a different perspective. I've re-run the price target calculations with a 12% minimum acceptable rate of return.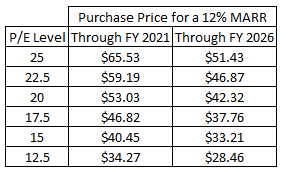 *Image Source: Author
You'll notice that for each scenario, the 12% MARR has a lower price target. If investors need a higher rate of return that means that for the same growth assumptions, they must require a lower purchase price.
The price targets for 5 years out are approximately 7.5% lower for a 12% MARR compared to the 10% MARR. Likewise, the price targets for returns 10 years out are about 14.3% lower due to the 5-year lower growth period.
Conclusion
Nike is a high quality company. However, operating in the consumer discretionary space they are exposed to the fluctuations in the economy and consumer.
Many dividend growth investors might shy away from Nike due to the low current yield. However, many of the great dividend growers that we all know and love were in a similar situation to Nike earlier in their history.
Nike will be releasing their 1Q FY 2017 earnings report on December 20th after the market and I would expect another solid quarter with significant growth. However, currency exchange is likely to be a big drag on the reported numbers as the US dollar has continued to strengthen which hurts international sales for US-based companies.
Potential investors in Nike should be happy with the current share price at just over $50 since it is at an appealing valuation that would allow investors to participate in most of the growth of the business throughout the years. Although for my own tastes, I would like to have a bit of a margin of safety by purchasing shares at a sub-$48 level. However, with an earnings release coming up shortly, investors should be prepared to scoop up shares of this wonderful company in the event that Nike's share price sells off further.
Disclosure: I am/we are long NKE.
I wrote this article myself, and it expresses my own opinions. I am not receiving compensation for it (other than from Seeking Alpha). I have no business relationship with any company whose stock is mentioned in this article.
Additional disclosure: I am not a financial professional. Please consult an investment advisor and do your own due diligence prior to investing. Investing involves risks. All thoughts/ideas presented in this article are the opinions of the author and should not be taken as investment advice. I also currently have open $48.50 and $50 strike put options on Nike, Inc.