Since the November 8, 2016 Presidential election, gold prices have skidded by more than 10% and are down even more from their 2016 peak. The chart of the SPDR Gold Shares ETF (NYSEARCA:GLD) has marched steadily lower against the backdrop of a strengthening dollar and nearly daily highs across each of the major equity indexes. While much of this seems to be driven by the pro-business stance espoused by President-Elect Trump, the market seems to be misunderstanding the lasting effects of these changes. Higher interest rates, which are nearly a foregone conclusion at this point, and more inflation should be bullish for gold and cause the equity markets to contract. What this means for gold investors is that while they have suffered of late, ultimately gold should be rewarded.
An Economic Drag
What the markets seems to be overlooking is that as rates rise there will be a drag on sectors of the economy that have recently performed well. For example, the housing market and the market for auto loans are likely to take a meaningful hit as rates begin to creep higher. Perhaps more subtly, if the economic expansion that the market seems to be predicting comes to pass, coupled with the inflationary pressures expected, the real value of equity investments will necessarily decrease. This could finally be the catalyst needed for a meaningful correction in the stock market. A meaningful equity correction and rising inflation should be bullish for gold.
The December 14, 2016 remarks by Federal Reserve Chair Janet Yellen indicate that the central bank considers the economy to be on improving footing and now expects three, rather than two, rate hikes in 2017. While Yellen claimed not to be offering advice she said: "I would say at this point that fiscal policy is not obviously needed to provide stimulus to help us get back to full employment." In any case, fiscal or monetary policy is likely to spur the type of inflationary pressure that will be bullish for gold.
What to own?
Looking at the performance of GLD since the election relative to the VanEck Vectors Gold Miners ETF (NYSEARCA:GDX), the miners have fallen by twice as much since the election. The GLD is down about 10% relative to a 20% decline for the GDX over the same period (as of this writing). This behavior is somewhat surprising given the overall strength of the equity markets. Individual miners have gone largely the way of the GDX, but I remain convinced that picking specific stocks is the best approach in a market in which gold exposure is both desirable and appears risky.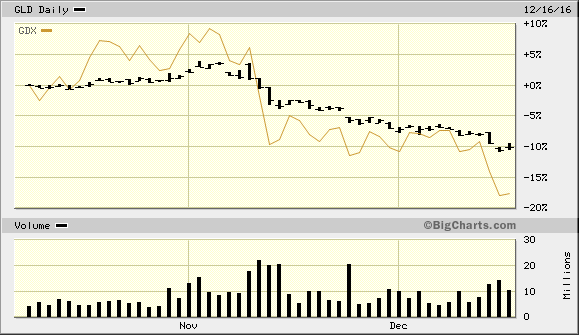 At the end of November, I recommended Seabridge Gold (NYSEMKT:SA) and I stand by that call on a long-term basis: "One of the things that makes Seabridge such an attractive gold investment is a metric that is often overlooked by gold investors, namely the ratio between the number of shares of stock outstanding to the number of ounces of gold that back up those shares." The company's self-proclaimed goal of creating "underground ETF" remains a sound concept and one that should pay dividends over the longer-term. The stock's recent decline offers an attractive entry point and I appreciate how willing management is to make itself available to investors from all levels.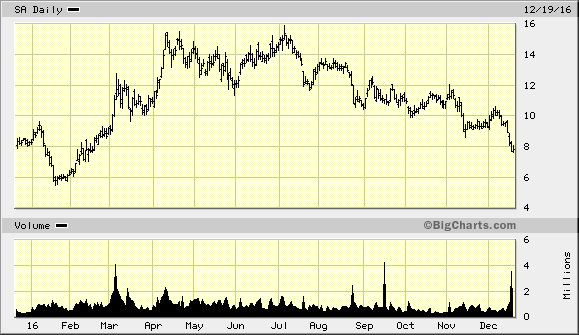 Investors who would like more information on the company are invited to participate in a town-hall style conference call directly with the company on December 20, 2016 at 4:05 p.m. EST. To participate, simply contact Campbell McCrary at 212-207-9249 or campbell@om-partners.com to register.
Disclosure: I/we have no positions in any stocks mentioned, and no plans to initiate any positions within the next 72 hours. I wrote this article myself, and it expresses my own opinions. I am not receiving compensation for it (other than from Seeking Alpha). I have no business relationship with any company whose stock is mentioned in this article.