Overview
Nike (NYSE:NKE) has easily been the worst performing stock in the Dow this year. The stock has seen a year to date decline in value of 18.64%. The only other stock in the Dow to see a decline in value this year was Coca-Cola (NYSE:KO) with a 3.00% decline in value during the same time.
In this article, I will be reviewing Nike to determine if it is a stock worth looking at as a long term buy or if the stock should be avoided by long term investors at its current price of $50.85.
Historical Performance
This year's performance by Nike is a sharp contrast to the company's performance in 2015 when the stock saw an increase in value of 31.54%. In 2014, Nike's value increased by 22.89%. 2013 was a stellar year for the company as it saw its value increase by an impressive 51.70%. You have to go back to 2008, to see another year in which Nike saw a year decline in value. The stock decreased by 19.4% that year. Over the past 10 years, Nike's stock price has increased by 323.2%.
Current Financial Stability
In terms of ROA, Nike performs well against several of its competitors including adidas (OTCQX:ADDYY), Under Armour (NYSE:UA), Skechers USA (NYSE:SKX), and Li Ning (OTCPK:LNNGY).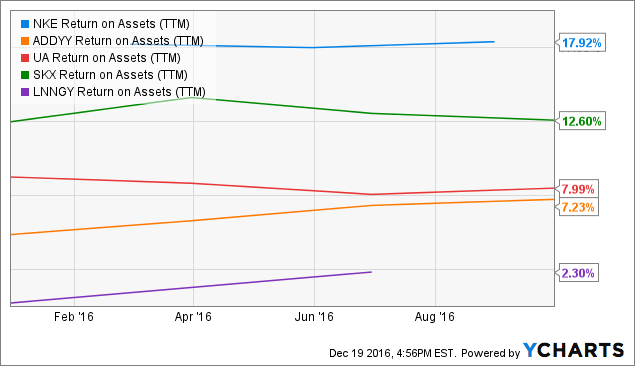 NKE Return on Assets (NYSE:TTM) data by YCharts
The same is true in terms of ROE and ROIC. Nike outperforms its competitors by a significant margin in these metrics.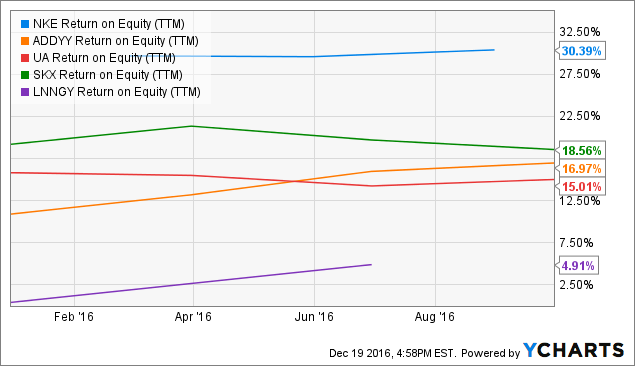 NKE Return on Equity (TTM) data by YCharts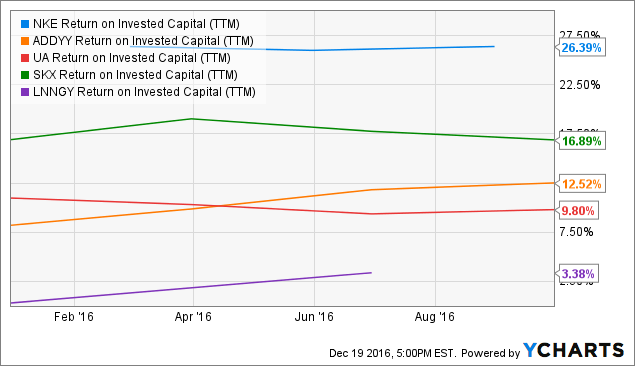 NKE Return on Invested Capital (TTM) data by YCharts
While Nike's returns remain impressive, the company's growth in terms of revenue and earnings have been less than stellar.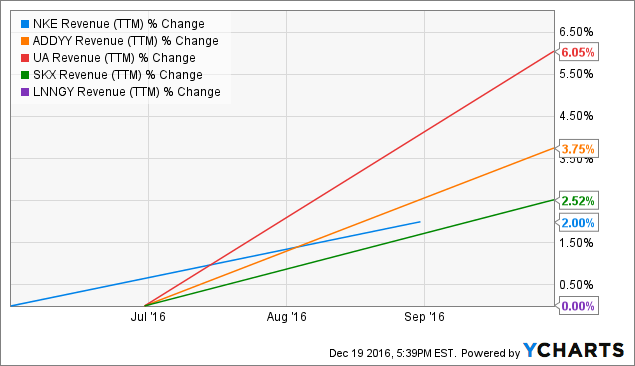 NKE Revenue (TTM) data by YCharts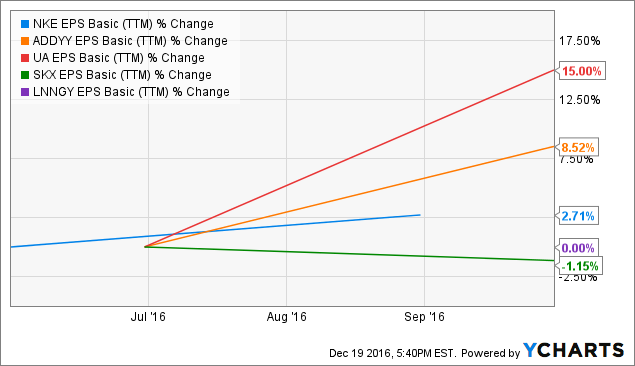 NKE EPS Basic (TTM) data by YCharts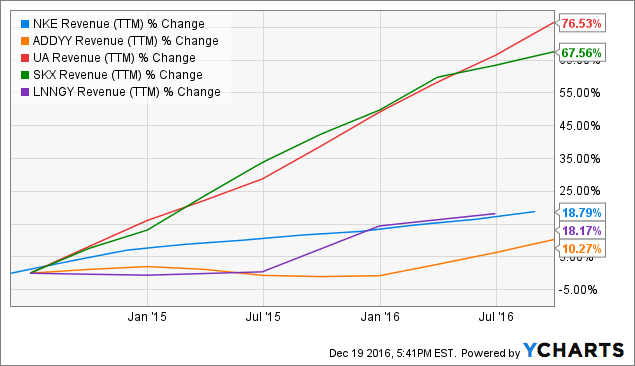 NKE Revenue (TTM) data by YCharts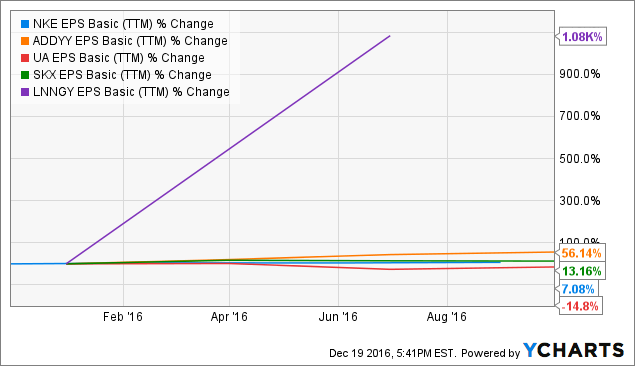 NKE EPS Basic (TTM) data by YCharts
Current Valuation
Nike's current price appears attractive when looking at its trailing PE ratio compared to many of its competitors.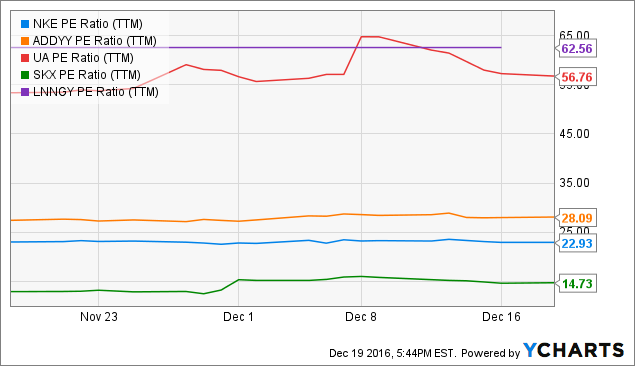 NKE PE Ratio (TTM) data by YCharts
The company's PEG ratio appears fairly priced at the moment with a value of 1.89x; however, its price to book value does appear to be somewhat high.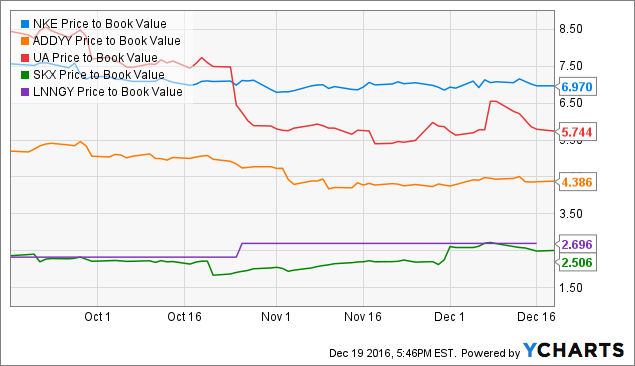 NKE Price to Book Value data by YCharts
Conclusion
Nike definitely had a rough year in 2016 as it saw a drop of almost 20% in its stock price; however, I believe it remains a decent long term investment option. Over the past five years, the stock has seen an increase of over 117% while increasing its dividend by 100% during that same time period. With a low payout ratio of 27%, there doesn't appear to be any reason to assume that the growing dividend is in any danger of disappearing.
However, Nike still faces several challenges. It currently maintains bloated inventory, shrinking margins, and increased competition. That's not a good mix to have and has led to the company discounting several of its products across key retailers. I think the poor performance of the stock this year has made it a more interesting stock to follow, but I still would not recommend purchasing at this price especially since any negative news from its earnings report tomorrow after the close will likely send the stock even lower.
If the stock does go lower and hits $45-$47, I think the stock would become a viable long term investment option. While the struggles listed above are serious, Nike has a strong history of overcoming similar issues in the past. I have more faith in the long term success of Nike compared to any of the competitors listed above. I just don't believe now is the best time to be looking to add the stock to one's portfolio. As always, I suggest individual investors perform their own research before making any investment decisions.
Disclosure: I/we have no positions in any stocks mentioned, and no plans to initiate any positions within the next 72 hours. I wrote this article myself, and it expresses my own opinions. I am not receiving compensation for it (other than from Seeking Alpha). I have no business relationship with any company whose stock is mentioned in this article.
Editor's Note: This article discusses one or more securities that do not trade on a major U.S. exchange. Please be aware of the risks associated with these stocks.