They're everywhere!
This is what a customer, with just-purchased latte in hand, might think while walking out of a Starbucks (NASDAQ: SBUX) only to spot another Starbucks just seconds down the road. In major US Cities, this is not an impossibility. It is likewise feasible that drivers traveling on busy roads in densely populated suburbs can begin singing along to "Santa Claus is Coming to Town" after passing one Starbucks and arrive at a different Starbucks by the time Santa finishes allocating children to his naughty and nice lists.
The numbers support these anecdotes: Starbucks had a total of 15,607 stores in operation in its Americas business as of October 2, 2016. With such strong market penetration already achieved, and with an iconic brand as ubiquitous in America as McDonald's, investors may be skeptical of the company's ability to continue growth into the future. These reservations about the company's growth prospects may turn investors away from the company's seemingly high earnings multiple of 30.41. However, this conclusion does not follow from an analysis of the company's ability to earn more share of a consumer's wallet, successfully open more stores, and add unique store concepts.
In July 2015 -- shortly before Chipotle's prolific fall -- I analyzed the company's changes in comparable same store sales and the rate at which they were opening new stores, showing a slowdown was inconsistent with unchanged valuation metrics. Applying a variation of this analysis to Starbucks leads to a much different conclusion. Depicted in the graph below is a robust, consistent pattern of growth in ticket change and store count growth: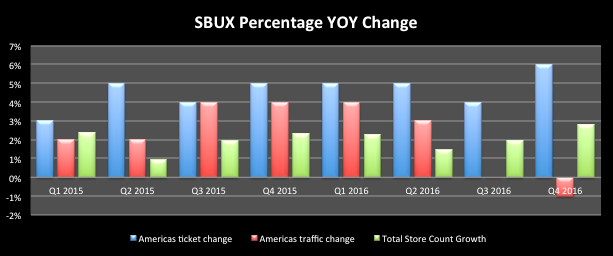 Data Source: Company Filings
The rate at which Starbucks is opening new stores is increasing (store count increased 2.83% quarter-over-quarter, the greatest percentage increase over the past two years) and average ticket size increases in the Americas of 6% set a record for the two-year period. One potential cause for concern is stagnating traffic in the Americas during Q3 2016 and falling traffic in Q4 2016, a decline that tastes as sweet to Starbucks bears as a fruitcake frappuccino.
Bears have no reason to salivate, however. For one, this slowdown was outweighed by unprecedented store count growth rates and ticket changes. More importantly, this slowdown is not likely to continue as the company's new store concepts (analyzed here) serve as destinations that can drive traffic amid slowing US mall traffic. Starbucks's digital strategy can further increase store traffic as proliferating Mobile Order and Pay utilization leads to operational improvements.
The company is forecasting Mobile Order and Pay to compose nearly 8% of total transactions next year, up from 6% in 2016. Chief Strategy Officer Matt Ryan's presentation at Investor Day showed that stores with high adoption of this technology increased peak time transactions by over 20 due to operational improvements. Continuing to expand this technology will grow company-wide capacities at peak-time and decrease wait times, reflexively encouraging more customers to stop in.
Depicted below is the evolution in the Rewards program customization strategy premiered by Ryan at Investor Day, a tool that can engender increased ticket sizes. With a wealth of data available on individual customers, Starbucks can move forward with micro-segmenting each customer. Completely personalizing sales suggestions and better matching promotions to individual customers will allow Starbucks to grow their share of each customer's wallet by incentivizing more visits and incremental order additions.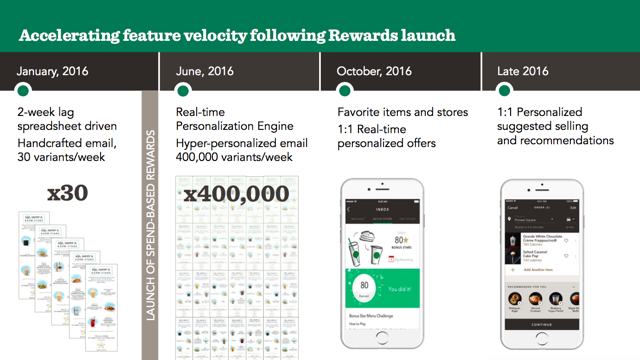 Source: Matt Ryan's Slides at the Investor Conference
Taking a close look at the display on the phone in the above slide reveals that the company is embracing an approach to order attachments that will drive average ticket size even higher. This is currently the principal flaw of the company's Mobile Order system, as these orders currently get 23% less attach than the average transaction. This occurs because consumers are not presented with in-store food displays when ordering from their phone, leading to fewer sales of cake pops, pastries, and other impulse purchase items.
Though consumers not adding a cake pop to an order may seem inconsequential to shareholders, when aggregated with all Mobile Orders the differential in attachments leads to lower overall ticket sizes. Solving this issue by creating customized recommendations at the point-of-order can lead to ticket sizes for Mobile Orders that better match company-wide ticket sizes. It can even serve as a source of ticket size growth over the long-term as Starbucks figures out how to incorporate order add-ons into the context of its overarching rewards program. This is the winning strategy that helped Domino's Pizza, a leader in mobile ordering, grow domestic same store sales 13% last quarter.
Average ticket size will receive further aid as Starbucks continues to expand its food business. This trend is already unfolding: Last quarter breakfast sandwich sales increased 17% year over year and 60% over the last two years. Overall, food contributed a full percentage point to comparable same store sales last quarter.
Starbucks also has a tremendous opportunity to bring consumers in during new times of the day by reinvigorating the lunch menu. In the Q4 Earnings Call soon-to-be CEO Kevin Johnson highlighted this opportunity, saying "Lunch remains a significant opportunity as we amplify the strength of our Bistro Box platform through the Power Lunch offering. While we've made great progress around food in the lunch day-part, we believe there is a significant opportunity ahead." This opportunity comes as lunch remains an unpopular time to drink coffee, leaving stores with short lines and under-utilized staff. Coupling this opportunity with those mentioned previously makes Johnson's goal of achieving mid-single digit comp growth throughout the next five years very attainable.
The recent uptick in the rate of store openings is set to be outmatched by the company's larger ambitions. At Investor Day, Starbucks reiterated that China is only in the early stages of growth and set a goal of opening 12,000 total new stores globally over the next five years, showing saturation is far from reached. Growth is set to continue with Schultz working on new high-end store concepts (that I estimated could increase Americas revenues by 20%), Ryan tinkering with Mobile Order and Pay to unlock greater share of customer, and Johnson taking the lead on various other initiatives.
There are still those who concede the merits of Starbucks's plans, but are scared off by an earnings ratio that is well ahead of the overall market's multiple. Sure, the valuation is high relative to the overall market, but analyzing the company's valuation metrics compared to historical averages shows the company is undervalued. The graph below compares the company's current premium to S&P 500 valuations versus the premium averaged over the past eight years. On all three metrics -- Price/Earnings (which excludes 2013, an extreme outlier), Price/Cash Flow (which excludes 2014 for the same reason), and Price/Sales -- Starbucks is trading at a cheaper premium than its historical averages.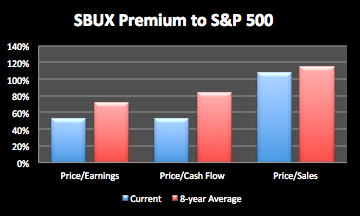 Data Source: Morningstar
With the above analysis demonstrating that Starbucks can continue its comparable same store growth trends well into the future and store count set to increase by 12,000 over the next five years, it follows that Starbucks valuation should match recent historical averages. Matching historical premiums to current valuations of the S&P 500 yields a P/E ratio of 34.27, a Price/Cash Flow ratio of 22.5, and a Price/Sales ratio of 4.08. Multiplying these ratios by Earnings, Cash Flow, and Revenue and averaging the three results yields a share price of 64.46, 12% higher than Monday's shares' closing price.

Depending on your valuation metric of choice, shares are undervalued anywhere from 2% to 17%, upending the conventional wisdom that shares are fairly valued and providing comfort to those worried that shares of Starbucks may be overpriced. Starbucks is offering consistent growth to investors that is backed by strong fundamentals, a superb leadership team, and what is clearly a fair share price. The company is set to be on investors' nice lists for years to come.
Disclosure: I/we have no positions in any stocks mentioned, but may initiate a long position in SBUX over the next 72 hours. I wrote this article myself, and it expresses my own opinions. I am not receiving compensation for it (other than from Seeking Alpha). I have no business relationship with any company whose stock is mentioned in this article.
Additional disclosure: I worked as a barista at a licensed Starbucks store.