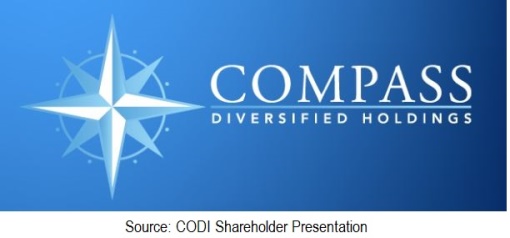 This article is a detailed analysis of Compass Diversified Holdings LLC. (NYSE:CODI); a partnership listed on the NYSE. CODI buys, owns and manages a group of subsidiaries which management calls niche market leaders in attractive industries. It acquires controlling interests in order to build the subsidiaries for the long term with the flexibility to divest them when the price is right. CODI is like a miniature Berkshire Hathaway buying smaller scale companies with a difference: it offers a good dividend instead of capital gains.
It purchases controlling interests in North American companies with the following characteristics:
Enterprise values between $65 and $500 million;
Positive and stable operating cash flows of at least $10 million per year;
Leadership position in niche industrial and branded consumer industries
Strong management teams either currently in place or readily accessible.
CODI provides both growth and income from the cash flows of its various subsidiaries which is commandeered by a disciplined team. CODI has outperformed the public markets ever since its IPO. Just check the 10 year comparisons below: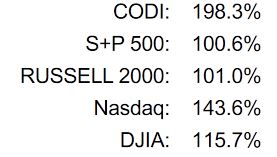 Source: CODI Shareholder Presentation
CODI has distributed $14.28 per share to shareholders over the past 10 years and never reduced the quarterly distribution over that time. Management maintains that people confuse the company with BDCs; an erroneous comparison that lowers the company's market price.
The company provides transparent reporting on each of its subsidiaries allowing investors to track the advances and declines of each subsidiary. It has 4 industrial subsidiaries that represent 52% of revenues and 4 branded consumer subsidiaries that represent the remaining 48% of revenues.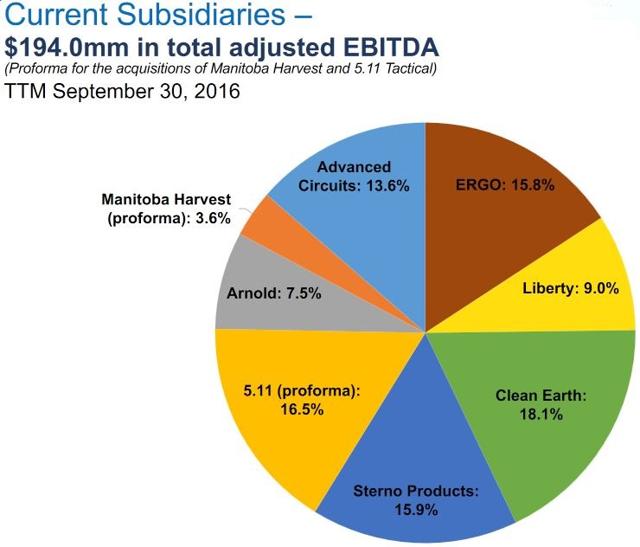 Source: CODI Shareholder Presentation
Each of the CODI's subsidiaries are listed below starting with ERGO.
ERGO: Builder of Baby Carriers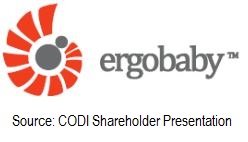 ERGO designs and manufactures soft structured baby carriers and other complementary juvenile products. It was purchased in 2010 for $85 million and CODI purchased $90 million add-on acquisitions. Growth in sales and profits of this firm are shown below.

Source: CODI Shareholder Presentation
This is one case where CODI's expertise and add-ons have grown ergobaby's sales and profits significantly. You can visit ERGO's web site here.
Liberty: Builder of Gun and Home Safes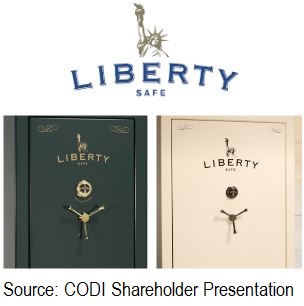 Liberty is a market leading builder of home and gun safes in the US. CODI purchased this well-known brand in 2010 for $70 million and added a $1 million bolt-on to the company. Latest figures for this business are shown below.

Source: CODI Shareholder Presentation
These figures show a large erosion of sales from 2013 to 2014 but the business has begun to pick up again from the low 2014 base.
Manitoba Harvest: Food Supplements made with Hemp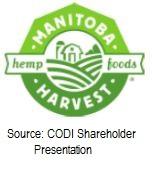 Manitoba Harvest was purchased in 2015 for $132 million Canadian and a $42 million acquisition was added. This firm produces and sells hemp-based foods which are rich in protein and omegas. Sales and adjusted EBITA for 2 years are displayed below.

Source: CODI Shareholder Presentation
It remains to be seen what CODI will do with this firm, but sales are growing at a great rate and this business looks promising.
5.11: Manufacturer of Tactical Apparel & Gear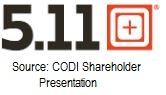 5.11 was purchased in August 2016 for $400 million. It is a designer and manufacturer of purpose-built tactical apparel and gear. You can view the firm's web site here. CODI is working with management to enhance product distribution globally and to upgrade online and retail channels of distribution. Two years of sales are shown below.

Source: CODI Shareholder Presentation
This is another new purchase that looks promising and appears to be a good cash cow.
Advanced Circuits: Specialized PCB producer

Advanced Circuit was purchased in 2006 for $81 million and CODI purchased $21 million of bolt-on additions later. This company produces quick-turn and prototype circuit boards. It is the largest quick turn PCB producer in the US. The financials for the last few years are displayed below.

Source: CODI Shareholder Presentation
While there is no growth at Advanced Circuits, it provides nice cash flows. The election of Trump may work in its favor since its largest competitors are from Asia. Reduced foreign competition could ramp up sales and profits if Trump implements his USA first economic policy.
Arnold Magnetic Technologies: Engineered Magnetic Products

Arnold Magnetic Technologies makes engineered permanent magnet and magnetic assemblies. It was purchased for $129 million in 2012. Arnold designs, produces and sells globally to serve many blue chip customers. The financials are displayed below.

Source: CODI Shareholder Presentation
There appears to be problems at this firm. Sales and cash flows from business are declining. This firm may become a drag on the partnership unless something is done to stem the loss of sales and profits.
Cleanearth: Environmental Disposal Company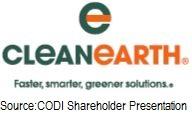 Cleanearth was procured is 2014 for $253 million and $29 million of add-on acquisitions were attached later. Cleanearth provides environmental services for a variety of contaminated materials which can be viewed here. The firm has a significant number of regulatory permits, processing knowledge and equipment that accord it a hard to duplicate niche. CODI and company management are continuing to pursue further acquisitions to broaden Cleanearth's reach. The financials are shown below.

Source: CODI Shareholder Presentation
While Cleanearth's sales have been growing, cash flows do not appear to be keeping pace this year. This is another company that could be impacted by Trump's victory. His environmental policies may have significant consequences for this company's business.
Sterno Products: Producer of Fuel Cans & Campsite Products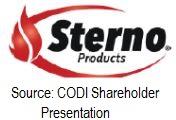 Sterno Products are well-known for its fuel cans used for chafing dishes and campsite products. The company's family of products and instructions for use can be found here. This very strong brand with over 100 years of history was purchased in 2014 for $160 million with $37 million of bolt-on firms added later. The financials for Sterno are shown below.

Source: CODI Shareholder Presentation
Sterno is showing significant growth both in sales and cash flow this year.
CODI's management asserts that its strategy is to grow the cash flows of its subsidiaries and deploy capital into accretive assets. It plans to maintain distributions to shareholders with this increasing cash flow. CODI General Management is paid 2% of adjusted net assets as a management fee. There is no mark-to-market increase in fee level as the value of the business increases; however the fee is reduced by any impairment. Management does not get any stock options, but receives 20% of realized gains after a 7% hurdle is delivered. It only collects this bonus after deducting any impairment to the value of owned subsidiaries. This fee and bonus arrangement appears to be designed to align management's interests with shareholders. Since CODI is organized as a partnership it sends a K-1 rather than a 1099 for tax purposes.
Conclusion:
I first wrote about this company on November 2014 and recommended purchasing it for its 8% distribution shortly after it had issued a secondary offering of 6 million shares. I wrote, "This is probably a good time to purchase these shares to lay claim to an 8% distribution. Management has shown that it can effectively run this company to continue the current payout. On the other hand, there appears to be little upside to the current dividend or price of the stock. However, the stock price could move up to around $18.00 per share when the current flood of additional stock has been mopped up since this is the price it was selling at prior to the latest offering."
It is interesting to note that shares were $19.00 per share just before the latest secondary offering on 12/7/2016 for another 6 million shares. The same conclusion I offered in 2014 holds true again today. Buy CODI for the 8% dividend and not for the capital gains.
Disclosure: I am/we are long CODI.
I wrote this article myself, and it expresses my own opinions. I am not receiving compensation for it (other than from Seeking Alpha). I have no business relationship with any company whose stock is mentioned in this article.