Despite quantitative similarity of plans to grow in the Permian basin, announced by both EOG Resources (NYSE:EOG) and Pioneer Natural Resources (NYSE:PXD), a significant disparity remains in valuations of respective shares. On the one hand, both companies plan to increase production at roughly 20% CAGR for the next four years in a superficial congruence with shares trading nearly in lock-step for the past year and both gaining around 50% from January 2016 lows. On the other hand, EOG's underlying profitability measure of adjusted EBITDAX has been relatively greater, meaning that in recent quarters EOG traded at a notably lower ratio of enterprise value (NYSE:EV) to EBITDAX than Pioneer. After exploring the above, the following analysis will offer a perspective on the two stocks' potential relative performance in 2017.
Production outlook for 2017 and onward to 2020
EOG plans to grow production at 15-25% CAGR, as illustrated by the following slide from its Q3 2016 earnings presentation.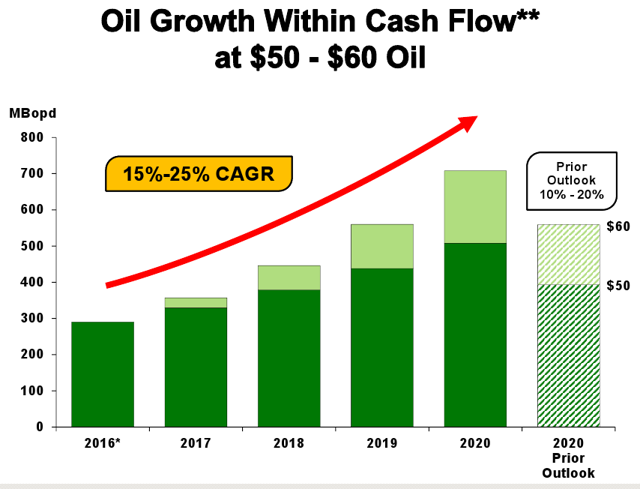 Not at all dissimilarly, Pioneer projects oil-equivalent output to grow at a mid-point guidance CAGR of 15%, while the company's oil production is expected to rise by 20% annually. The firm included the following chart in its December 2016 investor presentation.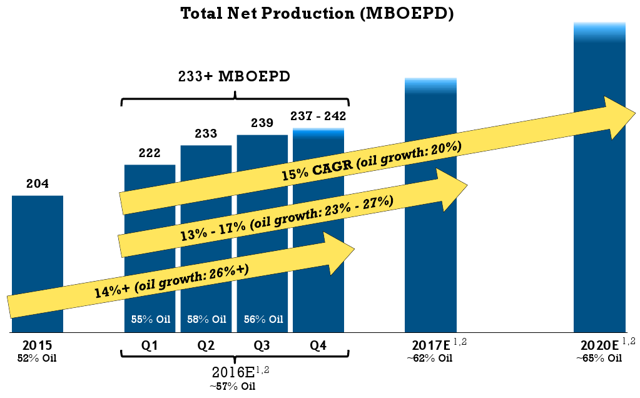 While Pioneer has operations in Eagle Ford and other basins, the entirety of projected growth is expected to come from the Permian basin. EOG's situation is qualitatively comparable. While it derives a significant portion of production from the Bakken and also from the Eagle Ford, DJ basin and elsewhere, EOG is said to focus on the largest count of its best drilling locations in the Permian. Similar growth rates and seemingly being on track toward becoming more like Pioneer would suggest that EOG should trade at a similar multiple.
The multiple I will focus on below is EV/EBITDAX. EV will be estimated from contemporaneous share prices and Q3 2016 balance sheet data. The denominator, EBITDAX, represents adjusted earnings before interest, corporate income taxes, depreciation and amortization, and exploration expenses. Practically, it is computed as revenue from sales of oil, natural gas liquids (NYSE:NGL) and natural gas, less the expense categories mentioned below, as well as the general and administrative expenses.
The typical definition of EBITDAX includes cash received from derivative settlements. I will disregard any effect of derivative hedges. A practical motivation for doing so is that EOG and Pioneer have until now pursued very different hedging policies. Pioneer covered well over half of production by a comprehensive hedging program, while EOG abandoned oil hedging earlier this year. Nonetheless, as of this month Pioneer indicated the change of focus to "providing floor protection while retaining upside." I interpret this as a possibility of a reduced hedging program.
EBITDAX will be projected for full year 2017.
EOG in 2017
Both the aggregate oil-equivalent production and its oil share are projected to rise at 20% mid-point of guidance CAGR. Once the resulting picture begins to emerge, I will discuss the possibility of a lower initial growth rate but for now let's just use the headline figure for the forecasted growth.
Expense components, such as lease and well, transportation costs, gathering, processing and marketing and finally taxes other than income will be projected forward at Q4 2016 guidance levels. Per barrel of oil equivalent (NYSE:BOE), lease and well expenses are the most variable of the four categories, declining by a third since Q1 2015. Nonetheless, the decline trend appears to have abated this year. Transportation costs fluctuated in a narrow range, with the trend being unclear. Gathering, processing and marketing costs were lower on average this year than in 2015, yet their changes are unpredictable and minor in the big scheme of things, as is the case for taxes other than income.
The actual NYMEX WTI oil and Henry Hub natural gas futures strips will be used as of each analysis date to project revenue in 2017. The realized price of NGLs will be assumed at 34% of the realized oil selling price, while differentials of oil to WTI and natural gas to Henry Hub will be taken as of Q3 2016.
Pioneer in 2017
Oil-equivalent production is anticipated to grow at 15% CAGR. The oil output is expected to rise at 25% CAGR in 2017, slowing down to 20% in subsequent years. Other aspects of EBITDAX forecasting are handled in same manner as for EOG.
The market still views Pioneer as a growth stock and EOG as a slow mover
Without further ado, the following chart presents the evolution of the ratio of EV to adjusted 2017 EBITDAX for both companies, as estimated since the end of October. To facilitate understanding of the trend, the 12th month NYMEX WTI future is plotted according to the right axis so that it can be seen how EV/EBITDAX tends to change when oil prices move.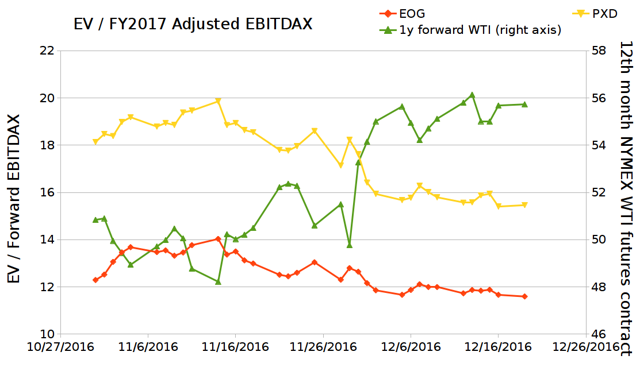 Source: author's analysis
One takeaway is that as oil prices rose following November 30 OPEC agreement, the multiple contracted somewhat. The shrinkage of EV/EBITDAX afflicted Pioneer more than EOG.
As neither company is heavily indebted, changes in EV qualitatively mirror those of share prices. Based on Pioneer's recent EV/EBITDAX of about 15.5 as compared to EOG's 11.6, what we see is that Pioneer stock is valued about a third richer than that of EOG. A company, expected to grow faster, is typically rewarded with a larger multiple. This is most typically observed for the P/E multiple and the same intuition applies here to EV/EBITDAX. To put it simply, the market does not yet fully price in EOG's planned growth.
How soon will EOG begin to show actual growth?
Pioneer has an actual track record of growth. In Q3 2016 the total production grew by 13.4% YoY, while the oil output rose by 23% YoY. Both figures and especially the rise in oil production are in fact consistent with the strategy the firm claims will be pursued for the next four years.
In contrast, EOG so far has merely a plan to grow production. The oil output is flat YoY and still has to rise about 9% before reaching the company's highest-ever level seen in Q4 2014. The oil-equivalent production in the third quarter remained 10% off the high set in Q3 2014.
A possible interpretation of a lower multiple is that the market discounts EOG's growth strategy. On the other hand, it may be that 15%-25% CAGR projected by EOG is back-loaded towards 2018 and later as compared to a slower start next year. Unlike Pioneer aiming at 25% oil and 15% oil-equivalent total production growth in 2017, EOG has not committed to a growth level next year that would compare well to its four-year CAGR target.
There is a possibility of EOG stock being revalued upwards in the coming quarters to incorporate a higher EV/EBITDAX multiple. The necessary catalyst will be the company showing evidence of production growth.
There is one caveat to this conclusion. No matter how quickly EOG grows, there exists a natural limit to its market capitalization due to the finite value of hydrocarbons under the company's acreage. The significance of this upper limit might be explored in a follow-up article.
EOG's Permian growth plan was announced less than six months ago. A comparison of EOG and Pioneer's returns over the preceding year suggests that EOG might only have got a modest boost, around 5% incremental addition to the share price, due to the announcement of its growth plan. This is the estimated relative downside if EOG were to fall short of the growth target.
Conclusion
The market valuing EOG Resources at a lower EV/EBITDAX multiple than Pioneer Natural Resources could be explained by the implied belief that, relative to its aggressive Permian growth forecast, EOG will come up short. Should the company grow output as planned, a multiple upgrade could be in order to pull EOG's multiple gradually in the direction of Pioneer's. EOG's multiple moving half-way towards Pioneer's would yield over 15% in relative outperformance.
Note from the author: Thank you for reading. If you like this article, please follow me by clicking the "Follow" link at the top of this page and choosing "Real-time alerts on this author" to be informed of my latest ideas.
Disclaimer: Opinions expressed herein by the author are not an investment recommendation and are not meant to be relied upon in investment decisions. The author is not acting in an investment, tax, legal or any other advisory capacity. This is not an investment research report. The author's opinions expressed herein address only select aspects of potential investment in securities of the companies mentioned and cannot be a substitute for comprehensive investment analysis. Any analysis presented herein is illustrative in nature, limited in scope, based on an incomplete set of information, and has limitations to its accuracy. The author recommends that potential and existing investors conduct thorough investment research of their own, including detailed review of the companies' SEC filings and consult a qualified investment advisor. The information upon which this material is based was obtained from sources believed to be reliable, but has not been independently verified. Therefore, the author cannot guarantee its accuracy. Any opinions or estimates constitute the author's best judgment as of the date of publication and are subject to change without notice. The author explicitly disclaims any liability that may arise from the use of this material.
Disclosure: I/we have no positions in any stocks mentioned, and no plans to initiate any positions within the next 72 hours.
I wrote this article myself, and it expresses my own opinions. I am not receiving compensation for it (other than from Seeking Alpha). I have no business relationship with any company whose stock is mentioned in this article.