The long lead time in uranium mining projects from planning stage to full production ramp-up, is perhaps one of the biggest impediments to achieving a balanced and stabilized uranium spot price. The long lead time involved in building nuclear power plants is not helpful either. It can take a decade or longer from the point where a deal is inked to build a new power plant, to the point where it becomes fully operational. Then there are the uranium fuel stockpiling strategies that power plants engage in as a way to make sure that there are disruption issues. Nuclear power plants can often operate for years without having to buy more fuel. At the same time, the fuel plays a relatively small role in nuclear power production costs, with the initial capital investment involved in building the plant being the main factor involved in the total cost of nuclear energy, which means that high uranium prices will not lead to demand destruction as is the case with most other commodities. Then there is also the fact that nuclear fuel deals often involve long term contracts between miners and utilities, which makes the remaining spot price market relatively thinly traded and therefore very likely to fluctuate a great deal.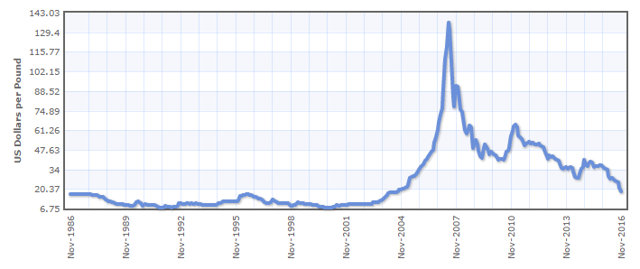 Source: Index Mundi.
Given these factors, all of which are contributing to a great deal of volatility, it is not easy by any means to try to figure out where the thinly traded spot price is headed. Nor is it easy to figure out where longer term contracts which will be closed in 2017 will settle. All that we can do is look at each and every factor and try to figure out which direction each factor will be pushing in next year.
Utilities.
The biggest story of 2017 in regards to utilities will continue to be the Japanese situation post-Fukushima, as well as Germany's decision to go nuclear free. In Japan, a decision was taken earlier this year to bring 19 reactors back on line by the spring of 2018, seven of which are likely to be back on line by March 2017. In this respect, if everything will go according to plans, it will have some impact on the global uranium markets, because Japan will start working down its stockpiles instead of dumping the fuel on the market.
In Germany, it seems that 2016 was a year when the government and other entities and institutions came to some very important conclusions in regards to Germany's green, renewable future. I recently wrote an article covering the decision taken by Germany to cap renewables and cut back subsidies. Germany is at the forefront of the renewable experiment, and it seems that it is learning that there are some serious consequences to over-reliance on wind & solar, which in Germany reached 19% of total electricity production in 2015 already. The problems seem to stem from the high degree of production volatility. While on some days wind & solar produced close to 100% of Germany's total electricity needs, on other days, it may only average about 5-10%, causing severe electricity price volatility, not to mention power grid issues related to a constant fluctuation of over-supply, or occasionally under-supply.
Germany's decision to cap renewables, coupled with its commitment to cut fossil fuel emissions may make 2017 the year when it will review and perhaps reverse its commitment to phase out its nuclear power. Next year will be an election year in Germany and it is probable that the issue will come up in the debates between the opposing parties. Aside from that, whoever will form the next government will have to reconcile the current situation where wind & solar will no longer be allowed to expand unchecked, fueled by large subsidies. The German government also ratified the Paris climate accord, committing to cutting emissions by 95% from current levels, earlier this year. Germany is already set to miss its 2020 targets on emissions. This includes emissions from cars, which in turn means a surge in electricity demand if EV's will be the main solution. I do believe that Germany will have to face up to some harsh realities this year in terms of its energy policies, which will possibly lead to a re-think of Germany's commitment to eliminate nuclear power from its energy mix.
Any decision to reverse Germany's commitment to a nuclear-free economy next year may not have an immediate impact on supply/demand issues related to nuclear fuel. It will however in my view bring back a dose of reality in the global conversation in regards to the global energy mix. Fact is that wind & solar can currently only play a relatively marginal role in the global energy mix. The next breakthrough would have to be viable electricity storage meant to deal with the constant wide fluctuation in output, but we are currently very far from that being a viable option. With the increased consensus on curbing fossil fuel emissions now a global reality, nuclear power cannot be ignored as being perhaps a more important part of the future. In this respect, 2017 will perhaps be the year when we will realize that future long-term uranium demand may be under-estimated by current forecasts. Such a realization might just help reverse the current, almost decade-old trend of price decline in the uranium market.
Outside of Japan, Germany and much of the developed world, it seems that nuclear power continues to enjoy some expansion. Eighteen new reactors are set to be inaugurated in 2017, none of which will be in Western Europe or North America. I personally think that it is a sign of the times overall, with Western idealism having reached and surpassed the point where we can still make rational decisions. Because the replacement of rationality with idealism usually leads to a point where idealism needs to be reconciled with realities, there is usually a point where we as a society have to come to terms with those realities. I think it is quite possible that next year will be the year when this will happen in the Western world, including on energy issues. I personally think that long term realities really favor uranium, along with other cleaner alternatives such as natural gas.
Miners.
The uranium price spike which occurred more than a decade ago, led to a boom in uranium mining investment. Some of that investment is still leading to new supplies coming on line, despite the fact that many mines are currently unprofitable at current prices. Because of the long lead times from planning stage to full production, much of the past decade has been more or less already planned out in terms of production by the time uranium prices started declining a decade ago.
There were some exceptions, such as the Dominion mine in South Africa, which was supposed to become the world's largest uranium mine. The mine was supposed to commence production right at the height of the uranium price boom, but it was revealed that production costs were far higher than originally thought, therefore the mine's development was put on hold by Uranium One and the mine was later sold for $37 million. I brought up this example in order to point out that lower prices are causing some projects to be abandoned, which in the longer term can put a brake on mined supply. The example also highlights the fact that some significant geological resources such as the mine in South Africa will only be tapped if uranium prices will head much higher and remain much higher for a prolonged period of time.
Cameco (NYSE:CCJ) seems to think that by 2025, global mined supplies will be about 18% lower compared with 2016 expected production, while demand will continue to grow, adding about 30% to global demand compared with this year.

Source: Cameco.
As we can see from the graph, up until recently, it seems that production did not respond to a whole decade of declining prices, but according to Cameco's view, it is set to cause a significant decline between now and 2025, meaning that producers have been reacting to the price decline all along and those decisions are likely to affect supply going forward.
it can be argued that for 2017 to be the year that the current trend of declining prices is going to be stemmed and reversed, a very important thing needs to happen, namely we would have to see a decline in mined production. It is not entirely clear that this will happen in 2017, but there are some reasons to think that a significant and sustained period of mined uranium supply decline is set to happen before the end of the decade. One of the reasons behind this is the fact that at current prices most mines are not profitable and the only thing keeping some of them from being closed down is the long term contract deals that were signed during a higher price environment period. Apparently, many of those contracts are set to expire in the next two years and in the absence of new contracts being signed at significantly higher prices compared with the current spot price, many mines will be closed down. If this happens, we will likely have another major uranium price boom starting before the end of the decade, because by most estimates, price expectations in the $50/pound range or higher are needed for new mining projects to happen.
It is impossible to predict whether the spot price turnaround will happen in 2017 or later. We certainly have reasons to believe that it could happen, given that we are seeing increasing signs of a supply/demand situation developing where there will be a growing gap in coming years. Utilities may respond to this expectation by starting to buy supplies more aggressively already in 2017, in order to take advantage of the current prices which are significantly lower than what the mining industry needs in order to continue to be viable in the longer term. It is also possible however that nuclear power plant operators may decide it is still early on and they can afford to wait. For myself, I intend to keep a very close eye on the uranium industry starting in 2017 and start exploring miners as potential longer-term investment opportunities. As I pointed out many times in the past, I never held an investment for less than a year, and uranium miners are increasingly starting to look like a good bet for a multi-year buy and hold strategy. I covered Cameco recently, and I intend to start covering other miners starting next year, because I really think that there is a great opportunity to invest in the next two years or so. The trick will be to invest in the right stocks, at a relatively opportune time.
Disclosure: I/we have no positions in any stocks mentioned, and no plans to initiate any positions within the next 72 hours.
I wrote this article myself, and it expresses my own opinions. I am not receiving compensation for it (other than from Seeking Alpha). I have no business relationship with any company whose stock is mentioned in this article.