Universal Corporation (NYSE:UVV) is a great company, but it appears fairly valued right now. If an investor gets into this company today, they are likely to suffer capital depreciation while collecting a slowly growing dividend payment. Here's the scoop.
Universal Corporation Stock Insight
Today's share price is $63.55 and the coming four quarters will bring per-dividends of $2.16, altogether making for an annual dividend yield of 3.39%.
This chart shows the company's annual free cash flow earnings transposed over UVV's 10-year price history. Pay close attention to the sudden crashes in free cash flow reports and the frequently ensuing collapse in UVV's stock price.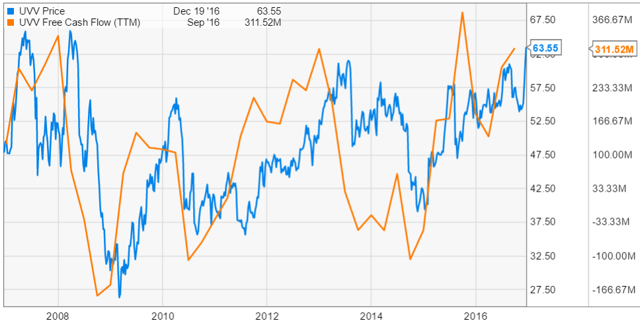 (Source: Faloh Investment, Ycharts)
Following the golden line, we see free cash flow income has displayed large up-and-downs. Because of the regular pattern, it looks like there is naturally a cyclical nature in UVV's business. It seems likely that the leaf tobbaco's growing and harvest seasons affect the timing of the company's cash flows.
Critical Point On Today's Stock Price & Aggregated Cash Flows
The free cash flow seems to come in for one to two years then ceases coming in for a year. You can see this up-down cash pattern in this graph: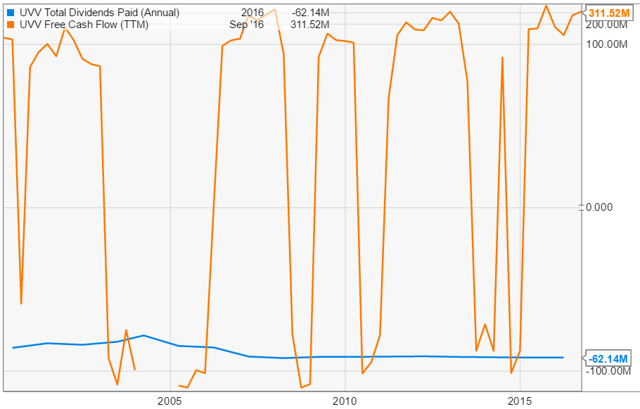 (Source: Faloh Investment, Ycharts)
It seems like the price of the stock often drops when these periods of lower free cash flow become evident. The company appears to be enjoying its "high free cash flow, high stock price phase" right now.
How this affects us right now is clear. The best choice appears to be the ol' wait-and- whether or not the market offers a lower price before buying into UVV.
Benchmark DCF Model Valuation for Universal Corporation
The DCF Model generates a Fair Value based on recent and expected performance, and it's useful to compare the Fair Value with the stock ticker's price. The DCF Model gives UVV a Fair Value of $67.82: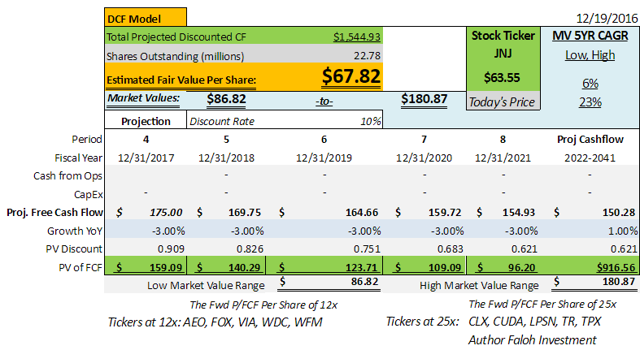 (Source: Faloh Investment, Ycharts)
Fair Value of $67.82 compared to its stock price of $63.55, the DCF Model is giving us its indication this company may be undervalued.
That's because leaf tobacco is a great business, and UVV has produced over $1 billion free cash flow since 2006, which is pretty good considering the whole company's market capitalization is shy of $1.5 billion.
However there is a good reason this company stays underneath its projected Fair Value: Up-and-down cash flow incomes coupled with no sales growth are leading the market to keep the company's price low.
Takeaway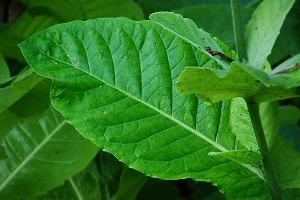 (Source: tobaccoworld.com)
UVV is a tremendous cash machine. It's been in business for many decades and has recently increased its dividend payout for the 46th consecutive year - a very impressive record.
Stock market history for the company shows that its price is likely to drop over the next 12-24 months as its free cash flow cycle winds down according to the up-down phases cash flows have displayed over the years. The company is presently in an up-phase, and the stock price is up, too.
More patient and prudent investors will wait for the market to offer UVV at a lower price.
Final Word
UVV appears to be a great long-term investment vehicle and in my opinion a great company to set a price alert on. Shares in this company become very interesting below $50 per share. Below $50 per share, dividend yield on cost will be over 4% and is likely to grow over the years.
Disclaimer: This article represents the opinion of the author as of the date of this article. This article is based upon information reasonably available to the author and obtained from public sources that the author believes are reliable. However, the author does not guarantee the accuracy or completeness of this article. It is merely the author's interpretation of the information contained in the article. The author may close his investment position at any point in time without providing notice. The author encourages all readers to do their own due diligence. This is not a recommendation to buy or sell a security.
Please click the + icon next to my user name and follow me, Faloh Investment, as I work to keep you informed on further developments as the market continues to present major value opportunities. Occasionally I publish large volumes of articles in a single day. If you are concerned about receiving too many emails with new articles from Faloh Investment please un-check Real-time alerts on this author by hovering over the +Follow button next to my name. All realtime and non-realtime followers will see my publications at their SA Homepage and Stocktalks.
Disclosure: I/we have no positions in any stocks mentioned, and no plans to initiate any positions within the next 72 hours.
I wrote this article myself, and it expresses my own opinions. I am not receiving compensation for it (other than from Seeking Alpha). I have no business relationship with any company whose stock is mentioned in this article.