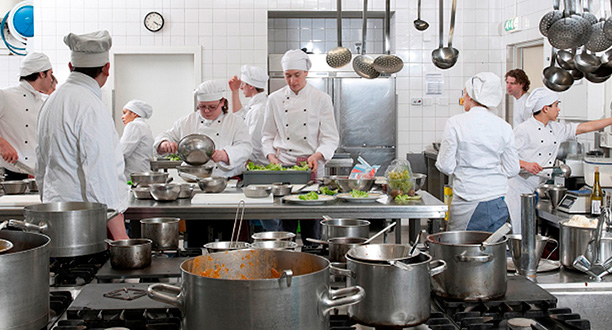 Source: Google Images
The foodservice industry has had a solid year with only a couple of weeks left. The two recent IPOs of AdvancePierre Foods (NYSE:APFH) and US Foods Holding (NYSE:USFD) have given investors more options to choose from.
The long-term stalwart of the group has continued to be Sysco Corporation (NYSE:SYY). Sysco boasts of the largest net sales in the industry, greater than two times the closest peer. The company would have become a behemoth had the deal with US Foods been allowed.
Other longer-term companies include Performance Food Group (NYSE:PFGC) and United Natural Foods (NYSE:UNFI). Performance Food Group ranks third behind Sysco and US Foods by net sales. United Natural Foods is strictly a retail customer foodservice provider, but is comparable within the group generally, as well as directly in some cases.
Investor appetites for the peer group have benefited companies paying dividends, and/or posting strong net sales growth. In US Foods' case, investors were likely not thrilled that the second largest foodservice provider would not be paying a dividend.
But some laggards have performed in line and even outperformed top performers for the year in other categories including diluted earnings per share, EPS, EBITDA and free cash flow growth. Average analyst earnings estimates are particularly interesting for AdvancePierre and US Foods, as next year's projections are lower than the current year.
US Foods has underperformed its peers since the IPO for most of the year, yet many of its measures have been strong. Likewise, Performance Food Group has only recently dropped to last place, but analysts are more bullish on the company's prospects for next year. For these reasons, among others, investors should pay close attention to these core financial measures.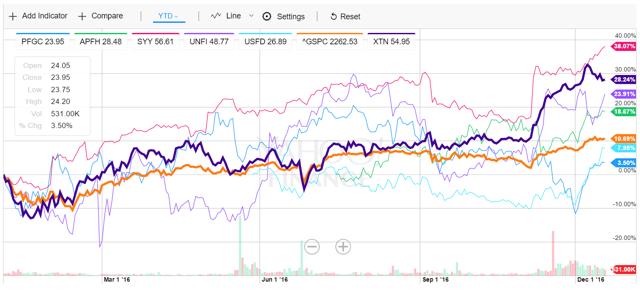 Source: Yahoo! Finance
The clear winners for the year have been Sysco, United Natural Foods and AdvancePierre. To date, Sysco has returned 38 percent while United Natural Foods and AdvancePierre returned 24 and 19 percent. In AdvancePierre's case, this performance has occurred in only five months since the company's IPO in July.
The laggards have included Performance Food Group and US Foods with performance of 3.5 and 8 percent for the year. At the start of December, both companies were down around 10 percent. All peers have rallied strongly during the final month of the year, but both US Foods and Performance Food Group have gained the most.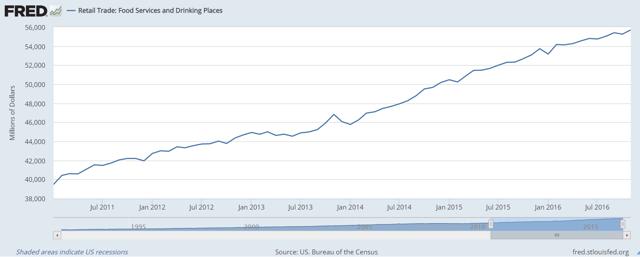 Source: Federal Reserve Bank of St. Louis, Economic Research
Trends for foodservices including drinking places have been strong since 2011. Average annual growth has occurred at nearly 7 percent per year over the past five years. While this information reflects an aggregate perspective, companies including Performance Food Group and US Foods have witnessed case volume growth between 6.5 and 5.5 percent for their most recent September 2016 quarters, in line with the aggregate trend.
However, the retail sales information includes both volume and pricing. Clearly, the volume gains for both companies have not necessarily translated to an equivalent net sales growth rate. Performance has been much closer for PFGC versus USFD; the former's net sales growth was at 5 percent through September while USFD's was flat.
Most recently during November 2016, foodservices and drinking places witnessed year-over-year, YOY, growth at 5 percent; growth from October was at nearly one percent. Growth for grocery stores was up, to nearly three percent in November versus last year; growth from October was flat. The current deflationary environment for grocers as well as foodservice providers is another area of impact.
The heavy promotional activity of grocers and supermarkets serves as an influencing factor in the decision making process for dining out or eating at home. Some consumers who are more price sensitive may opt to buy and cook at home as grocery store prices have become cheaper.
These consumer shifts can also have a ripple effect in restaurant pricing, especially as foodservice companies are buying products which are also impacted by the deflationary environment. But as the economy has picked up during the back half of 2016, expectations are for improved growth, albeit marginally for next year.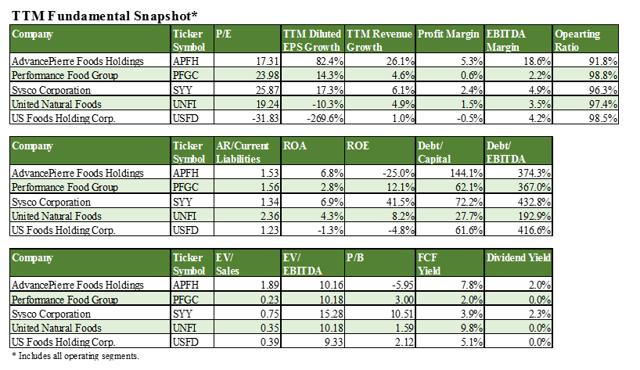 Source: Company filings and personal database
The holistic picture for peers is not yet set. US Foods is one more quarter away from getting back to annual profitability since the failed merger attempt with Sysco. Most analysts measure foodservice companies by their EBITDA performance. As such, investors should be paying attention to EBITDA growth as well as the other primary measures for profitability, valuation and leverage risk.
AdvancePierre is clearly the profitability leader of the group; this is likely due to the company's exposure to non-foodservice operating segments and product mix focused more on sandwich and snack products. AdvancePierre will likely continue to put the company's strong free cash flow generation to good use as its equity is negative due to high leverage. With an industry average debt-to-EBITDA ratio, it is clear that the company's debt to capital levels are a bit too high. Since 2015, the company has already paid down nearly $170 million or 14 percent of last year's long-term debt.
From a valuation perspective, Sysco trades at the highest premium for EV/EBITDA while US Foods is the laggard. Through September 2016, Sysco, US Foods and AdvancePierre all witnessed double-digit EBITDA growth. Sysco's case was exceptional at 41 percent while both US Foods and AdvancePierre were greater than 14 percent. Performance Food Group was up six percent and United Natural Foods was flat.
Free cash flow has been strong for all, but investors may want to keep an eye on Performance Food Group as performance declined greater than 50 percent. Earnings are estimated to improve during 2017, which could turn the tides. For dividends, only AdvancePierre and Sysco reward investors every quarter. Both yield at or slightly above two percent.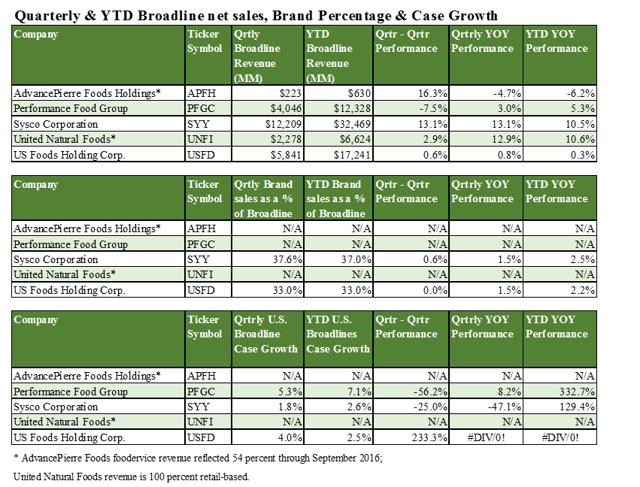 Source: Company filings and personal database
For broadline net sales, it should be noted that AdvancePierre generated 54 percent of its net sales from its foodservice segment through September. It should also be noted that United Natural Foods' foodservices are provided directly to retail-based customers.
Sysco and United Natural Foods have witnessed the strongest net sales performance for the year; both at 10.5 percent. Performance Food Group has also witnessed solid growth at 5 percent while US Foods has been flat and AdvancePierre's results were down 6 percent.
Overall, AdvancePierre's performance was down just over 5 percent, so foodservice has not been the company's only weakness. Judging by each respective company's EBITDA growth, top-line performance has not necessarily been a key driver for profitability. This has definitely been the case for both AdvancePierre and US Foods. As both companies have recently IPOed this year, a focus has been on improving cost structures and efficiencies, whether within sales and/or distribution and operations.
Sysco's performance has been exceptionally strong for both top-line and EBITDA, whereas United Natural Foods performance has been at the expense of EBITDA performance. Sysco and US Foods have also benefited from their large percentage of brand products distributed as a proportion of total broadline products. Sysco has also had the increase in broadline driven by the recent acquisition of the Brakes Group.
As highlighted earlier, trends for case volume have begun to decline, which has been consistent with the aggregate retail sales data for foodservices and drinking places. This information is most notable within the U.S. Sysco is expected to continue to benefit from its recent deal over the next couple of years. But investors should continue to monitor both aggregate and individual company case volume performance.

Source: Company filings and personal database
As mentioned above, top-line performance has not necessarily correlated to bottom-line performance. Both AdvancePierre and US Foods have been the worst top-line performers, yet have generated the strongest diluted EPS performance for the year.
Both Sysco and Performance Food Group have witnessed strong diluted EPS results. United Natural Foods has been the laggard for earnings, which has also been the case for EBITDA performance. For investors, there are multiple ways upon which any of these companies could be argued for to justify positive stock price performance.
Unfortunately, not all companies' stock performance has occurred to the same degree. But what we can gather by the information is that expectations are aligned with certain factors. In United Natural Foods' case, it would appear that top-line performance is a priority. For Sysco, the company has witnessed strong results across the board; expansion into Europe perhaps opens up a more diversified opportunity. AdvancePierre has given investors a tangible return in paying dividends. Additionally, the company has substantially improved profitability and will likely improve its leverage position.
For Performance Food Group and US Foods, performance has been more mixed. Overall, US Foods has performed strongly for EBITDA and free cash flow growth. The company has also consistently traded at a discount to all peers based upon EV/EBITDA. But net sales growth has been flat and the company does not currently pay a dividend. Performance Food Group has been more mixed with strong diluted EPS growth, moderate EBITDA growth, but substantially weakened free cash flow.
Moving forward, investors should continue to focus on the key financial metrics for foodservice companies. But as has been the case throughout 2016, the market's viewpoint may not immediately correlate with company performance, whether achieved or expected.
Disclosure: I am/we are long USFD. I wrote this article myself, and it expresses my own opinions. I am not receiving compensation for it (other than from Seeking Alpha). I have no business relationship with any company whose stock is mentioned in this article.