Edward Sheldon CFA
While many technology stocks trade at eye-watering multiples, it's still possible to find value in the sector and a recent screen for fast-growing tech stocks trading at reasonable valuations brought $819m market cap ePlus Inc. (NASDAQ: PLUS) to my attention.
In this article I present a concise investment analysis of the company.
Company Description
Founded in 1990, ePlus is a reseller of integrated IT solutions. With a focus on servicing middle market businesses and large multinational enterprises, ePlus provides comprehensive tailored IT solutions including cloud, big data, infrastructure, communication and security services, enabling clients to optimize their IT environments.
While ePlus offers a full suite of IT lifecycle services to plan, build, support and optimize the entire IT infrastructure of its clients, the company's competitive advantage lies in its size and flexibility, enabling a focus on fast growing, high margin areas of the IT market, such as security, big data and cloud technologies. The integrated nature of ePlus' solutions facilitates deep client relationships, resulting in high client retention and cross-selling opportunities.
ePlus describes itself as 'vendor agnostic' in that it resells products from over 500 IT vendors. Having said that, in the last financial year 49% of its technology sales came from reselling Cisco Systems' products with the next largest vendors being HP (NYSE:HPQ) at 7% of sales and NetApp (NASDAQ:NTAP) at 5%. Reselling services from such vendors allows the company to generate fast growing sales with minimal capex.
ePlus currently services over 3100 clients, including notable names such as Berkshire Hathaway, Bloomberg, Facebook, Disney and American Eagle Outfitters and no single client generates more than 10% of sales. Revenues are diversified across a wide range of industries including technology (23%), financial (12%), healthcare (10%), governments and education (22%), and telecom, media and entertainment (15%). The company currently has a presence across 32 states as well as in the UK.
While some investors compare ePlus' results to those of Cisco (NASDAQ:CSCO) or HP, given that ePlus is a reseller, I'm not convinced this is an accurate comparison. A more relevant competitor would be a company such as Insight Enterprises (NASDAQ:NSIT), which also provides hardware, software, cloud solutions and IT services to a variety of clients.
Financials & Ratios
ePlus' recent financial track record is impressive, as illustrated in the table below.

The company has generated strong, consistent revenue growth over the last five years with the top-line increasing from $719m in FY2011 to $1204m in FY2016, a compounded annual growth rate (CAGR) of 10.86%.
Adjusted earnings per share in this time grew from $3.73 to $5.89, a CAGR of 9.57%.
Analysts following the company expect this growth to continue with revenue and earnings estimates of $1318m, $7.27 for FY2017 and $1401m, $7.64 for FY2018.
ePlus does not currently pay a dividend.
At the current share price of $116, ePlus trades on a forward looking price / earnings (P/E) ratio of 15.96, which is on the low side for a company generating formidable sales growth in a fast growing sector of the market. I would expect a tech company with such strong earnings momentum to trade on a forward looking P/E ratio closer to 20 times next year's earnings if not higher, which would imply an upside of approximately 25% to the current share price.
With earnings growth of 23.43% estimated for FY2017, ePlus' price/earnings to growth (PEG) ratio is just 0.84. The company's enterprise value (EV) to sales ratio is also low at 0.53.
Second-quarter FY2017 earnings recently beat market expectations, with the company reporting 10.5% growth in sales to $371.5m and earnings per share of $2.42, easily beating estimates of $338.8m and $1.96. Gross margin increased 70 basis points to 22.1% driven by a shift towards higher margin products and the company had $48m cash on its books as of 30th September 2016.
While ePlus does not provide formal full-year guidance, the company reiterated its belief that it can outperform the overall IT market in fiscal 2017.
Bull Case
One of the key attractions of ePlus is its flexible business model. The flexibility to source technology from over 500 vendors and focus on high margin areas of the market, has enabled the company to generate strong, consistent revenue growth without the capex that comes with developing the technology. This has enabled ePlus to generate 3-year revenue growth of 6.99% vs. 0.44% for Cisco and 0.48% for Insight Enterprises. The company also has very manageable levels of debt relative to its peers with a debt to EBIT ratio of 0.72 vs. 2.79 for Cisco and 1.76 for Insight Enterprises.
Furthermore, the growth of ePlus in recent years has brought with it the advantage of scale, and this has enabled the company to invest more than others in advanced solutions with the end result being an ability to increase market share.
ePlus has recently been focused on growing its customer facing headcount, increasing its services offerings and capabilities and delivering advanced 'business critical' technology solutions and management have stated that due to the company's financial position, operational expertise and growing customer base, ePlus is well positioned to grow ahead of the overall market in 2017.
Bear Case
ePlus notes that its operations are dependent on the general state of the economy and that economic weakness could negatively affect earnings growth. However, the fact that ePlus targets middle market and large enterprises is an advantage here as these companies tend to have greater financial strength and resources relative to smaller companies. ePlus' diverse range of clients is also an advantage as the company would be less likely to suffer in the event of a downturn in a single industry.
I'd also argue that many of services that ePlus provides are now business critical. Take IT security as an example - with cyber attacks become both more sophisticated and more prevalent, can any business afford to not be fully protected?
Another factor worth noting is the company's operating cash flow and I have a suspicion that this is perhaps holding the share price back. The cash flow statement reveals that operating cash flow was negative in FY2011, FY2012 and FY2014, which is clearly not ideal.
The company does go to the effort to break down its cash flows in its annual reports, noting that in FY2014, cash flow was negative due to the financing of receivables and additional working capital needs in its technology segment. Operating cash flow was positive in FY2015 and FY2016; however, this is an area worth monitoring closely going forward.
Chart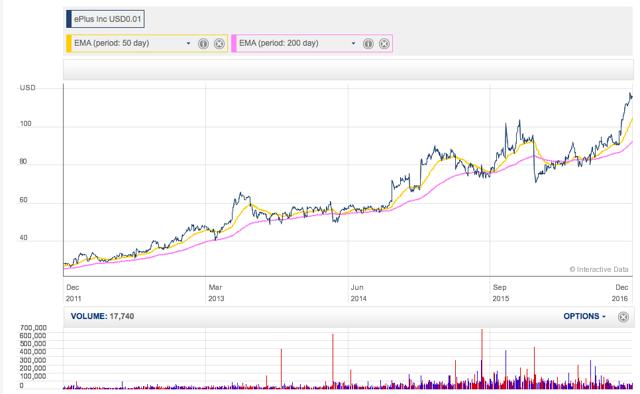 The long-term share price trend for ePlus is clearly upwards and the stock has generated 5-year total annualised returns of over 34% for shareholders.
After a dramatic drop in February this year amid heightened global market volatility, ePlus' share price has since recovered strongly and has recently hit new all-time highs.
However, it must be noted that with the share price surging from around $90 at the start of November to $116 today, the relative strength indicator (RSI) suggests that ePlus is now in overbought territory, and therefore it might be worth waiting for a more attractive entry point before initiating a position.
Conclusion - consistent performer trading a reasonable valuation
With strong revenue and earnings momentum in recent years, I believe ePlus offers excellent exposure to emerging technologies such as cloud, big data and IT security at a very reasonable valuation.
Investors should be aware that the share price has surged considerably higher since early November, breaking out to new all-time highs after second-quarter results beat consensus expectations, and with the RSI indicating that the stock is currently overbought, it may be worth waiting for a pullback before going long.
Disclosure: I am/we are long PLUS.
I wrote this article myself, and it expresses my own opinions. I am not receiving compensation for it. I have no business relationship with any company whose stock is mentioned in this article.
Additional disclosure: Disclosure The author Edward Sheldon CFA has no position in stock as of December 19th 2016. However, some model portfolios at www.HedgedEquity.com have a long position in Eplus. The use of this article is for educational and informational purposes only. NOT investment advice. None of the material presented in this article should be construed as investment advice (neither direct, explicit, or implied). It is strongly suggested and recommend that you do your own due diligence and/or consult a qualified financial advisor for any investment advice based on your situation.