On 1 July, we published a very bullish article on Prudential Financial (NYSE:PRU).
Our investment thesis was that Prudential Financial is a quality name with one of the most attractive business mixes in the industry, significant exposure to high-margin international insurance, strong capital returns to shareholders and a very compelling valuation.
We believe PRU is well positioned to maintain a return on equity in the mid-teens, and while market volatility has driven PRU's cost of capital to around 12%, we still think the company should trade at its book value. A 1.0x forward P/B multiple suggests a c.40% upside to current prices.
Prudential's shares have increased by 57% since our Buy call.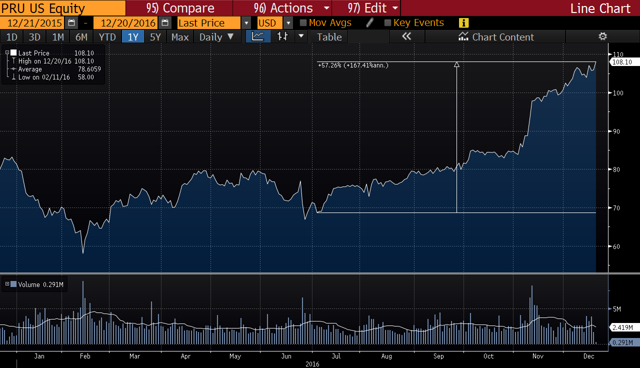 Source: Bloomberg
We are revisiting the company's investment case, given that PRU's management has recently updated its 2017 financial outlook.
2017 Forecasts: Broadly in line with expectations
Prudential guided for a 2017 EPS of $10.15-10.65. We note that the $10.40 EPS midpoint is marginally below the current consensus estimates of $10.38.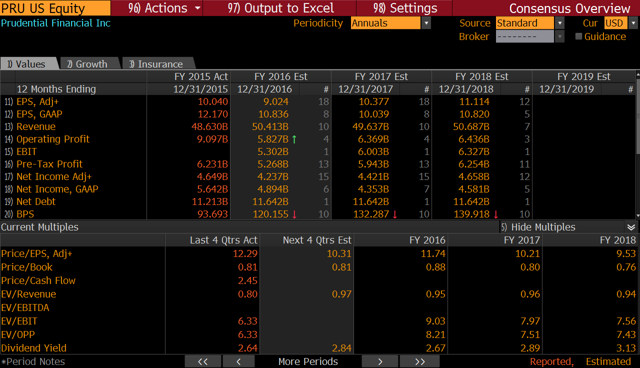 Source: Bloomberg
Management assumes the 10-year yield ends 2017 at 2.5%. We view this assumption as conservative, given the current yield of 2.56% and the consensus forecast of 2.68%.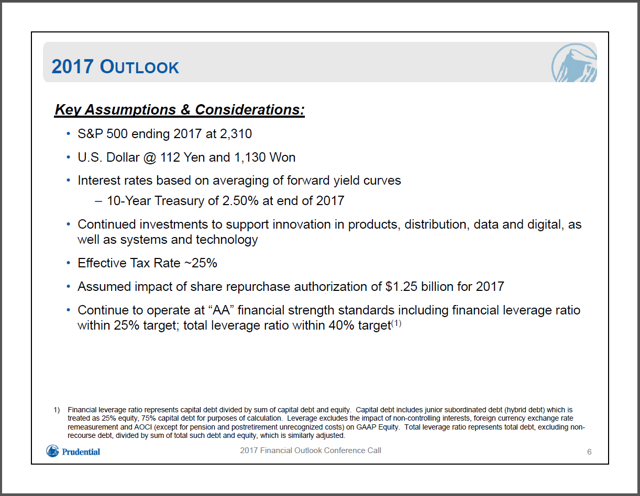 Source: Company data
Prudential now expects to generate a near- to intermediate-term RoE of 12-13%, a slight modification to the company's previous long-term target of 13-14%. However, management reiterated that the company would be able to achieve a return on equity of 13-14% in a 'normalized' interest rate environment.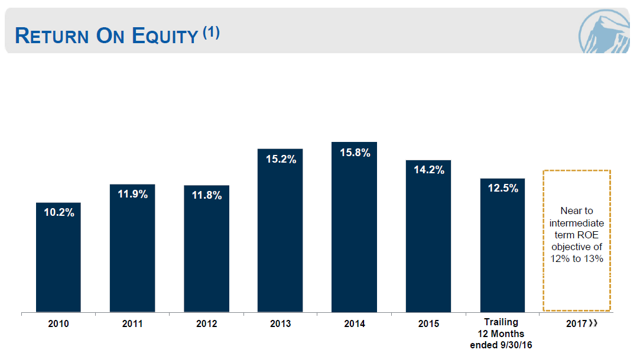 Source: Company data
Concerns around Japan are overblown
Several analysts and investors have recently raised concerns about PRU's sensitivity to USD/JPY exchange rate, given that the company has a meaningful presence in Japan (around 30% of PRU's total revenues). We do agree that the Fed's monetary tightening coupled with the Bank of Japan's policy of yield curve control will weaken the Japanese yen against the U.S. dollar further. That being said, we believe weaker JPY will have a limited negative impact on PRU, given the following reasons. First, this year has marked the first time that non-yen products have outsold yen products, highlighting an important shift in the company's currency mix. As the below chart shows, USD-denominated products outsold JPY-denominated products in Q3.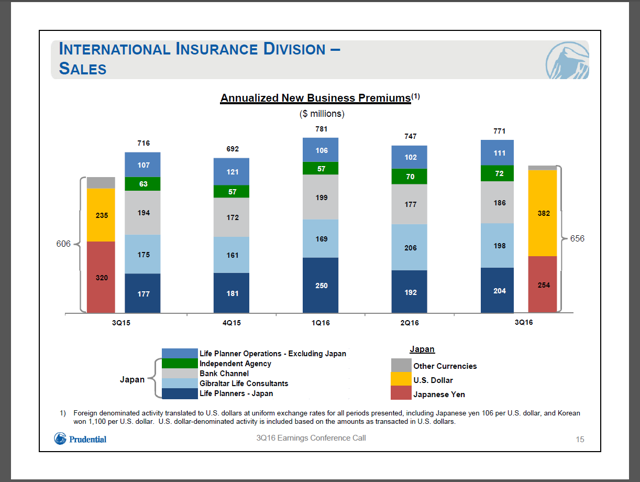 Source: Company data
Second, PRU's product portfolio in Japan has a very long duration with very low portfolio turnover. Finally, the company does hedge yen earnings, using a rolling 3-year hedging strategy: 2016 earnings are fully hedged at 106 JPY; 2017 earnings are fully hedged at JPY112; 2/3 of 2018 earnings are hedged and 1/3 of 2019 earnings are hedged.
Valuation
From a valuation perspective, Prudential still looks cheap, trading at a significant discount to the sector despite a higher RoE and an attractive dividend yield. We attribute this partially to a SIFI discount, and see greater clarity on the SIFI standards or a path to overturning the SIFI designation as potential positive catalysts.
P/B vs. RoE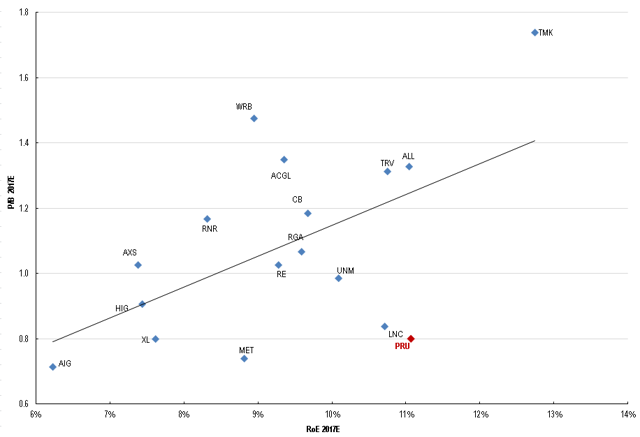 Source: Bloomberg, Renaissance Research
P/B vs. RoA
Source: Bloomberg, Renaissance Research
Bottom line
Despite its impressive run, Prudential Financial still offers an attractive risk/reward ratio. The company's valuation is compelling, particularly relative to its peers: MetLife (NYSE:MET) and Lincoln National (NYSE:LNC). In addition, PRU is currently offering a total shareholder yield of 7.3%: a dividend yield of 2.9% plus a buyback yield of 4.4%.
As a buy-side analyst and a deputy portfolio manager, I oversee a financials-focused fund, and will be continuously providing research coverage on developments with Prudential Financial and other global insurers, banks, asset managers and other financial companies. If you are interested in the topic, consider following us by clicking the "Follow" button beside our name at the top of the page. Thank you for reading.
Disclosure: I am/we are long PRU, MET.
I wrote this article myself, and it expresses my own opinions. I am not receiving compensation for it (other than from Seeking Alpha). I have no business relationship with any company whose stock is mentioned in this article.